A worrying trend is developing when it comes to Aussies' reliance on superannuation in the event of their sudden death; with nearly half believing their super will provide enough cover.
While 43% of Australians believe life insurance is a necessity almost as many (35%) see it as just another insurance product people are trying to sell them according to an exclusive survey commissioned by low cost insurance provider Budget Direct.
1 in 5 Aussies believe life insurance is a necessity but it's an expense they simply can't afford at the moment, with most of those being parents (32%). The older we get the more sceptical we become of life insurance as 'just another insurance product' as evidenced by 27% of Gen Y, 30% of Gen X, 36% of Baby Boomers, and 54% of Builders (69+).
In a worrying result 14% of those surveyed believe life insurance is unnecessary, as they think superannuation alone will protect their family in the event of their death.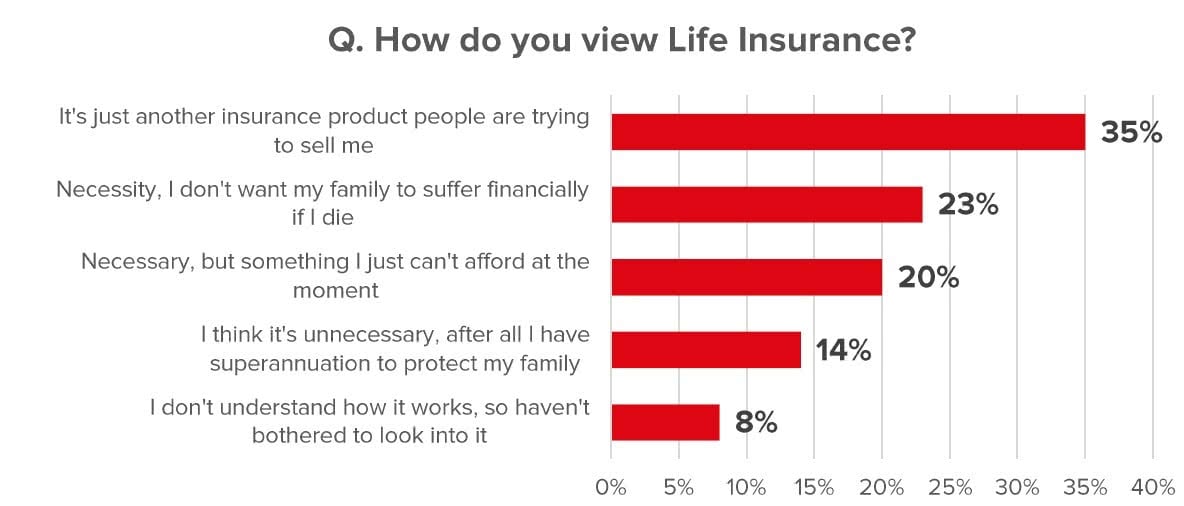 When asked if they thought superannuation will provide enough cover if they were to die 45% of Australians said yes. But incredibly 17% of respondents said they didn't know the value of their total debts, and 43% don't know how much death cover they have with their superannuation policy.
"We believe at Budget Direct life insurance, if you have large loans such as mortgages, or dependents that rely on you, then you really should consider investigating life insurance options," says Warren McAlpine from Budget Direct life insurance.
When weighing up the value of life insurance, it's important to ask a few simple questions; what would your family's life be like if you were to die suddenly? Could they afford to make all the loan repayments? What would it cost to pay for caring, and household duties?
*Source: McCrindle Research Survey conducted 2014 on behalf of Budget Direct. 1072 respondents aged 18 and over participated from all states and territories.
---
For further information or interviews please contact Jonathan Kerr, Director, Marketing & Digital, Budget Direct (Auto & General) at 07 3377 8801 or mediaenquiries@budgetdirect.com.au
Budget Direct was established as an insurance provider in Australia in 2000. It is part of the international BHL Group of companies headquartered in the British Isles. The group provides more than 6.8 million policies to insurance customers and administers $2 billion in premiums annually. Budget Direct offers Motor, Home & Contents, Health, Life and Travel Insurance as well as Roadside Assistance.