What's covered by Dog Insurance?
Common dog illnesses and injuries
Budget Direct Dog Insurance covers a wide range of illnesses and accidental injuries (except pre-existing ones). They include common ones like:
Arthritis
Cancer
Cataracts
Conjunctivitis
Dermatitis
Ear infection
Gastroenteritis
Heart disease
Pancreatitis
Skin allergy
Allergic reactions
Broken bones (e.g. after being hit by a car)
Burns or electrocution
Cuts, grazes and lacerations
Dog bites
Heat stroke
Poisoning (e.g. snail bait)
Snake bite
Torn dew claw (nail)
What's not covered
There are certain things Budget Direct Dog Insurance does not cover (called 'exclusions').
The following list shows some of these exclusions:
desexing
dental treatment (unless the condition is due to an accidental injury)
breeding and obstetrics
elective treatment (including cosmetic surgery)
vaccinations
treatment during the waiting period
commercial and occupational animals; we do insure assistance animals, such as guide dogs.
Proud Sponsors of Bondi Vet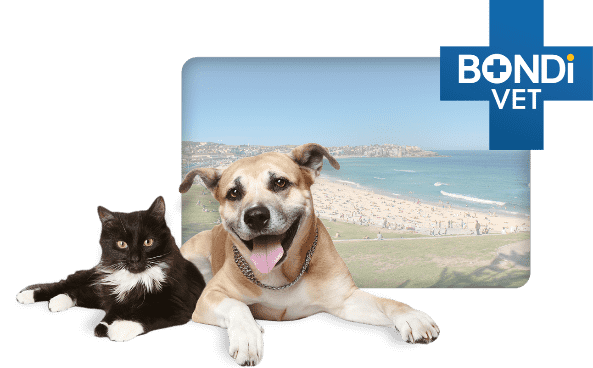 Bondi Vet is Australia's most popular pet and lifestyle channel.
Now in its 11th season on prime-time TV, the show continues to delight and inspire audiences both in Australia and globally with real stories about real vets, real pets and real families. The Bondi Vets, a cast of vets from across Australia and the world, come together throughout each series to combine a range of expertise and passion for all animals. From local clinics and vet hospitals, right though to emergency care, the Bondi Vets cover it all.
To learn more about the team, watch Bondi Vet stories whilst you wait for the next series, seek vet advice or general pet information – log on to bondipet.com or take a look at the Bondi Vet Facebook and YouTube channels.
Budget Direct is not involved and has no influence in any vet advice or general pet information provided by Bondi Vet and has no responsibility for such information.
Find out more
The information on this page is a summary only. For all the terms, conditions, limits and exclusions, please read the Product Disclosure Statement.
Frequently asked questions
Which types of pets do you insure?
Budget Direct Pet Insurance covers only dogs and cats.
There are certain types of dogs and cats we do not insure, namely:
breeding animals
certain working dogs (e.g. dogs used for racing, organised fighting, law enforcement, guarding or pig hunting); we do insure assistance dogs, such as guide dogs
declared dangerous dogs.
Can I take my dog to any vet?
Yes — Budget Direct Pet Insurance customers can take their dog to any qualified and registered vet in Australia.
How much of my vet bill will be covered?
Budget Direct Pet Insurance covers up to 80% of the cost of your eligible vet bills — up to the overall annual benefit limit or sub-limit shown on your insurance certificate and less any applicable excess.
For example, if a car hits your dog and breaks its leg and you receive a surgery bill of $3,000, we'll reimburse you as follows:
80% of the vet bill: $2,400
Minus the excess: $100
Total reimbursed to you: $2,300
Note that an annual benefit sub-limit of $4,000 applies to surgery for broken legs and other orthopaedic conditions.
If I make a claim, will I have to pay an excess?
Yes — you will pay a $100 excess once for each unrelated condition during any one period of cover. For further treatments for a related condition during the same period of cover there is no excess.
For example, if your dog needs treatment for diabetes twice during the 12-month policy period, you'll be required to pay the excess for the first claim for that condition, but not the second.
Similarly, if your dog develops a condition that's related to one you've already made a claim for (e.g. diabetic retinopathy stemming from diabetes), you won't have to pay another excess.
Each time you renew your annual policy, the excess will be reset (i.e. the next time you make a claim for a related illness or injury, you'll be required to pay the excess).
How can I pay for my pet insurance?
You can pay for your Budget Direct Pet Insurance premium by direct debit from your bank account, credit card or debit card (Visa or Mastercard).
You can pay monthly or annually (the second option is the most economical).