Taken from a sample of 6,157 customers between 1 September 2019 and 30 June 2020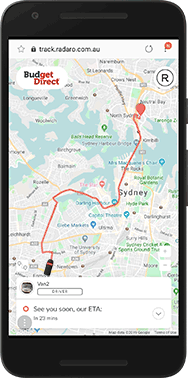 Roadside Assistance Solved with Budget Direct
Battery assistance
If you get a flat battery, we'll jump-start your vehicle; or, if necessary, replace the battery at your cost.
Breakdown tow
If your vehicle is unable to be mobilised, we'll arrange a free tow – up to 15km (metro areas) or 50km (rural and remote).
Unlimited callouts
You're entitled to an unlimited number of callouts within 12 months, subject to our fair use policy.
Tyre change
If you get a flat tyre, we'll replace it with the spare tyre supplied with your vehicle.
Emergency fuel
If you run out of fuel, we'll give you up to $15 of fuel so you can drive to a service station to fill up.
Key rescue
If your car keys are lost, stolen or locked in your vehicle, we'll help you regain entry or retrieve a spare set — up to $125.
Free advice
You get unlimited access to our technical advice hotline; we'll help diagnose the problem to get you mobilised.
GPS tracking
See your roadside contractor's location and estimated time of arrival as they approach – on your smartphone (no app required)#
Become a member
Get roadside assistance for just $79.95 per year – the equivalent of less than $1.60 a week – with no joining fee.
You can buy a membership with or without a Budget Direct car insurance policy. Buy online or call us on 1800 700 027 and we'll get you signed up.
Already a car insurance customer? Add Roadside Assistance to your policy by logging into your online account.
Broken down? Call for help anywhere in Australia 24/7
With our national network of more than 2,500 qualified contractors – including mobile mechanics, battery specialists, locksmiths, tow-truck operators, and tyre repairers – you're never too far from help.
Call 1800 514 448 day or night.
Frequently asked questions
What does roadside assistance cover?
Budget Direct Roadside Assistance covers you if you're left stranded – within our service area – for one or more of the following reasons:
dead battery
minor mechanical or electrical fault
flat tyre
keys locked in vehicle or lost
empty fuel tank.
If we can't get you moving again quickly with an easy fix over the phone, we'll dispatch either a roadside contractor or a tow truck to assist you (within our service limits).
When can I start using my roadside assistance?
You can start using your Budget Direct Roadside Assistance for breakdowns that occur 48 hours or more after purchasing your membership.
If you require assistance before then – or help at any time with a pre-existing condition – a non-refundable service charge of $100 will apply, in addition to your annual membership fee.
How quickly can I expect roadside assistance?
It will depend on a number of factors, including your location and road conditions.
If possible, we'll SMS you a link to a map showing the real-time location of your Budget Direct roadside contractor as they approach the breakdown area; and their estimated time of arrival (ETA).
This tracking service is available in selected areas only: If it's not available in your area the contractor (or tow-truck operator) will instead call to let you know they're on their way and, if necessary, update you on their ETA.
Our goal is to get you back on the road as soon as possible.
Can I get roadside assistance if I'm not already a member?
Yes, even if you're not a Budget Direct Roadside Assistance member, you can still call us for help if your car breaks down.
Non-members are required to pay a non-refundable service fee of $100, in addition to an annual membership fee of $79.95.
Once you're a member, you're entitled to unlimited callouts for assistance.§
How does roadside assistance work?
When you call Budget Direct, we'll ask you a series of questions about your vehicle to narrow down the likely cause of the breakdown (unless it's obvious).
If we're unable to pinpoint the problem and/or get you moving again quickly with an easy fix over the phone, we can dispatch either a roadside contractor or a tow truck to assist you.
If we send a contractor, they will in most cases be able to mobilise your vehicle; in the unlikely event they can't, we can arrange for your car to be towed.
For more details, please read our Roadside Assistance terms and conditions.
Roadside Assistance Knowledge Base
Your questions about roadside assistance all
answered in one place.
Useful links
§ If you need assistance within 48 hours of purchasing your membership, a non-refundable fee of $100 will apply.
~ Subject to our fair use policy, which is explained in our terms and conditions.
# Tracking available in selected regions only.