Disclaimer: This information is general in nature only. While Budget Direct has endeavoured to ensure the information we've relied on is accurate and current, we do not guarantee it. Budget Direct accepts no liability for this information.
Some road rules differ slightly across the Australian states and territories, including the penalty fines you could be given if you break the law. So if you are driving to another state, and you're unsure of the road regulations, it is worth checking to ensure you are following the state's law and avoiding any unexpected fines.
Given that road regulations and fine amounts vary across the country, we wanted to find out which state has the strictest driving laws in Australia. We compared the maximum first offence penalties for speeding, distracted driving, not wearing a seatbelt, drink driving and using a mobile phone while driving across all eight states and territories. We then scored each state overall out of 100 to reveal which state has the strictest road rules.
Which states have the strictest road rules?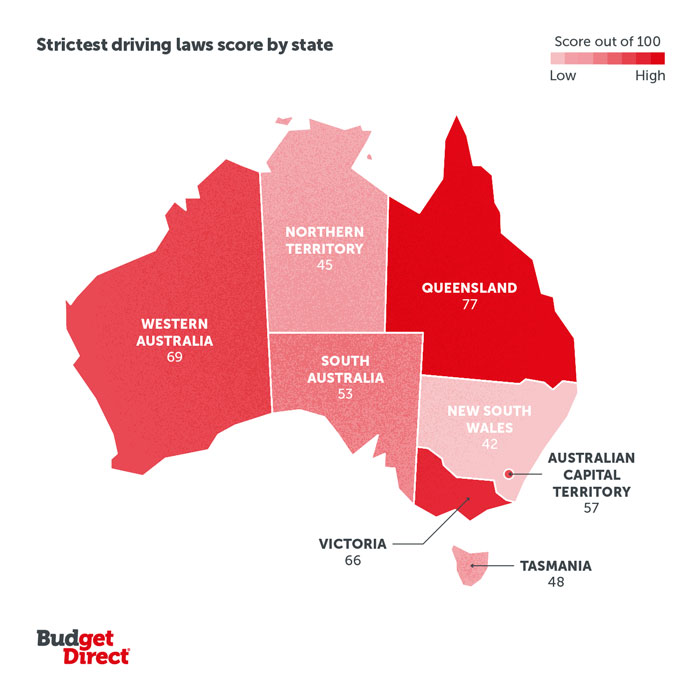 According to Budget Direct's ranking system, Queensland takes the top position for the state with the strictest driving laws, with an overall score of 77 out of 100. Western Australia follows in second place at 69 and Victoria at 66, leaving the least strict state in Australia as the Northern Territory with a score of 45.
The states with the highest penalties for speeding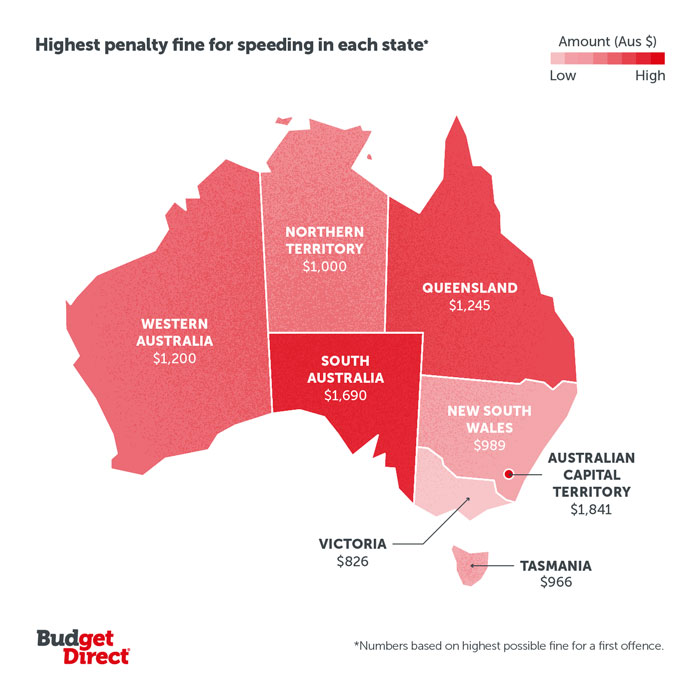 The Australian Capital Territory has the highest speeding fine recorded for a first offence, with penalties reaching a maximum of $1,841. Though Queensland overall is found to be the strictest in breach of road regulations, whereby if caught, a license suspension will take place for up to 6 months with additional points. While the Australian Capital Territory still sits as the highest speeding fine, a charge of 1 to 6 points can alternate between states if breached [1].
As a comparison with the rest of the world, if caught speeding in the UK, you would be fined an equivalent of $186 (£100 GBP) up to $4,642 [2] (£2,500 GBP) with an additional 3 points on your licence. Compared to the US, which varies by state, the average you could be fined in America is $203 ($150 USD), on top of an additional court cost and fees. If you have a history of speeding, the charge may be higher [3].
The biggest fines for distracted driving in each state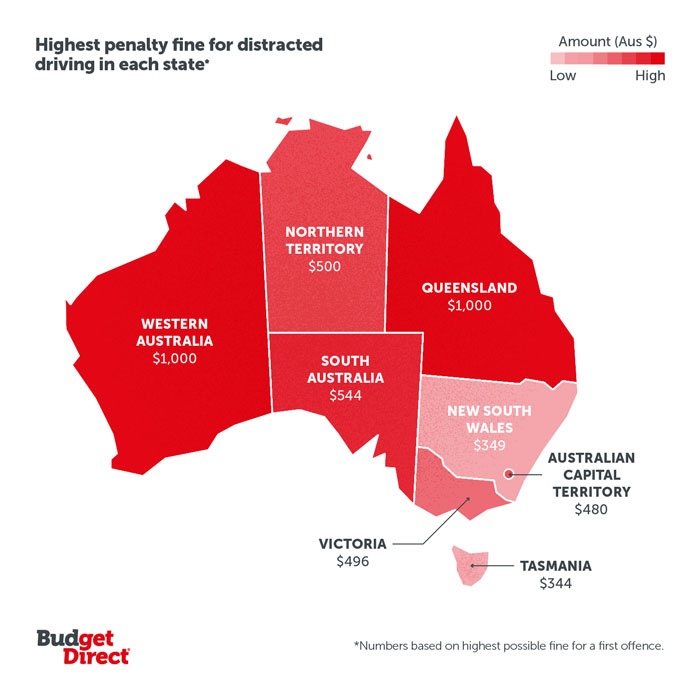 Distracted driving holds a list of charges you can be liable for, from smoking, eating, talking to passengers and changing music, which will not only put you in danger but other drivers and bystanders. Our research found that Queensland and Western Australia give the highest possible fine for distracted driving, both serving a maximum first offence penalty of $1,000.
In the UK, if you are caught not having proper control of the vehicle, you can get 3 penalty points or be taken to court and charged $1,840 (£1,000 GBP) [4]. If you have had your driving licence for less than two years and have been caught, your license will be suspended.
In the US, distracted driving involves texting, eating, using the navigation system or changing radio stations whilst driving. Sadly, eight people in the United States are killed every day due to crashes involving distracted driving [5].
Largest fine for driving without a seatbelt by state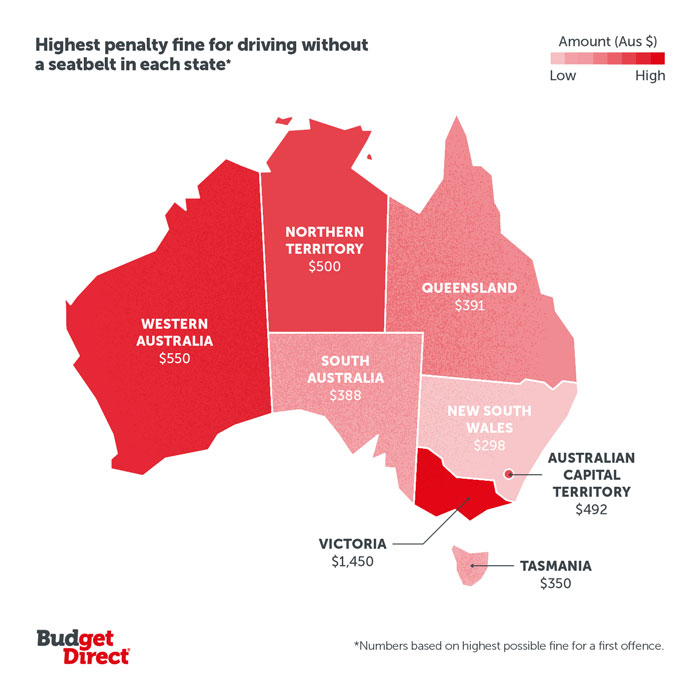 Driving without a seatbelt is one of the most dangerous things to do, yet some of the fines are minimal compared to Victoria, whereby you will be issued a $1,450 penalty for not wearing a seatbelt. In New South Wales, you will be fined as little as $298, the lowest across the eight states and territories.
Seatbelts are compulsory, though if not worn, they can leave you with a penalty of $184 (£100 GBP) in the UK, which can rise to $923 (£500 GBP) [6], in court if found guilty. Compared to the US, in California, if an adult fails to wear a seatbelt, they will be fined $217 ($162 USD), and if they do not restrain a child under 16 properly, they will be charged $656 ($490 USD) [7].
Biggest drink driving fines by state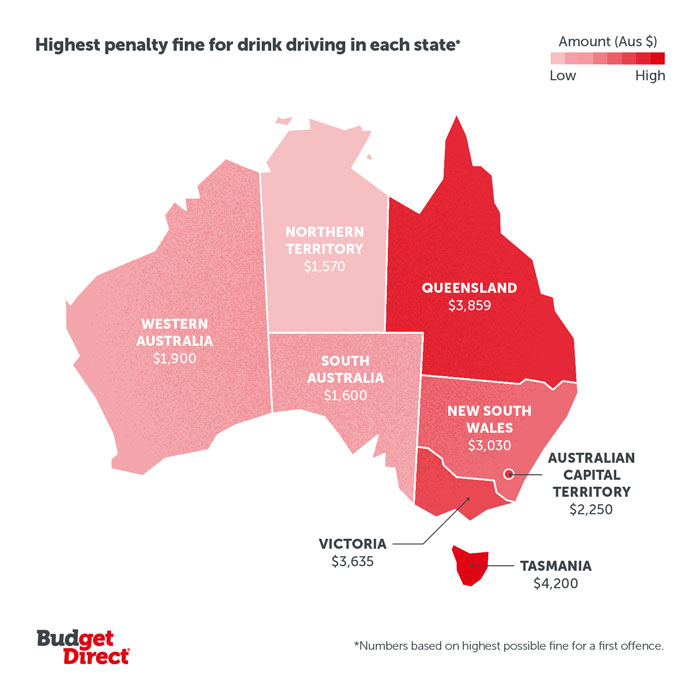 The penalties for drink driving are some of the highest fines recorded in our data set. Drink driving is one of the top contributing factors to 30% of fatal crashes across Australia [8].
Tasmania is ranked as one of the states with the highest fines for drink driving at $4,200, followed by Queensland at $3,859, with the lowest penalty fine based on a first offence given in the Northern Territory at $1,570.
In the UK, penalties for driving under the influence of alcohol vary. This depends on whether the driver is in charge of the vehicle; driving, or attempting to drive while above the limit, which can lead to 3–6 months (causing death — 14 years) of imprisonment, with a $4,609 (£2,500 GBP) to an unlimited fine and a possible driving ban [9].
In the United States, driving under the influence differs between states. The penalty ranges between $667 ($500 USD) to $2,671 ($2,000 USD) with additional jail time [10].
Largest fines for mobile phone use when driving by state
Using a mobile phone while driving is a serious offence and very dangerous for not only the driver but for others on the road. From our data set, we found that the penalty charge for this varied widely across each state. Queensland's maximum fine for using a mobile phone whilst driving is the highest at $1,033, followed by Western Australia at $1,000, which drops down to New South Wales with a charge of $298.
In the UK, driving while using a mobile phone can leave you with 6 penalty points on your licence and a fine of $370 (£200 GBP) [11]. If you have had your licence for less than 2 years and are acting on this matter, your license will be revoked.
While the US varies depending on the state, the penalty range is between the equivalent of $27 ($20 USD) to $669 ($500 USD) in Australian dollars. However, it can reach over $1,338, a misdemeanour offence, alongside points and suspension of your license [12].
Methodology
To measure the states and territories with the strictest road rules and driving penalties, Budget Direct collected data on the highest possible fine for a first offence for speeding, distracted driving, not wearing a seatbelt, drunk driving and mobile phone usage laws across Australia using specific metrics. We gave higher scores to stricter states, which we then used to rank each state weighted out of 100.
Speeding fines (total possible points: 20)
Driver distraction fines (possible points: 20)
Not wearing a seatbelt fines (possible points: 20)
Drink driving fines (possible points: 20)
Mobile phone usage (possible points: 20)
Data
To view the full index scoring system and data, click here.
Sources
[1] Allianz, 2021, Speed limits and speeding laws
[2] GOV.UK, 2015, Speeding penalties
[3] Lena Borrelli, 2021, How much does a speeding ticket cost?
[4] Endsleigh Insurance, 2018, What you need to know about distracted driving
[5] Krista Doyle, 2021, Texting while driving penalties by state
[6] U.S Department of Transportation, 2020, Traffic Safety Facts
[7] Felix Reeves, 2021, Drivers face penalty points for not wearing seatbelt under new 'essential' law change
[8] CARRS-Q, 2016, Fact Sheet: Drink Driving
[9] GOV.UK, 2014, Drink-driving penalties
[10] John McCurley, 2020, DUI or DWI Punishments and Penalties
[11] GOV.UK, 2016, Using a phone or a sat nav when driving
[12] Jose Rivera, 2018, Texting While Driving Laws