Disclaimer: This information is general in nature only. While Budget Direct has endeavoured to ensure the information we've relied on is accurate and current, we do not guarantee it. Budget Direct accepts no liability for this information.
We do everything possible to protect our young children.
We insist they wear helmets when they're riding their bikes, supervise them in the swimming pool, and keep close tabs on them public places.
And yet a high percentage of low-speed car accidents (more than half) involve children being hit by reversing vehicles, often driven by their parents.
Tragic car accidents like this are largely preventable.
Because they're small, curious, active and hard to keep constant tabs on, toddlers are at high risk of being injured or killed by reversing vehicles.
Here are some tips to help keep your children safe from reversing cars.
Related: 9 road-safety tips for your teen learner driver
Educate your children about the dangers of reversing cars
It's never too early to start warning your children about the dangers of playing around cars, driveways or in parking lots.
Early education is key, says David Gribble, the chief executive of Constable Care Child Safety Foundation, which uses puppet theatre and live interactive performances to address personal and community safety.
"We need to address this issue [so] children [are] more aware of their surroundings and the other road users and to allow them to develop safer travel behaviours," he says.
When you're putting your children in the car is a good time to remind them that reversing cars are extremely dangerous.
When you're reversing you can reinforce the reasons why they need to stay away from moving cars.
When walking through a parking lot, make it a team effort to look for cars that might be reversing. Remember, since children are smaller, a car might see you, but not them.
Caravan parks, camp grounds and footpaths are other places children should be on the look-out for reversing vehicles.
Don't let your children play in the driveway
Accidents involving reversing cars most commonly occur in residential driveways, including those at the child's own home.
Discourage your children from using your driveway and garage as play areas; or playing in, under or behind vehicles.
Make it a rule that your children can only be in the driveway or garage if they're holding your or your spouse or partner's hand.
While you shouldn't depend on it completely, a fence and/or gate that bars access to your driveway or garage can provide an extra layer of safety.
If you live on a quiet street or cul-de-sac that children play on it's a good idea to apply an extra level of awareness.
Encourage them to play in your backyard as much as possible or take them to a local park or the beach.
Look around the vehicle before reversing
As a safety precaution, make sure you are absolutely certain where your children are before you get into your car and reverse out of the driveway.
All cars have blind spots — look at your car's before putting it into reverse. Read our guide on using car mirrors correctly to eliminate blind spots.
Always scan for children who may be playing on the street nearby or, if you're in a public car park, walking past your car.
These days, many cars are fitted with proximity sensors (which sense when the vehicle gets too close to an object) and reverse cameras (which alleviate the rear blind spot).
However, proximity sensors aren't necessarily powerful enough to detect a small child.
And depending on the width of the camera angle, reverse cameras may not entirely cover the rear blind spot.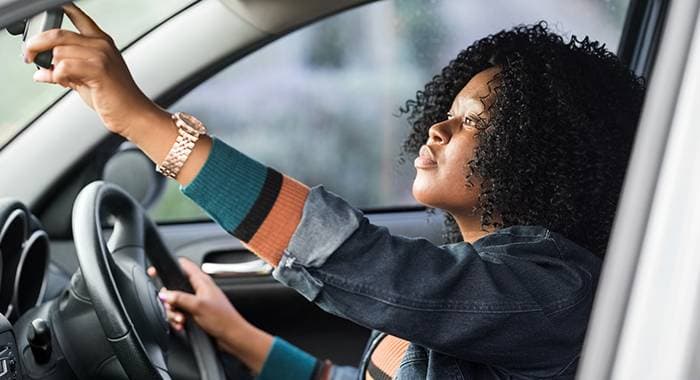 Before reversing, routinely go through this checklist:
Ensure you can see your children, or that they're with another carer.
Check all your mirrors — both side-view and rear-view.
Turn and look over both shoulders, to ensure there's nothing in the mirrors' blind spots.
If your car has rear-obstacle detection technology, use it. But don't solely depend on it.
Double check on your children.
Put your car into reverse.
Reverse slowly.
If you're the sole supervisor of your children and are simply moving the car out of your driveway to a nearby parking spot, take the children in the car with you.
While car technology has advanced and can help detect nearby objects, it's still important to take care.
The best prevention strategy is adult supervision and due diligence before reversing.
Keep your child safe inside the car too — find out how to select the right car seat for your child.