Disclaimer: This information is general in nature only. While Budget Direct has endeavoured to ensure the information we've relied on is accurate and current, we do not guarantee it. Budget Direct accepts no liability for this information.
It goes without saying that the safety of your children while they're travelling in cars is critical.
Child restraints have come a long way since the days when children were strapped into a car in their bassinets or in clunky contraptions that hooked over the bench seat.
Despite advances in design and materials, it's still important to choose the right car seat for your child.
In this guide we've put together all the information you may need to best choose, install and adjust your child's car seats.
What is a child car restraint?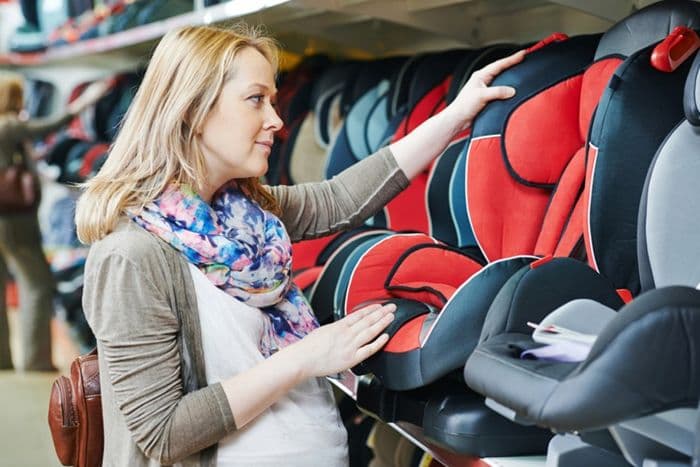 A child car restraint or car seat is a device anchored to the car using an inbuilt harness or the car's adult seatbelts. It reduces the risk of a child being injured or killed in a car accident.
According to Product Safety Australia, restraints are generally suitable for children up to 10 years old with a shoulder height of 530mm.
Child restraints sold in Australia must comply with Australian and New Zealand Standard AS/NZS 1754.
Types of child car restraints
There are eight different types of child restraints that meet AS/NZS 1754.
The one you choose for your child will typically depend on their age; size is also a factor.
When choosing your child's car seat, it must be:
Appropriate for your child's size
Correctly installed in your car
Properly fastened and adjusted to fit your child
Meet Australian/New Zealand standards AS/NZS 1754
Adhere to car seat laws, regulations and requirements
Child's age

Type of restraint (all of which must be properly adjusted and fastened)

Exceptions

Under 6 months

Rearward-facing restraint with a built-in harness

It's recommended children who are too small for the restraint specified for their age group stay in their current one until they grow into the seat for the next age group; and that those who are too big move into the size specified for the next age group.

The shoulder height markers on the restraints will tell you when your child's ready to move up a size.

6 months to 4 years

Rearward-facing or forward-facing restraint with a built-in harness

4 to 7 years

Forward-facing restraint with a built-in harness
Booster seat or cushion secured with an adult lap-sash seatbelt or H-harness

7 years and over

Standard seat with adult seatbelt
Booster seat or cushion secured with an adult lap-sash seatbelt or H-harness
Baby capsules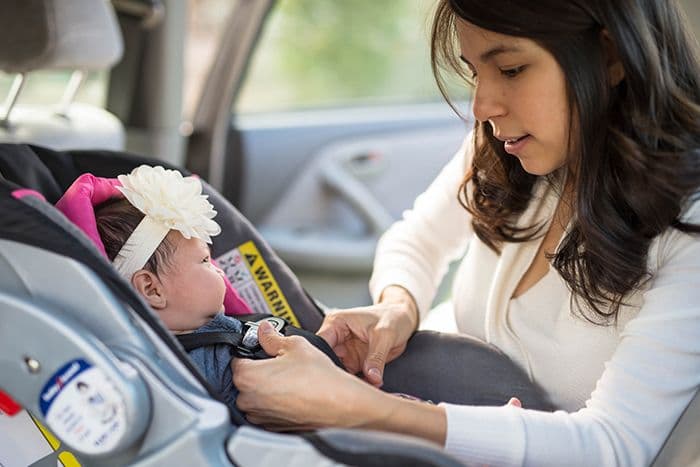 Rearward-facing restraints include baby capsules, in which infants travel until they develop head control. These capsules often feature a portable carrier that fits within a hard shell and is anchored to the car using an adjustable harness.
Because they need them for only six months or so, many parents choose to hire baby capsules rather than buy their own. The hire cost generally includes professional installation.
Booster seats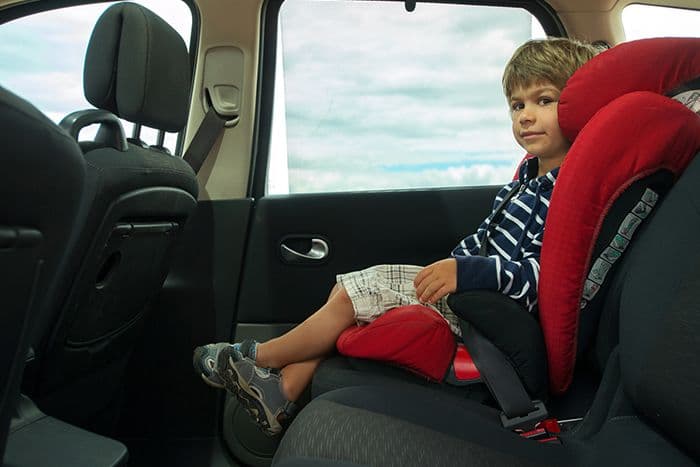 Booster seats are forward facing and are for older children who have outgrown their car seats but are not ready to sit unassisted in the car. A booster cushion is a booster seat without the back and side wings.
Safety experts recommend you use a full booster seat as it provides better protection for your child's head, neck and spine in a crash.
Combination types
Not only are there eight different types of restraints, there are combinations of them, for example ones that can be used in rearward-facing position initially and the swung around into a forward-facing position when the child is older.
Similarly, you can buy a forward-facing chair that transitions to a booster seat.
While they generally cost more to buy, you can get more use out of these combo chairs, which can save you money in the long run.
Second-hand child car seats
If you decide to buy a used child car seat, check that it not only meets the AS/NZS 1754 standards, but also that it:
Is less than 10 years old (look for a date of manufacture on the seat)
Hasn't been in a crash
Has no obvious signs of wear and tear
Comes with its instruction booklet and parts.
Can be fitted into your current car
Installing a car seat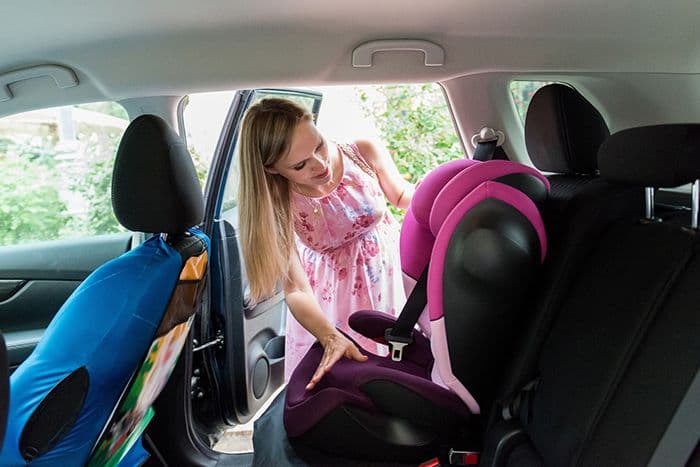 Properly installing your child's car seat will ensure their safety while they're in the car. You can get them professionally fitted and check if the seat will fit in your car before your buy it.
The Child Restraint Evaluation Program (CREP) offers a blue star rating system for new car seats. One of their categories is "ease of use" with the highest scoring car seats being the easiest to use and install.
You'll need to keep the door armrests, angle of the window and anchor points in mind, check whether your child's car seat is compatible with ISOFIX and find out what cars have ISOFIX in Australia.
Fitting a car seat
While you can fit you child's car seat yourself it is still strongly recommended that you have an authorised fitter do the job for you, at least for the first time. You can consult your local Kidsafe or motor organisation for a professional child restraint fitting.
If you do decide to install your child's car seat yourself then make sure it at least fits in your car first. Kidsafe Australia's restraint guidelines recommend that you assess the child restraint anchorage points and use your car manual to establish where those anchorage points are.
Always ensure that you follow the car seat manufacturers car seat compatibility and installation instructions. They will offer advice that is specific to the type of seat, name of the seat and how to install the seat.
When fitting a capsule check that you have the right anchor points and thread the harness, tether straps and seat belts through the right spots. You'll then want to attach the tether strap and pull firm.
When fitting a rearward facing or convertible seat you'll have to extend the stabilising bar, tilt the seat as far back as it can go until your child is lying at a 45-degree angle. Attach the tether strap to the anchor point and pull tight.
When fitting a forward-facing seat check that you have the right anchor points and that the harness is threaded through the right spot. You'll need to firmly attach the tether strap.
In a traditional rearward facing, forward facing or convertible car seat you'll need to thread the seat belt through the base so that it holds the seat firmly in place. If you're using an ISOFIX compatible car seat you'll need to firmly attach the connectors to the anchorage points.
When fitting a booster seat that has a top tether strap make sure to firmly attach it to the anchor point and pull so it's tight. Check that the seat belt is firm, untangled, crosses your child's shoulder, rests low against their body and tight across their hips.
Adjusting a car seat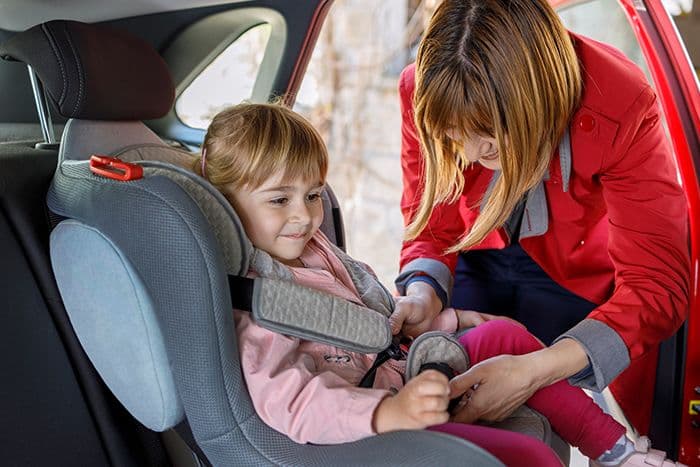 According to Kidsafe Australia's restraint guidelines you'll want to adjust the car seat harness straps as your child grows and move the shoulder straps so that they are just above or level with their shoulders.
Make sure that they are strapped in properly with an untangled harness, a low harness buckle and the lap section of the harness is resting across their pelvis not their stomach. Keep in mind that being strapped in properly does not mean tightly!
The tether strap should be taut and firm each time your child uses the car seat and if you're using a traditional seat make sure that the seat belt is firm and still buckled in.
Or check that the connectors are firmly attached to the anchorage points if you're using an ISOFIX compatible car seat.
Sources