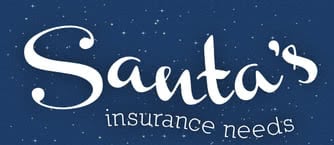 He knows if we've been naughty or nice, but who's making sure Santa doesn't get his tinsel in a tangle on Christmas Eve?
When you're travelling the world in one night, on the back of an airborne sleigh powered by reindeers, shimmying up and down chimneys lugging a heavy sack of presents on your back, there's no doubt being Santa is a risky business.
Award winning low-cost insurance provider Budget Direct has crunched the numbers for the big jolly guy in the red suit, to calculate how much it would cost to cover Saint Nick for Christmas.
Click here to see our fun infographic.
Reindeer Insurance: $46.20 per month
Santa's Reindeer are protected in case of an accident or illness all year round, with a policy including prescription diet needs, teeth cleaning, vaccinations and even alternative therapies. *
Sleigh Insurance: $60.56 per month
Santa's sleigh is vital to his operation; comprehensive sleigh insurance will cover the cost of repairing any damage to his sleigh, provide him with a hire sleigh if his is damaged or stolen as well as replace any personal effects, such as presents! *
Travel Insurance: $92.65
As a worldwide traveller, it's imperative Santa has extensive international travel insurance. With a Budget Direct Platinum Travel Insurance Policy Santa is covered for any overseas medical emergencies, loss of luggage or personal effects, personal liabilities or the need for a rental vehicle whilst in transit. *
Home & Contents Insurance: $118.89 per month
Santa's North Pole home will be taken care of with a Budget Direct Home & Contents Policy; including Automatic sum-insured adjustment at renewal, and – most importantly – new for old replacement cover. *
Health Insurance: $110.80 per month
Should Santa have a mishap while delivering all those presents and need to be in hospital, he's covered with a Budget Direct Top Hospital Health Insurance policy which will cover expenses including treatment, accommodation, medication etc. *
Roadside Assistance: $69.95 per year, with no joining fee
Santa has a lot to do come Christmas Eve and doesn't have time to deal with a broken down sleigh – luckily he's covered with a Budget Direct Roadside Assistance package – so he won't be stranded with all those presents on board. *
A fantastic infographic (we're biased of course!) has been designed as part of this release, go to http://bdins.co/1bwJn0U for a closer look. If you'd like a copy of the infographic please contact Budget Direct on the number or email below.
---
For further information or interviews please contact Jonathan Kerr, Director, Marketing & Digital, Budget Direct (Auto & General) at 07 3377 8801 or mediaenquiries@budgetdirect.com.au
Budget Direct was established as an insurance provider in Australia in 2000. It is part of the international BHL Group of companies headquartered in the British Isles. The group provides more than 6.8 million policies to insurance customers and administers $2 billion in premiums annually. Budget Direct offers Motor, Home & Contents, Health, Life and Travel Insurance as well as Roadside Assistance.