Whether you're travelling the world on your gap year or visiting Bali for a week, backpacking or travelling in style, going on a working or an adventure holiday, we've got a wide range of travel insurance for you to choose from.
Tell your loved ones not to worry: All of our international travel insurance policies provide an unlimited amount for overseas emergency medical and hospital treatment.
What's covered?
Depending on the type of travel insurance you choose, your cover can include:
Overseas medical and hospital expenses
Unlimited amount for emergency medical and hospital treatment if you suffer an illness or injury during your international trip (excluding pregnancy and childbirth).
Luggage and personal effects
Cost of repairing or replacing your jewellery, tablet computer, camera, etc., if they get lost, stolen or damaged during your trip (sub-limits apply).
Personal liability
Payment of up to $5 million in case you're held legally liable for accidentally injuring someone else or damaging or losing someone else's property during your trip.
Sports and activities
Cover for more than 90 sports and activities, including bungee jumping, hot-air ballooning, scuba diving – even ostrich riding.
Choose your cover
Budget Direct offers five different types of travel insurance; the following two are popular among young travellers:
(When deciding what type of cover might suit you, you'll need to consider your own particular circumstances.)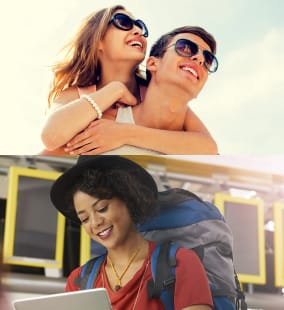 Comprehensive Travel Insurance
If you prefer to leave nothing to chance, you may wish to consider comprehensive cover, which includes our full list of benefits and entitles you to claim up to our highest benefit amounts.
Read more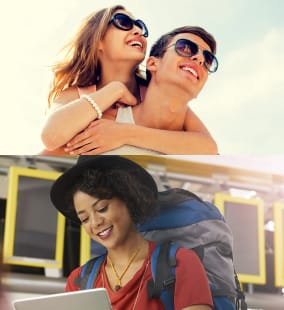 Last Minute Travel Insurance
If you're looking for a basic level of protection at our lowest price but still want cover for your belongings and medical and hospital costs, this policy could be the one for you.
Read more
Upgrade your cover
For an additional premium, you can customise your travel insurance policy by adding one or more of the following optional extras to your policy:
Snow Sports Cover
Insures you against loss or injury while skiing, snowboarding, ice-skating and more, including the cost of snow sports equipment, lift passes and ski packs.§
Read more
Additional Specified Items Cover
Increase the level of cover for your valuables – including smartphone, laptop, and camera – by specifying them in your policy (Comprehensive and Annual Multi-Trip policies only).
Read more
Excess reduction
Halve your excess from the standard $200 to $100; or choose to have no excess.
How do I add these optional extras to my policy?
You can add one or more of these optional extras when you get a quote and buy a policy.
If you've already purchased a policy, you can add Snow Sports and/or Additional Specified Items cover only. To do this, call us on 1800 444 424 or log into your online account and edit your policy – before you depart on your trip and within 14 days of the purchase date.
Covered sports and activities
All of our international and domestic travel insurance policies cover you for 90+ sports and activities.
(Note that medical and hospital costs incurred in Australia are claimable from Medicare and/or your private health fund.)
What's not covered?
There are some incidents and circumstances we do not cover – called 'exclusions' – including:
| | |
| --- | --- |
| Failure to get relevant inoculations or vaccinations | No |
| Errors or omissions in your travel bookings | No |
| Incidents involving drugs or alcohol | No |
| Loss of luggage and personal effects left unattended | No |
| Countries listed as 'Do not travel' on the federal government's Smartraveller website | No |
| Pre-existing medical conditions – other than the 27 conditions we cover | No |
| Medical and hospital expenses incurred in Australia (which are already claimable from Medicare and/or your private health insurer). | No |
Get a quote
Whether you're after a cheap price or a policy with all the bells and whistles, we've got a wide range of travel insurance cover for you to choose from.
Get a quote online in 30 seconds or call us on 1800 444 424.
Award-winning travel insurance
After comparing all the policies in their database, Australia's largest comparison site, Finder, awarded us their Best Travel Insurance — Comprehensive title in 2018 and 2019.
We also won a Mozo Experts Choice award in 2018 and 2019 for Exceptional Value Basic Travel Insurance (for our Last Minute policy).

Frequently asked questions
Which sports and activities does travel insurance cover?
How many people can be covered under one travel insurance policy?
With Budget Direct, you can get cover for up to 10 travellers on the one policy.
When should I buy travel insurance?
It's up to you exactly when to buy travel insurance, however it must be purchased before your trip commences.
By getting Budget Direct travel insurance as soon as you've booked and paid for some or all of your trip, you can be covered for things like your pre-paid travel and accommodation if you're forced to cancel your trip due to an insured event (e.g. an unforeseen illness or injury).
(This is unless you have a Last Minute policy, which does not include cancellation cover.)
If you're a frequent traveller with an Annual Multi-Trip policy, you're covered for an unlimited number of up-to-30-days trips you take within 12 months to your chosen destination/s.
Before each trip, you won't need to let us know where you're going – unless your destination is not one you selected originally, in which case you will need to contact us or log into your online account and edit your policy.
How long can I get travel insurance for?
You can get a Budget Direct single-trip policy for up to 12 months if you're aged 65 or under; or up to 90 days if you're aged between 66 and 100.
An Annual Multi-Trip policy is effective for 12 months, however each trip must last 30 days or less (if you plan on taking a longer trip, you'll need to purchase another, single-trip policy).
Does travel insurance cover mobile phones?
Yes – all Budget Direct policies except Last Minute include cover for mobile phones.
For more details, including the terms, conditions, limits and exclusions that apply, please see the 'Luggage and Personal Effects' section of the product disclosure statement.
Travel Insurance Knowledge Base
Your questions about insurance all
answered in one place.
§ Our Domestic policy does not cover medical and hospital expenses, as these are claimable in Australia from Medicare and/or your private health fund.