Disclaimer: This information is general in nature only. While Budget Direct has endeavoured to ensure the information we've relied on is accurate and current, we do not guarantee it. Budget Direct accepts no liability for this information.
For children, family trips are all about creating memories that they'll look back on fondly in the future.
For parents, however, travelling with kids can be a challenge that will test negotiation skills, patience, and the ability to function simultaneously as a tour guide, a squabble referee, and an entertainment director.
So, to help we've put together a list of what to consider when travelling with kids whatever the mode of transport.
Travelling with kids by car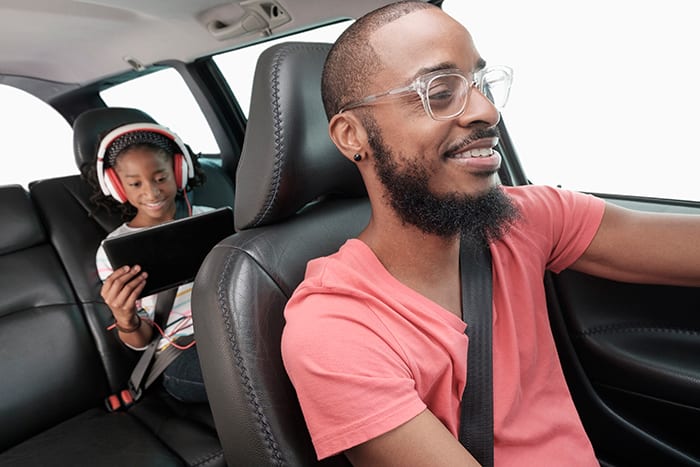 One advantage of a car trip over a plane trip is that you can stop and let the kids out at regular intervals to play, look at the sights or just release a bit of pent-up energy.
You can estimate your travel time and then double it to allow for any unexpected stops, essential breaks, delays in departure, flat tyres or any other mishaps. A rushed, panicked trip is never a fun trip!
For longer car trips you can plan regular breaks with the help of Budget Direct's Pit Stop Planner — an interactive tool to help you better plan your road trip, interval stops, give everyone in your family the time to take a much-needed toilet break and stretch their legs from sitting in the car for an extended amount of time.
Related article: Car maintenance and servicing checklists
Before your road trip it may be a good idea to plan what to pack and tick it off on a checklist. Budget Direct's travel packing list can help you decide what to pack on your road trip based on the temperature, the number of days you'll be away and the activities you'll be doing. You should also keep in mind that when travelling with kids you may need to pack items that provide comfort and make them feel at home while on the road.
While you're in the car it can be helpful to have anything you or your children may need within arm's length. This could include items like food, water or entertainment.
When planning your road trip you could consider taking:
A phone charger
Food (including snacks), water and a water bottle
Toys, books or an electronic device
A visor or sunshade for the car windows
Antibacterial wipes
You should also research the driving route you are going to take beforehand so that you know where to stop along the way. If you're travelling with kids then this will allow them to have a break before they get too restless in the car.
In Australia, car seats for children must be regulated and follow all requirements according to national car seat laws.
Before heading on a road trip make sure to check that your child's car seat:
Is appropriate for their size
Is correctly installed in your car
Is properly fastened and adjusted to fit your child
Meets Australian/New Zealand standards
Travelling with kids by plane
All children need a passport when traveling to a new destination, even infants. You can apply or renew your child's passport on the Australian Passport Office's website.
You'll also need to make sure that your passport is valid for at least 6 months after you're planned to arrive home. This will help to avoid any unwanted surprises – like not being allowed to board your plane!
When flying with children for more than 4 hours you may want to break up the trip into two shorter flights. This is so the kids can stretch, rest and run around in between flights.
If you can, try to take an afternoon or evening flight to your next destination. That way you and your kids can avoid having to stay awake an entire day before heading to bed and reduce the effects of jetlag.
When planning for your flight you could consider:
Booking a bassinet if you have a baby
Getting a stroller at the airport
Planning your child's or children's seating arrangements on the plane
Choosing a flight time when your child will be well-rested
Getting on the plane
When travelling with kids abroad you may want to prepare them for the security screening before arriving at the airport. Helping them pack their own carry-on luggage and developing an understanding of what they can take on holiday can also be an invaluable experience.
Things that they may need in their carry-on luggage may include:
A change of clothes
A pillow or toy
Nappies, wipes and tissues
Drink bottle
Entertainment
Of course, these items can also be packed in your carry-on and should be readily available throughout the flight.
It's important to note that the change in air pressure on planes may give children sore ears and it's best to explain to them that swallowing can reduce the amount of pressure in their ears during the flight.
Travelling with kids by bus or train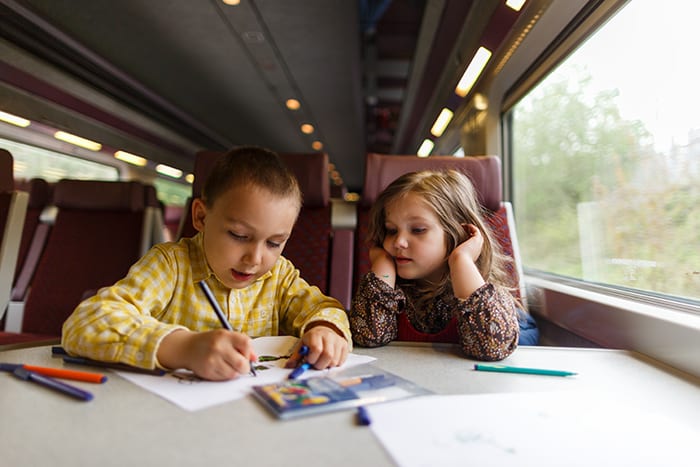 Long rides by bus or train can be incredibly exciting for children and many of the tips provided for car travel can also be used when it comes to travelling with kids on buses and trains.
This means that you should still try to have food, water and entertainment within an arm's length during the travel period.
Something to keep in mind when your kids are boarding a bus or train is to practice safety. Keeping children away from tracks and well within platform safety zones is crucial.
When booking bus or train tickets you may like to consider:
Booking seats that offer more room for babies and children
When the bus or train stops for meals or breaks
If you can order food onboard the bus or train
Motion sickness while travelling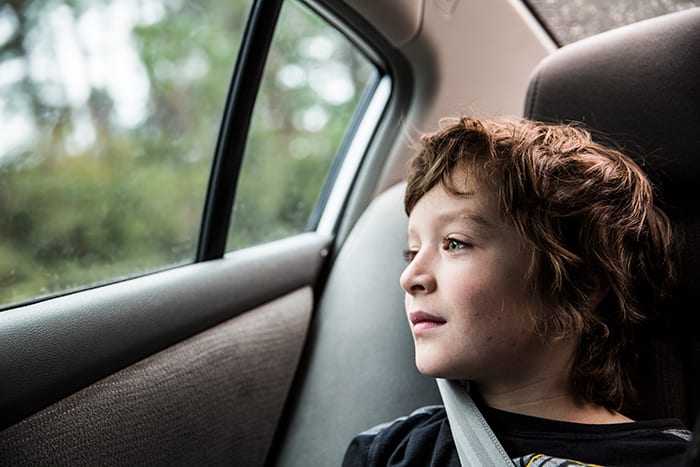 If your child gets motion sickness often then it's best to have a container, plastic bags, wipes and a spare change of clothes on hand in any travelling situation.
Here are some ways you can help your child avoid motion sickness:
Keeping their eyes on the road ahead or look towards the horizon
Open windows to get fresh air inside the vehicle
Eating or drinking small amounts regularly
Trying to keep their head still and not look down
These essential tips should help to make travelling with kids by plane, train, bus or car just that little bit easier.