Disclaimer: This information is general in nature only. While Budget Direct has endeavoured to ensure the information we've relied on is accurate and current, we do not guarantee it. Budget Direct accepts no liability for this information.
Overseas holidays are always memorable for children – and being able to show your kids the wider world is a rewarding part of parenting too.
But travelling as a family is different and requires researching, planning, and packing with children in mind.
Here are a few essential tips and tricks for traveling abroad with your kids:
Picking a destination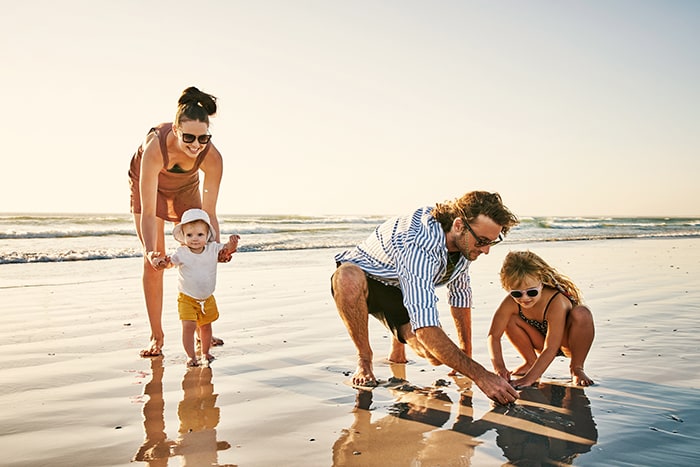 Choosing a destination for a family trip can be tough and especially for families of all ages. A good way to decide on a destination is to choose somewhere where there is something for everyone to do. This is why holidays to the beach work so well with the option of swimming, surfing or staying on the sand.
Some top family holiday destinations include:
New Zealand
Canada
Argentina
Denmark
Samoa
Getting a passport
All children need a passport when traveling to a new destination, even infants. You can apply or renew your child's passport on the Australian Passport Office's website.
You'll also need to make sure that your passport is valid for at least 6 months after you're planned to arrive home. This will help to avoid any unwanted surprises – like not being allowed to board your plane!
Money and credit cards
There are four main money options when travelling abroad:
Travel cards have a locked-in exchange rate, can load multiple currencies, and are perceived to be less risky.
Credit cards have good exchange rates, offer more available funds, concierge services on some premium credit cards and only require pre-authorisation on payments for a short amount of time (from one day to one week).
Debit cards have cheaper ATM access, good exchange rates and offer more control over your money.
Using cash is a great way to budget your money while travelling abroad. Assuming that you exchanged the right currency before travelling abroad you also won't have to worry about any exchange rates either!
Make sure your bank knows that you'll be travelling abroad before you leave. If you forget to tell them about your travels then they may view any overseas transactions as an attempt at fraud.
Along with your bags, it's also important to keep track of your money while you're on the go. Carrying cards in a belt or neck pouch close to your body are both great ways to keep your money close by at all times.
Accommodation and itinerary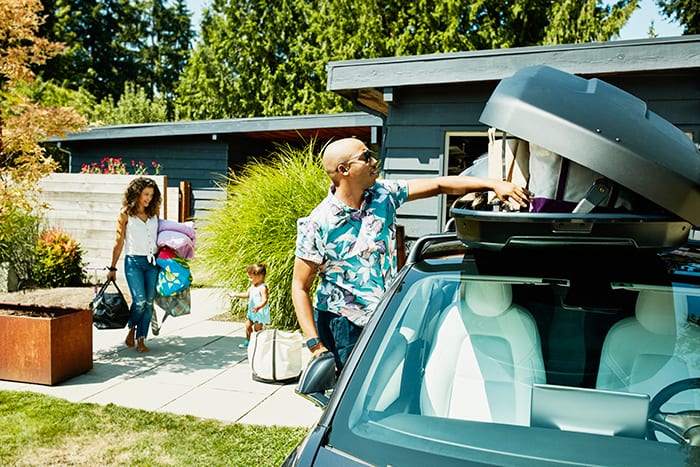 Booking accommodation
Depending on the destination and time of year you travel, leaving accommodation until the last minute can be unpredictable. And if it's high season you may even find yourself with nowhere to stay.
When travelling with children renting an apartment or homestay is a great option. Sometimes it can also be cheaper than paying for hotels, especially when you can cook your own meals.
Airbnb is a great place to start when looking for kid-friendly rentals. You'll want to make sure that the space is safe and suitable for children and/or infants and that you always disclose the correct number of guests (including children) when making a booking.
There are even kid-friendly hosting agencies like Kid&Coe that focus on providing kid-tested and parent-approved properties for your next family holiday.
Planning your itinerary
When planning each day of your trip you may want to take a less is more approach. Spending the whole day sightseeing may not be your best option.
You can spend the first half of the day doing a structured activity and spend the rest of the day relaxing or vice versa. That way you'll all have enough energy for when you need it as well as some downtime too.
Packing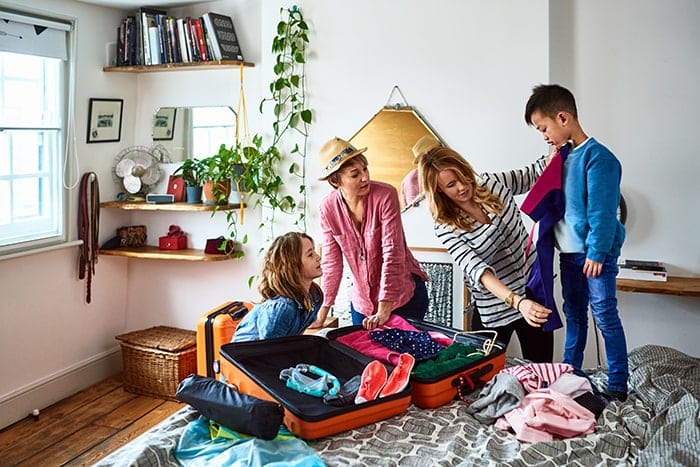 While the process of preparing for a holiday may differ across families you'll need to make sure you have all the essential travelling items added to a travel packing list.
Here are the most important pre-trip travelling essentials to tick off your list before departure:
Essential documents
Passports are important documents, and it's a good idea to make a copy of your children's passports and email them to yourself. This should also apply to visas, birth certificates and other identification cards.
Packing cubes
Packing cubes are a great and inexpensive way to organise and separate children's belongings when packing for a family holiday. You can use between three to four cubes for each average-sized suitcase and these are particularly handy when trying to identify which clothing items belong to which child.
First aid kit
Travelling with a well-stocked first aid kit is essential when travelling with kids. No matter how small or large the emergency may be, there's always a reason to have a first aid kit on hand.
Here's a list of all the items you should include in your first aid kit:
Bandages of varying sizes
Antibiotic ointment
Thermometer
Anti-itch cream
Medicine for allergic reactions
Medicine for stomach aches
Cold and flu medication
Bag count
Typically the more children are with you on holiday the more bags you'll need to bring. You may want to even want to keep a list of the bags you're checking in and carrying on and then count them every time you arrive or leave a destination.
It's surprisingly easy for a kid's backpack, laptop case or stuffed animal to get left behind at the airport, with security or when you get off the plane.
Combating common challenges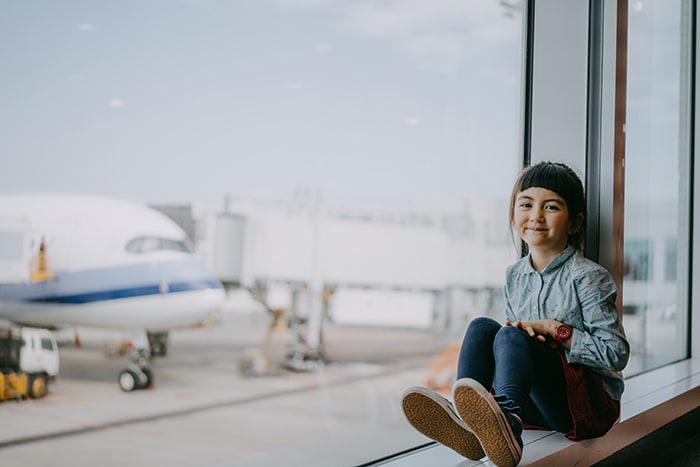 We hope that your next trip with kids will be all smooth sailing but sometimes there can also be some bumps along the way. Combating common travelling challenges with children can sometimes be difficult but hopefully, some of these tips will make it that little bit easier.
Handling jet-lagged kids
Adjusting to a new time zone can be tough and especially if you're travelling with children.
If you can it would be best to take an afternoon or evening flight to your travel destination. That way you and your kids can avoid having to stay awake an entire day before heading to bed.
When flying with a baby or toddler for more than 4 hours then you may want to break up the trip into two shorter flights. This is so the kids can stretch, rest, and run around in between flights.
Other practical tips you can use to reduce jet lag in kids includes:
Encouraging your kids to get as much sleep on the flight as they can
Eating breakfast, lunch and dinner according to the local time with your kids
Not planning too many activities on the first and second day of your trip so that they have time to catch up on sleep
Sick away from home
It's important to know where the closest hospital is to where your family is staying, and you should also pack and keep your family's first aid kit close at all times.
For any emergency overseas medical and hospital expenses it's best to purchase a travel insurance policy. It's important to note that not all benefits apply to all levels of cover so please check the Product Disclosure Statement when purchasing insurance for Terms, Conditions, Limits and Benefits.
It would also be wise to seek travel advice from smartraveller. Travelling with children can be an extremely rewarding experience and smartraveller can help you with the things you may need to know.