Disclaimer: This information is general in nature only. While Budget Direct has endeavoured to ensure the information we've relied on is accurate and current, we do not guarantee it. Budget Direct accepts no liability for this information.
For a country that has around 881,000 registered motorcycles, there's a significant amount of theft. In the 12 months leading up to December 2020, the National Motor Vehicle Theft Reduction Council found that there were 8059 motorcycle thefts in Australia alone.
Naturally, there are more theft prevention guides available for cars, so it makes sense that we also have a handy guide on how to protect your motorcycle.
Install a motorcycle anti-theft alarm
An anti-theft alarm is one of the most effective methods of prevention when it comes to motorcycle theft. Alarms are a great way to attract someone's attention and alert them if their motorcycle was being stolen.
You'll want to make sure that you choose a motorcycle alarm that sounds different from a regular car alarm. That way you'll be able to recognise if your motorcycle is being stolen. And finally, make sure to have the alarm's sensitivity tuned so that there are no false alarms.
Use or install a motorcycle kill switch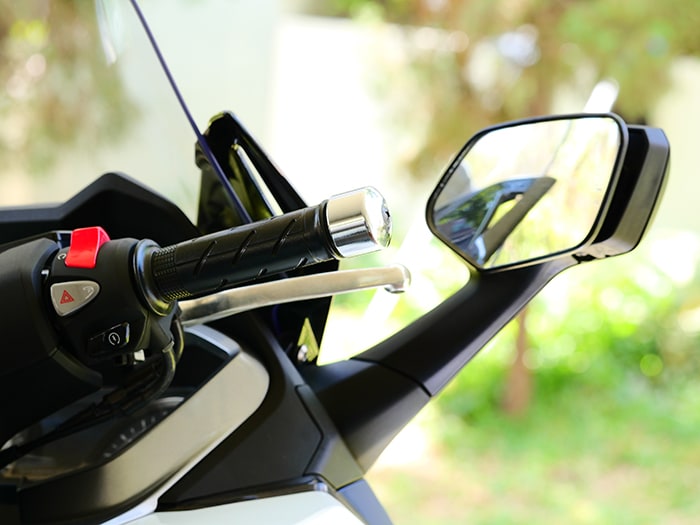 If your motorcycle doesn't already come with a kill switch, then you may want to install one. The benefit of having a kill switch is that it adds an extra layer of security in preventing your motorcycle from being stolen.
When a starter kill switch is installed it prevents electricity from reaching the spark plugs and stops the motorcycle's engine from starting altogether. A kill switch is most effective when hidden and will ensure that your motorcycle won't start unless the switch is disabled first.
Use multiple locks on your bike
One of the best motorcycle theft prevention tips is to use multiple locks on your motorcycle. It's recommended that you use at least two or more locks in addition to any of your motorcycle's built-in locks.
Here are some lock options for your motorcycle:
Steering lock – this lock is used to stop the easy manoeuvring of your motorcycle.
Disc brake lock – this lock is used to secure your wheels and stop them from turning.

Motorbike ignition lock – this lock will only work if you make sure to turn off and lock the ignition.
Fork lock – this lock is used to secure the forks of your wheels.
If all of these locks are separate from one another then this will actively increase your chances of preventing motorcycle theft.
Lock your motorcycle to something heavy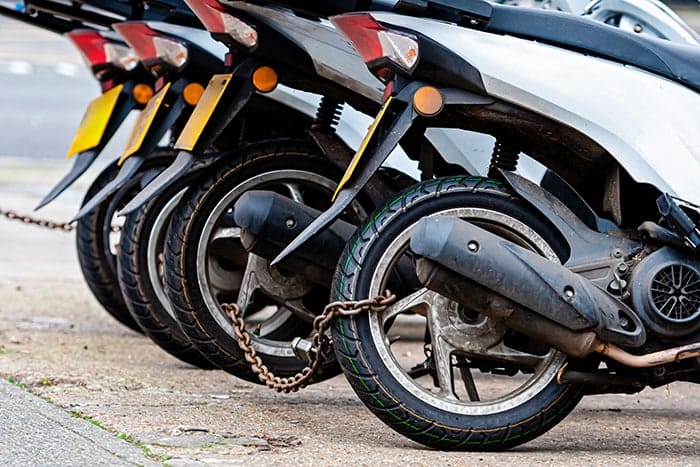 You should always try to lock your bike to a heavy, stationary object, especially when you're going to be away from your motorcycle for an extended period. This should also include when you've parked your motorcycle at home or in a garage.
To lock your motorcycle you'll need a thick chain or cable and a padlock. Both items must be made of strong materials and not easily broken by a bolt cutter. Anchoring your motorcycle to a heavy object not only provides more protection but will also help to deter potential thieves.
Install a GPS locator
Installing a GPS locator on your motorcycle can be a helpful motorcycle theft prevention method. Having a hidden GPS locator on your motorcycle can help authorities track down your motorcycle much quicker and have it back to you within days instead of weeks or months.
Theft prevention practices
If you're looking for tips to prevent motorcycle theft in your area then here are some things you can do from day to day.
Park within FOV of security cameras
Make sure that you park in a secure area within the field of view of overhead security cameras. Security cameras are effective in preventing motorcycles from being stolen (especially in very busy areas).
Park near other motorcycles
This tip works well if you're travelling in a group, however, if you're on your own you may also be able to find other motorcycles to park next to.
There are two main benefits to parking near other motorcycles. The first is that your motorcycle becomes less of a potential target with other motorcycles around and the second is that with more riders around there is less of a chance of your motorcycle being stolen.
Park your bike in a well-lit location
If you're looking to park your motorcycle outside then make sure it's in a well-lit location. As long as your motorcycle is parked out in the open then this will help to prevent it from being stolen.
Motorcycle Insurance
With Budget Direct's Motorcycle Insurance you can be reimbursed for a hire car following theft for up to 14 days or $1000. Keep in mind that this is not available with Third Party Property Only Cover.