Disclaimer: This information is general in nature only. While Budget Direct has endeavoured to ensure the information we've relied on is accurate and current, we do not guarantee it. Budget Direct accepts no liability for this information.
In addition to buying your first motorcycle or considering the cost of an upgrade, you should also assess how you're going to choose a motorcycle jacket that not only protects your body in the event of a crash but also suits your personal style.
As one of the 5 motorcycle safety gear must-haves choosing the right motorcycle jacket should be based on safety, style, price, and material in our motorcycle jacket buying guide.
What features should I look for in a motorcycle jacket?
When choosing a motorcycle jacket, you should consider:
Protection and safety
Comfort and fit
Style and look
Material and feel
Price
Safety standards
Motorcycle jackets that have been independently tested on their performance under crash conditions under European standards can be marked CE (Conformite Europeenne). Next to CE should be the number of the standard and the symbol for a rider.
According to the Queensland government, you should wear long pants and a jacket in addition to your helmet. The jacket should be "highly abrasive and tear resistant and completely cover your arms, legs and body"[1]. The jacket itself should be secured at the wrists and waist to prevent your skin from being exposed during a fall.
It's also recommended that you choose a jacket that highlights your visibility. This can include light or bright coloured clothing, a fluorescent vest, or reflective strips. That way if other road users can see you (even when the weather's bad) then they can avoid you too.
Impacts and armour
The addition of armour to a motorcycle jacket will provide increased protection should an accident occur, so strive to get the best you can for the amount of money you're looking to spend.
Riders should always look for the CE approved symbol to ensure that the armour has been tested and is of high quality. Generally the thicker and harder amour you have in a motorcycle jacket the more protected you will be.
Motorcycle jacket armour protects the areas you're most likely to need it, such as the shoulders, elbows, and back. Some jackets may vary from full-back protection to only lower-spine protection. Most protective inserts are removable and are made up of a variety of materials like memory foam, silicone, hard plastic and viscoelastic.
It should also be noted that all of these safety features should be factored into the cost of owning a motorcycle. Depending on your budget some motorcycle jackets may offer more protection than others.
Jacket styles
There are several different motorcycle-specific jackets, each with its own purpose, features, and restrictions.
Motorcycle-specific jackets include:
Two seams to protect the stitching from abrasion and increase strength
A design to fit the body in high-speed so that won't move easily
Adjustable air vents
Body armour with a CE safety rating (material that absorbs impact and cushions the most vulnerable parts of your body in a crash)
Sportbike jackets: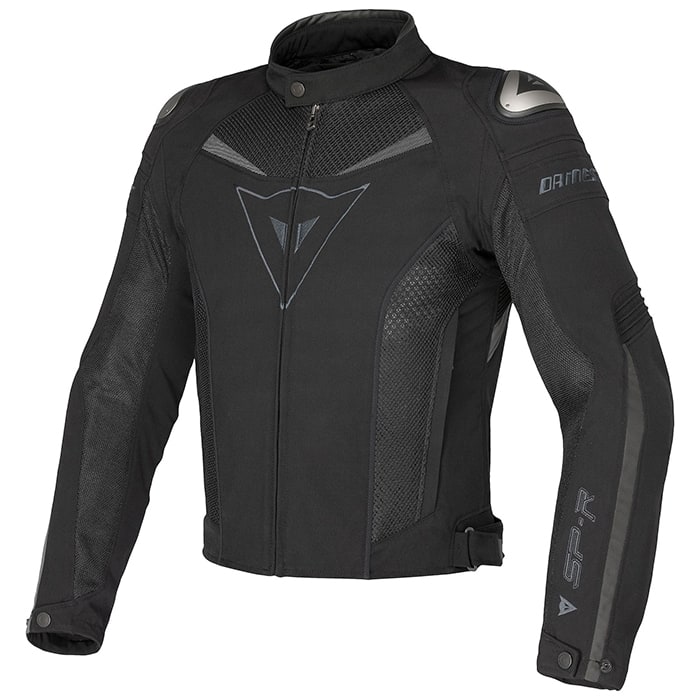 This style of jacket is designed to fit closely to a rider's body in a forward position and provide a range of motion for the rider's arms and shoulders. The jacket has a shorter back for when the rider is sitting upright and high-quality impact absorption and abrasion protection.
Adventure/Touring jackets: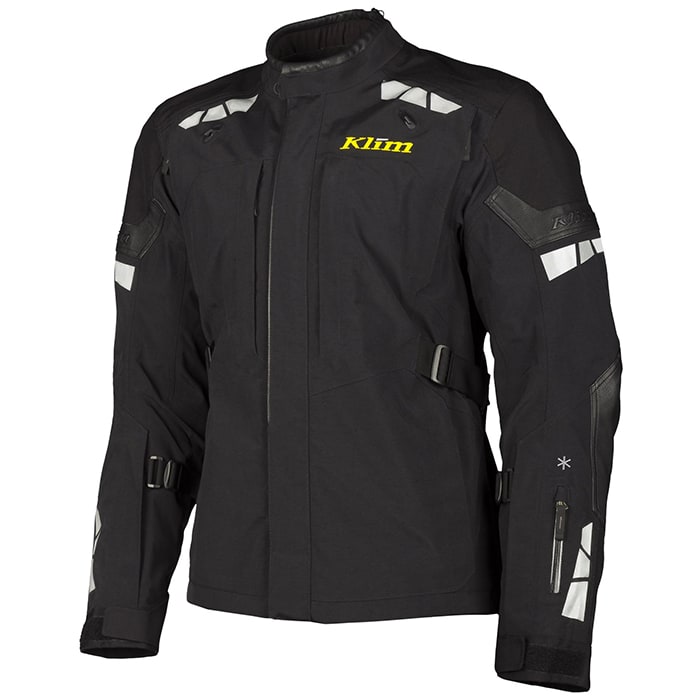 This jacket is versatile, adaptable, and a comfortable style. It can be used in a variety of weather conditions (wind, rain, snow, and heat) and terrains (long paved road, dirt road, rocks, and debris).
Cruiser/V-Twin jackets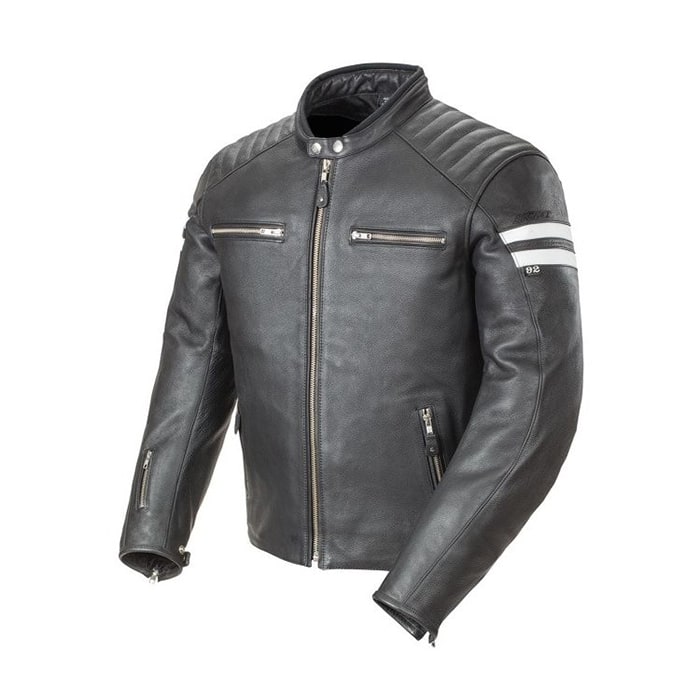 This style of jacket is stylish, comfortable, and can be made of leather or textile fabric. Textile fabric jackets provide better protection, ventilation, weighs less and are ideal for long rides. This style of jacket is also popular with riders and non-riders alike.
Café jackets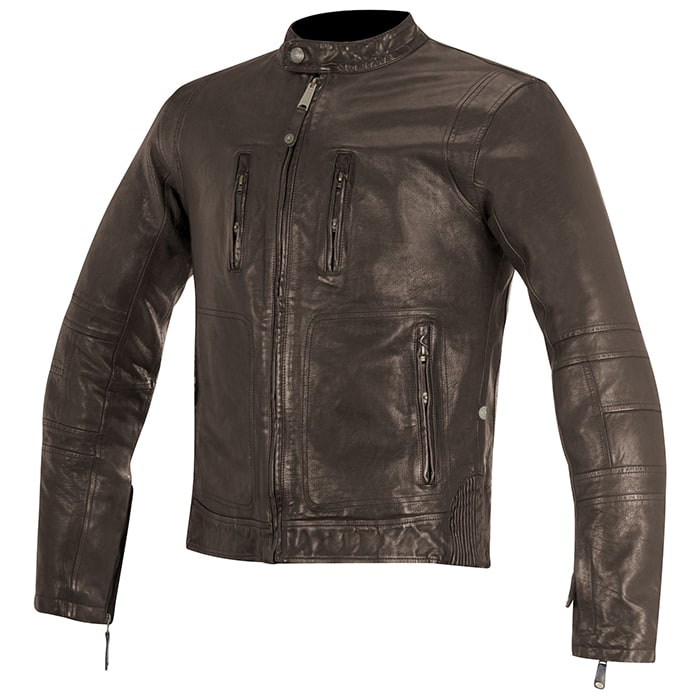 This style of jacket is compact, minimalistic in design and meets the needs of motorcyclists riding Café Racer bikes. Typically designed using leather, this style of jacket has simple lines and a retro look. The short-cut bomber is the most popular style in this type of jacket.
Materials
Most motorcycle jackets are made of leather or a textile fabric and your choice of material should be based on several factors: rider preference and comfort, climate, and rider environment.
For a long-time leather was considered the most favourable fabric for motorcycle jackets in cooler climates but now the new option of man-made textiles offers other higher-quality options like Kevlar.
Higher-quality textiles resist abrasion just as much and sometimes more than leather. They also hold water-resistant membranes that can keep you dry even in bad weather.
While textile materials are favoured in hot and humid areas the introduction of laser-perforated leather, mesh, or jackets with lots of vents are a great option for warm weather too.
Wet weather jackets
Choosing a motorcycle jacket that's designed to withstand different weather conditions can be the difference between a ride where you're protected from the elements and one where you're left completely drenched.
Water-resistance ratings should be listed on jacket labels and a 10/K/15K rating will indicate that your jacket can withstand moderate rainfall. Over time, with wear and tear, waterproof jackets will also need to be treated to retain their primary function.
Comfort and fit
It's recommended that you choose a jacket that not only fits properly but also has ventilation panels and zipper/velcro closures. This will help to ensure airflow and increase your level of comfort without lacking protection.
Prices
Altogether the cost of riding gear, including a helmet, glove, boots, and jacket can cost between $800-$1,200 depending on the brand and where you source it.
The cost of an individual motorcycle jacket varies greatly in price from $40-$2600.[2] This is dependent on the type of materials used and the make of the jacket itself.
Keep in mind that materials like leather and newer safety textiles can be costly and there are also additional safety features that can impact the price of your jacket too.
Trying on a motorcycle jacket
When trying on motorcycle jackets it's important to consider the size, comfort and overall fit.
Here are a few things to look for when trying on a motorcycle jacket:
The jacket should have a snug fit with room for your arms to move freely
The cut of the jacket should be comfortable in the riding position on your type of motorcycle
Make sure the jacket has lots of vents (if you're riding in warm weather)
Check whether your jacket has a zipper around the bottom or at the back so (if you need them to) they can connect to a pair of riding pants
Once you're ready to try on a motorcycle jacket you may also want to check out how to choose the right motorcycle helmet for you.
Sources