Disclaimer: This information is general in nature only. While Budget Direct has endeavoured to ensure the information we've relied on is accurate and current, we do not guarantee it. Budget Direct accepts no liability for this information.
Whether you've seen them filtering their way through rush-hour traffic or riding the winding roads of Tasmania, motorcycles present one of the easiest ways to travel, and are growing in popularity. They use less fuel, can be easily parked and feel liberating when riding.
Motorcycle vs car: 8 reasons to ditch your car for a motorcycle
Now more than ever, thrill-seeking Australians are trading in their cars for compact two wheelers, with 52,838 motorcycles having already been sold from January to June 2020 (a 24.5 per cent increase in sales from the same period in 2019).
But with so many different types of motorcycle's on today's market, figuring out which one is right for you can be somewhat dauting.
That's why we've compiled a quick pros and cons list of all the different motorcycle types to help you make a purchase decision that best aligns with your needs.
Standard motorcycle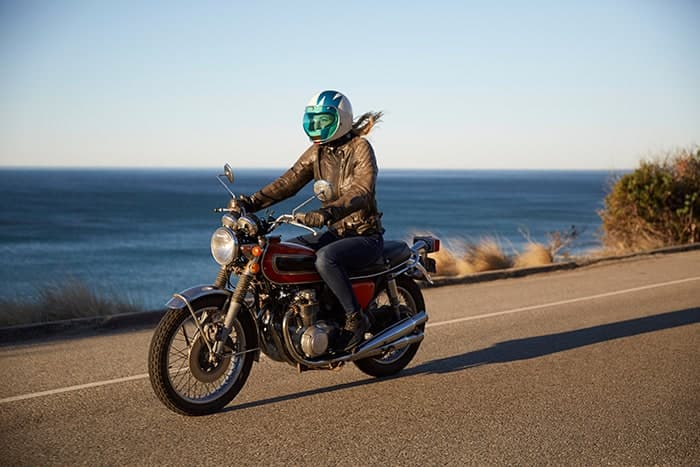 The standard or "naked" motorcycle is known as the best all-rounder. It houses the basic functions of a motorcycle and doesn't come outfitted with fairings (panels) or a windscreen. The bike positions the rider in an upright position with the handlebar and foot pegs also placed comfortably underneath your feet. This bike is light, versatile and is a great motorcycle for street riding and beginner riders.
Pros
Affordable price
Lightweight and agile
Great for beginners
You can add accessories for long haul comfort
Cons
Not as comfortable as other models
Not advisable for long rides
Little to no protection from wind and debris
Doesn't have any additional functions
Cruiser motorcycles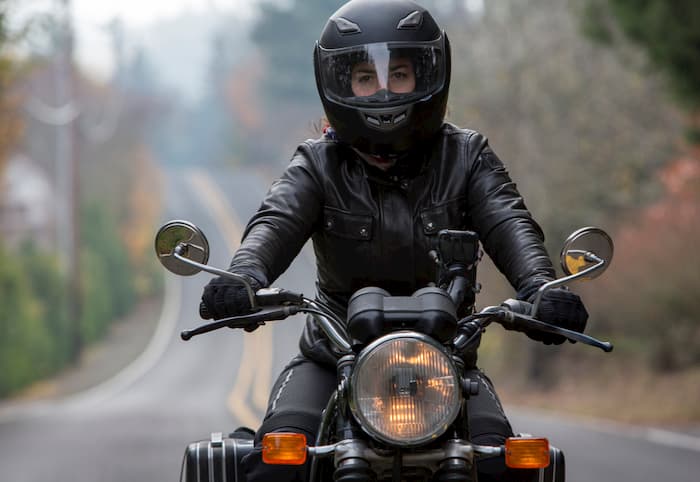 Cruisers are large, heavy models that historically refer to the custom-built American-made motorcycles from the 1930s to the 1960's. Cruiser motorbikes have extended front ends, modified frames, swingarms and custom petrol tanks. Their V-twin engine delivers a powerful movement and a large amount of force. Cruiser motorbikes aren't recommended for new riders and are challenging to ride even for experienced riders.
Pros
Custom-built
One of a kind
Throttle is easily controlled
Cons
Aren't recommended for new riders
Uses a lot of fuel
No weather protection
Limited ground clearance that can make curves challenging
Sport bikes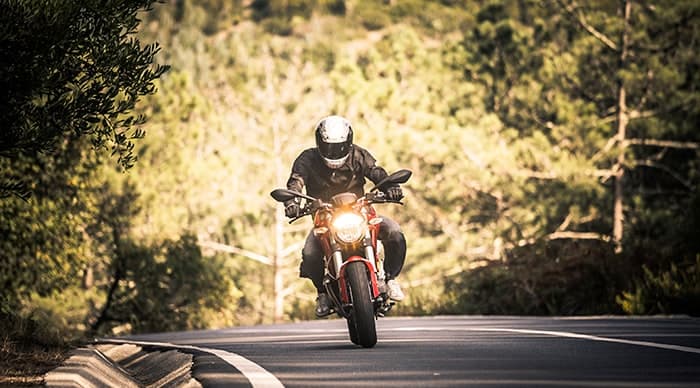 Sport bikes are an extremely popular motorcycle make. Built for performance, sport bikes put a premium on power. Made for experienced and highly skilled riders, sport bikes are designed so that you can experience the excitement of going at maximum speed. The motorcycle body is specifically designed with aerodynamics that will allow the rider to lean forward while riding. This means that the riding position can be uncomfortable and is not suitable for longer off-road trips.
Pros
Weather protection
Designed with aerodynamics in mind
Lightweight
Powerful engine
Cons
Uncomfortable to ride on for long periods of time
Little to no storage capacity
High maintenance
Touring motorcycle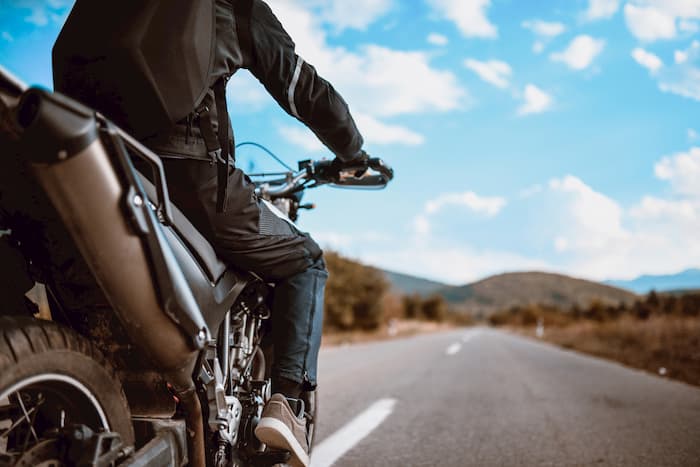 Touring motorbikes are a safe, comfortable and efficient model designed specifically for touring and long-distance trips. These motorcycles typically have a large windscreen for weather protection, a large fuel tank, engine and comfortable upright seating. Touring motorbikes are designed to make long distance trips more comfortable. The seats are soft, handlebars placed at an optimal height and you could even go as far as to make further modifications for ultimate comfort.
Pros
Suitable for long distance rides
Weather protection
Additional storage capacity
Comfortable
Large fuel tank and engine
Cons
Poor fuel efficiency
Difficult manoeuvrability
Heavyweight
Expensive
Takes up a lot of space
Dual Sport motorcycle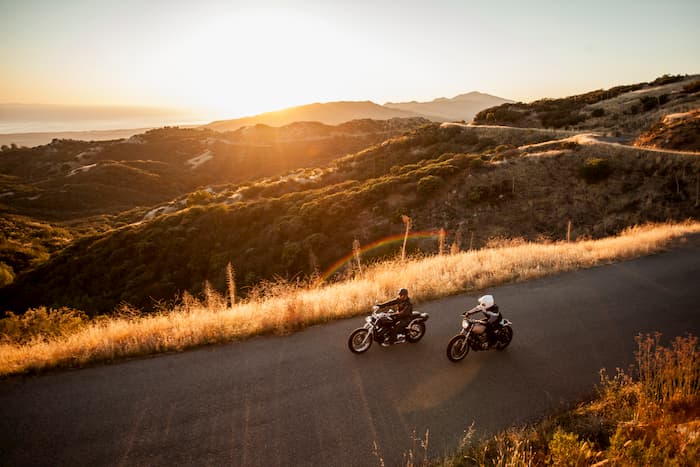 Dual motorbikes are street legal and can be used on and off road. This make fulfills the true meaning of dual purpose. These off-road motorbikes are designed for beginners and have enough power for on and off-road trips. Dual sport motorcycles are equipped with street legal lights, a speedometer, mirrors, horns and muffler.
Pros
Off-road motorbike
Have enough power for extended highway riding
Lightweight
Designed with beginner riders in mind
Street legal
Durable
Cons
Too heavy for challenging trials
Not enough power for high speed riding
Off-road motorcycle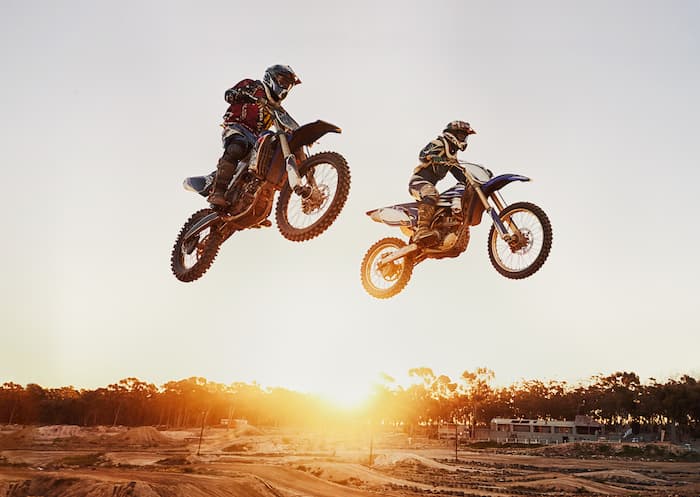 Off-road motorbikes are lightweight models made for rides on off-road trails through dirt, grass, woods, sand and uneven roads. The agile nature of the motorcycle makes manoeuvring much easier on an off-road trail. Beginners can even use this bike! However, experience will aid in minimising the risk of an accident while riding.
Pros
Great acceleration
Agile
Durable
Lightweight
Cons
Not street legal
Lack of storage
Scooter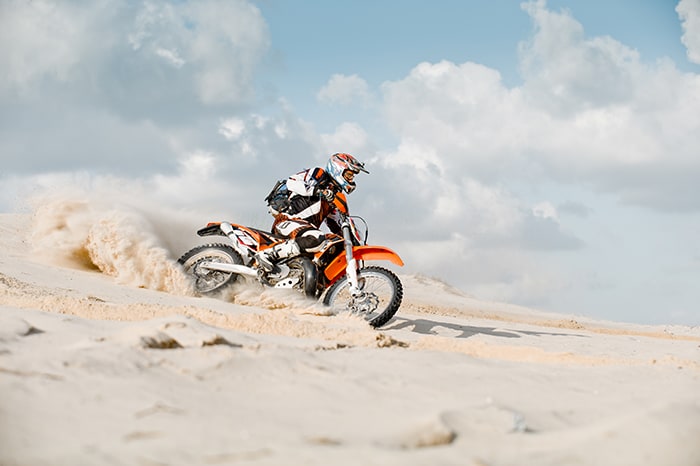 Scooters are a lightweight, more affordable two-wheeler. Each vehicle is powered by a small engine that ranges from 50cc to 250cc. Each scooter has a step-through chassis (base frame) and footrest platform. On the road scooters are much more manoeuvrable and are much easier to control when riding at a lower speed.
Pros
Lightweight
Some have automatic transmission (no shifting gears)
More affordable
Easy to find a park
Great mileage
More manoeuvrable
Cons
Can be uncomfortable on long rides
Lack of stability
Little storage space
Slower than a motorcycle or car
Motorcycle insurance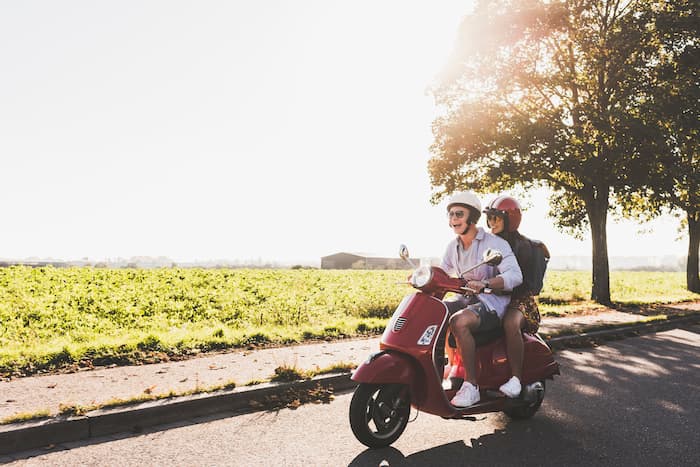 Motorcycle Insurance plays an important part in keeping your motorcycle safe; whether it's damaged, broken or beyond repair. The type of insurance policy you choose will determine how you are protected in case of an accident.
Make sure to have a valid motorcycle license before purchasing insurance.
If you're a beginner rider, who also needs to obtain a licence, then check out our state-to-state guide on how to get your motorcycle licence.
Sources