Disclaimer: This information is general in nature only. While Budget Direct has endeavoured to ensure the information we've relied on is accurate and current, we do not guarantee it. Budget Direct accepts no liability for this information.
Whether you've seen them filtering their way through rush-hour traffic or riding the winding roads of Tasmania, motorcycles are one of the easiest and increasingly popular ways to travel.
Now more than ever, thrill-seeking Australians are trading in their cars for compact two-wheelers, with 52,838 motorcycles having already been sold from January to June 2020 [1].
There are many reasons to ditch your car for a motorcycle; they use less fuel, can be easily parked and the overall cost of owning a motorcycle is low.
But with so many different motorcycles on today's market, uncovering which type of motorcycle is the best fit for you is no easy feat. Are you looking for a bike to commute to the office? Or something more adventurous that you'd only ride on the weekends?
To give you a better idea of the types of motorcycles out there we've compiled a pros and cons list to help you make the purchase decision best suited to you.
Standard motorcycle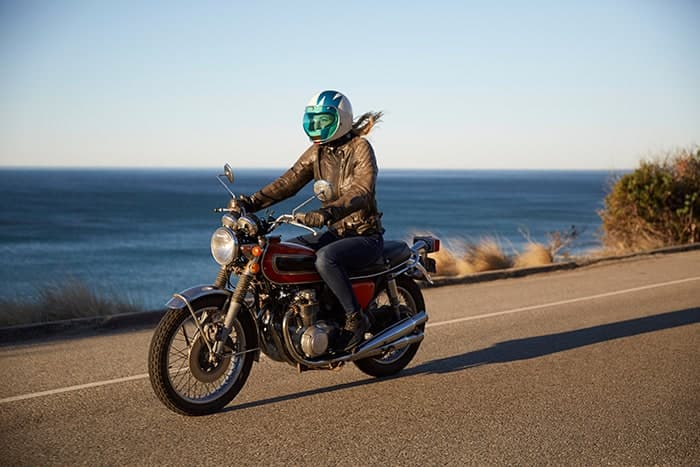 The standard or "naked" motorcycle as it's known is suited to all purposes. Standard models have variations from 125cc up to 1000cc and are typically sought out by riders looking for a starter bike or a daily commute.
While this model doesn't come outfitted with fairings (panels) or a windscreen you can still add luggage, a tank bag and a different seat.
The bike positions the rider in an upright position with the handlebar and footpegs also placed comfortably underneath their feet. This allows the rider to sit at a comfortable height and the bike ergonomics to remain neutral.
Canstar Blue surveyed 800 Australian motorcycle riders in a 2019 review of motorcycle brands, across a range of categories, and found that riders who were after a motorcycle for the daily commute are best suited to BMW bikes. Not only did the brand achieve a five-star rating for technology but also four stars in all other categories; handling, comfort and overall satisfaction.
Pros
Affordable price
Lightweight and agile
Great for beginners
You can add accessories for long haul comfort
Cons
Not as comfortable as other models
Not advisable for long rides
Little to no protection from wind and debris
Doesn't have any additional functions
Cruiser motorcycles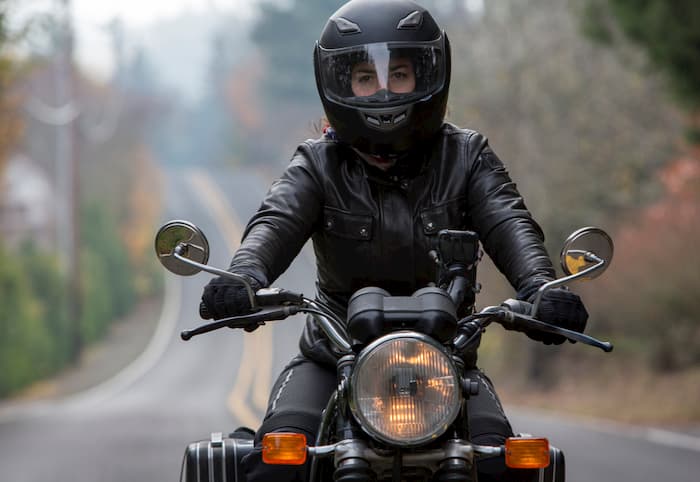 Cruisers are large, heavy bikes that were historically made for "cruising". The bike was designed for longer trips prioritising comfort over functionality.
The engine sizes vary, and an engine can range up to 1000cc or more depending on the brand of bike. No matter the size of the engine, this bike is still a great option for new and experienced riders.
Cruiser motorbikes have extended front ends, modified frames, swingarms and custom petrol tanks. Their V-twin engine delivers a powerful movement and a large amount of force. Adding luggage can make the cruiser a great weekend rider.
Canstar Blue's 2019 review of motorcycle brands found that Harley Davidson remains a popular choice for riders after a cruiser motorbike. Harley Davidson scored five stars for comfort, reliability, style value for money and point of sale service.
Pros
Custom-built
One of a kind
Throttle is easily controlled
Cons
Uses a lot of fuel
No weather protection
The limited ground clearance can make curves challenging
Sport bikes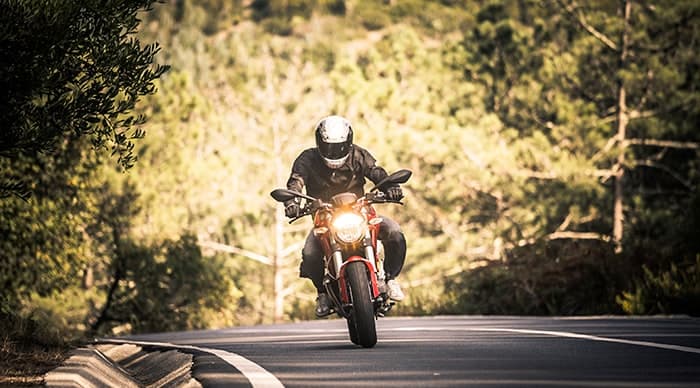 Sportbikes are built for performance and put a premium on power. Made for experienced and highly skilled riders, sport bikes are designed with maximum speed and agility in mind.
This lightweight motorcycle is designed using aerodynamics; allowing the rider to lean forward while riding and increase side to side manoeuvrability.
The seat height is tall in size and is better suited to riders of that height. This also means that the riding position can be uncomfortable and is not suitable for longer off-road trips.
Suzuki is credited as the originator of this type of motorcycle in the 1980's. Canstar Blue's 2019 review found that Suzuki offers sports models for both the motorcycle veteran and the beginner. Suzuki achieved four stars for reliability and overall satisfaction.
Pros
Weather protection
Designed with aerodynamics in mind
Lightweight
Powerful engine
Manoeuvrability
Cons
Uncomfortable to ride on for long periods of time
Little to no storage capacity
High maintenance
Touring motorcycle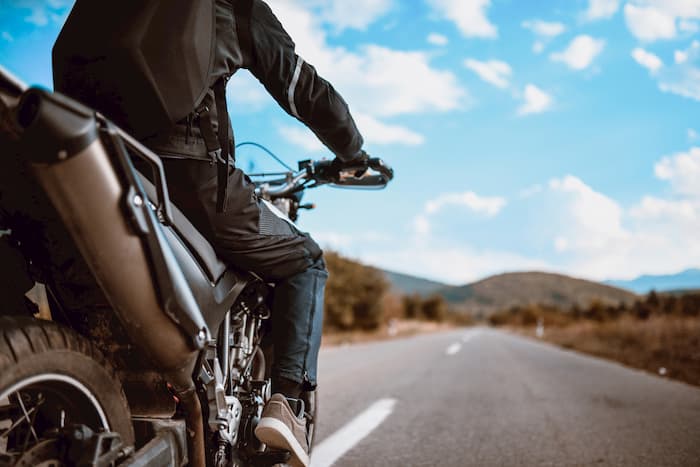 Touring motorbikes are a larger model designed for touring and long-distance trips. This bike is meant to make long distance trips more comfortable and with a large amount of storage and great bike ergonomics you can ride for hours.
Due to the nature of trips, touring motorbikes come fully equipped with a large fuel tank and engine, comfortable upright seating and a protective windscreen for wind and weather as standard.
The seats on a touring motorcycle are some of the most comfortable and the handlebars are placed at an optimal height. You could even make further modifications to the windscreen, storage and seat to increase comfort.
Canstar Blue found that Honda offers traditional Sport models for all types of riders. Honda offers full specifications on bikes on its website allowing you to compare which engine sizes, transmission and wheelbases are best for a long-distance trip.
Overall Honda scored four stars for comfort, reliability, handling, style and overall satisfaction.
Pros
Suitable for long distance rides
Weather protection
Additional storage capacity
Comfortable
Large fuel tank and engine
Cons
Poor fuel efficiency
Difficult manoeuvrability
Heavyweight
Expensive
Takes up a lot of space
Sport touring motorcycles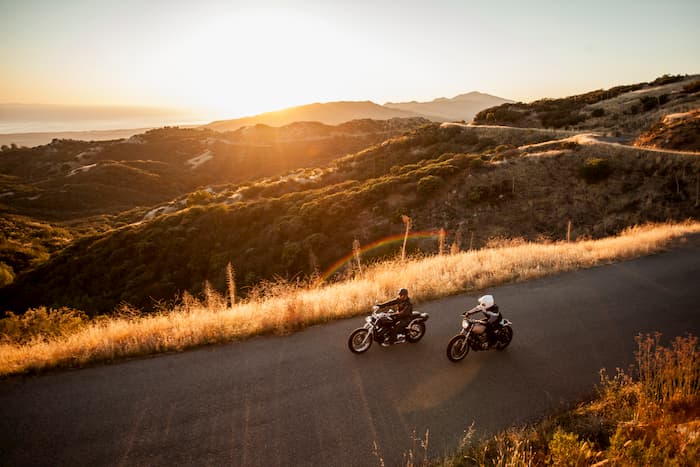 This type of motorcycle combines the best of sport and touring– just as the name suggests. It's designed for both short and long-distance rides with middle to large engines available.
Sport touring motorcycles have more comfortable, taller seats than touring motorcycles and better luggage options than sport motorcycles.
Make sure to choose the right equipment to fit your riding style. This may include additional luggage for extra gear or a larger engine size for extra power while cruising.
Of the 800 surveyed Australians, Canstar Blue's 2019 review found that Yamaha offers on-road enthusiasts a range of sport touring models for all types of riders. Yamaha earned four stars for comfort, reliability, handling, value for money, and overall satisfaction.
Pros
Suitable for all riding lengths
High-performance ability
Manoeuvrability
Comfortable
Cons
Dual Sport motorcycle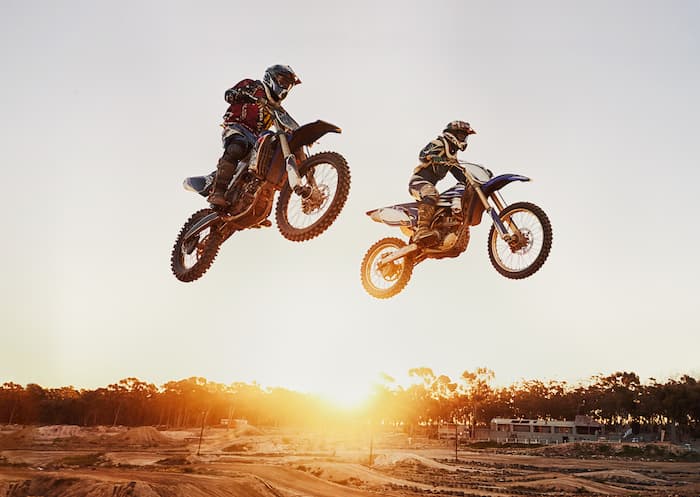 Dual motorbikes (also known as dual-purpose or adventure bikes) can be used on and off-road fulfilling the true meaning of dual purpose. They are an offshoot of the late Enduro bike; a motocross with a headlight, tail light, no brake light and a wide-ratio transmission.
These motorcycles are designed for beginners and have enough power for on and off-road trips. This means that dual-sport motorcycles can be a great middle-ground option for riders.
Dual sport motorcycles are equipped with street-legal lights, a speedometer, mirrors, horn and muffler. While they are street legal they often have more aggressive off-road suspension and rough off-road tyres.
Adventure bikes are a major part of Triumph's motorcycle range. Canstar Blue's 2019 review of motorcycle brands found that Triumph's adventure bikes are suitable for those looking to take their fun off-road. Triumph scored five stars for overall satisfaction, reliability, handling and style.
Pros
Off-road motorbike
Have enough power for extended highway riding
Lightweight
Designed with beginner riders in mind
Street legal
Durable
Cons
Too heavy for challenging trials
Not enough power for high-speed riding
Off-road motorcycle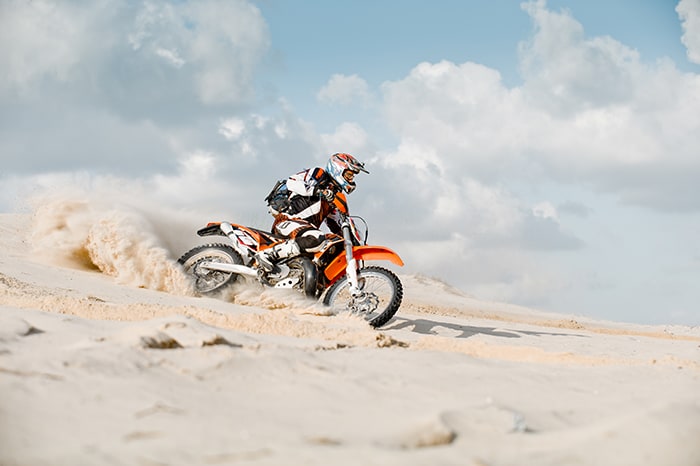 Off-road motorbikes are lightweight models made for rides on off-road trails through dirt, grass, woods, sand and uneven roads. This model isn't street legal so this bike must only be ridden off-road.
Off-road motorbikes have a taller seat height to accommodate a deeper brush and the agile nature of this motorcycle also makes manoeuvring much easier on an off-road trail.
Beginners can even use this bike! But be careful though, most makes typically won't have any lights or turn signals so you must transport the bike via trailer to your favourite off-road trail. Additional experience riding will also minimise the risk of an accident off-road.
Canstar Blue's 2019 review of motorcycle brands found that Kawasaki produces bikes best suited to off-road adventuring. Kawasaki was rated four stars in value for money, reliability and overall satisfaction.
Pros
Great acceleration
Agile
Durable
Lightweight
Cons
Not street legal
Lack of storage
Scooter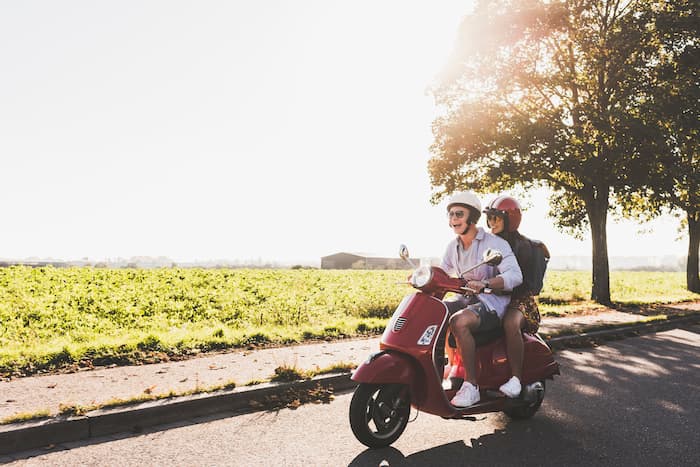 Scooters are lightweight, more affordable two-wheeler suitable for metropolitan areas with lower speeds. Each vehicle is lightweight, lower to the ground and powered by a small engine that ranges from 50cc to 500cc. In some states you can legally ride a scooter (max 50cc) with a car licence.
On the road, scooters are much more manoeuvrable and easier to control when riding at a slower speed. Commonly mistaken for mopeds, scooters have a larger engine and a slightly heavier frame than their moped counterparts.
Each scooter has a step-through chassis (base frame), a footrest platform, smaller panels and limited storage for when you're on a ride.
Scooter insurance is also there for when you lose or damage your scooter. You can even choose between Comprehensive scooter insurance, Third Party Fire & Theft scooter insurance, Third Party Property Only scooter insurance to determine what you are covered for.
Pros
Lightweight
Some have automatic transmission (no shifting gears)
More affordable
Easy to find a park
Great mileage
More manoeuvrable
Cons
Can be uncomfortable on long rides
Lack of stability
Little storage space
Slower than a motorcycle or car
Motorcycle insurance
Motorcycle Insurance plays an important part in keeping your motorcycle safe; whether it's damaged, broken or beyond repair as a result of an insured event. The type of insurance policy you choose will determine how you are protected in case of an accident.
Make sure to also have a valid motorcycle license before purchasing insurance.
If you're a beginner rider, who also needs to obtain a licence, then you'll also want to check out our state-to-state guide on how to get your motorbike licence.
Sources