Disclaimer: This information is general in nature only. While Budget Direct has endeavoured to ensure the information we've relied on is accurate and current, we do not guarantee it. Budget Direct accepts no liability for this information.
Whether you're buying your first motorcycle or investing in a brand new bike you'll want to know the costs. Over time owning a motorcycle can add up and you may find yourself paying for (sometimes) hidden costs that span past owning just the bike itself.
If you're looking to ditch your car for a motorcycle there may be a few different factors you might want to consider first. Not only will you be paying for the bike, but there'll also be safety gear, licence and registration fees, maintenance, repairs, fuel, and the choice of which insurance policy to purchase.
To make it easier for you we've put together some more information about the costs you'll need to know about before investing in a motorcycle.
Types of costs
There are two types of costs you need to consider with any motorcycle purchase, those are your one-time costs and your ongoing costs.
One-time costs usually consist of the bike itself, safety gear, tools, financing, and depreciation.
Ongoing costs will include your insurance and vehicle licence, and expenses based on your rides like fuel, tyres, and maintenance.
The motorcycle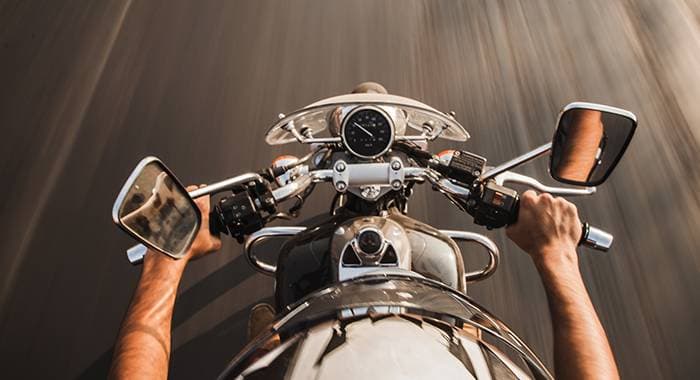 The biggest cost up-front will be the motorcycle itself. Motorcycle prices will vary, and depending on the type of motorcycle, if you're a beginner, bikes can cost anywhere from $5000–$10,000 [1]. If you wanted to take a chance on the used motorcycle market, you may be able to find the model you're after; at a much lower price.
However, if you're looking for a model that is very popular or has a lot of horsepower behind it you may be looking at a $10,000–$35,000 price range. Sport bikes and cruisers can even range up to $40,000! Just remember, prices will vary dramatically based on the type of motorcycle you choose to purchase.
Safety gear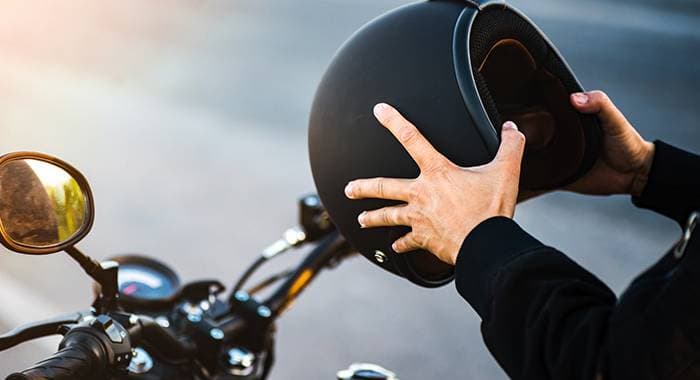 Unlike the safety you get with a car (airbags, seatbelt, chassis, etc.), when choosing to own a motorcycle, you must prioritise your own safety — and that means dressing head-to-toe in suitable clothing. The hidden costs associated with these safety gear must-haves include a helmet, gloves, jacket, riding pants, and boots.
Each item provides an important layer of protection when riding your motorcycle. High-abrasion grade leather or Kevlar-reinforced motor jackets, gloves, and boots should always be worn. Protective pants are highly recommended too especially when riding above 24kmph.
Helmets, as the most important piece of safety gear, can cost anywhere from $150–$900. Prices will vary based on material, protection, and the type of helmet so it's important that you know how to choose the right motorcycle helmet for you.
Initially, you should plan to spend anywhere from $800–$1,200 on new safety gear. Overtime wear and tear from the wind, rain, dust, stones, and abrasions may mean that safety gear may change from a one-time cost to an ongoing cost.
Licence/registration fees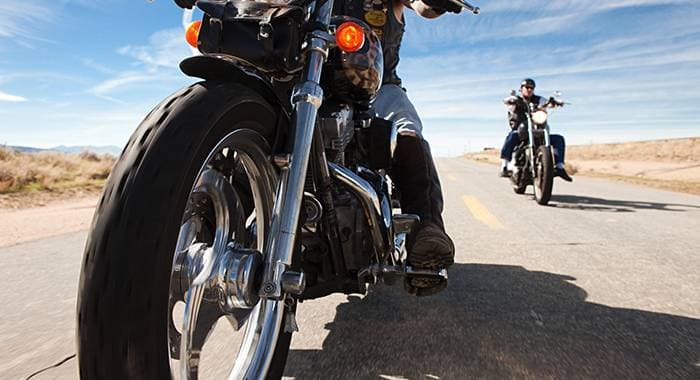 Before you can ride your motorcycle you are required to obtain an Australian motorcycle licence. The cost to get your motorbike licence varies from state to state and this is something that you should be aware of. You must also be older than 16 years in all states except for Western Australia, need proof of identity, and pass a driver knowledge test [2].
By law, you are required to register your motorcycle before you can ride it. Motorcycle registration costs can vary from state to state and are an ongoing cost that occurs annually.
In Australia, annual motorcycle registration costs may include administration costs, government fees, and compulsory third-party insurance. Your total fee may also vary based on tare weight (i.e. weight of a vehicle without the rider), vehicle type, and usage.
In the ACT the cost will include vehicle registration, road safety contribution, and rescue fee and compulsory third-party insurance, lifetime care and support levy, motor accident levy, and compulsory third-party insurance [3].
In NSW the cost includes a flat registration fee, a flat rate vehicle tax for motorcycles, and compulsory third-party insurance [4].
In NT the cost includes a registration fee, an administration fee, and compulsory third-party insurance [5].
In Qld the cost will include registration, a traffic improvement fee, and compulsory third-party insurance [6].
In SA the cost includes a registration fee, lifetime support scheme fee, and compulsory third-party insurance [7].
In Tas the cost includes a registration fee, a motor tax, and compulsory third-party insurance [8].
In Vic the cost will include a registration fee, motor vehicle duty fee, a number plate fee, and compulsory third-party insurance [9].
In WA the cost includes registration, an administration fee, a vehicle inspection fee, a licence duty fee, a transfer fee, and compulsory third-party insurance [10].
Maintenance and repairs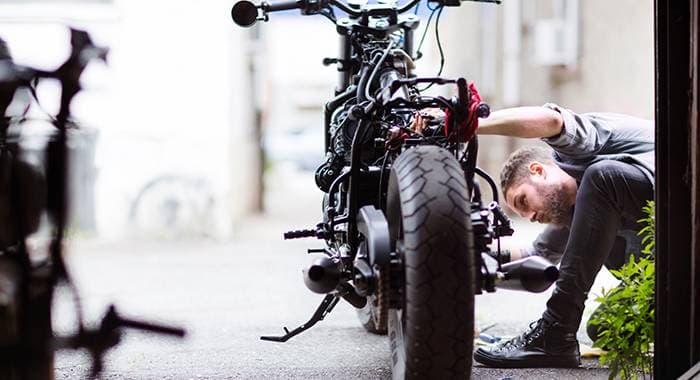 This is where a lot of hidden costs can show. Cars can typically last longer than motorcycles between service intervals and over time unexpected costs may add up. It's a good idea to overestimate the cost of maintenance or repairs that could prevent you from riding.
Tyres can cost a significant amount to replace and depending on how often you ride you may have to change them close to every 5 years.
You may also have to replace chains, belts, spark plugs, electrical components, and head and tail lights regularly. Knowing the average replacement costs of these items and their average lifespan will help you to estimate some of your potential maintenance and repair costs.
Regular maintenance should be done every 8,000-32,000 kilometres on your motorcycle. This type of maintenance may include checking the brakes, battery, oil changes, chain maintenance and can cost up to $1,000 in a single year. Make sure to ask about all the costs associated with maintenance and consider how much you'll be able to spend before purchasing a motorcycle.
Fuel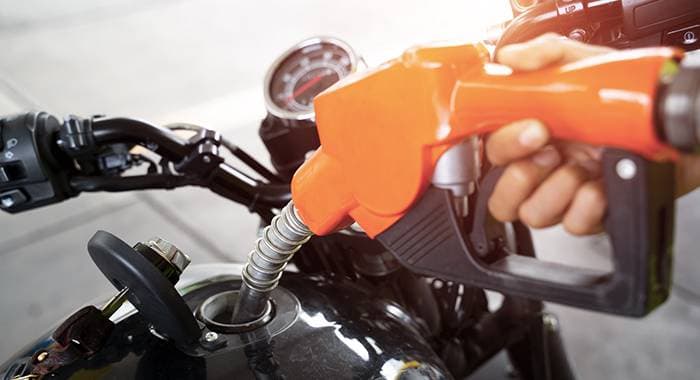 Motorcycles are known for being fuel-efficient, which may be one of the reasons you're looking to ditch your car for one.
Research shows that the average motorcycle uses 149.3 litres of fuel per year with the average motorcycle consuming 5.8 litres per 100 kilometres.
This is comparable to an average light commercial vehicle that uses 2,046 litres per year and has an average fuel consumption of 12.5 litres per 100 kilometres.
You should heavily consider the cost of fuel if planning to use your motorcycle as your main mode of transport. While the cost of fuel is low, you can keep the cost down even further by budgeting for trips on a monthly, bi-annual, or annual basis.
Make sure that you're also aware of how much fuel costs per litre and the average number of kilometres you can ride your motorcycle for.
Insurance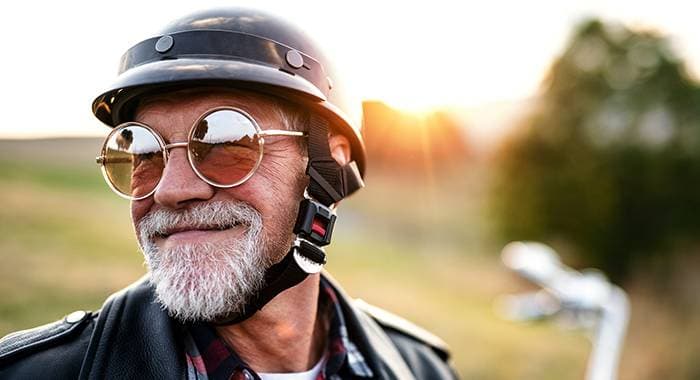 Motorcycle insurance is an essential part of owning a motorcycle and the cost of insurance may vary according to the different policies.
Compulsory third-party (CTP) insurance is attached to the registration of your vehicle and provides protection for the driver responsible against compensation claims from others injured in a motorcycle accident.
If you're the at-fault driver in a motor accident, CTP can cover you against compensation claims made by people you have injured. It should also be noted that this should not be confused with third-party insurance.
You may want to consider if it's enough to be covered for accidental damage caused by your motorcycle to other people's property, or if you should go with comprehensive insurance instead.
Comprehensive insurance can cover you for loss or damage to your motorcycle as a result of an accident, theft, severe weather, vandalism, and fire. This also applies to your liability for any accidental damage your motorcycle causes to other people's property.
It's important that you're covered in case of an accident, damage to your motorcycle or when an injury occurs. Choosing the right policy as part of your motorcycle insurance cost will ensure that you are best protected in case something goes wrong.
Once you own a motorcycle and are appropriately suited-and-booted, plan your motorcycle adventure by checking our latest guide on the best motorcycle rides in Australia.
Sources