The United Kingdom is home to some of the most famous historic and cultural sights in Europe. From Buckingham Palace to Westminster Abbey, the UK is sure to please avid fans of architecture. For those who prefer green rolling hills in the countryside or picturesque seaside towns complete with pebble beaches, the UK has an abundance of those as well.
Cancellations and delays
Cover for cancellation fees and lost deposits on prepaid travel, accommodation, meals, tours and activities, and visas if your trip is cancelled due to an insured event; and travel delay expenses.
Overseas medical and hospital expenses
Unlimited amount for emergency medical, dental, surgical and hospital treatment and ambulance costs if you suffer an illness or injury on your international trip (excluding pregnancy and childbirth).
Pre-existing medical conditions
Cover for 27 pre-existing medical conditions.
Travel documents, credit cards and traveller's cheques
Cover for replacing your passport, visas, travel money cards, traveller's cheques and credit cards if they're lost, stolen or damaged.
Rental vehicle insurance excess
Cover for any hire-car excess you become liable to pay as a result of the car being damaged or stolen.
Luggage and personal effects
Cover for the cost of repairing, replacing or reimbursing you for your belongings if they're lost, stolen or damaged.
Personal liability cover
Legal liability cover in case you accidentally injure someone else or damage or lose someone else's property during your trip.
Cruise cover
All four of our international travel insurance policies cover cruises, including those within Australian waters (our Domestic policy does not cover cruises).
Health and safety concerns for The UK
To get the most out of your trip, get up to speed with these travelling tips.
Petty theft
By staying aware of your surroundings, hiding your valuables and carrying small amounts of cash, you'll make yourself less of a target for thieves.
Health system
Australia and the UK share a reciprocal healthcare agreement although not all kinds of medical conditions are covered.
Weather
Rain, flooding and snow-storms are not uncommon in the UK. Severe weather conditions can disrupt travel plans, so be sure to keep abreast of any weather warnings.
UK security risks
The threat of terrorist attack in the UK is considered severe at the present moment. There have been a number of terrorist attacks in London in recent years, with the numerous attacks in 2017 pushing the threat level for the UK to critical. Make sure to keep up to date with security alerts for the areas you are planning to visit.
Can I get extra coverage for
snow sports?
If you intend to ski, snowboard and/or ice-skate on your overseas trip and want to be insured against any costly mishaps, you may want to consider adding optional Snow Sports Cover to your Budget Direct travel insurance policy.
What to do before you leave for The UK
The Uk is an amazing place to visit, get the necessary steps done now to remain worry-free.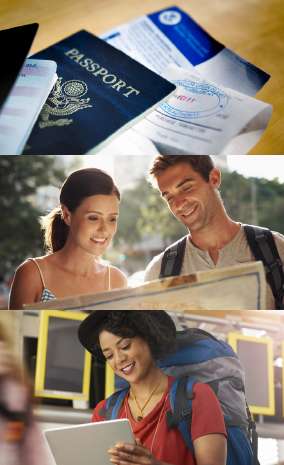 Organise your travel documents
Keep your paperwork up to date. Your passport must have six months validity from your return date to Australia.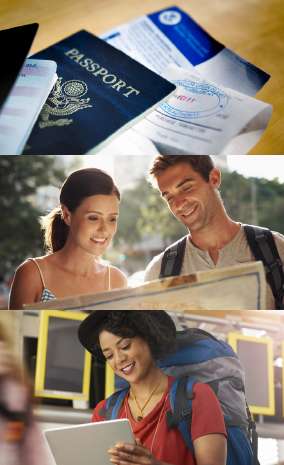 Locate the Australian Embassy
Know where to get help if you find yourself in a sticky spot. The Australian High Commission is located in London.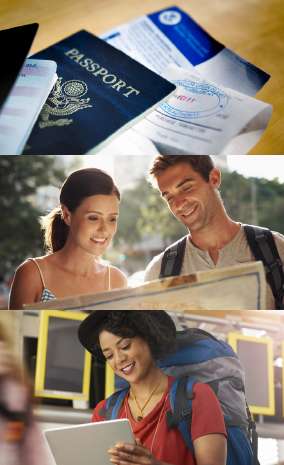 Overseas medical and emergency assistance
With Budget Direct travel insurance, you get access to a worldwide, 24/7 network of medical and emergency assistance providers.
These include multilingual medical and travel specialists, including about 500 doctors in 34 countries.
Frequently asked questions
What happens if I have a medical emergency overseas?
If you have a medical emergency overseas, contact us immediately. When you buy your policy, you'll be emailed your Insurance Certificate which details the emergency assistance numbers. You can call free of charge at any time, from anywhere in the world.
If you require hospitalisation, emergency transportation services or need to return to Australia, you must contact us as soon as possible.
If you incur medical costs on your journey, keep copies of all receipts and details of any treatment received.
For more information refer to the Product Disclosure Statement.
What happens if my trip return date changes and I need to extend my policy?
To extend your trip email us on travelhelp@budgetdirect.com.au or call us on 1800 444 424 Monday – Friday between 9am and 5pm AEST as soon as you know you need to extend your trip and within two days of your policy expiring. Additional premium may be charged. Your policy can only be extended once, and only up to a maximum combined duration of 12 months.
Budget Direct Annual Multi-Trip covers you up to 30 days for each trip you take in a 12 month period. If your trip is for longer than 30 days then you will need to purchase an additional travel insurance policy.
Is cover provided for high-value items such as personal computers, video recorders and cameras?
We provide cover for personal computers, video recorders, mobile phones and cameras (except under Budget Direct Last Minute Cover). See the table of benefits in the Product Disclosure Statement for limits applicable for your level of cover.
Travel Insurance Knowledge Base
Your questions about insurance all
answered in one place.