As the tourism hub of Southeast Asia, Thailand is a vacation hot spot with white sandy beaches, lush mountain jungles and a strong cultural heritage marked by intricate temples and historical landmarks. Known as the "Land of Smiles", friendly locals await arriving tourists with open arms and open minds. In addition to breathtaking sights and kind residents, Thailand's affordability and close proximity make this an ideal retreat for travelling Aussies. Make sure you check out our Thailand travel tips before you head out on your carefree adventure.
Cancellations and delays
Cover for cancellation fees and lost deposits on prepaid travel, accommodation, meals, tours and activities, and visas if your trip is cancelled due to an insured event; and travel delay expenses.
Overseas medical and hospital expenses
Unlimited amount for emergency medical, dental, surgical and hospital treatment and ambulance costs if you suffer an illness or injury on your international trip (excluding pregnancy and childbirth).
Pre-existing medical conditions
Cover for 27 pre-existing medical conditions.
Travel documents, credit cards and traveller's cheques
Cover for replacing your passport, visas, travel money cards, traveller's cheques and credit cards if they're lost, stolen or damaged.
Rental vehicle insurance excess
Cover for any hire-car excess you become liable to pay as a result of the car being damaged or stolen.
Luggage and personal effects
Cover for the cost of repairing, replacing or reimbursing you for your belongings if they're lost, stolen or damaged.
Personal liability cover
Legal liability cover in case you accidentally injure someone else or damage or lose someone else's property during your trip.
Cruise cover
All four of our international travel insurance policies cover cruises, including those within Australian waters (our Domestic policy does not cover cruises).
Health and safety concerns for Thailand
The last thing you want to worry about on holiday are the things that could go wrong, follow these tips to keep your holiday care-free.
Dengue Fever and Malaria
Use insect repellent and mosquito nets to avoid nasty bites that can lead to Malaria and Dengue Fever.
Dangerous roads
Keep your eyes on the road, exercise caution when travelling by car or motorcycle.
Legal system
Know the rules, there are seriously strict penalties for breaking the law in Thailand.
Tropical storms
Pack an umbrella! Check weather alerts to avoid flash floods in the wet season from November to March.
Thailand security risks
Smartraveller.gov.au recommends that Australians travelling to Thailand should exercise a high degree of caution because of the possibility of civil unrest and threat of terrorist attack. They recommend keeping abreast of security updates, registering your travel plans and getting the right level of cover of travel insurance. There are also additional considerations that you should take before travelling to Thailand to ensure your holiday will be all smooth sailing.
Am I covered for riding scooters
and motorbikes in Thailand?
To be covered for claims on a two and three wheeled motor vehicle you must comply with the following conditions:
As the driver or passenger you must wear a helmet (this is irrespective of the law of the country you are in)
As the Driver:
You must hold a driving licence appropriate for the country you are in and
If using a motorcycle rated 125cc or higher, you must hold a current and valid licence required for driving the equivalent rated motorcycle in Australia.
What to do before you leave for Thailand
No one wants to interrupt their sunbathing schedule with a trip to the doctor, so here are a few things to watch out for to keep your health in tip top shape.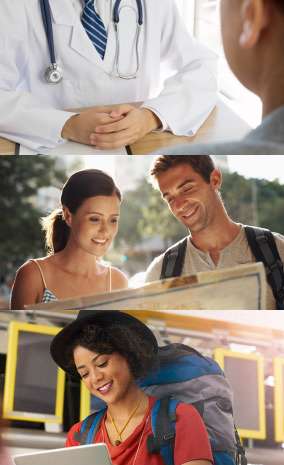 Get
Vaccinated
Make sure you've had your Hepatitis A and Typhoid shots 4-8 weeks before you leave. Ask your doctor to prescribe Malaria tablets for your trip.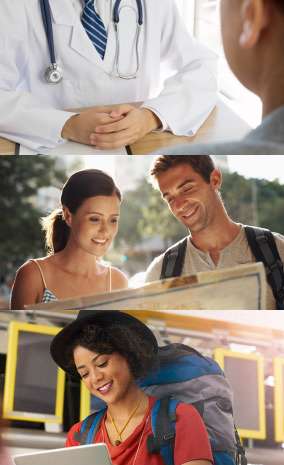 Locate the Australian Embassy
Know where to get help if you find yourself in a sticky spot. The Australian Embassy is located in Bangkok.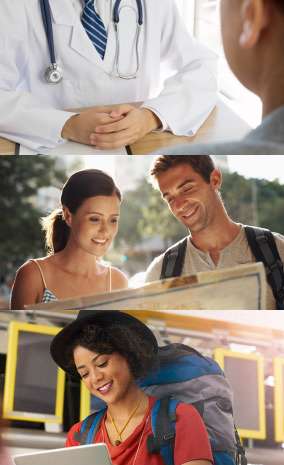 Overseas medical and emergency assistance
With Budget Direct travel insurance, you get access to a worldwide, 24/7 network of medical and emergency assistance providers.
These include multilingual medical and travel specialists, including about 500 doctors in 34 countries.
Travel Insurance Knowledge Base
Your questions about insurance all
answered in one place.