New Zealand is the land that really has it all, from rugged and untamed national parks to world-class skiing slopes. North or South, you can visit world famous wineries, bathe in natural hot springs, or recreate the epic journey from The Shire to Mordor. Whether you're looking for the adventure holiday of a lifetime, or to bask in the natural splendor the Islands have to offer, New Zealand is sure to impress every kind of traveller.
Cancellations and delays
Cover for cancellation fees and lost deposits on prepaid travel, accommodation, meals, tours and activities, and visas if your trip is cancelled due to an insured event; and travel delay expenses.
Overseas medical and hospital expenses
Unlimited amount for emergency medical, dental, surgical and hospital treatment and ambulance costs if you suffer an illness or injury on your international trip (excluding pregnancy and childbirth).
Pre-existing medical conditions
Cover for 27 pre-existing medical conditions.
Travel documents, credit cards and traveller's cheques
Cover for replacing your passport, visas, travel money cards, traveller's cheques and credit cards if they're lost, stolen or damaged.
Rental vehicle insurance excess
Cover for any hire-car excess you become liable to pay as a result of the car being damaged or stolen.
Luggage and personal effects
Cover for the cost of repairing, replacing or reimbursing you for your belongings if they're lost, stolen or damaged.
Personal liability cover
Legal liability cover in case you accidentally injure someone else or damage or lose someone else's property during your trip.
Cruise cover
All four of our international travel insurance policies cover cruises, including those within Australian waters (our Domestic policy does not cover cruises).
Health and safety concerns for New Zealand
While you're on holiday in New Zealand, remember to be respectful of the local culture and keep these travel tips in mind.
Driving hazards
Such spectacular scenery comes at a cost, driving conditions can be compromised by black ice, one way bridges and long windy roads.
Action sports
If you're heading out for an action-packed trip of bungee jumping, parasailing and canopy-walking, you'll need travel insurance to protect you in case of accidents.
Health system
While Australia and New Zealand have a health care understanding, not all medical conditions are covered while overseas.
Earthquakes and seismic activity
New Zealand is precariously situated over two different tectonic plates, meaning that it is particularly vulnerable to earthquakes, tsunami, storms, landslides, floods and volcanic activity.
Seismic activity can happen without warning, so knowing where disaster hotspots are can help you avoid trouble on your holiday. Staying up to speed with weather warnings will also help you to have an incident free trip.
Can I get extra coverage for
snow sports?
If you intend to ski, snowboard and/or ice-skate on your overseas trip and want to be insured against any costly mishaps, you may want to consider adding optional Snow Sports Cover to your Budget Direct travel insurance policy.
What to do before you leave for New Zealand
Expect the unexpected, stay ahead of trouble by following these three easy steps before you jet off on your adventure.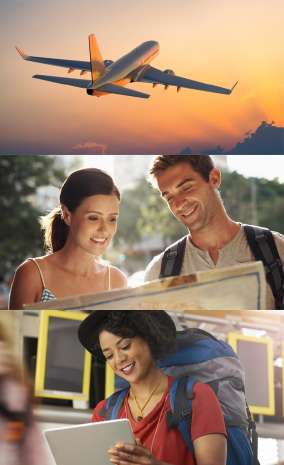 Check your flight status
Stay up to date on flying conditions, delayed travel can end up costing you money on hotels and pre-planned activities at your destination.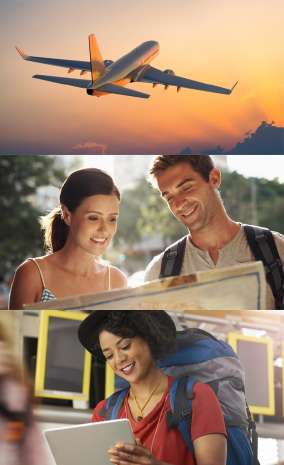 Locate the Australian Embassy
Know where to get help if you find yourself in a sticky spot. The Australian High Commission is located in Wellington.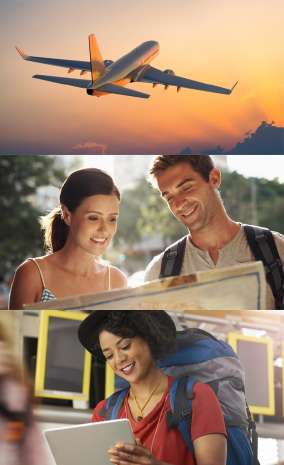 Overseas medical and emergency assistance
With Budget Direct travel insurance, you get access to a worldwide, 24/7 network of medical and emergency assistance providers.
These include multilingual medical and travel specialists, including about 500 doctors in 34 countries.
Frequently asked questions
Which sports and activities do you cover?
When can I claim my rental vehicle excess?
If you are liable to pay a rental vehicle excess as a result of damage to, or theft of a rental vehicle, we will pay up to the amount shown on the table of benefits for your level of cover as shown in the Product Disclosure Statement.
I'm going on a skiing holiday – what cover do I need?
After choosing one of our five types of travel insurance, you may wish to consider upgrading your cover by adding Snow Sports Cover to your policy, so that you're covered for any claims relating to snow sports, including skiing, snowboarding and ice-skating.
What happens if my trip return date changes and I need to extend my policy?
To extend your trip email us on travelhelp@budgetdirect.com.au or call us on 1800 444 424 Monday – Friday between 9am and 5pm AEST as soon as you know you need to extend your trip and within two days of your policy expiring. Additional premium may be charged. Your policy can only be extended once, and only up to a maximum combined duration of 12 months.
Budget Direct Annual Multi-Trip covers you up to 30 days for each trip you take in a 12 month period. If your trip is for longer than 30 days then you will need to purchase an additional travel insurance policy.
What's not covered?
We do not cover certain situations and circumstances, including:
failure to get relevant inoculations or vaccinations
errors or omissions in your travel bookings
incidents involving drugs or alcohol
loss of luggage and personal effects left unattended
countries listed as 'Do not travel' on the federal government's Smartraveller website
certain pre-existing medical conditions
medical expenses incurred in Australia (which are already covered by Medicare or your private health insurer).
Travel Insurance Knowledge Base
Your questions about insurance all
answered in one place.