Japan is known as the Land of the Rising Sun and has a rich and vibrant culture and history stretching back thousands of years. From Hello Kitty to the futuristic fashions of Harajuku, Japan is sure to excite and delight travellers from all over the globe.
Whether you're after a skiing or snowboarding getaway, yearning for the sight of the cherry blossoms in Spring, or getting amongst the hustle and bustle of Tokyo in the Summer, Japan offers a plethora of sights and activities all year round.
Cancellations and delays
Cover for cancellation fees and lost deposits on prepaid travel, accommodation, meals, tours and activities, and visas if your trip is cancelled due to an insured event; and travel delay expenses.
Overseas medical and hospital expenses
Unlimited amount for emergency medical, dental, surgical and hospital treatment and ambulance costs if you suffer an illness or injury on your international trip (excluding pregnancy and childbirth).
Pre-existing medical conditions
Cover for 27 pre-existing medical conditions.
Travel documents, credit cards and traveller's cheques
Cover for replacing your passport, visas, travel money cards, traveller's cheques and credit cards if they're lost, stolen or damaged.
Rental vehicle insurance excess
Cover for any hire-car excess you become liable to pay as a result of the car being damaged or stolen.
Luggage and personal effects
Cover for the cost of repairing, replacing or reimbursing you for your belongings if they're lost, stolen or damaged.
Personal liability cover
Legal liability cover in case you accidentally injure someone else or damage or lose someone else's property during your trip.
Cruise cover
All four of our international travel insurance policies cover cruises, including those within Australian waters (our Domestic policy does not cover cruises).
Health and safety concerns for Japan
Don't get caught up sweating the small stuff, follow these tips to guarantee a stress free holiday.
Radiation
Smarttraveller.gov.au recommends exercising a high degree of caution in certain areas of Japan affected by lethal amounts of radiation.
Health system
Carry proof of purchase of your travel insurance on you to ensure quick and inexpensive health care.
Petty theft
By staying aware of your surroundings, dressing like a local and carrying small amounts of cash, you'll make yourself less of a target for thieves.
Earthquakes and seismic activity
Japan's location along the Pacific Ring of Fire makes it vulnerable to earthquakes, tsunamis, typhoons and volcanic activity.
The country has seen some of the worst natural disasters of the 21st century. It is important to keep up to date with local weather and security warnings to ensure your safety whilst away.
Can I get extra coverage for
snow sports?
If you intend to ski, snowboard and/or ice-skate on your overseas trip and want to be insured against any costly mishaps, you may want to consider adding optional Snow Sports Cover to your Budget Direct travel insurance policy.
What to do before you leave for Japan
Here's what you need to do before taking off on your trip to Japan.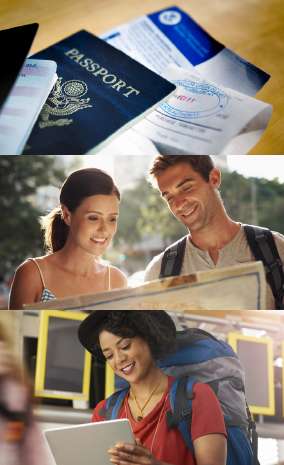 Organise your travel documents
Make sure your travel documents are all in order well in advance to prevent any issues entering or leaving Japan.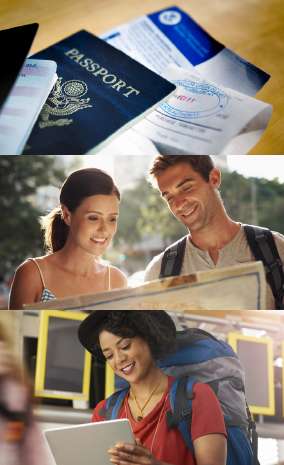 Locate the Australian Embassy
Know where to get help if you find yourself in a sticky spot. The Australian High Commission is located in Tokyo.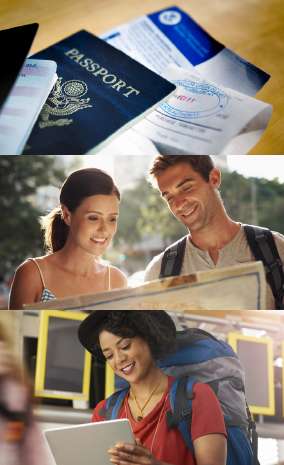 Overseas medical and emergency assistance
With Budget Direct travel insurance, you get access to a worldwide, 24/7 network of medical and emergency assistance providers.
These include multilingual medical and travel specialists, including about 500 doctors in 34 countries.
Travel Insurance Knowledge Base
Your questions about insurance all
answered in one place.