India is a vibrant country of exquisite natural beauty and cultural opulence. You could travel for months from one vibrant city to a rural village—and everywhere in between—and still not be able to explore all of the sacred sites, centuries-old majestic monuments, ancient religious ritual sites and extraordinary places.
India is a vast world in its own right, coloured by stunning landscapes, relentless cultural spirit and enthralling urban centres. Yet, among spectacular temples and romantic palaces, there exists poverty, slums and evidence of the diverse country's glaring disparities. No traveller can afford to go to India unprepared.
Cancellations and delays
Cover for cancellation fees and lost deposits on prepaid travel, accommodation, meals, tours and activities, and visas if your trip is cancelled due to an insured event; and travel delay expenses.
Overseas medical and hospital expenses
Unlimited amount for emergency medical, dental, surgical and hospital treatment and ambulance costs if you suffer an illness or injury on your international trip (excluding pregnancy and childbirth).
Pre-existing medical conditions
Cover for 27 pre-existing medical conditions.
Travel documents, credit cards and traveller's cheques
Cover for replacing your passport, visas, travel money cards, traveller's cheques and credit cards if they're lost, stolen or damaged.
Rental vehicle insurance excess
Cover for any hire-car excess you become liable to pay as a result of the car being damaged or stolen.
Luggage and personal effects
Cover for the cost of repairing, replacing or reimbursing you for your belongings if they're lost, stolen or damaged.
Personal liability cover
Legal liability cover in case you accidentally injure someone else or damage or lose someone else's property during your trip.
Cruise cover
All four of our international travel insurance policies cover cruises, including those within Australian waters (our Domestic policy does not cover cruises).
Common health and safety concerns for India
There are some important considerations you should take before travelling to India so you can focus more on relaxing and less on your health and safety.
Dengue Fever
Use insect repellent and mosquito nets to avoid nasty bites that can lead to Malaria and Dengue Fever.
Food poisoning
Drink bottled water and dine in established restaurants to avoid dangerous strains of bacteria in the local food and drinking water.
Legal system
Know the rules, there are seriously strict penalties for breaking the law in India.
Petty theft
Keep on top of security updates to ensure you aren't travelling into hot territory.
India security risks
Smartraveller.gov.au recommends that Australians travelling to India should exercise a high degree of caution because of the possibility of civil unrest and threat of terrorist attack. They recommend keeping abreast of security updates, registering your travel plans and getting the right level of cover of travel insurance.
Am I covered for riding scooters
and motorbikes in India?
To be covered for claims on a two and three wheeled motor vehicle you must comply with the following conditions:
As the driver or passenger you must wear a helmet (this is irrespective of the law of the country you are in)
As the Driver:
You must hold a driving licence appropriate for the country you are in and
If using a motorcycle rated 125cc or higher, you must hold a current and valid licence required for driving the equivalent rated motorcycle in Australia.
What to do before you leave for India
Here are some quick easy steps you can take now to make sure your trip goes exactly as planned with no unpleasant surprises!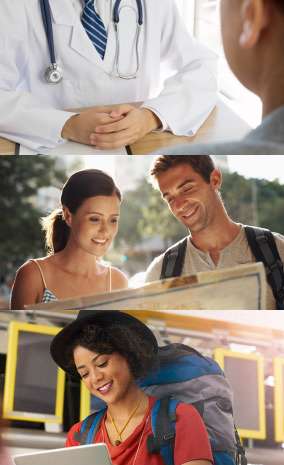 Get
Vaccinated
Make sure you've had your Hepatitis A and Typhoid shots 4-8 weeks before you leave. Ask your doctor to prescribe Malaria tablets for your trip.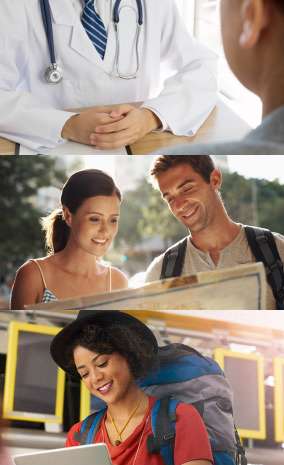 Locate the Australian Embassy
Know where to get help if you find yourself in a sticky spot. The Australian Embassy is located in New Delhi.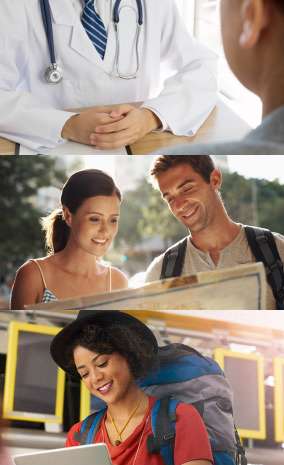 Overseas medical and emergency assistance
With Budget Direct travel insurance, you get access to a worldwide, 24/7 network of medical and emergency assistance providers.
These include multilingual medical and travel specialists, including about 500 doctors in 34 countries.
Frequently asked questions
What happens if my trip return date changes and I need to extend my policy?
To extend your trip email us on travelhelp@budgetdirect.com.au or call us on 1800 444 424 Monday – Friday between 9am and 5pm AEST as soon as you know you need to extend your trip and within two days of your policy expiring. Additional premium may be charged. Your policy can only be extended once, and only up to a maximum combined duration of 12 months.
Budget Direct Annual Multi-Trip covers you up to 30 days for each trip you take in a 12 month period. If your trip is for longer than 30 days then you will need to purchase an additional travel insurance policy.
Is cover provided for high-value items such as personal computers, video recorders and cameras?
We provide cover for personal computers, video recorders, mobile phones and cameras (except under Budget Direct Last Minute Cover). See the table of benefits in the Product Disclosure Statement for limits applicable for your level of cover.
What's not covered?
We do not cover certain situations and circumstances, including:
failure to get relevant inoculations or vaccinations
errors or omissions in your travel bookings
incidents involving drugs or alcohol
loss of luggage and personal effects left unattended
countries listed as 'Do not travel' on the federal government's Smartraveller website
certain pre-existing medical conditions
medical expenses incurred in Australia (which are already covered by Medicare or your private health insurer).
Travel Insurance Knowledge Base
Your questions about insurance all
answered in one place.