Health and safety concerns for India
Follow these precautions to stay safe and healthy on your trip to India:
Mosquito-borne diseases
Use insect repellent and mosquito nets to avoid nasty bites that can lead to Malaria and Dengue fever.
Food poisoning
Drink bottled water and dine in established restaurants to avoid dangerous strains of bacteria in the local food and drinking water.
Legal system
Know the rules — there are heavy penalties for breaking Indian laws.
Petty theft
Petty theft is common in crowded areas — carry only what you need and pay close attention to your belongings.
India security risks
The Australian Government's Smartraveller website rates the security situation in different countries to help travellers determine where and when to travel overseas.
You should follow the government's advice on how to behave or respond to the threats you could face in India.
Am I covered for riding scooters
and motorbikes in India?
Budget Direct policyholders can be covered for claims arising from two- and three-wheeled motor vehicles, as long as:
As the driver or passenger:
you wear a helmet (irrespective of the law of the country you're in)
As the driver:
you hold a licence appropriate for the country you're in
if using a motorcycle rated 125cc or higher, you hold a licence for driving the equivalent-rated motorcycle in Australia.
What to do before you leave for India
Reduce the risk of illness, detention or financial loss by following these steps before you depart: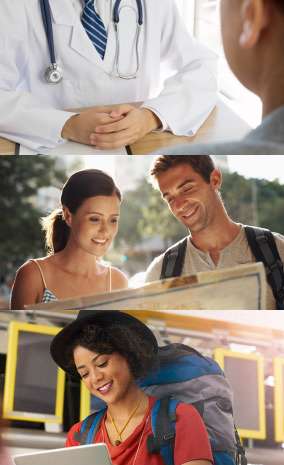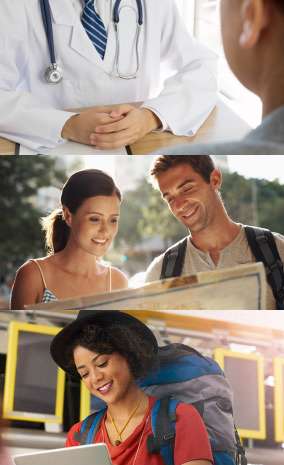 Locate the Australian high commission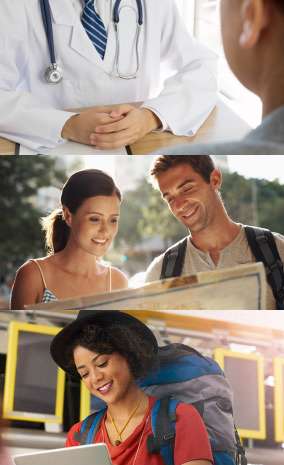 Overseas medical and emergency assistance
With Budget Direct travel insurance, you get 24/7 access to a worldwide network of 75,000+ medical and emergency assistance providers.
These include multilingual medical and travel specialists, air ambulances and hospitals. Depending on your needs, we can:
direct you to suitable medical facilities
help coordinate your evacuation and repatriation
provide assistance if your luggage, travel documents, credit cards or other valuables are lost or stolen.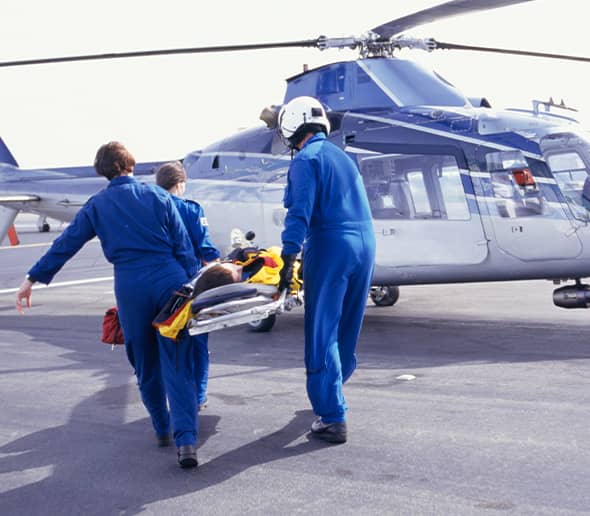 Find out more
The information on this page is a summary only. For all the terms, conditions, limits and exclusions, please read the Product Disclosure Statement.
Frequently asked questions
Does travel insurance cover medical and hospital expenses?
All four of Budget Direct's international travel insurance policies – Comprehensive, Essential, Last Minute, and Annual Multi-Trip – include an unlimited amount for overseas medical and hospital expenses, including:
ambulance and emergency medical, surgical and hospital costs
cost of your return to Australia earlier than planned if this is medically necessary and we authorise it
if you cannot return to Australia as you originally planned and if it is medically necessary and we authorise it, we will pay for reasonable travel and accommodation expenses:

to allow you to return to Australia, and
for someone to stay with you and travel home with you, or
for one relative or friend to travel from Australia to stay with you and travel home with you

cost of returning your body or ashes to Australia (up to $20,000) or cost of a funeral and burial in the country in which you die (up to $10,000).
This cover excludes any claims arising from pre-existing medical conditions (other than the 27 we cover).
Note that, if you suffer an illness or injury that requires emergency transportation, hospitalisation or repatriation and/or is likely to cost more than A$500 to treat, you (or someone else on your behalf) must call us as soon as possible.
Our Domestic policy does not include cover for medical and hospital expenses, as these expenses are already claimable in Australia from Medicare and/or your private health fund.
Does travel insurance cover mobile phones?
Yes – all Budget Direct policies except Last Minute include cover for mobile phones.
For more details, including the terms, conditions, limits and exclusions that apply, please see the 'Luggage and Personal Effects' section of the product disclosure statement.
Does travel insurance cover lost or stolen credit cards?
Yes – Budget Direct can pay you up to $5,000 (Comprehensive, Annual Multi-Trip) or $2,500 (Essential) to replace your lost, stolen or damaged credits cards (does not apply to Last Minute and Domestic cover).
This cover applies only to cards either carried with you or locked in a safety deposit facility.
Unauthorised use of your credit (or debit) card is not covered.
(This cover also applies to your passport, visas, travel money cards and traveller's cheques; our Last Minute and Domestic policies do not include cover for these items.)
Can travel insurance be extended?
Does travel insurance cover cancelled flights?
All Budget Direct travel insurance policies except Last Minute can cover the cost of your pre-booked flights if you're forced to cancel your trip before it begins due an insured event (e.g. an unforeseen illness or injury).
Keep in mind we do not cover the cost of flights cancelled due to an event within the airline's control (e.g. crew shortage, delayed inbound flight).
Instead, the airline may rebook you on the next available flight to the same destination; or give you a refund.
Travel Insurance Knowledge Base
Your questions about insurance all
answered in one place.