Bula Bula!! The beautiful sunny islands of Fiji are matched only by the locals' friendly hospitality and charm. With over 300 stunning islands to visit, Fiji is the perfect place to scoop up your own little slice of paradise. If you're after pristine white beaches, lucious coral reefs and heart pounding jungle exploring, Fiji is the travel destination for you. Check out these travel tips before you jet off to make sure you know what to expect on your holiday.
Cancellations and delays
Cover for cancellation fees and lost deposits on prepaid travel, tours, accommodation and meals; and travel delay expenses.
Overseas medical and hospital expenses
Unlimited cover for your emergency medical and hospital treatment if you suffer an illness or injury.
Excludes Pregnancy Cover*
Pre-existing medical conditions
Cover for 27 pre-existing medical conditions.
Travel documents, credit cards and travellers' cheques
Cover for your lost or stolen passport, visas, credit cards, travel money cards and travellers' cheques.
Rental vehicle insurance excess
Cover for your hire-car excess if the vehicle is damaged or stolen.
Luggage and personal effects
Cover for your damaged, stolen or lost luggage and personal effects.
Personal liability cover
Up to $5 million of legal liability cover in case you accidentally injure someone else or damage or lose their property.
Cruise cover
All four of our international travel insurance policies cover cruises, including those within Australian waters (our Domestic policy does not cover cruises).
*Pregnancy and childbirth or related complications are not covered.
Health and safety concerns for Fiji
Worried about your holiday? Don't be! By following these tips you'll be ensuring you're one step ahead on any health and safety risks that could arise on your trip.
Food poisoning
Drink bottled water and dine in established restaurants to avoid dangerous strains of bacteria in the local food and drinking water.
Dengue Fever
Use insect repellent and mosquito nets to avoid nasty bites that can lead to Dengue Fever and the Zika virus.
Legal system
Know the rules, international travellers must obey all local laws in Fiji.
Health system
Carry proof of purchase of your travel insurance on you to ensure quick and inexpensive health care.
Fiji Medical Treatment
Medical facilities standards in Fiji are considered to be lower than those in Australia. Due to a shortage of healthcare workers and resources, many regional medical centres only provide basic health care. For serious medical conditions and accidents, evacuation back to Australia is usually necessary. The Australian Government will not pay for your medical expenses overseas or contribute to evacuation costs back to Australia for treatment. Providing proof of adequate travel insurance can be necessary in order to secure medical treatment in Fiji, without which, you can be asked to pay for the medical fees up-front.
What to do before you leave for Fiji
There are some important measures you should take before you leave for your island vacation, follow these steps to ensure your holiday goes swimmingly!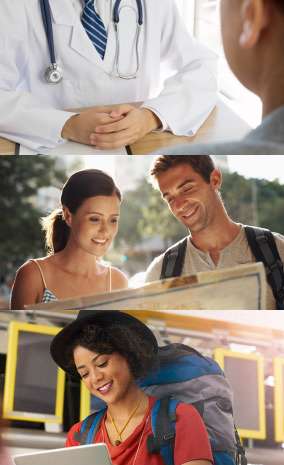 Get
Vaccinated
Make sure you've had your Hepatitis A and Typhoid shots 4-8 weeks before you leave.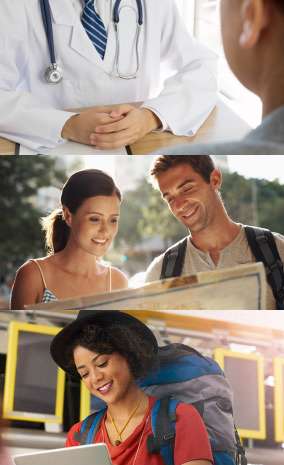 Locate the Australian Embassy
Know where to get help if you find yourself in a sticky spot. The Australian High Commission is located in Suva.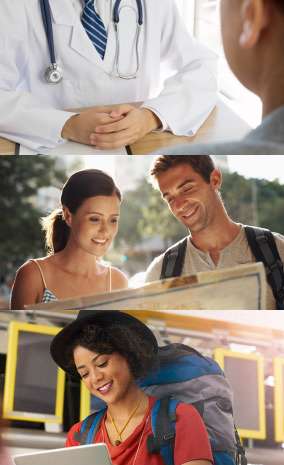 Overseas medical and emergency assistance
With Budget Direct travel insurance, you get access to a worldwide, 24/7 network of medical and emergency assistance providers.
These include multilingual medical and travel specialists, including about 500 doctors in 34 countries.
Travel Insurance Knowledge Base
Your questions about insurance all
answered in one place.