Disclaimer: This information is general in nature only. Budget Direct engaged Honcho to conduct this research on Budget Direct's behalf, and while Honcho have taken all due care in providing the statistics from their research, Budget Direct accepts no liability for this information.
The primary use of a dash cam is to enable you to continuously record footage of what is going on around your vehicle for the duration of a journey. The cameras are customarily placed at either the rear or front of your vehicle, with some car owners opting to attach them to both areas. Just like a SatNav, they can be mounted directly onto your windscreen, giving the device a full view of the road ahead of you whilst recording the events of your drive onto an SD card.
As a device, they are designed to turn on whenever your car is on, recording in a continuous loop with the default settings for most limited to 3-5 minutes per file so they are manageable to look back over once uploaded if needed after a collision or accident. Some also have a 'parking mode' option, which enables the camera to start recording if your vehicle is bumped whilst parked.
The use of dash cams has grown in popularity over the years, with a 2019 study revealing that 1 in 5 Australians commonly use them on their daily commute. With this in mind, we decided to take a look at the state by state breakdown in Australia as well as look at how Australia ranked amongst the rest of the world when it came to Dash Cam usage according to video views on YouTube.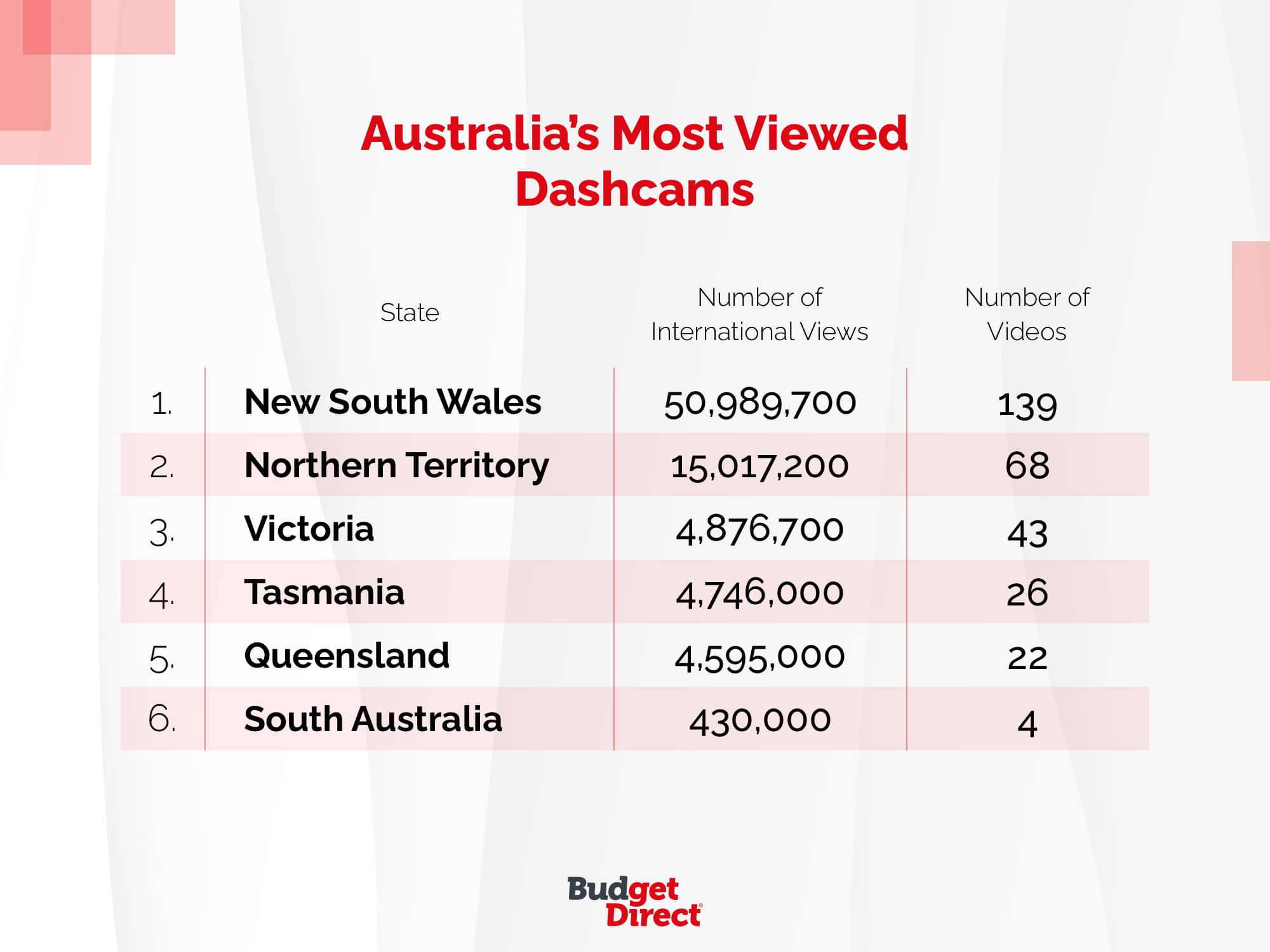 Claiming the top spot for the state with the most viewed Dash Cam footage in Australia is New South Wales with 50,989,700 views on videos across YouTube. Some of the most-watched videos include 'Instant Karma: Caught by the Police' compilations, showing motorists breaking driving laws and being pulled over by law enforcement as a result.
With 15,017,200 views, the Northern Territory is the next region in our study. With some videos amassing over 700K views, audiences are able to watch as cars attempt to overtake others, resulting in collisions with other cars and static elements along the road such as fences and lane separators.
Victoria takes the final spot in the Top 3 with 4,876,700 views overall. The YouTube channel 'Dash Cam Owners Australia' recently produced a compilation of the 'Best Dash Cam Videos of 2021', many of which include the cameras catching thieves and making hazardous decisions on the road, resulting in police chases and enabling the owners to aid in investigations.
Tasmania and Queensland both had over 4,000,000 collective views on videos, despite Tasmania being the smallest state in Australia, whilst South Australia had 430,000.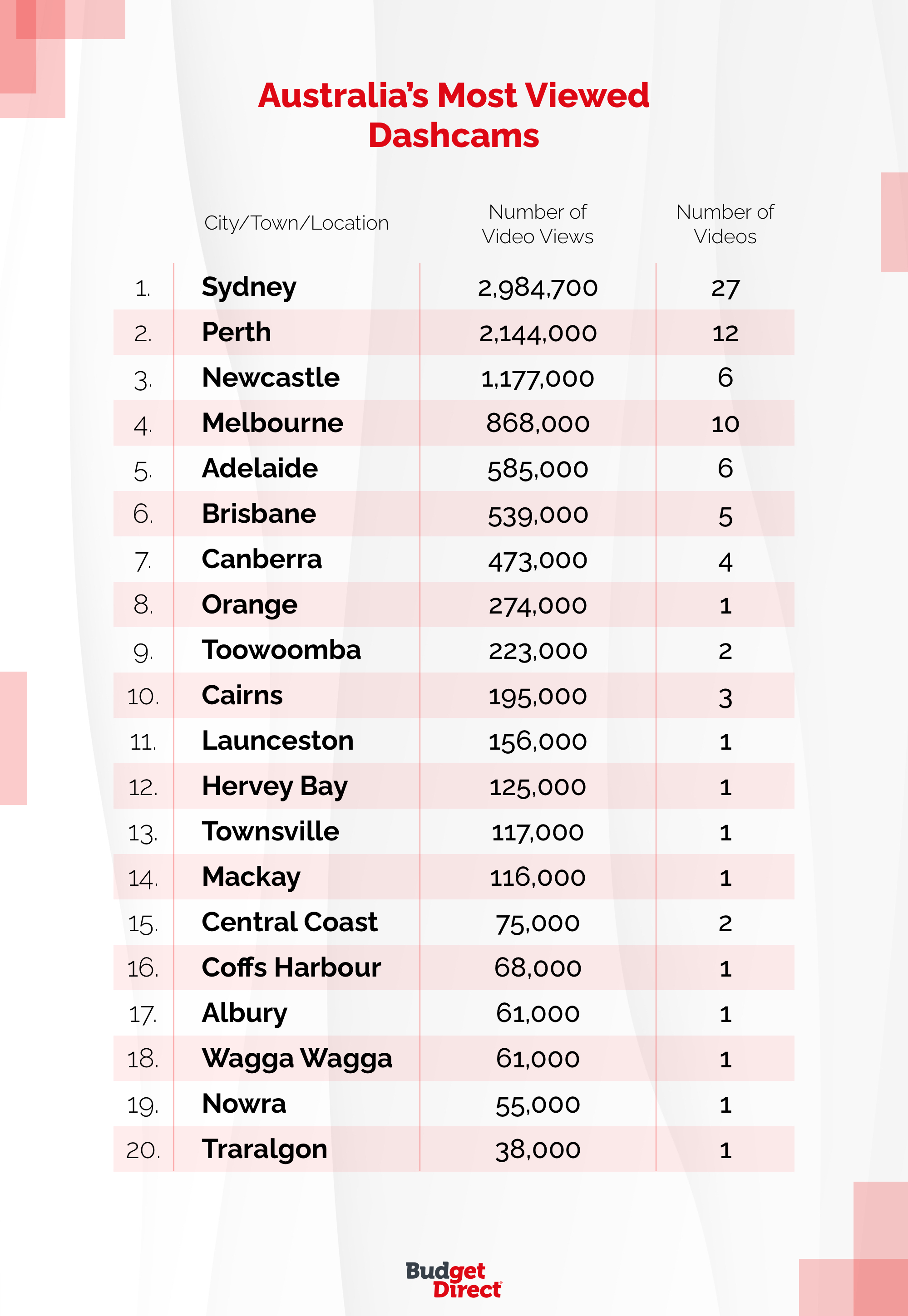 Taking the top spot is Sydney with 2,984,700 views across Youtube, the top video in Sydney includes 'Celica Rear ends SUV Causing rollover and Pile up' at 549,000 views and 'M5 Truck and Multi vehicle crash 16/3/16' making up another 304,000. The videos that make this city rank in the number one spot contain titles such as 'road rage' and 'police chase'.
The city that follows Sydney is Perth with 2,144,000 views. The top video for this city makes up for 34% of the total views, 'Pushy Driver learns a hard lesson' shows a driver try to push their way through a line of traffic but ultimately crashes into the car with the Dash Cam recording.
The third and fourth positions in the list of Australian cities pull in high views, with Newcastle at 1,177,00 and Melbourne with 868,000. Newcastle's highest viewed video equates to almost half the entire view count, 'Driver overtakes unmarked police car in left turn only lane' brings in 915,000 views.
The city that comes in at the fifth spot is Adelaide with 585,000 views. The video with the highest amount of views is 'Overtaking Audi causes 3 car crash (2 cars roll)' with a huge 259,000 views making up nearly half of the entire views for the city.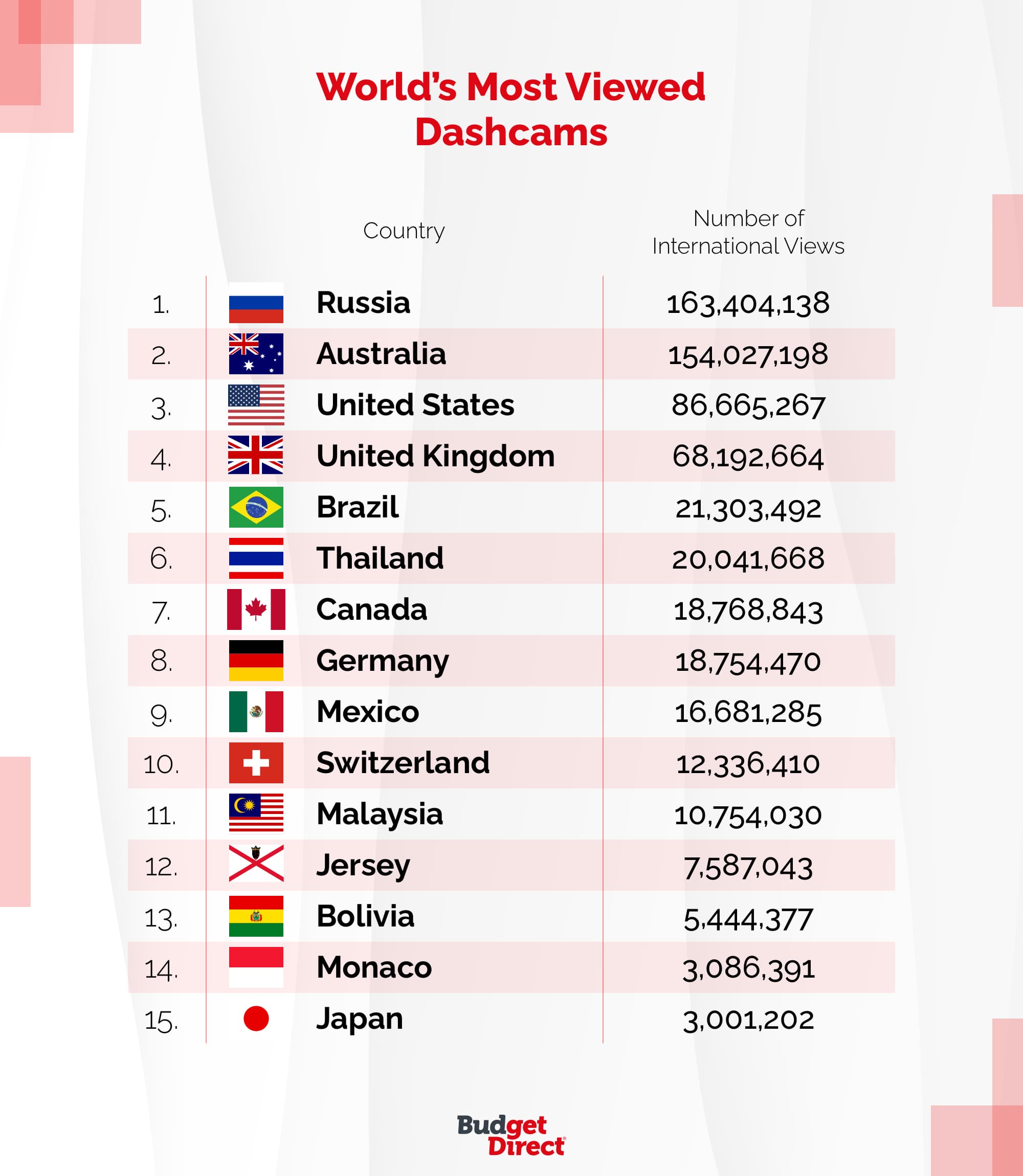 When we took this study worldwide, Russia came in first place for the most amount of views on Dash Cam footage as a country with a huge total of 163,404,138. The most popular videos include Car Crash Compilations.
Following closely behind was Australia, who's 154,027,198 views claimed second place in this study, with YouTube channels such as 'Dash Cam Owners Australia' and 'DCOA Weekly' posting regular videos of footage from across the country with a combined total of 401,000 subscribers.
The videos from the United States received 86,665,267 views, whilst the United Kingdom just missed out on the Top 3 with 68,192,664 views.
Advice and guides
Budget Direct has put together a curated list of common questions relating to Dash Cams and their impact on your insurance.
Does the Car Need to Be Running for the Dash Cam to Record?
Most Dash Cams will power on when they are plugged into a vehicle cigarette lighter socket meaning that they will only work when the car is switched on to turn the cigarette lighter on.
Is it legal to have a Dash Cam in my car?
Dash Cams are legal in all states in Australia, they are also highly recommended from insurance companies and the police. However, using the dash cam while driving or attempting to access the dash cam is illegal and comparable to using a mobile phone while driving.
How will having a Dash Cam impact my insurance?
Currently most insurance providers will not offer any incentives or premium reduction for a Dash Cam, this is due to Dash Cams not being a deterrent for accidents but instead they are used to help find liability and evidence.
What are the main benefits of installing a Dash Cam?
The main advantage of a Dash Cam is to be able to document and easily find evidence when there is a road traffic collision or incident. This can help protect you against thefts and fraudulent insurance claims.
What can I do with the footage of incidents I record on my Dash Cam?
You can upload your Dash Cam footage and keep copies of this on our personal computer and if the footage is needed for evidence then you can submit it to a police officer along with a witness statement.
Do all Dash Cams need SD cards?
Yes, all Dash Cams will need an SD card of some kind. Majority of Dash Cams take microSD cards.
Is Dash Cam footage legally binding?
Dash Cam footage can be used as evidence in court as long as the footage is not of a private activity, conversation or used in a car or house that doesn't belong to you. One of the top advantages of a dash cam is being able to use the footage to easily provide evidence for a motor incident.
Will it drain my car battery when the car is off?
As the Dash Cam connects to the car through a cigarette lighter socket that powers down when the car is off, there will be no power getting to the Dash Cam and therefore will not be using any battery.
How often will I need to replace the memory card?
It depends on the size of your SD card, 64GB will last approximately 10 hours, 128GB will last approximately 20 hours and 256GB will last approximately 40 hours.
Are you allowed to record the footage in public places?
States in Australia allow you to record using a Dash Cam unless it is mounted in a car or house that isn't yours or you are recording a private activity.