Disclaimer: This information is general in nature only. While Budget Direct has endeavoured to ensure the information we've relied on is accurate and current, we do not guarantee it. Budget Direct accepts no liability for this information.
There's nothing better than a professionally cleaned car. Whether it's part of your car's maintenance or preparing your car for sale washing your car can be easy to do at home too!
Provided you use the right technique and the tools, washing your car regularly will ultimately protect your vehicle and keep it looking at its best. it can also help to prevent minor wear and tear from becoming noticeable, thereby maintaining your car's value, and keeping your car looking better for longer.
Here are some of our most helpful tips on how to wash your car at home.
Tip #1: Cleaning tools needed
It's important to evaluate the condition of your before you wash it. This will help you to determine what types of cleaning supplies you'll need while you wash your car.
Ideally, your cleaning tools/supplies should include:
A hose with a variable nozzle
A soft sponge and/or car wash mitt
Car washing liquid
Several microfibre cloths
One (or more) large microfiber towels for drying.
Three buckets – one for clean water, one for dirty water and one with cleaning solution and water that's specifically for your wheels.
You may also need:
A vacuum cleaner for the interior
Rubber gloves
Wheel cleaner
Paper towels
Window cleaner
Before applying anything to your car make sure to read what's in the product you plan to use. Not all car cleaning products are all-purpose and may cause damage to the paint, coat, or other finishes.
An older car may need a cleaning regimen with clays, waxes, and polishes to protect the paint whereas a newer car may have a robust clear coat that's still intact.
Car cleaning products are specifically designed to prevent any dislodged dirt and grime from scratching your car's paint; as well as being gentle enough so that they don't remove your car's existing layer of paint.
Tip #2: Where to wash your car
While it may be tempting to wash your car on a warm, sunny day, this is actually a very common mistake.
It's widely acknowledged amongst professional detailers that you should not wash your car in direct sunlight. Water, soap, and cleaning products will dry very quickly in the sun, leading to spots and swirl marks on your paintwork and windows.
Instead, you should try to wash your car on a slightly overcast day, on a cool surface with a spray bottle on hand. You may also want to park your car somewhere flat so that you have plenty of room to fully open your doors.
Tip #3: Cleaning the wheels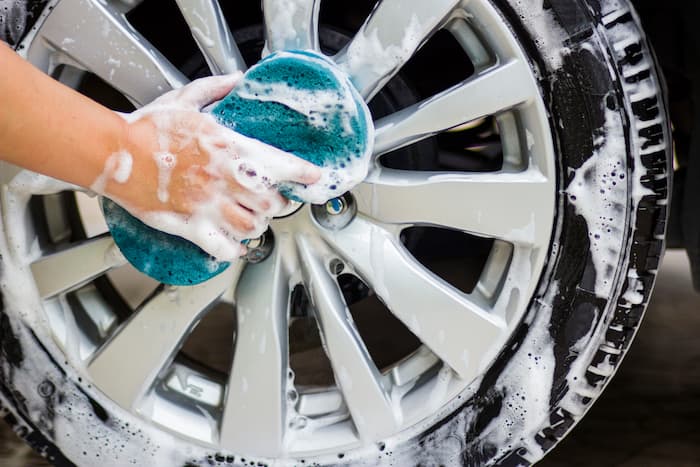 Firstly, you should start by washing the dirtiest part of your car, which is usually the wheels.
Wash your tyres separately with a new bucket of water to avoid spreading the dirt and grime onto your vehicle's paintwork.
Invest in a tyre brush, a microfiber cloth, a separate sponge, and a tyre specific cleaning solution before cleaning your wheels.
Water-based, non-corrosive wheel cleaners are recommended for all types of car wheels and are ultimately the safest choice when it comes to tyre cleaning products.
You can then coat your wheels with your chosen cleaning product/s. Allow the solution to rest, then scrub the dirt from your tyres using a tyre brush.
Finally spray your wheels down with cold, clean water to remove all the cleaning product from the wheels. When you're finished cleaning the wheels make sure to dry them with a clean microfibre cloth.
Tip #4: Wash the headlights
You mustn't forget to wash your headlights too. Dirty and sun-damaged plastic headlights can yellow with age, making them less effective while on the road and ruining the overall appearance of an otherwise clean car.
To clean your headlights you can wipe them down with a cleaning solution and clean them with a moist cloth once you're finished. Apply a protective finish to restore your headlights after washing.
Tip #5: Cleaning the exterior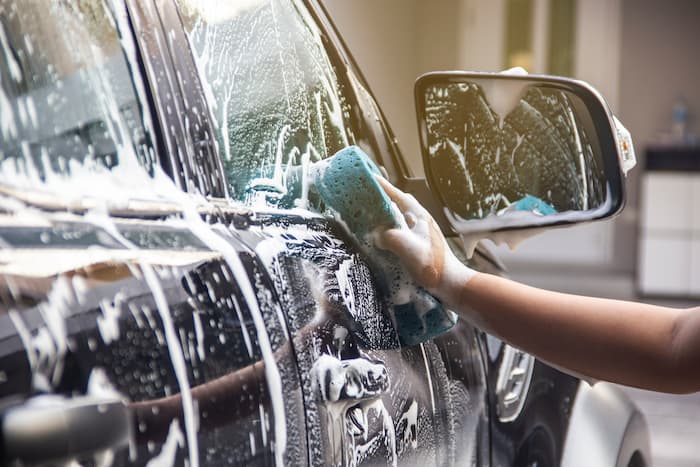 Washing the body of your car will help to remove any dust, dirt, or mud. This will help to prevent any further scratches to your car's paint too.
Wash each section of the car (moving from top to bottom) to remove larger pieces of dirt. Remember to use soapy water from your clean bucket to wash the body of the car!
When you go to rinse off the soapy water it is best to use a hose without a nozzle. At low pressure, this type of hose will allow the water to flow gently from the top of the car down (this is called the sheeting method).
Now you dry off your car with a large microfiber towel or chamois before moving onto your next step. Keep in mind that your car needs to be completely dry before applying any waxes or protective coating.
Tip #6: Cleaning the windows and glass
Cleaning glass and the windows in your car will not only ensure a shiny exterior but also allow you to drive safely without having to squint through the glass.
It's important to note that standard glass and tinted glass need to be cleaned in different ways. You want to use window cleaner that's made for car windows instead of products like Windex which can be harsh on a car's exterior window finish.
When you're cleaning your windows it's best to spray the cleaning product straight onto the surface and wipe with a microfibre cloth to avoid the spray dripping. You can then repeat this process for the inside of your car too.
It's best to avoid parking in the sun while cleaning your windscreens and windows so that the cleaning product doesn't evaporate and leave an unpleasant residue or smudge.
Tip #7: Cleaning the interior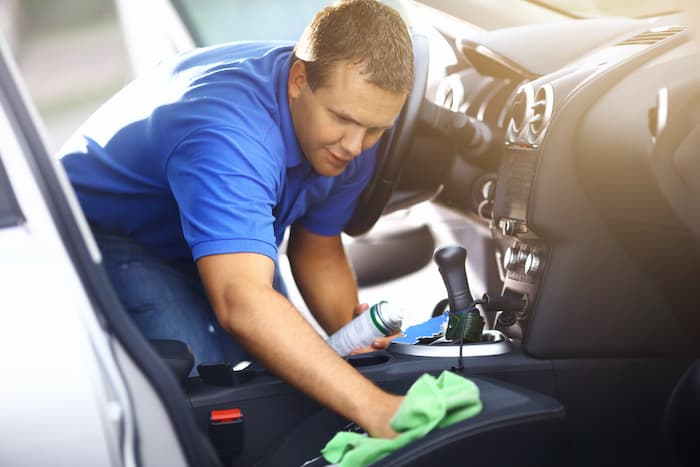 We all know how hard it is to keep the inside of a car clean, and with kids or pets, cleaning your car's interior can sometimes be forgotten about.
Here are some steps you can follow to clean your car's interior:
Clear all rubbish from the car (this includes on the floor, under the mats and on the seats).
Pull your floor mats out of the car and shake them to get rid of any dirt or dust. You can scrub them with soap and hot water and allow them to air dry completely before reinstalling them.
Vacuum the front and back seats, the floor, under the pedals and the side door panels.
Wipe away dirt, dust, and grime with a microfibre cloth or cleaning wipes. You can spray a small amount of car-specific cleaner over the console, steering wheel and between the car seats.
Clean cup holders with cleaning wipes or a cotton swab dipped in a cleaning solution.
Clean stains on the seats and carpets with a specialised cleaning solution, then wipe clean with a wet cloth.
You can use a paint stirrer wrapped at the end with a microfibre cloth to get into those hard-to-reach areas between the seats and around the centre console.
And if you're a pet owner, I'm sure you're always looking for easy ways to remove dog hair from your car. If vacuuming doesn't remove all the pet hair then lint rollers, velcro hair rollers or a wire brush should do!
After washing
Now that your car is washed and clean the next step is adding shine and protection.
Some of your next steps may include:
Preparing the surface – use a clay bar to remove suborn spots along with any wax that was previously applied.
Repair scratches – fill lighter scuffs and scratches with a smooth coat of wax or use a scratch-specific repair product for deeper scratches.
Polishing for extra gloss – This step is optional and is a great option for anyone who wants a high-gloss sheen that can make your car's paint look like a mirror.
Wax to protect – Wax adds a protective coating that blocks out UV rays and protects the vehicle's paint from anything corrosive.
However, if you're not looking to maintain that shine and protection at home then check out Car Wash Finder, a tool proudly brought to you by Budget Direct to help you find, and review your next local car wash.