Disclaimer: This information is general in nature only. While Budget Direct has endeavoured to ensure the information we've relied on is accurate and current, we do not guarantee it. Budget Direct accepts no liability for this information.
Our pets are considered part of the family in Australia, so it makes sense that we want to have them with us even when we travel.
Whether you're using public transport, taking a holiday road trip, enjoying a train journey, or hopping on a domestic or international flight you'll want to know the best way to travel with pets.
There's a lot to think about when you travel with your pet, so here are some ways to help you and your animal have a safe and pleasant journey no matter where you're headed.
What kinds of pets do we travel with?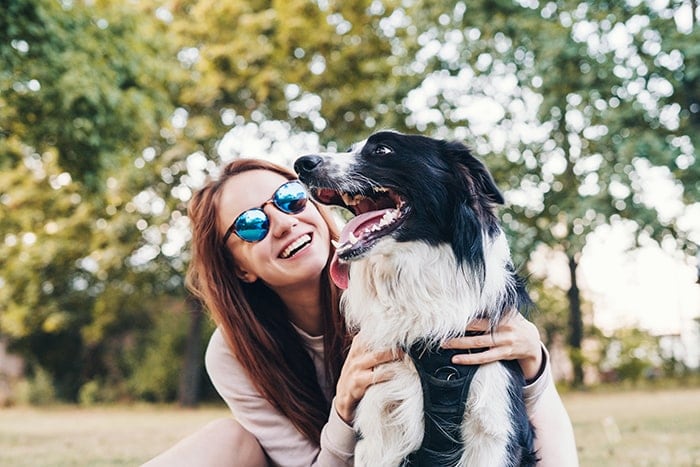 According to the Department of Agriculture, Water and Environment, not all live animals are permitted to be imported into Australia.
This is due to the risk associated with pests or diseases that can be brought into Australia by imported animals.
Here is a list of pet animals that can currently be imported to Australia:
Birds – selected species from New Zealand only
Cats – import via approved countries only
Dogs – import via approved countries only
Horses – approved countries only
Rabbits – New Zealand only
Travelling with pets isn't difficult as long as you understand the best practices and adhere to the rules and regulations associated with different modes of transport.
However, the most important rule to remember is that pets are not permitted in Australia's national parks.
Regulations and policies have a habit of changing, so contact the relevant authority to get the latest advice before travelling. Not all pets enjoy travelling and you should always put the comfort and wellbeing of your animal first.
What to do before you leave
Travelling with your pet can be fun but it also involves a little bit of preparation to ensure a safe and smooth trip for the entire journey.
Before travelling with your pet by plane, train, bus, car or ferry you'll need to make sure you check off these important items:
Take your pet to the vet for a check-up and get them up to date with any immunisations or treatments
Wash, groom and clean your pet. You can book an appointment to get this done professionally or you can do this yourself at home.
Pack a bag for your pet adding a leash, toys, food, medications, waste bags, treats, water and bedding.
Keep your vet's number on hand and check to see if there's an emergency vet in the area you're travelling to.
Ensure you have your pet insurance provider's details in case anything happens while you're travelling.
Public transport (buses, trains, and ferries)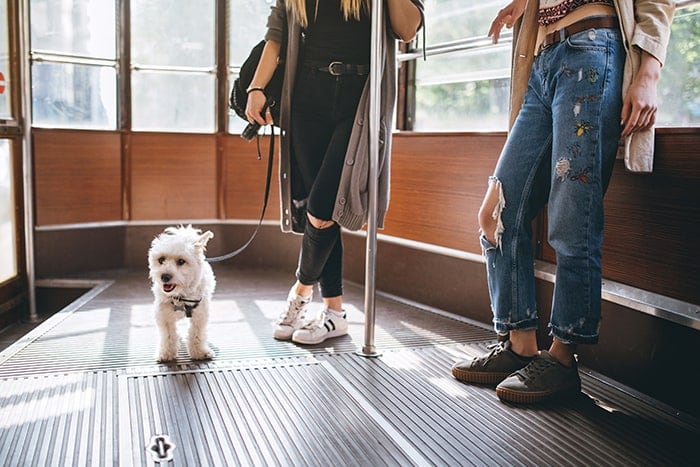 Whether you're taking a bus, train or ferry you and your pet can still travel safely (with a little bit of preparation).
The rules around travelling with pets on public transport vary from state to state so it's wise to check your state's public transport website for more information.
Here are some of the rules according to each state:
ACT:
Registered assistance animals with an appropriate qualification and registration can travel on buses and light rail vehicles. They must be on a lead at all times and wear an identifiable coat where applicable.
Companion animals can travel on a light rail vehicle as long as they are contained in a secure pet carrier and transported without disrupting the safety of passengers.
Approved assistance animals are allowed on all public transport. Companion animals may also be able to travel on buses, ferries and light rail as long as they're contained in a secure pet carrier. However, permission is still required by staff or the driver.
Hearing, guide, or assistance dogs are allowed on buses and all other animals are prohibited.
Companion animals are not allowed on any services with assistant dogs, hearing and guide dogs that are trained and certified being the only exceptions.
A trial started on Monday 9 December 2019 to allow dogs to travel on Brisbane ferries (including city cats). The trial ended on Sunday 8 March 2020 and may be subject to change based on stakeholder and community feedback during the trial.
Accredited assistance animals like guide dogs can accompany a person with a disability on all forms of public transport.
Tasmania's most extensive bus network Tassielink Transit advises passengers to enquire about transporting pets. No enquiries are required for seeing guide dogs, hearing guide dogs or police dogs.
Guide dogs, hearing dogs and guide dogs-in-training can travel for free on all public transport services. Pets under certain conditions are also permitted to travel on public transport. Dogs are allowed on Metro trains only if they're wearing a leash and a muzzle.
Only assistance dogs trained by certified organisations are able to travel on any Transperth service.
Driving with pets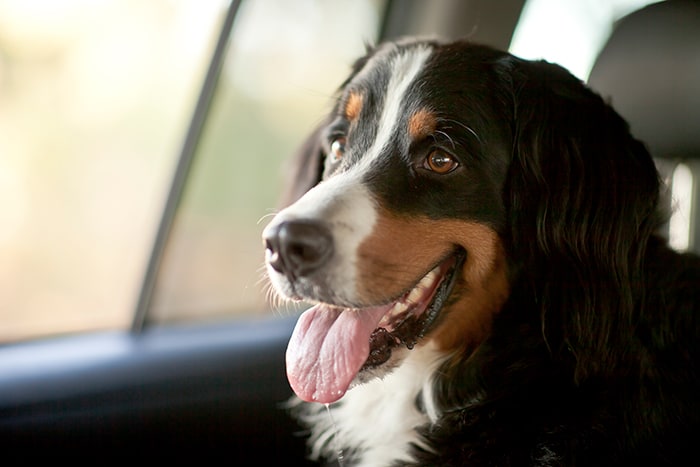 Travelling in the car with your pets is a great way to experience a road trip. Not only are you creating a safe and relaxed environment for you and your pet, but you'll also have the adventure of a lifetime.
To reduce the risk of injury and any distraction from driving it's important (and a legal requirement) to keep your pet restrained while in the car.
Dogs should be restrained through a dog seat belt or safety harness preferably in the back seat to avoid any potential injury from passenger seat airbags.
Cats should be secured in a robust cat carrier that's suitably made out of a material that won't be too hot for your cat in the current climate.
The RSPCA can issue fines under The Prevention of Cruelty to Animals Acts. If an animal is injured because it was unrestrained the owners can face up to six months in jail and can receive fines of up to $5500.
Keeping your air conditioner on while in the car will also help to keep your dog cool and under no circumstance should you leave your pet unattended in the car.
It's also recommended you stop your dog from hanging its head out the window to avoid your dog getting injured in case of a hard brake or swerve.
Planning for a road trip with your pet
Before travelling with your pet it's recommended that you create a comprehensive checklist for your road trip.
Here is a checklist you can use to plan for a road trip with your pet:
Bring an emergency kit of treats, toys, bowls, walking gear, leash, harness, plastic bags (for dogs), litter box and absorbent sheet liner (for cats).
Bottled water, travel bowls and a water dispenser (for cats)
Aim to stop every 2 hours for a rest, treats and water for your pet
Check that your pet is microchipped and that their identification tags and microchip are up to date with your current address
Check that your pet is up to date with vaccinations, flea, tick treatments and worming before heading on a road trip
Pet-friendly accommodation
There is plenty of pet-friendly accommodation available in Australia with every state offering a range of different places (from hotels to camping grounds) for you to stay with your pet.
Stayz and Holidaying with Dogs are two good resources you can use to find pet-friendly accommodation around the country. They have lots of listings that will welcome both you and your pet and in some locations, you may even be allowed to have your animal in the same room with you.
Flying with pets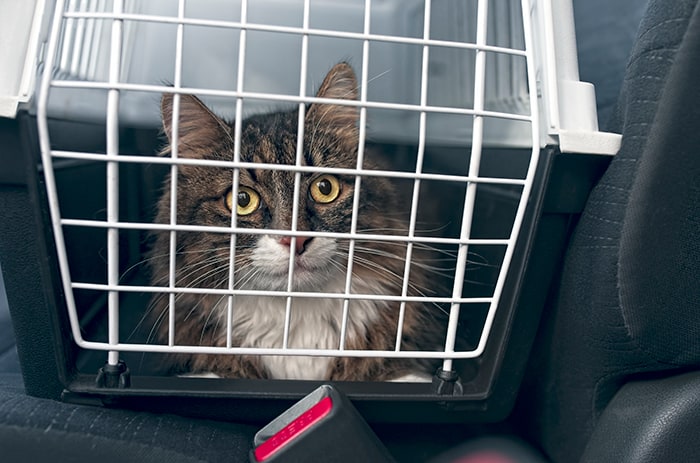 In order for airlines to accept your pet for travel they must be imported from an approved country, be more than 8 weeks old and have had a thorough check-up with a vet prior to flying.
Each airline has different regulations for when you book your pet to travel. Depending on the airline your pet can either travel with you in the cabin or be stowed away in the plane's cargo hold.
Special pet transport services like Jet Pets and Aeropets cater specifically to pets that are travelling on domestic or international flights. Make sure to also check the rules on your chosen flight service before booking your pet's ticket.
Dogs
Before travelling with your dog on a plane here are some things you should consider:
Your dog's temperament – If your dog is aggressive or prone to anxiety then it's recommended that they do not fly. Sedation is also not recommended due to the health and safety risks unless it is advised by your vet.
Your dog's carrier – Finding a comfortable pet carrier that meets your chosen airline's requirements. You can find airline-approved carriers and crates at most pet stores or one can be recommended by your vet.
Your dog's check-up – If you and your pet are travelling internationally, they will need to be examined and assessed by an AQIS (Australian Quarantine and Inspection Service) certified vet prior to travel.
Packing your dog a travel bag – Make sure to have enough food, water, toys and treats for your dog after you touch down.
Your dog's health certificate – In certain circumstances pets may require a vet certificate signed within 14 days from your departure date.
Make sure to not feed your dog too much within eight hours of travel and limit the amount of treats you may be tempted to give them. You should try to give them a longer walk on the day of travel, keep them well hydrated and give them plenty of opportunities to go to the toilet.
Cats
Before travelling with your cat on a plane here are some things you should consider:
Your cat's carrier – Getting your cat used to its carrier is an important part of making them feel comfortable while flying. You can also spray your cat's carrier with a cat calming spray (like Feliway) to help with your cat's stress and anxiety while on the plane.
Your cat's nails – Trimming your cat's nails may be a good way to prevent scratching or injury. If you're not comfortable cutting your cat's nails then make sure to consult your veterinarian.
Your cat's health certificate – In certain circumstances pets may require a vet certificate signed within 14 days from your departure date.
Your cat's check-up – If you and your pet are travelling internationally, they will need to be examined and assessed by an AQIS (Australian Quarantine and Inspection Service) certified vet prior to travel.
Flying in Australia
In Australia pets can travel on Qantas, Virgin Australia and Rex flights. As of 2021 pet travel opportunities are limited due to the reduced capacity of flights across Australia.
During the flight your pet will be checked in prior to departure and will be taken to the freight/cargo area. Airlines have team members who are trained to support your pets during the flight.
Cats and dogs can be internationally imported to Australia under strict conditions. All import conditions set by the Department of Agriculture, Water and the Environment must be met and are designed to manage biosecurity risks.
This includes the completion of a minimum 10-day quarantine isolation period in the post-entry quarantine facility in Melbourne.
If you intend to import cats or dogs into Australia you will need to refer to the requirements associated with different approved groups of countries:
Group 1 consists of New Zealand, Norfolk Island and Cocos Island. Animals from New Zealand and Norfolk Island do not require an import permit to enter Australia while pets from the Cocos Islands do require an import permit.
Group 2 consists of a list of approved rabies-free countries and territories. Animals from these countries require a permit to be eligible for import to Australia.
Group 3 consists of approved countries and territories where rabies is absent or well controlled. Animals from these countries require an import permit to be eligible for import to Australia.
Animals from non-approved countries are not eligible for direct import to Australia.