Welcoming a dog into your home is the height of domesticity, but puppy name inspiration can come from the most unusual places.
Take Fauci, a brown Lagotto Romagnolo born in the springtime of 2020. Fauci shares her Italian heritage with Anthony Fauci, Chief Medical Advisor to the US president during the pandemic. It's a heroic inspiration for a dog name, to be sure – but Fauci (the dog) narrowly missed being named Tina, short for Quarantine.

Meanwhile, the newest puppy to occupy 123 Sesame Street has been named after an exotic Argentinian dance. The brown-and-white bitzer got her name because she loves to move and sing – Elmo named her Tango.
There are tonnes of fun dog names around the world that might capture the spirit and heritage of your new pup. Budget Direct asked content marketing agency Neomam Studios to find the most popular ones in each country and mapped them out to help you find one you won't mind yelling in the park.
Luna or Bella Are the Most Popular Girl Dog Names in 30 Countries
We identified the 10 most popular dog names in every country. Then we gave each name points (10 points for the most common, 1 point for the 10th most common, etc.) to discover which dog names are the most popular in the world.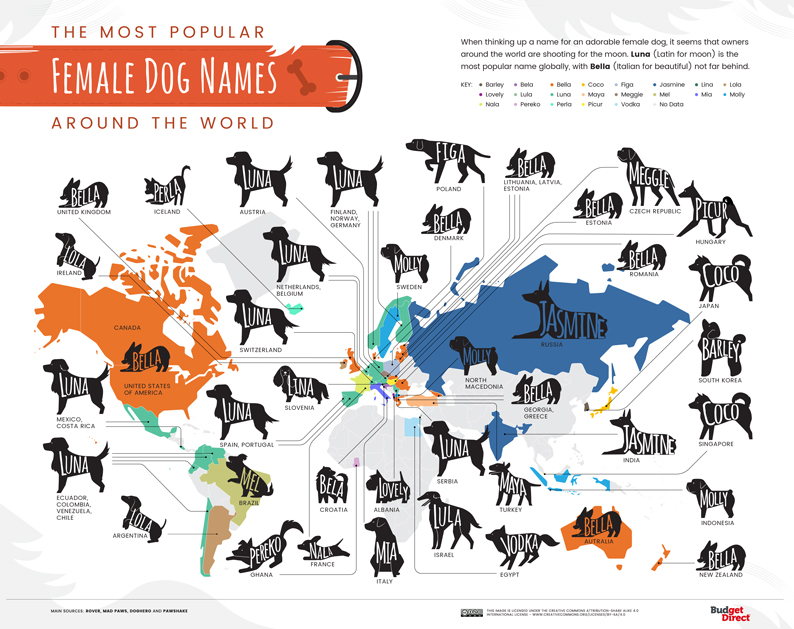 There are 20 different names for female dogs on our map. While some are number one across multiple countries, some of the most interesting ones are 'unique' to just one country.

For example, the most popular name in Brazil is Mel. No, it's not short for Melanie – it's Portuguese for Honey. Likewise, the top name in Iceland is Perla – meaning Pearl. It's worth a trip to Google Translate to try your dog name ideas in a different language if you're not sure how it sounds in English.
As for the most popular names the world over, Luna and Bella dominate. Luna is top in 16 countries and Bella (or Bela) in 14. Luna and Bella are both Spanish and Italian words, meaning moon and pretty/beautiful. Yet these names are popular in non-Latin countries, including Finland and the Netherlands, too. This shows that there is already a taste for exotic names among the world's dog-lovers.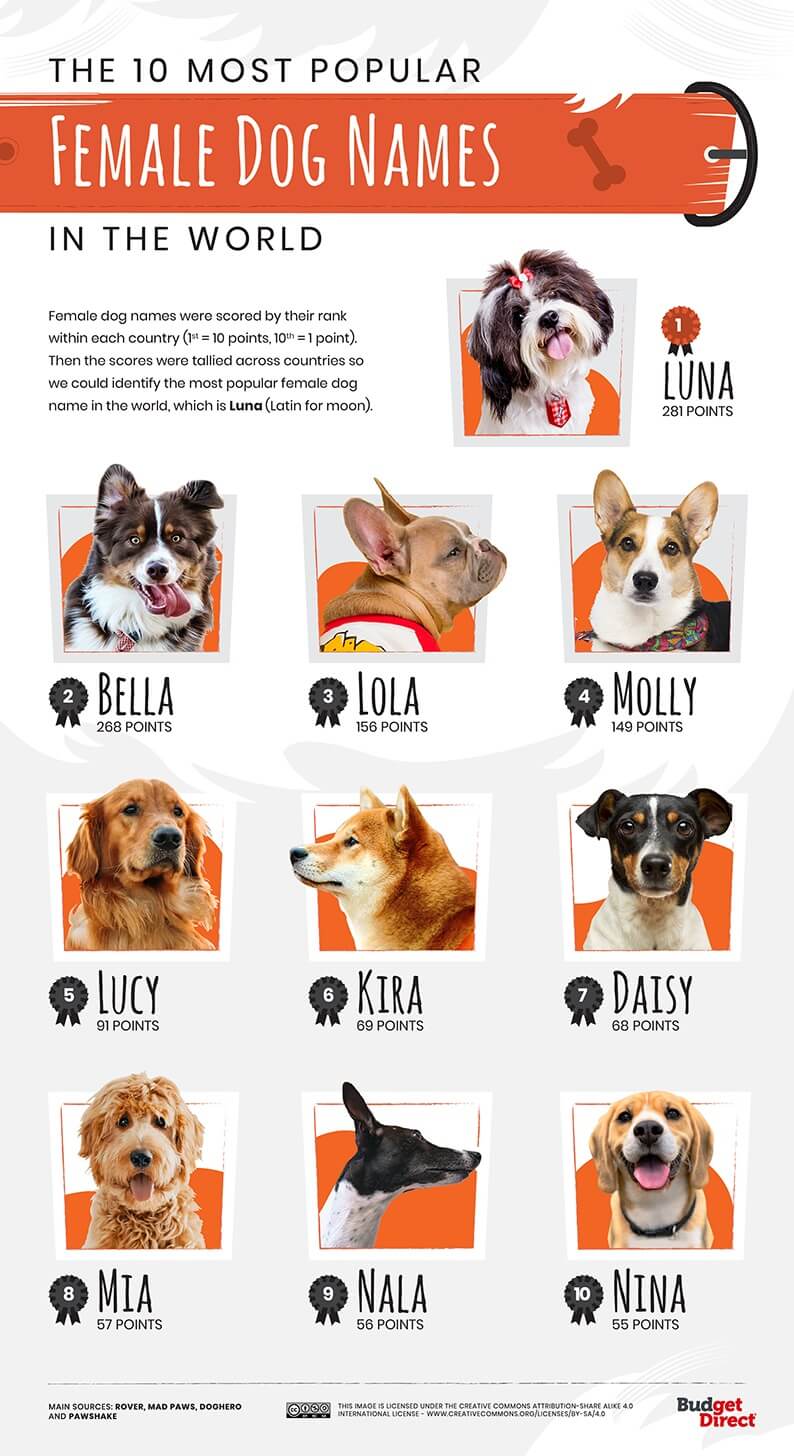 Max or Charlie for a Boy – or How About Smoke, Sun, or… Lady?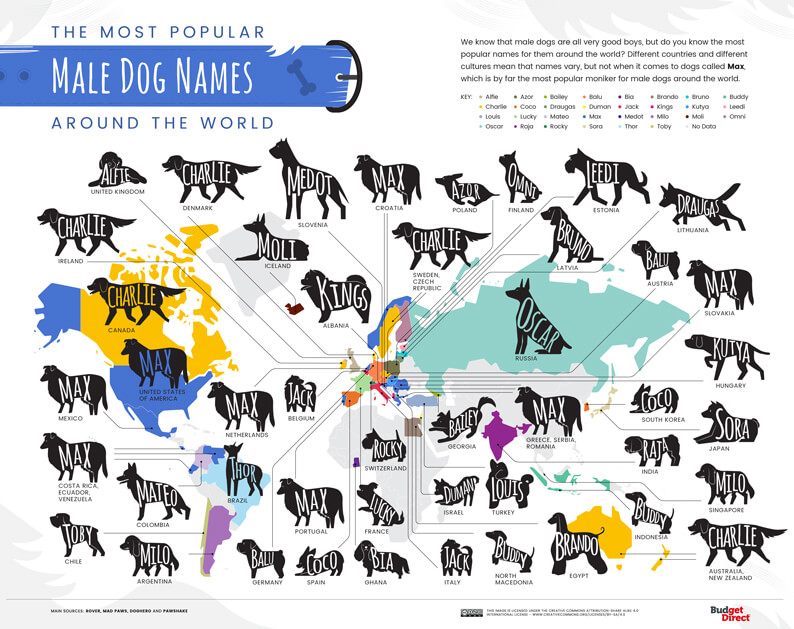 Boy dogs are more likely to have human names with no other common meaning (unlike Bella or Luna, which work both as human names and as words). But there are exceptions. The most popular boy dog name in Turkey is Duman, meaning Smoke. Estonia has Leedi – yes, as in Leedi and the Tramp! And the Japanese like to call their male dogs Sora, meaning Sun. In Lithuania, Draugas is another word for friend… or Buddy.
In its English version, Buddy is one of the only boy names in the top 10 that isn't primarily a name-word. Of course, there are lots of humans called Buddy, but for a dog, it mostly means 'friend.' Buddy is the most common male dog name in Indonesia and North Macedonia, but also popular elsewhere, gaining a score of 126 points. But Max is number one the world over by a considerable margin. It is the most common name in 13 countries and scores more than double the points of second-placed Charlie.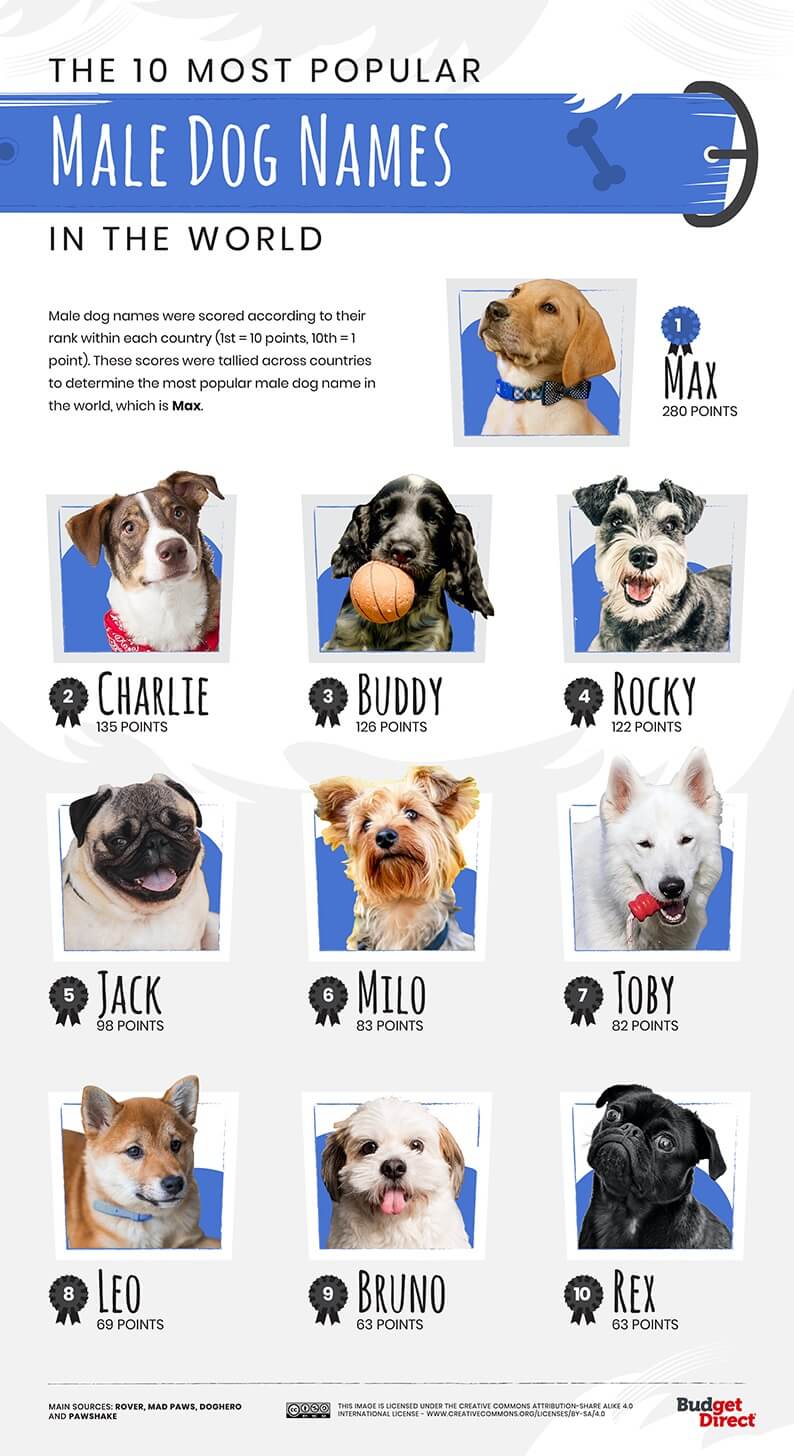 A Dog Called Dignity
You meet a lot of different people when you walk your dog. So, as well as your dog's dignity, consider how you're going to explain his or her name to other dog-owners in the park.
Consider picking something bold and short. Avoid names that your next-door neighbour might choose for their new baby (that would just be embarrassing). And if you pick a celebrity name, you have to remember that once they're out of favour, you are stuck with the name regardless.

And take it easy. Wherever you are in the world, choosing a name that fits your dog is far easier than choosing a name for your houseplant.

Methodology and Sources
We researched the top 10 male and female dogs names in each country using studies created by national dog registers, animal welfare charities and animal insurance providers. We then cross-referenced these lists to identify the most popular male and female name worldwide.
References