Disclaimer: This information is general in nature only. While Budget Direct has endeavoured to ensure the information we've relied on is accurate and current, we do not guarantee it. Budget Direct accepts no liability for this information.
Australian pet owners are estimated to have spent $13 billion on pet services and products in 2019.[1]
When you add up all the expenses of food, vet care, health products, grooming needs and boarding fees, the average cost of keeping a dog in this country is $1627 per year and for cats, it's $962.[1]
These, of course, are just the baseline expenses. At times, our pets can be involved in an accident or suffer from a sudden illness. When this happens, things can get difficult, and this is where pet insurance can help.
What to consider when choosing pet insurance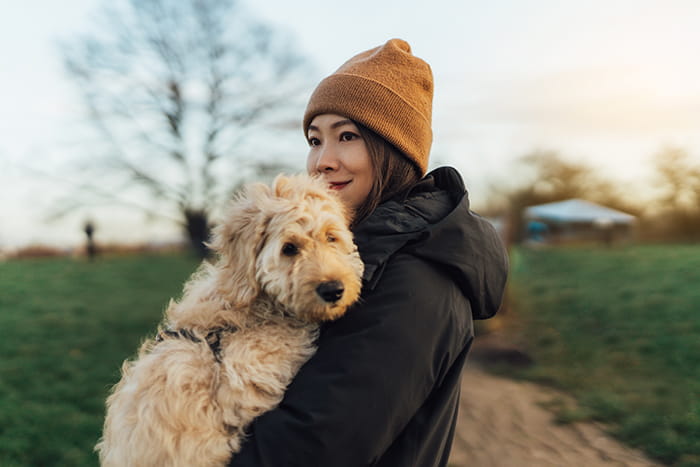 According to the Animal Medicines Australia report in 2019 30% of households with dogs and 21% of households with cats have pet insurance.
Although pet insurance is still a fairly new product in Australia, pet owners have an increasing number of policy choices and insurer options to select from.
There's a lot to think about when deciding on a pet insurance policy. These may include:
Your financial circumstances
The type of pet you own
Whether your pet is accident-prone
Whether your pet is susceptible to common diseases or conditions
The age of your pet
Ultimately it comes down to how prepared you want to be for an unexpected health event in your pet's life.
Understanding pet insurance
Pet insurance encompasses three main policy types:
Accident only coverage – this type of policy covers accidents including burns, snakebite, fractures, getting hit by a car, bites from other animals, etc.
Accident and illness coverage – this type of policy covers injuries and accidents but also covers illness and disease.
Comprehensive coverage – this type of policy covers everything you'll find in an accident and illness policy, but also may include a number of 'routine care' treatments such as dental care, vaccinations, worming treatments, de-sexing, behaviour training and more.
Pre-existing conditions and diseases where there's a known vaccine are typically excluded from accident and illness cover.
It's important to note that there are also other types of pet insurance policies for major medical and defined event cover (i.e. specific illnesses or accidents).
The age of your pet
Most policies also have an age restriction. While you can usually insure a pet over eight weeks, it may be much harder to find pet insurance for an animal that's more than nine years old (unless their cover has been maintained).
As your pet ages, its health status changes which in turn dictates the most appropriate type of insurance cover. This means that the things your pet might have needed when they were younger will change as they get older.
Budget Direct has one easy-to-understand pet insurance product that covers veterinary expenses.
And if you do need to switch to another provider's policy (this applies to all pet insurance products) – pre-existing condition exclusions will apply. This means that you may not be covered for conditions that were previously covered in your policy with another provider.
This should be a key consideration before deciding whether you want to change your pet insurance provider.
How much does pet insurance cost?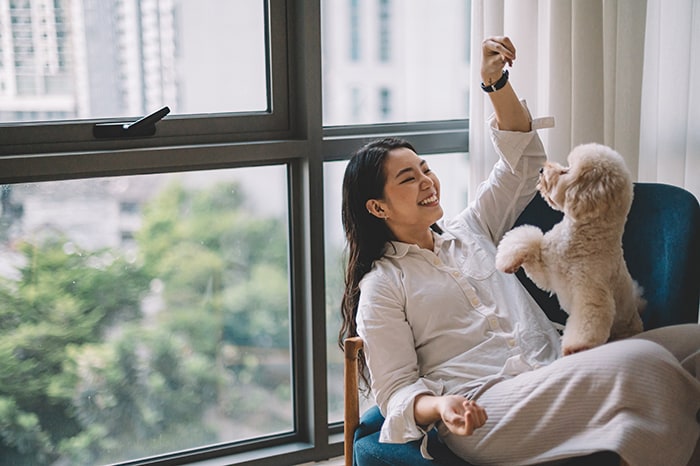 The cost of your pet insurance premium is based on a risk assessment of how likely you are to claim on pet insurance and the costs of those claims.
The insurer will also look at your geographical location, breed, age, species and sometimes on whether your pet is desexed. For instance, if you live in a region where paralysis ticks are more prevalent, this may influence the premium.
While Australians reportedly spend $745 million on pet insurance for their dogs and cats, there are still ways to reduce the cost.[1] Some of these options may include:
Choosing an accident only or accident and illness policy instead of comprehensive cover (as long as that suits your pet's needs).
Opt to pay a higher excess or lower benefit percentage (percentage of a vet bill that is reimbursed to you) in exchange for a lower premium. Make sure that you can afford to pay that excess if your pet needs veterinary treatment.
Consider any upfront or introductory discounts or offers that may not continue in the following years.
Always read the Product Disclosure Statement and check the fine print for all relevant policy details, including any waiting periods that may apply as well as exclusions, sub-limits and fees for the annual insurance plan.
Understanding the exclusions
Each policy has clearly outlined limitations and exclusions – and many of these policy exclusions help keep your premium costs low.
Every policy is different, but here are some common exclusions that may apply to your policy:
Behavioural problems
Boarding and transportation
Food or supplements
Training or socialisation
Pet births, pregnancies, and other breeding-related expenses
Treatment for conditions that could have been prevented through prior vaccination
Treatment during policy-specified waiting periods (can differ depending on your insurer)
Cosmetic procedures, genetic and chromosomal testing
Treatments required because the pet owner didn't take adequate precautions to protect their animal from situations that may result in illness, injury, or aggravation of an already treated condition
Illnesses or accidental injuries where signs, symptoms or treatment occurred prior to taking out pet insurance or during any applicable waiting period (i.e. pre-existing conditions)
As of 2019 Australians have reportedly spent nearly $745 million on pet insurance for their dogs and cats.
While some dog and cat owners may still question the value or the cost of pet insurance, keeping your dog or cat healthy is the most important outcome associated with pet insurance overall.
Sources