So it looks like the burglars are going back to work.
A study of crime rates in 27 international cities showed that burglaries fell by 28% under lockdown conditions. But homeowners should not breathe easy. As lockdown eases, the conditions for housebreaking improve. And summer is peak business for burglars: windows are left open, families are on holiday, and everyone has their guard down.
Budget Direct recently delivered an in-depth analysis of the state of burglaries in Australia. We found that one in five Australian homes have been burgled and that 31% of detained burglars reckon 'improved security' is the cause of a slight reduction in break-ins in the 2010s.
Now we're looking at the global picture. We sourced national burglary rates from countries around the world and calculated the figure per 100,000 people for every country with available data.
We found:
Peru has the highest burglary rate in the world, with 2,086 per 100,000 people per year.
The world's lowest burglary rate is in Bangladesh: 1 per 100,000.
Australia's burglary rate is 911 per 100,000 — the third highest in the world.
The US burglary rate is 527 per 100,000 — number 15 out of the 85 countries with available data.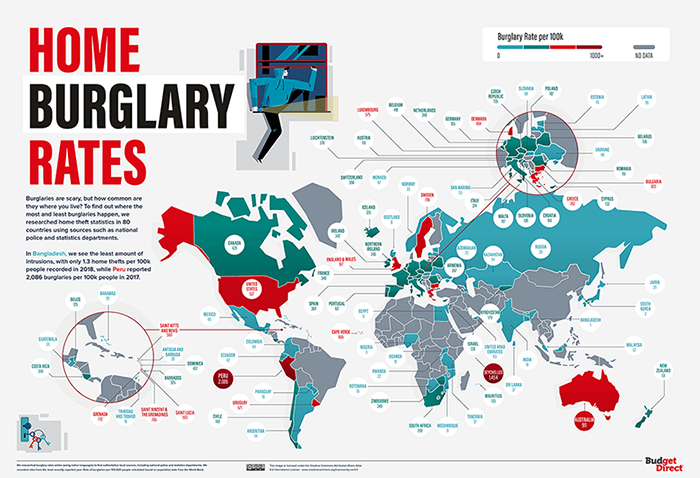 North America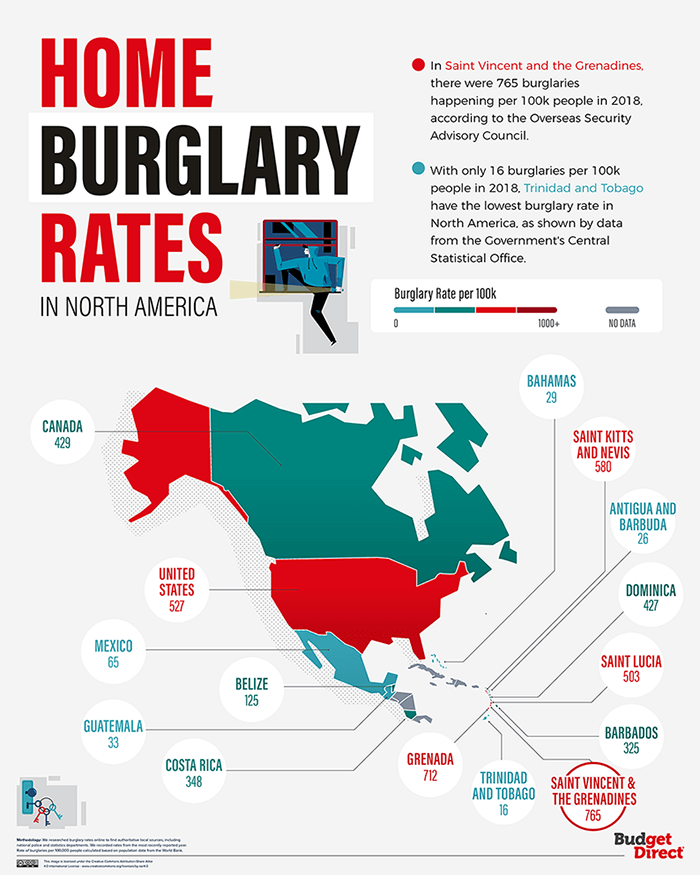 Saint Vincent and the Grenadines is a group of 32 Caribbean islands, nine of which are inhabited by a total of 110,000 people. Sadly, 842 of these people experienced a break-in in 2018, giving a total of 765 per 100k – the fourth-highest rate in the world. A popular tourist destination, Saint Vincent welcomes most visitors without incident. However, the burglary rate may be high due to the number of yachts and holiday homes left open in the warm weather.
The US has a high burglary rate at 527/100k. Just over one-third (36.2%) of burglaries are committed without force – in other words, through open windows and doors. Curiously, American researchers found that the most likely time for a burglary is not at night but between 10 am and 3 pm when a home is least likely to be occupied.
South America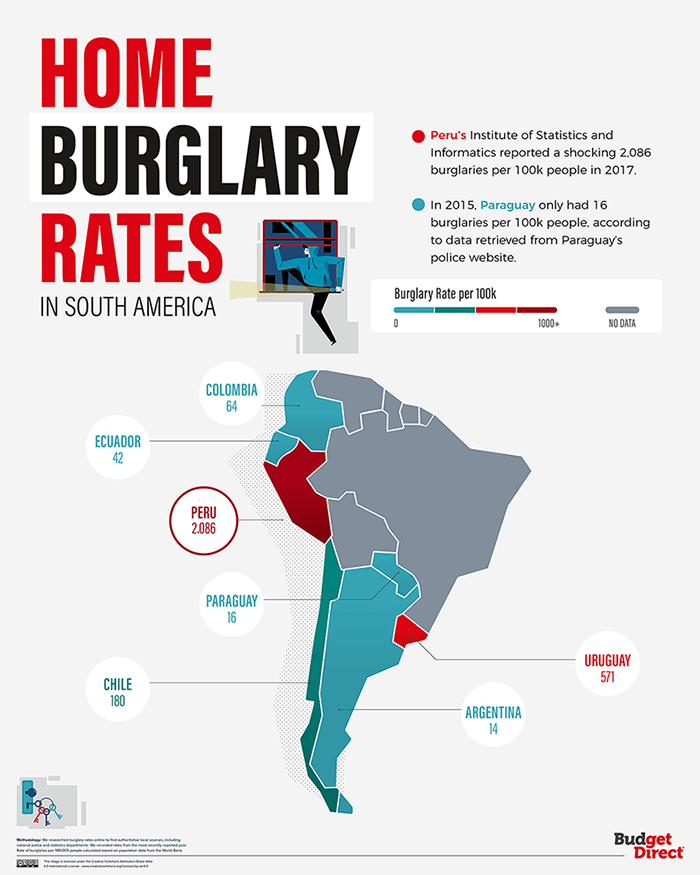 Crime is high and rising in Peru. The burglary rate is the highest in the world by 43% and is more than double Australia's already high rate. Poverty is an ongoing problem for Peruvian people. Meanwhile, wealth attracts the attention of the needy – and one common method of burglary is to trick domestic employees.
The burglary rate is relatively low in other parts of South America. Colombia, Ecuador, Paraguay, and Argentina have rates in the double-figures, compared to 2,086 for Peru. Uruguay has a high 571/100k, with burglars targeting wealthy neighbourhoods.
Europe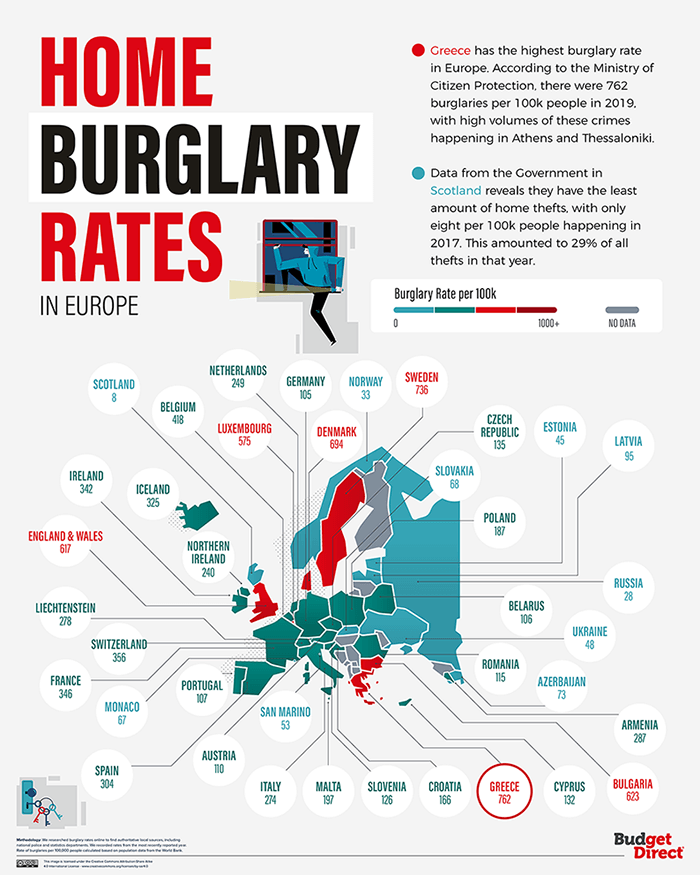 In Ancient Greece, authorities imprisoned 12 men for a burglary, unsure which one was guilty. They gave each man a stick and told them the thief's stick would grow an inch in the night. The next morning, only one man had bitten an inch off of his stick. Apprehending burglars is not so simple these days, and in the wake of credit crunch-induced poverty, burglary rates in Greece have risen to be the highest in Europe.
Sweden is at the opposite end of the economic scale to Greece, but burglaries are nearly as common. However, Swedish burglary rates are falling dramatically. Police credit neighbourhood watch schemes for the reduction in burglaries and note that break-ins appear in clusters. If your neighbour experiences a burglary, you become likely to be next to suffer.
The Middle East and Central Asia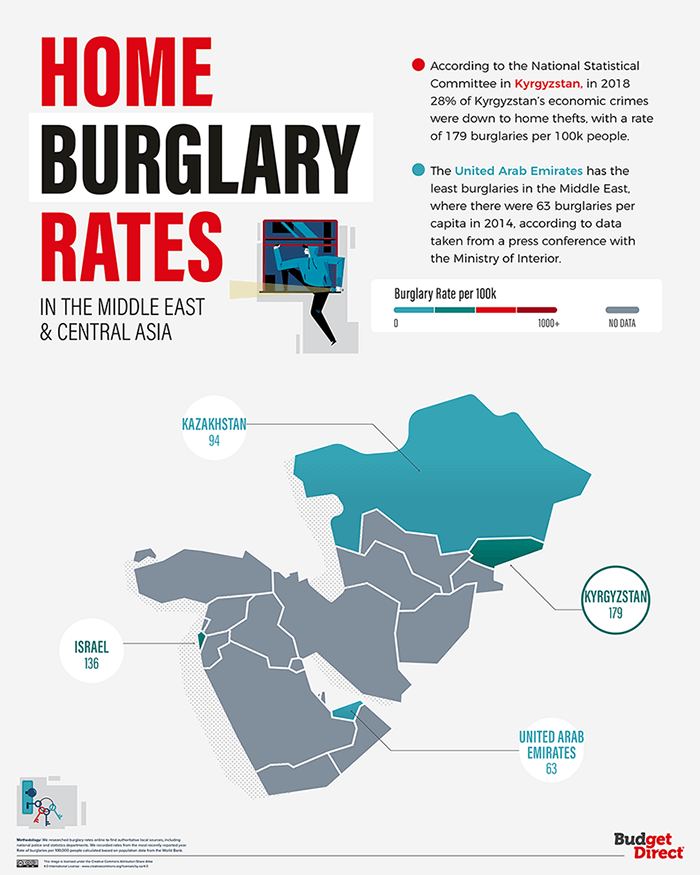 Burglary rates were available for only four countries in this region. Aside from Kyrgyzstan, they are all in the lower half of the table, compared to countries around the world. Kyrgyzstan has a burglary rate of 179/100k, the 37th highest out of 84 countries.
The burglary rate in Israel is 136. In one case, the same Palestinian-owned business has been burglarized five times over with only minimal interference from the police. "Nothing could interest them less," the victim told Haaretz. "If it had interested them, they would have already found my merchandise and returned it to me."
Rest of Asia and Oceania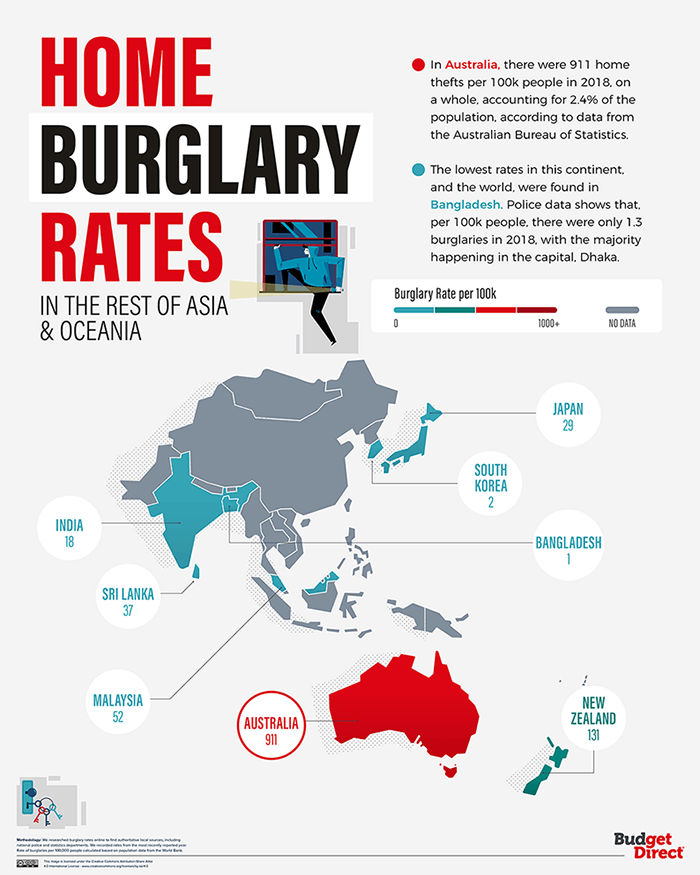 The country with the highest burglary rate in this region, and the third-highest in the world, is Australia. The rate is 911 per 100,000 people per year. It is estimated that 2.4% of Australian households had at least one break-in, but only 77% reported the incident to the police. And this is despite the fact that burglaries were already on the decline before the pandemic, partly due to a reduction in the amount of cash and small valuables we keep at home. (Never leave your phone on view through a window!)
In New Zealand, the rate is just 131, or 14% of Australia's burglary rate. And the lowest rate in the region is in Bangladesh, where 2,137 reported burglaries across a population of 163 million are at a rate of 1.3 per 100,000. Crime tends to be concentrated in the capital city of Dhaka.
Africa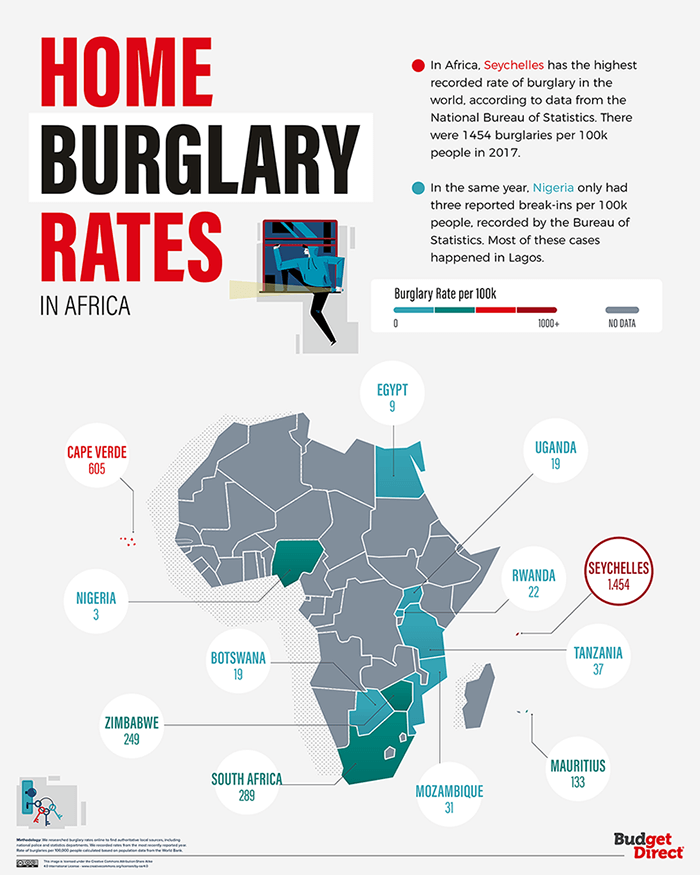 Burglary rates vary greatly across Africa. With just 3 per 100,000 in Nigeria, the country has one of the lowest rates in the world. However, a UN report describes Nigerian crime statistics as "patchy and divergent," with many crimes unreported due to distrust in the police.
There were 1,394 burglaries reported in Seychelles in 2017, among a population of 95,843 – giving a rate of 1,454 per 100,000, the second-highest in the world. Cape Verde has a rate of 605 per 100k, in a population of 549,935, making the island country the 11th worst place for burglaries in the world.
Think like A Burglar (Only Better...)
As mentioned, the burglary rate in Australia – although high – was already in decline before the burglars were 'furloughed' by the pandemic lockdown. However, the expected economic downturn as the world gets back on its feet means burglars may return in force. There is grave danger in being complacent about household security or failing to insure your home adequately.
On the other hand, these bumbling crooks accidentally called emergency services while burglarizing a UK home. The emergency call centre listened to the whole crime play out until the police arrived to make arrests. It's a funny reminder that burglars are only human – subject to the same frailties, temptations, and needs as the rest of us.
Why not check out our full international burglary rate data in this interactive table?
METHODOLOGY & SOURCES
We searched online for burglary statistics, using Google translate to search in the native languages and bring up local reputable sources, such as government and police websites.
We found only the most recently reported rates available. Any countries we couldn't find reliable data for were removed.
We used these burglary figures in conjunction with population data to find the burglary rates per 100,000 people in each country.