Disclaimer: This information is general in nature only. While Budget Direct has endeavoured to ensure the information we've relied on is accurate and current, we do not guarantee it. Budget Direct accepts no liability for this information.
Australia is home to more than 500 national parks over 28 million hectares of land, spanning mountain, desert, and rainforest terrain. Many remain 'best-kept secrets' and offer the chance to interact with flora and fauna in a range of diverse and affordable holiday options far and away from the hustle and bustle of city life.
The best way to see them, according to the folks at Tourism Australia, is to get in your car and drive. With a wide range of coastal journeys and outback adventures to choose from, an Australian road trip is one of the best ways to experience our wide-open spaces and magnificent scenery.
For the most part, Australia's national parks are managed by the states and territories, however, the federal government does look after six national parks and 13 marine parks.
A national park aims to offer enjoyment to both Australian and foreign visitors while monitoring human activity and protecting special habitats, ecosystems, natural wonders, shipwrecks, and sacred Aboriginal sites.
Royal National Park, NSW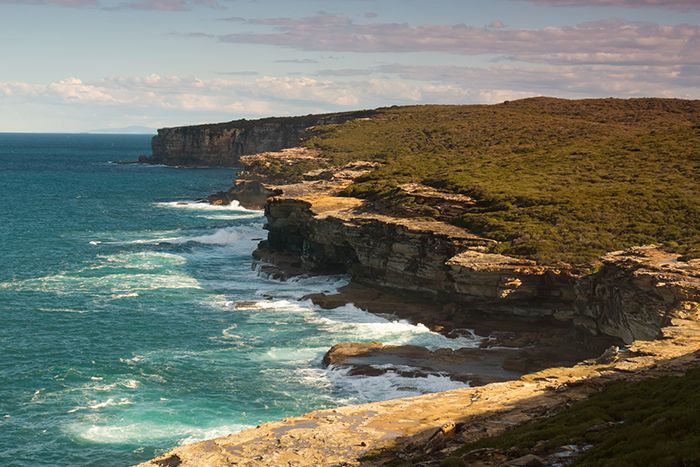 On 26 April 1879, Australia set its first national park south in Sydney, NSW. In its early years, the purpose of this park was for relaxation rather than to conserve the environment.
After Yellowstone National Park in the United States, Australia's Royal National Park was the second park of its kind in the world.
The Royal National Park is a diverse and popular place known for bushwalks, birdlife, picnics, barbecues and excitingly whale watching!
Highlights include Bonnie Vale beachside campground which offers tent, trailer and caravan sites. Be sure to book early to avoid missing out!
For walkers, there are also several picturesque bushwalks including the Bundeena Drive to Marley walk, Forest path and Karloo walking tracks. Along the way, there's also plenty of picnic sites, as well as guided walks and professional tours.
Ikara-Flinders Ranges National Park, South Australia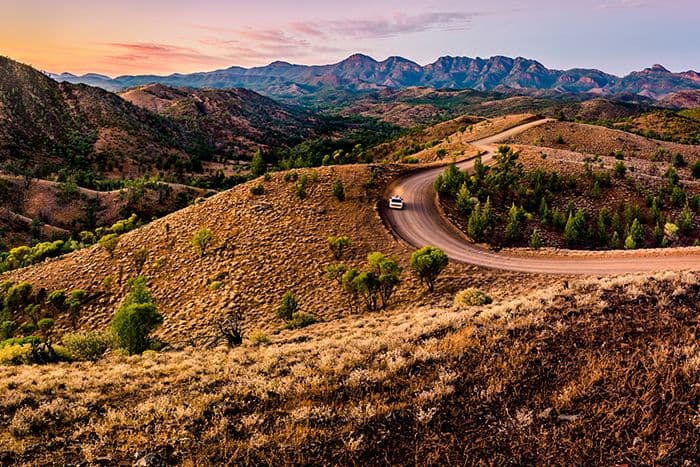 Ikara-Flinders Ranges National Park is located about 450km north of Adelaide in South Australia and is around a five to six-hour drive to get there.
Situated between the towns of Hawker and Blinman in the Ikara-Flinders Ranges, this national park is known for its natural, cultural, and geological significance, and is home to the famous Wilpena Pound (Ikara). This valley surrounded by a rim of mountains is cradled between the park's towering mountains.
Wilpena resembles a volcanic crater and is believed to have formed from the erosion of soft rock on the valley floor. There are many bushwalking trails and scenic drives around this location with the option to camp near Wilpena or stay in a resort close by.
Kosciuszko National Park, NSW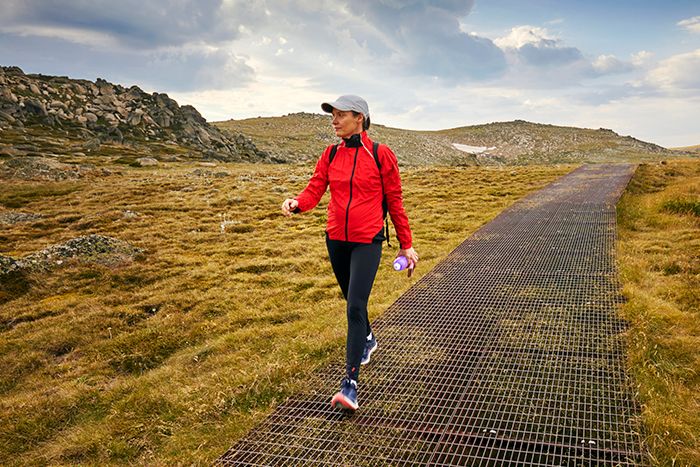 Recognised as a UNESCO Biosphere Reserve, Kosciuszko National Park is the largest of all the national parks in NSW. The reserve is not only home to Australia's highest mountain; Mount Kosciuszko but also the snowy river and ski fields!
The historic cattlemen huts and mountainous terrain showcase a beautiful backdrop and the inspiration for Banjo Paterson's famous poem, 'The Man from Snowy River'. The poem was first published in 1890 in 'The Bulletin' and later became a box-office hit when it was released as a movie in 1982.
Kosciuszko National Park offers an abundance of beautiful natural scenery. You can experience alpine flora, caves, gorges and native fauna including endangered species of corroboree frog and mountain pygmy possum. While it is open to visitors all year round, some roads and trails close because of weather conditions.
In the winter months, Kosciuszko National Park is a go-to for skiing and snowboarding enthusiasts, while summer is the best time to camp, go on a bushwalk, fish and go mountain biking.
Cascade Hut is a popular mountain-biking and walking trail and in Winter it is best known as a favourite cross-country skiing route.
A selection of the Park's nearby accommodation includes Creel Lodge, Currango Homestead, Daffodil Cottage and Yarrangobilly Caves House.
Purnululu National Park, Western Australia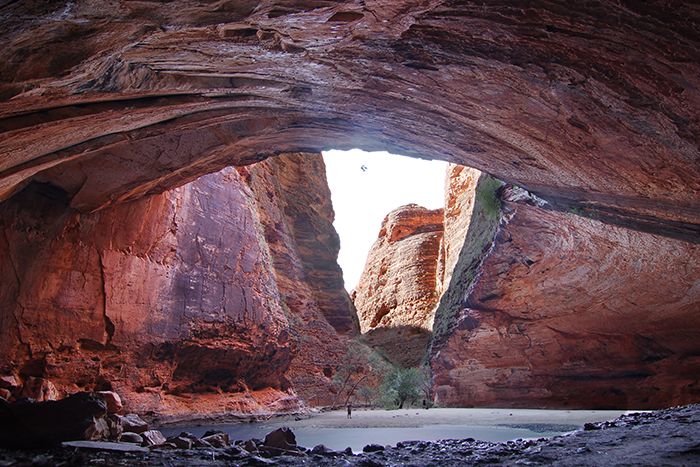 Purnululu National Park may not be as accessible as other national parks, but with a little planning, it's still possible to see this park on a weekend. Situated around 300km south of Kununurra, Purnululu is only open from April to November (during the dry season) making it the perfect location for any bushwalking enthusiasts.
The Bungle Bungle Range is known to photographers as a dream destination. The orange and black sandstone domes rise 300 metres above the plains and are referred to as one of the world's most fascinating geological landmarks
The area has been used by the Aboriginal people for thousands of years. The area also has a rich cultural heritage containing many pieces of ancient Aboriginal artwork and burial sites.
While the park is looked after by the Government of Western Australia, the traditional owners also help to manage the park and strengthen its relationship to Aboriginal heritage.
There is a unique wilderness experience ahead for visitors who want to take a few days to discover the Bungle Bungles on foot. An alternative is to take a scenic helicopter flight from Bellburn Airstrip to spot a scene of hidden gorges and freshwater pools.
There are a wide range of walks to choose from and visitors can camp for up to several days while on a trail. Walks from one of the two main camping grounds, Kurrajong and Walardi include the Piccaninny Creek Walk, Mini Palms Gorge, Cathedral Gorge and Echidna Chasm Walk.
A range of four wheel driving tours leave from both Halls Creek and Kununurra or you can hire a car and journey into the park yourself. It's important to note that visitors must bring their own food and water on these trips as there are no shops nearby.
Glass House Mountains National Park, Queensland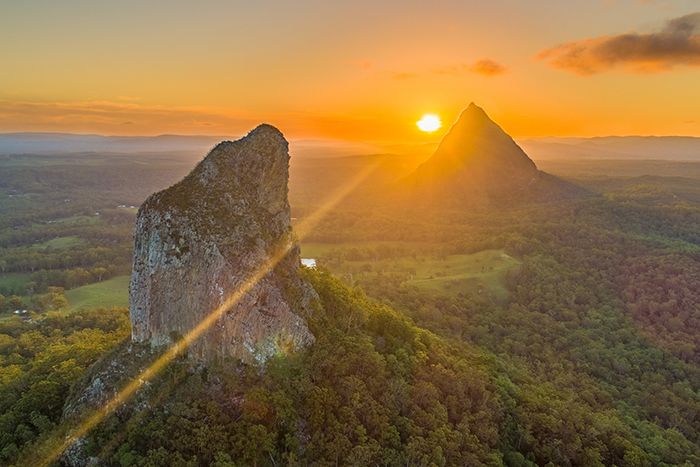 The Glass House Mountains National Park is just an hour's drive from Brisbane and is the perfect destination for a quick, worry-free, weekend away. Given their name by Lieutenant James Cook, the Glass House Mountains craggy peaks tower over the surrounding landscape.
An area of spiritual significance for Aboriginal people, the area was a meeting place for trading and ceremonies with protected burial sites still present to this day.
While there are no camping grounds within the Glass House Mountains National Park, the Beerburrum State Forest offers nearby camping at Coochin Creek. There is also a wide range of holiday accommodation that is available in the Sunshine Coast hinterland.
There are also several private camping areas on Glass House Mountains road. One of the best things about the Sunshine Coast is that it has ten national parks to visit!
Travelling within Australia has become our new normal so why not discover parts of Australia that you've never been to before. Take a trip to a beautiful national park, uncover one of Australia's hidden gems or go on one of Australia's best road trips.