Disclaimer: This information is general in nature only. While Budget Direct has endeavoured to ensure the information we've relied on is accurate and current, we do not guarantee it. Budget Direct accepts no liability for this information.
Ernest Hemingway once said that "there are only two places where we can live happy: at home and in Paris." While he may have been spot on, the problem that usually arises is how you best use your limited time available.
Do you check out the popular tourist traps, or skip the queues at some lesser-known sights and activities?
There is no one-size-fits-all approach to planning your stay in Paris. There are too much to see and too many tastes to cater for. But if you're only in Paris for a short while and want some unforgettable experiences, here are our top 9 things to do in Paris.
1. Experience the Tour Montparnasse
Everyone who visits Paris wants to stand at the top of the Eiffel Tower. But the problem with this is that you don't have a view of the tower you're standing on.
The solution is to get your stunning city view from atop the 56th floor observation deck of the Montparnasse Tower – with a superb view of the Eiffel Tower in the distance. There may be no more spectacular view in Paris, and at night, that view is somehow only made more breathtaking.
2. Take a walking tour through the Paris Catacombs
In 1785, Paris had a bit of a problem – their cemeteries were overflowing. To fix this, they dug up the bones of the deceased and relocated them to the tunnels of some abandoned quarries.
This was the birth of The Catacombs, a series of underground corridors stacked with bones. They're 20m beneath the Parisian streets and contain the remains of around 6 million Parisians.
A visit through the 2km of tunnels lasts around 45 minutes. A guard will check your bags when you exit (they hate it when crass tourists try to souvenir a bone or two).
3. Explore the back streets by bicycle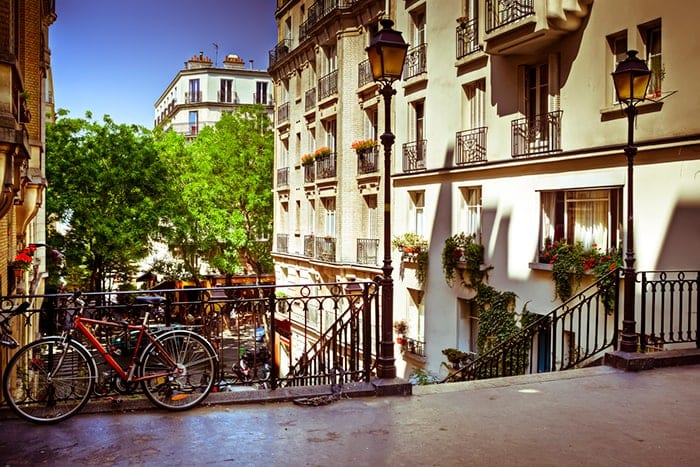 As you wander through the streets of Paris, you may notice bike racks full of rental bicycles. There are hundreds of these Velib rental spots around the city and it's a simple matter of using your credit card to unlock the pushbike from its mooring, ride it to another part of the city and drop it off at a different Velib rack elsewhere.
You can buy a day ticket for one Euro which provides unlimited free rides of up to 30 minutes at a time. The longer you have the bike, the more you pay, so don't delay in getting it back when you've completed your forays.
This is a great way to venture into some less touristy (and quieter) parts of Paris. And if all that pedalling becomes too much, there are plenty of sidewalk cafes where you can take a breather. Beware: even with a map, you'll probably get lost a few times!
4. Take the most majestic of all bus tours
When you hear 'bus tour', your brain probably doesn't go automatically to fine dining, crisp local wines, and glorious views. But with Bustronome, that is exactly what you can expect. Welcome to what might be the greatest bus tour in the world.
You can kick back for a 2-hour lunch, or 2.5-hour dinner tour, and soak in views of Paris as you dine. Although the idea of dining on a moving bus might seem strange, in practice, it works surprisingly well.
The huge windows and glass-top roof on the double-decker bus offer a stunning (and moving) view of all of Paris's most treasured attractions, like the Eiffel Tower, Notre Dame, the Champs-Elysees, and the Louvre.
5. Stroll through the Tuileries Gardens
When you're ready to get away from the city's hustle and bustle, the Tuileries Gardens will not disappoint. These gardens are located in the largest park within Paris and are nicely positioned along the Seine River between two iconic landmarks: the Avenue des Champs Elysees and the Louvre.
There are two excellent museums within the park. The Musee de Jeu de Paume contains fascinating temporary exhibitions and the Musee de l'Orangerie is where you can see some of the famous Nymphea paintings by Monet.
This park has plenty of picturesque statues, sculptures, and fountains as well as quiet places to recline on the grass with a book and a croissant and while away a sunny afternoon. If you plan to visit an urban park in Paris, start with this one.
6. Immerse yourself in the magic of the Latin Quarter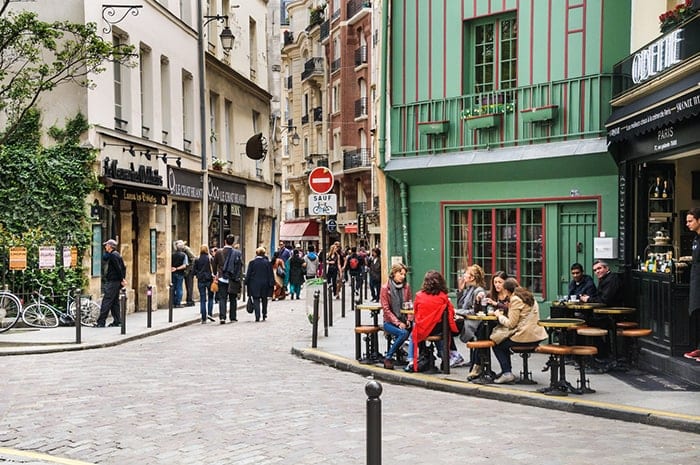 The Latin Quarter is the oldest district in Paris – a lively collection of narrow streets, thriving cafes, quaint bookshops, funky bars and elegant restaurants, all nestled in an area renowned for housing some of the city's finest universities, including La Sorbonne.
Victor Hugo and Voltaire were educated here, which says something about the intellectual history of the place.
This is a rather noisy part of the city to stay in (right through the wee hours), but it's perfect for a neighbourhood walk or a leisurely French lunch. Although it has its share of souvenir shops, there's still a feel of 'old Paris' as you wander around and window shop.
It's very centrally located and close to lots of other iconic Paris attractions including Notre Dame Cathedral.
7. Go indoor skydiving
The Aerokart Wind Tunnel is one of few adrenaline-fuelled adventures you'll find in the heart of Paris. This 'free fall simulator' is a technological marvel that's used for training by professional parachutists.
A blower system perfectly recreates the sensations of a parachutist in flight with instructors accompanying and supervising each free fall session. Because you're basically in a wind tunnel being cushioned by a powerful blast of air from below, it's a very controlled environment and extremely safe, with a helmet, goggles and wind suit provided.
8. Learn to cook like a Parisian (with classes in English)
Cook'n with Class is just one of many cooking schools in Paris that cater (pun intended) to English-speaking food lovers. The different classes on offer are mind-boggling. You can try the cheese and wine class, the chocolate class, the baguette baking class or a class devoted entirely to Macarons (the French macaroon).
The Evening Market Class in Paris is also a treat: you shop with the chef for fresh ingredients at a local market and then create a hands-on, four-course meal back at the school. If chocolate soufflé and crème brulee are more your style, then go for the French Bistro Dessert Class. Bon appetite!
9. See Paris from a motorcycle sidecar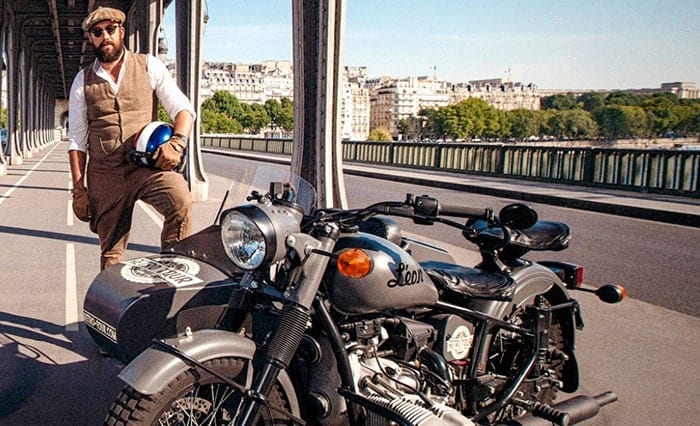 One of the coolest ways to see the sights of the French capital is with a company called Retro Tour Paris, which operates motorbikes with sidecars.
Your guides will happily recommend routes but will also allow you to create your custom ride to concentrate on the parts of the city you most want to experience. On a 90-minute trip, it's amazing how much of Paris you can enjoy from a motorcycle sidecar – much more than you'd see on a dozen walking tours.
If the lopsidedly positive TripAdvisor reviews are anything to go by, these tours make a lot of people happy.