Disclaimer: This information is general in nature only. While Budget Direct has endeavoured to ensure the information we've relied on is accurate and current, we do not guarantee it. Budget Direct accepts no liability for this information.
Travelling is one of life's greatest pleasures. However, sometimes, wading through long lines and visiting the same-old touristy attractions just doesn't cut it. Sometimes, you just want to get off the beaten path and visit somewhere completely unique.
If you're looking to spice up your travel itinerary, look no further than our list of five of the world's most unusual travel destinations. From landlocked countries to tiny, remote islands to weird country names, our list has a little bit of everything to scratch your travel itch.
1. Tuvalu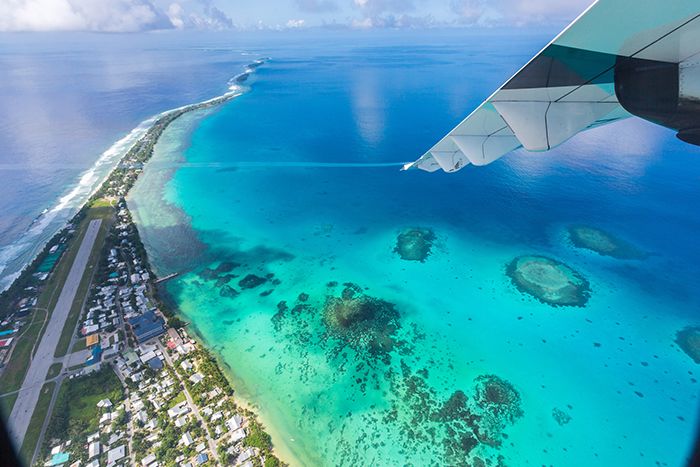 If you have never heard of Tuvalu, don't feel too bad, because this stunning collection of nine islands in the South Pacific is as beautiful as it is remote. In fact, only two flights per week travel to Tuvalu, so, for the rest of the time, the local airstrip is used as a public park!
Why it's unusual
According to the United Nations World Tourism Organisation, Tuvalu is the world's least visited country, averaging around 2,000 visitors per year [1]. It is also one of the world's least populous countries, with just over 11,000 residents.
However, what Tuvalu lacks in size it more than makes up for in gorgeous scenery and culture, making it a truly once in a lifetime travel destination!
Must-visit attractions
Tuvalu offers all of the beauty and wonder you would expect from a tropical island paradise, with a balmy climate, breathtaking white sand beaches, and magnificent marine life.
As Tuvalu's nine islands are so sparsely populated, it presents a unique opportunity to have a real adventure. Often, you can encounter deserted islands and beaches with no footprints.
2. Moldova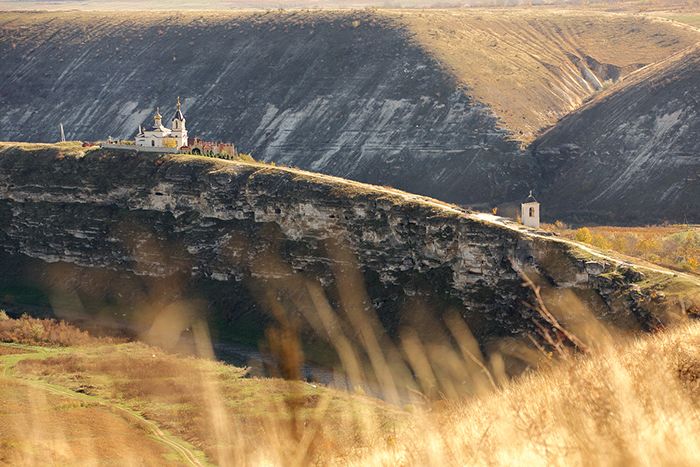 From the least visited country in the world to the least visited country in Europe, Moldova may lack tourists, but in our opinion, it certainly doesn't deserve to.
Moldova is completely landlocked, bordered by Romania to the west and Ukraine to the south, east, and north.
Why it's unusual
As mentioned, Moldova is the least visited country in Europe, welcoming only 121,000 visitors in 2016 [1]. Despite this, Moldova has a population of just over 4,000,000 people, meaning it is only slightly smaller than the likes of Croatia, Ireland, and Norway. [2]
In other words, Moldova presents a rare opportunity to explore a largely undiscovered European gem!
Must-visit attractions
If you're a wine lover, then Moldova might just be the perfect travel destination. The Mileștii Mici wine cellar is recognised as the largest in the world by Guinness World Records, housing nearly two million bottles of wine – the most expensive of which sell for over $900 AUD.
Moldova has some truly beautiful and historic monasteries, plus, despite being completely landlocked, the country is also home to a man-made beach!
3. Kazakhstan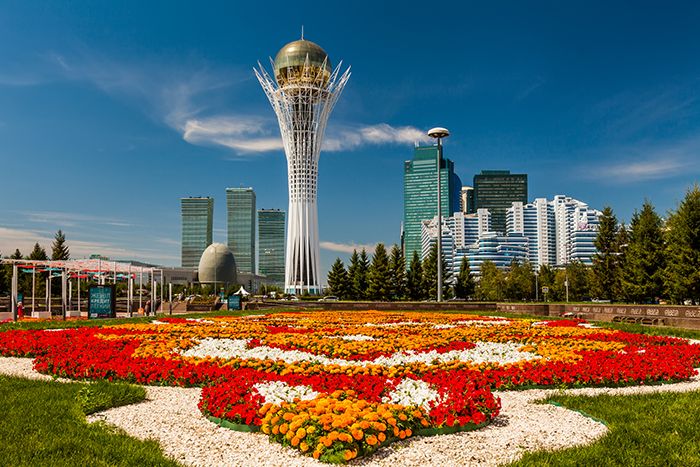 While Borat might have brought Kazakhstan to the world's attention, there's a whole lot more to love about this beautiful Central Asian country. With a population of just over 18 million, Kazakhstan has a rich and diverse cultural heritage, making it one of the world's most unique and appealing travel destinations.
Why it's unusual
Kazakhstan is the world's largest landlocked country, and the world's ninth largest country overall, covering 2,724,900 square kilometres. As the world's largest landlocked country, Kazakhstan shares borders with Russia, China, Turkmenistan, Uzbekistan, and Kyrgyzstan.
Kazakhstan is also one of the few transcontinental countries in the world – most of the country is located in Asia, but some of its western regions span into Europe.
Must-visit attractions
Where to begin? Kazakhstan has a bit of everything, from clothing markets to mountain ranges to sacred forests and stunning architecture. In particular, the Tian Shan mountain range is a must-see attraction, given its World Heritage listing and rich biodiversity.
4. Baarle-Nassau & Baarle-Hertog
At first glance, visiting the Netherlands and Belgium might not seem all that unusual. However, do a little digging, and you'll soon see why the twin cities of Baarle-Nassau and Baarle-Hertog are among the world's most unusual travel destinations.
Why it's unusual
One minute, you're in Belgium, the next, you're in the Netherlands. In fact, to know what country you're in at any given moment, you have to pay close attention. Let us explain. Baarle-Nassau and Baarle-Hertog have been described as the world's most complex border town.
Without getting too technical, Baarle-Hertog is a Belgian municipality (population: 2,300), which consists of 24 non-contiguous pieces of land, most of which are contained within the Dutch city Baarle-Nassau.
To really make your head spin, there are even parts of the Baarle-Nassau (the Netherlands), which are enclosed by parts of Baarle-Hertog (Belgium), which are in turn enclosed by even larger parts of the Baarle-Nassau (the Netherlands)!
This means you can walk down the street and switch from the Netherlands to Belgium and back again all within the space of one block. The border is so complicated that some houses are even divided between the two countries.
This once led to the strange situation where one half of a restaurant – which was located in the Netherlands – had to close early due to local laws, meaning staff would ask diners to switch tables to the Belgian half of the restaurant.
If you're still not quite sure what this all means, don't worry, because the borders are conveniently painted on the roads and pavements to help locals and tourists keep track.
Must-visit attractions
Aside from the sheer novelty of their intricate borders, Baarle-Nassau and Baarle-Hertog have many must-visit attractions.
As one might expect, there are some intriguing and informative walking tours, where you will be guided through the town's unique history and geography. Add to this some fantastic museums and quaint cafes, and you have the recipe for a can't-miss destination.
5. Lesotho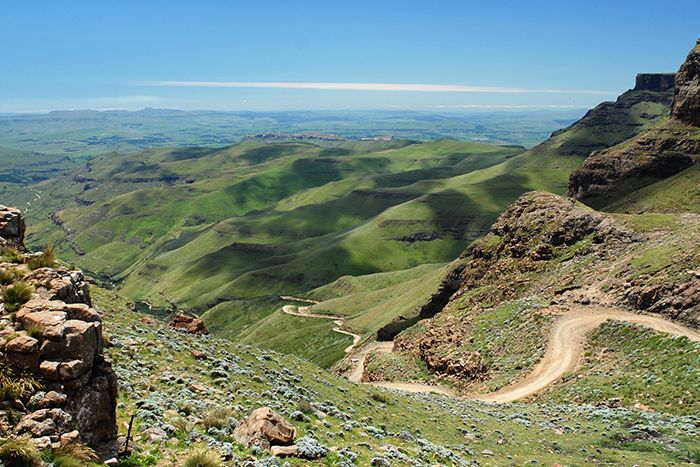 Aptly nicknamed the 'Kingdom of the Sky', one visit to Lesotho will certainly have you flying high! Interestingly, Lesotho is one of only three fully enclaved countries in the world (the others being Vatican City and The Republic of San Marino). This means that Lesotho is completely bordered by South Africa, and is still a fully sovereign state!
Why it's unusual
In addition to being one of only three fully enclaved countries in the world, Lesotho has the unique honour of having the highest low point of any country in the world.
The lowest point in Lesotho is 1,400 metres above sea level, when the Makhaleng River joins the Orange River. At 3482 metres above sea level, the highest point in Lesotho is Thabana Ntlenyana, which is also the highest mountain in southern Africa.
Must-visit attractions
We have two words for you: dinosaur footprints. That's right, Lesotho is home to some of the world's best-preserved dinosaur footprints. As if that wasn't enough, Lesotho also features three stunning national parks, as well as the picturesque Maletsunyane Falls waterfall.
Before you fly it's important you check smart traveller for advice on travelling in challenging times. Through this channel the Australian government aims to provide Australians with the latest information and advice on how to stay safe overseas.
Once you feel safe enough to travel make sure to check out our five fantastic travel preparation tips, as well as our holiday hacks, to help you maximise your annual leave in 2021.
Sources