Disclaimer: This information is general in nature only. While Budget Direct has endeavoured to ensure the information we've relied on is accurate and current, we do not guarantee it. Budget Direct accepts no liability for this information.
Whether you're gearing up for international or domestic travel, the age-old challenge of fitting everything into your suitcase will never go away.
We live in a time where we carry more 'stuff' than ever before and where airlines, trains, cruise ships and other forms of transport are becoming increasingly strict with their baggage allowances.
While Budget Direct's packing list is a great place to start we've also put together a list of packing hacks that will help you organise your suitcase for your next trip.
Important packing tips
If you're looking to organise your suitcase then here are some of the best packing tips for when you travel to your next destination:
Keep the cosmetics at a minimum and try to bring travel sized toiletries if needed.
Don't pack items you'll find at your destination (towels, shampoo, conditioner etc.)
Save space in your suitcase for any holiday souvenirs
Shoes are bulky and it's recommended that you only bring up to two pairs while travelling.
If you're running out of space you can fill up your shoes with a rolled tee-shirt, socks, or charger cord.
Bring one universal charging station instead of multiple charging cables
Avoid packing large towels, bulky jackets, jewellery or large toiletries.
Wear lightweight fabrics like merino wool to keep you warm. Opt for thinner mix-and-match layers instead of heavier jackets.
Bring a lightweight eBook reader like a Kindle or iPad
Weigh your bags before you leave so that you don't get a horrible surprise at the airport.
Check baggage allowance
Airline baggage allowances vary a lot, even within Australia, and regardless of where you're travelling to you should never make any assumptions about the number of bags you're allowed to bring.
It's also important that you adhere to the weight and size restrictions allowed on board as each airline, train or cruise has differing policies, so make sure to double-check before you leave for your trip.
You can always learn from previous trips too. Ask yourself which items did you pack last time that you didn't end up using?
And if you're heading overseas, many items you may be tempted to pack can be purchased at your destination and may even be cheaper to buy abroad.
Categorise clothes by day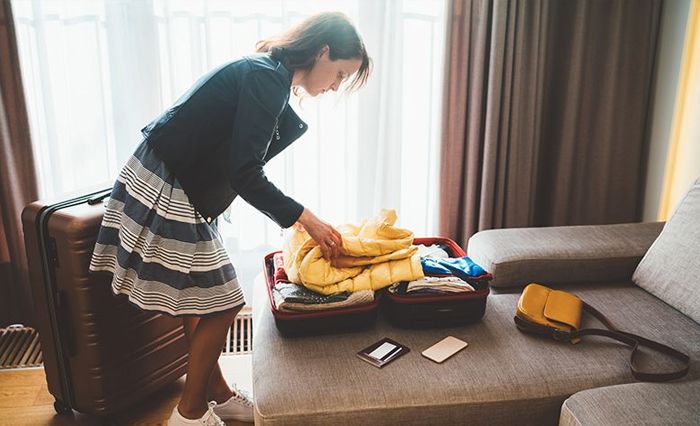 While there isn't only one way to pack for travel there are certainly ways that you can make packing easier for yourself. One of the ways that you can do this is by categorising your clothes according to each day of your trip.
While most people sort their clothing into types; packing your clothes into individual plastic bags by day will not only allow you to stay organised but you'll also always have your next outfit on hand.
Stacking clothes from top to bottom may seem like the most obvious way to organise your suitcase however this is also a sure-fire way to end up with a messy stack of clothes instead.
Wear your heaviest items while travelling
If you're travelling to somewhere in a colder climate that requires heavier clothing please don't try to cram these items into your checked luggage or carry-on.
Instead, you can wear any bulkier items (jackets, hoodies, boots) onto the plane to save weight and space in your suitcase.
You can also store an extra jacket or pullover in the overhead compartment during the flight, remove your boots after take-off and stow them beneath the seat in front of you so that you're more comfortable.
And if you're really tight for luggage space, you can even put a couple of rolled-up socks in each pocket of your jacket.
Pack to protect your clothes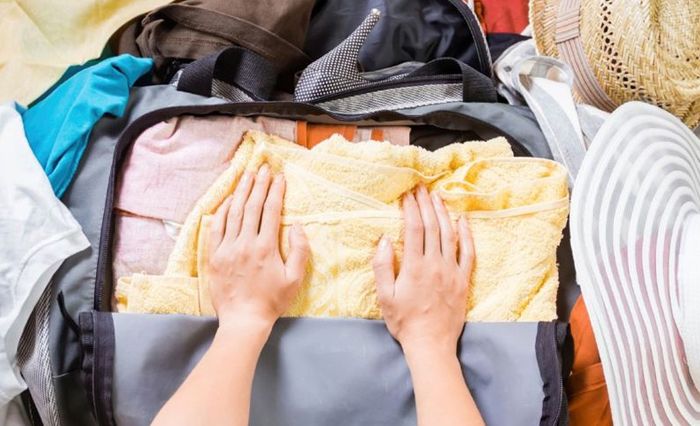 There are many ways to pack your clothes and everyone seems to have their own technique. Some people swear by folding and stacking while others believe that tight rolling is the best for keeping creases to a minimum.
Ultimately you'll want to pack your clothes so that they are protected. Some travellers even use clear storage bags that suck out extra air. Then there is the bundle packing method; popularised for its incredible wrinkle prevention, it's also very difficult to move your clothes around once they're already packed.
If you have fragile items in your luggage, wrap them up in a soft layer of clothing, socks, jumpers or even bubble wrap. This will help to cushion these items and prevent breakage while on the trip.
Liquid or gel products (mainly skincare) should be in waterproof containers. You can also slip a piece of cling wrap over tube containers before screwing on the lid to prevent any spillages during the trip.
Bring plastic or zip-lock bags
Plastic and zip lock bags are very versatile and are a great alternative for storing your belongings while on holiday.
You can use freezer bags to store smaller items and for larger items, you can use a robust container or heavier grade zip-lock bags that are available from the supermarket in different sizes. And make sure to squeeze any extra air out of them before putting them in your suitcase.
You can store dirty laundry, wet swimsuits or towels or protect any electronics while you're at the beach. And if you need extra protection, you can easily double-bag fragile or potentially leaky items.
A popular tip is to wrap your shoes in a shower cap to separate them from your clothing in your suitcase. A lightweight plastic shopping bag will offer great protection for your shoes too!
What to take in your carry-on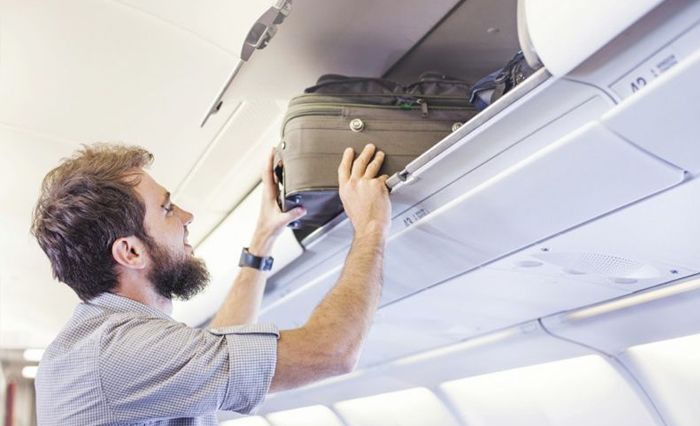 A lightweight backpack is recommended as the ideal carry-on bag for short and long-haul flights. Not only will it prevent you from overpacking, but it'll also be much easier to carry over a heavy handheld suitcase.
Here's what you need to pack in your carry-on:
Passport, credit cards, cash, itineraries and other important documents
Medications (and written authorisations to use them)
Phone, a spare pen for filling out immigration/customs forms, earplugs and prescription eyewear.
A light jumper
Eye mask and an inflatable neck pillow.
Tablet and charging cable
A spare set of clothing