Disclaimer: Data on this website was sourced from Canstar in July 2020 from their latest available data. Auto & General Services Pty Ltd does not guarantee the accuracy or completeness of the data and accepts no liability whatsoever arising from or connected in any way to the use or reliance upon this data.
Buying a small car makes plenty of sense these days.
Aussies still love their utes and their four-wheel drives, of course, but smaller vehicles have really come into their own in this country in recent years, for several reasons.
They're cheaper to buy, cheaper to run and easier to fit into those tight parking spaces. With the price of fuel being so unpredictable, owning a car that uses less of it is also a sensible idea.
Buying your small car second hand has plenty of advantages too. The price can be up to half as much as the same model new, which means you'll be able to pay it off much quicker.
And these days, you can even reduce the risk of buying a used car. Budget Direct's free PPSR car history report can let you know if any money is still owing on the car, or if it's ever been stolen or written off.
The bulk of the depreciation will have already occurred, so you save there too. You aren't paying for any hidden dealership fees if you buy privately.
You may also find your insurance premiums are a bit cheaper because the car is worth less.
Buying a used vehicle is better for the environment as well, because about a quarter of all the carbon dioxide a car produces during its life-cycle happens during manufacturing and initial shipment.
Small cars and hatchbacks bought second hand are increasingly seen as a wise investment, but Aussies also want a quality driving experience – they're not willing to sacrifice comfort and driving dynamics just to 'go small'.
Fortunately, we're usually pretty good about doing our research, choosing carefully and getting the best possible value for money.
Check out Canstar's picks for 5 of the best second hand small cars in Australia.
How did we come up with this list?
While the term 'best' can mean different things to different car buyers, Budget Direct used Canstar's latest customer satisfaction data to create a list of car makes for the small car segment.
We then selected a model to fit that make: Holden Astra, Honda Civic, Hyundai i30, Kia Cerato, and Mazda 3.
#1. Holden Astra
Anyone who has had the pleasure of driving a Holden Astra won't be too surprised to see it top our list. Combining a trendy look with manageable performance, the Holden Astra is an excellent small car with excellent value for money.
For a small car, the Astra still packs a decent punch, with the engine revving willingly.
Combine this with a stylish interior, a larger-than-average back seat for a three-door car, decent fuel economy, and a poised, well-balanced feel when turning and you have a recipe for success.
Pros
Good fuel efficiency
Poised & well-balanced feel
Roomy backseat
Comfortable
Cons
Media system is slightly difficult to operate
#2. Honda Civic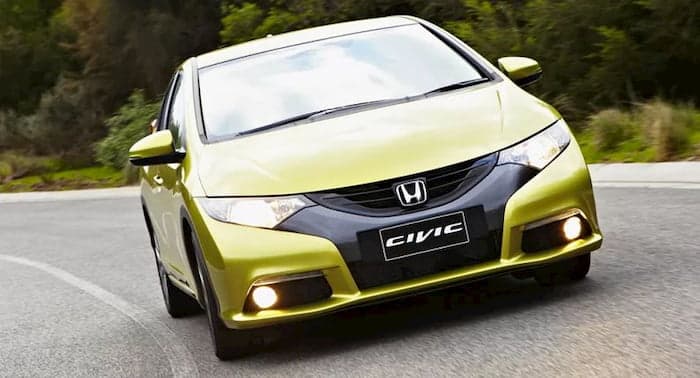 With its trend-setting exterior design, reliable engine and low ownership costs, the Honda Civic has carved out a solid spot in the Australian compact car market.
It has a perky driving feel and a well-put-together interior.
Its quick and precise steering makes it a pleasure to drive, and when pushed hard, it feels like a more expensive, more sophisticated car compared to some of its competitors.
The Civic is available as a petrol or hybrid.
Pros
Peppy engine
Excellent manual gearbox
Road responsiveness
Stylish interior
Good fuel efficiency
Cons
Tight headroom, especially in the back
#3. Hyundai i30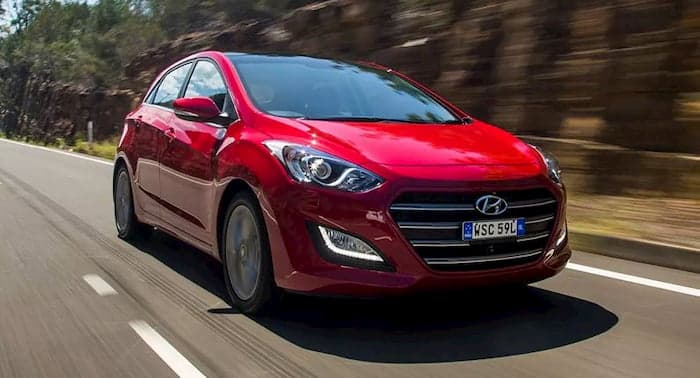 The Korean-made i30 has made impressive inroads into the compact car market in Australia, with its tight, sporty chassis and ability to provide solid power on the road and economical fuel consumption.
It comes in Active, Elite, and Premium models.
Cruise control and seven airbags come as standard.
Pros
Athletic styling
Good fuel economy
Stylish interior and instrumentation
Cons
The engine could do with a little more poke
#4. Kia Cerato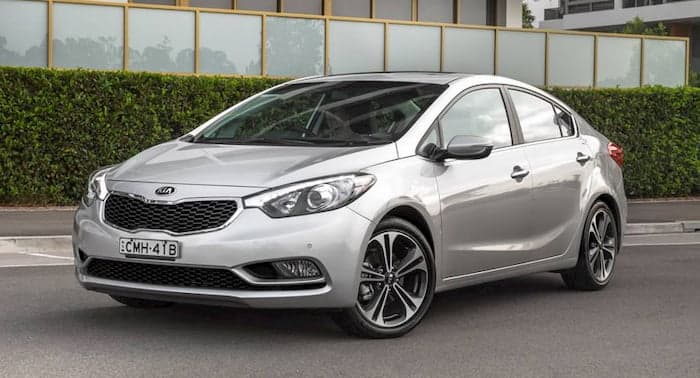 The Kia Cerato has many things in its favour, but value-for-money has to top of its long list of attractive features.
Arguably the best value-for-money small car available in Australia today, the Kia Cerato features a stylish, European-inspired design, highlighted by an extremely comfortable interior.
The large boot space and quiet cabin make the Cerato an ideal option for families, while its responsive steering and six-speed automatic gearbox are sure to be crowd pleasers.
Pros
Excellent value-for-money
Comfortable ride
Large boot, a quiet, reliable driving experience
Cons
Somewhat conservative design
Could be slightly livelier in terms of engine performance
#5. Mazda 3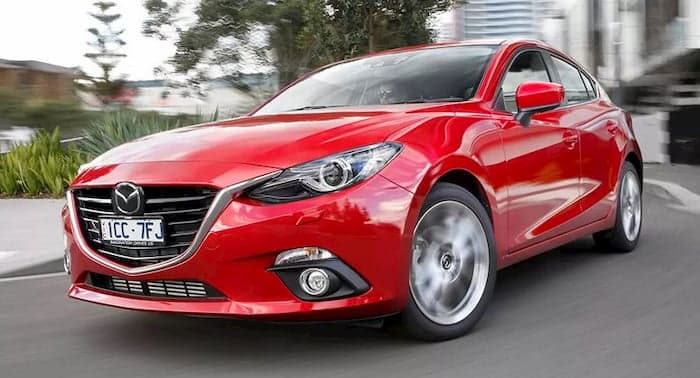 The Mazda 3 has been an Aussie favourite for several years now, either new or used. It is sporty, reliable and comes as a sedan or hatchback.
This is a stylish vehicle, inside and out. It has achieved a formidable reputation for reliability with excellent brakes, a good engine and solid suspension.
The seats are comfortable and supportive.
When stacked up against its competitors, it fares quite well.
Among compact cars, the Mazda 3 sets the benchmark for road handling with precise steering and a nice, tight turning radius.
Pros
Proven reliability
A pleasant driving experience
Comfortable, high-quality interior
Fuel efficiency
Low repair and maintenance costs
Cons
Tight interior space, low seating position
Interested to know more about this car? See Chasing Cars' latest reviews on the Mazda 3.
There are many other small-car models worth checking out if you're looking to buy second hand in Australia.
Whichever one you end up choosing, make sure you do your research, arrange an inspection, check the car's history, give it a test drive, and have all your paperwork correct.
And don't forget about car insurance!
See our full list of the best used cars in Australia
Key takeaways
Small cars are typically cheaper to buy, cheaper to operate, and fit more easily into tight parking spaces
Buying a car second hand can save you money on dealer fees, depreciation, and other 'new-car costs', while also being better for the environment
Holden, Honda, Hyundai, Kia, and Mazda offer some of the best value for money used small cars in Australia today
Sources