Disclaimer: Data on this website was sourced from Canstar in September 2019 from their latest available data. Auto & General Services Pty Ltd does not guarantee the accuracy or completeness of the data and accepts no liability whatsoever arising from or connected in any way to the use or reliance upon this data.
When it comes to SUVs, size does matter. Vehicles at the larger end of the scale do certain things a lot better than their smaller cousins.
They can cart around more passengers, tow heavier loads and provide extra safety because of their stronger frames.
The driver's seating position is normally higher too, so visibility is improved.
And having that extra space means you don't need to skimp when packing for a long road trip or camping excursion.
As a rule, the best of the larger SUVs tend to be more robust and reliable in off-road situations.
They have the power and engineering to take on challenging road conditions, while providing a high level of comfort thanks to their family-friendly design, high-tech safety features, digital connectivity and overall versatility.
Here are the best large SUVs in Australia for 2020, based on Canstar's latest customer surveys:
#1. Mazda CX-8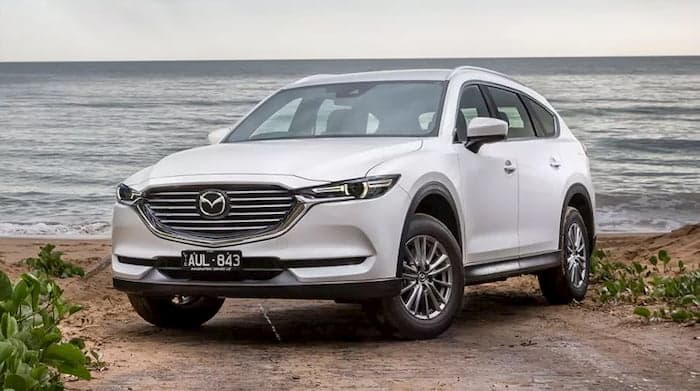 This is a highly efficient diesel version of the popular, petrol-powered Mazda CX-9.
Its powerful SKYACTIV-D engine is as reliable in the bush as it is in the city, and it provides the kind of enhanced driving torque and towing ability that diesel-lovers have come to expect.
For a big SUV, the handling is surprisingly smooth, and the ride is quiet.
Its many user-friendly features include push-button start, six-speed auto transmission, reversing camera, satellite navigation, Bluetooth connectivity, six airbags and more.
Pros
Robust diesel engine
Stylish interior with a focus on comfort
Amazingly quiet ride for a large SUV
Roomy and versatile — a great practical choice for families.
Cons
Diesel only — for a petrol version you'll need to consider the CX-9
Ventilation in the back of the vehicle could be better.
#2. Toyota Kluger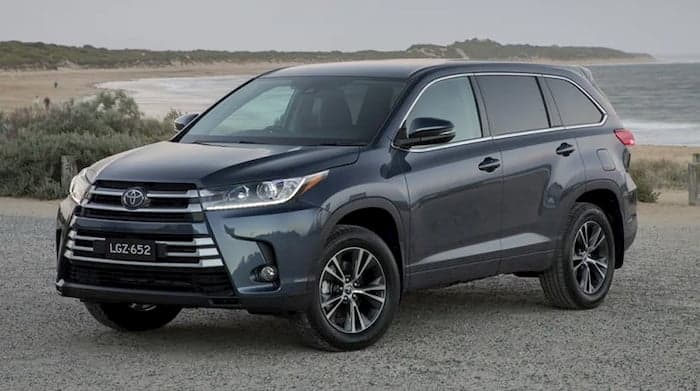 When you're at the wheel of a Kluger, you certainly feel like you're in a hefty SUV that can handle the serious off-road stuff.
It's got great ground clearance, plenty of safety features and awesome visibility, enhanced by a nifty 360-degree camera.
With a powerful but quiet engine and all-independent suspension, you can slide over bumpy, uneven terrain with ease.
The Kluger is a sensible choice for growing families, with oodles of useable interior space, a sturdy structure and lots of comfort.
Choose between the GX (front-wheel drive) and Grande (four-wheel drive) versions, depending on your needs.
Pros
Nice to drive and handles bad weather quite well
Massive space inside — the back seats fold down to create more cargo room
Smooth steering and a quiet, comfy ride
Robust build and dependable engine.
Cons
Fuel economy is just okay
Design is a bit insipid.
#3. Mitsubishi Pajero Sport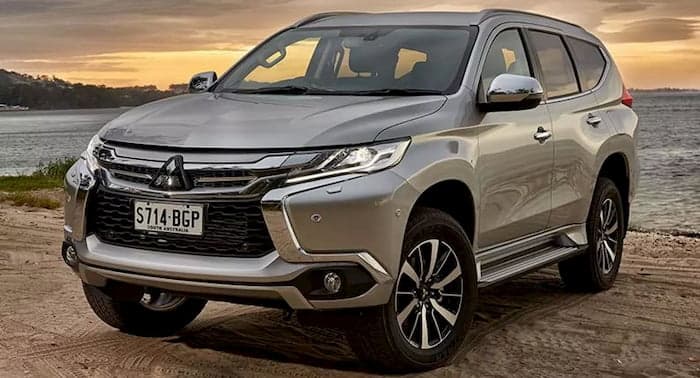 The Pajero is a firm favourite with adventurous family car buyers, offering go-anywhere flexibility, better-than-average towing ability and a level of comfort that's both practical and stylish.
The top-hinged tailgate and 1488-litre boot make it a reliable vehicle for outback excursions, but urban users seem just as happy with its generous features.
This capable family hauler has excellent outward visibility and a list of high-tech kit that competes well with its rivals.
It's spacious and well-built and its driver ergonomics are top-notch.
Fuel economy in both the five-seat and seven-seat versions is quite respectable.[i]
Pros
One of the best value-for-money large SUVs on the Australian market
Well-considered safety features
Autonomous emergency braking is standard
Jack-of-all-trades ability — great for towing.
Cons
Clumsy split/fold seat arrangement
The reversing camera is offset, which can lead to some view distortion
Cabin space in the rear is a little tight.
#4. Kia Sorento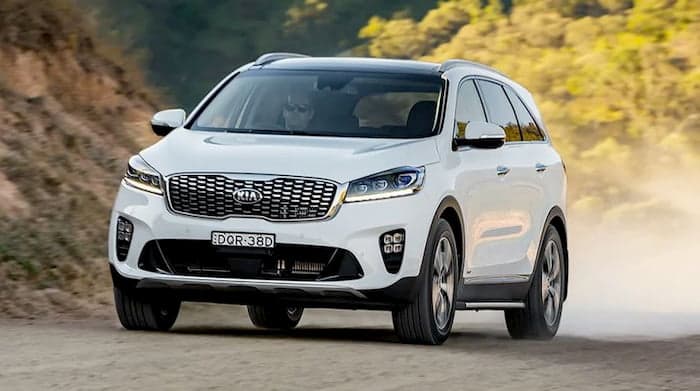 Aussie car buyers may not normally associate the Kia brand with big SUVs, but they should: the Sorento is right up there with the best and comes with a generous seven-year warranty.
The interior is nicely put together, and this seven-seater is available in front-wheel drive, all-wheel drive and diesel versions.
The ride is smooth and quiet, even when you venture out into the bumpy stuff.
Safety-wise, its braking kit is first-class, with electronic brake force distribution, collision avoidance and a brake assist system.
Pros
Smart braking options
Industry-leading seven-year warranty
Base model offers great value for money
Beautiful interior finish.
Cons
Cargo space is adequate but lags behind some competitors
The V6 petrol engine is thirsty.
#5. Nissan Pathfinder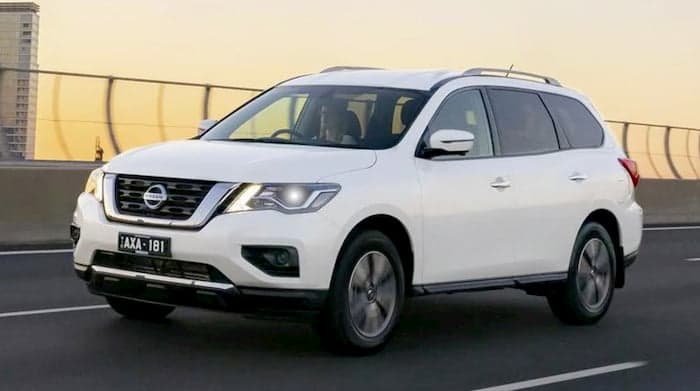 The Pathfinder may not look that big from the outside, but open the doors and you can really appreciate how much room you have to play with.
Lay all the rear seats down flat and there's a whopping 2260 litres of cargo space, ready to go.
And with the seats back up, you get a comfy, well-padded ride with large headrests and enough air vents and cup holders to keep all the passengers happy.
The Pathfinder is blissfully free of outdoor noise intrusion, equipped with a good range of safety gear and offers pleasurable country driving with adaptive cruise control.
It's a reliable rig with good braking, sweet steering and decent grunt under the bonnet.[ii]
Pros
Rugged build and off-road chops
Internal cargo space beats many of its rivals
Solid range of safety gear
Comfortable, well-designed seating.
Cons
Scattergun approach to buttons and controls (there are more than 40 in total)
Anonymous, unexciting appearance
No Apple CarPlay or Android Auto.
#6. Audi Q7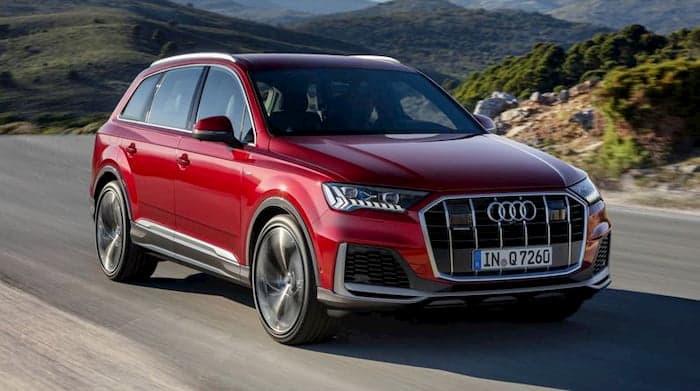 The Q7 is a big, powerful SUV that seats seven, offers plenty of elbow room in its luxuriously equipped cabin and is thrifty with fuel.
The contoured seats and steering wheel are super-adjustable and a quality suspension and commanding driver position make it a comfortable vehicle to operate.
Wind and tyre noise is minimal, and the diesel engines run smoothly and quietly.
This Audi workhorse comes with cruise control, dual-zone climate control, sat-nav, reversing camera, eight airbags, convenience key entry, auto headlamps and front and rear parking sensors.
There's also a tyre pressure monitor to warn you if one of the tyres is about to go flat.[iii]
Pros
Ultra-spacious cabin with luxurious trim and comfy seats
Excellent engines
Broad suite of driver assistance features
Massive towing capacity.
Cons
Only comes in diesel — no petrol version
Feels a little bulky for city driving — needs a healthy-sized parking space.
#7. BMW X5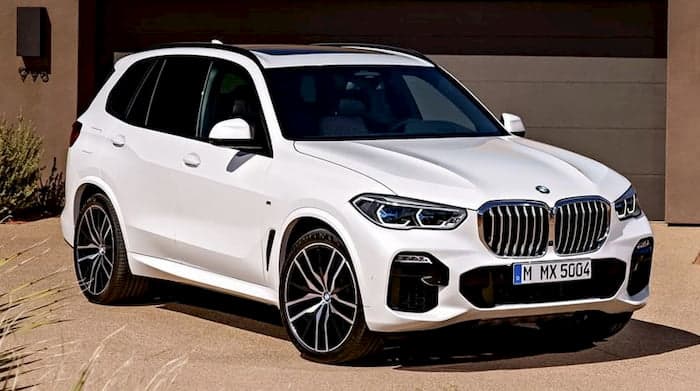 If you're longing for a proper luxury SUV, look at the X5 first — the best-selling car in its class for more than 10 years.
BMW sales of SUVs have been outshining its passenger car sales for some time now.
In 2020, five variants are available in Australia, including the new xDrive 25d, xDrive 45e and M50i xDrive, priced between $99,990 and $151,900, excluding on-road costs.[iv]
The typically impressive BMW engine power and engineering sophistication applies, but the best thing about the new X5 is the luxurious, advanced-tech interior.
The X5 now has two huge 12.3-inch screens at the heart of its infotainment system and instrument cluster.
There's no fake leather in the vehicle and you won't find roomier, more comfortable seats anywhere.[v]
Pros
Superb interior fit and finish
Many of the old optional extras are now standard features
Smooth drive-train and choice of powerful engines
22-inch wheels don't compromise ride quality
Luxurious, practical and ultra-spacious.
Cons
The M sport package should be standard, not extra
'Gesture control' (allowing use of hand gestures to control various actions) is a gimmick.
#8. Holden Acadia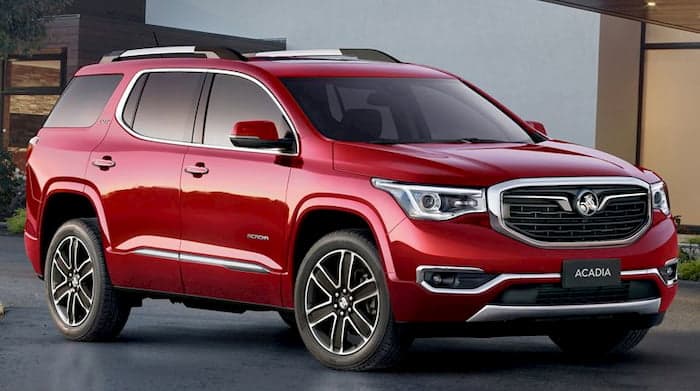 This US-sourced Holden Acadia has been around since 2018.
It's still unclear whether the Aussie models will get the same updates as the US versions in 2020.
But our current Acadias still have plenty to offer, including nine-speed transmission, eight-inch infotainment screen and an updated digital instrument cluster.[vi]
Australian Acadias boast a gutsy, 3.6-litre V6 petrol engine, seven seats, front-wheel or all-wheel drive and a nice range of active safety technology.[vii]
Pros
Well-built and comfortable to drive
First-rate infotainment and safety tech
Autonomous emergency braking detects cyclists and pedestrians
Compatible with Aussie roads, thanks to extensive local suspension tuning by Holden engineers.
Cons
Spare tyre is hard to access, hidden under two layers beneath the third-row seats
Because the Acadia was originally designed as an American left-hand model, it's a bit harder to access the third-row seats from the kerbside in Australia.
#9. Hyundai Santa Fe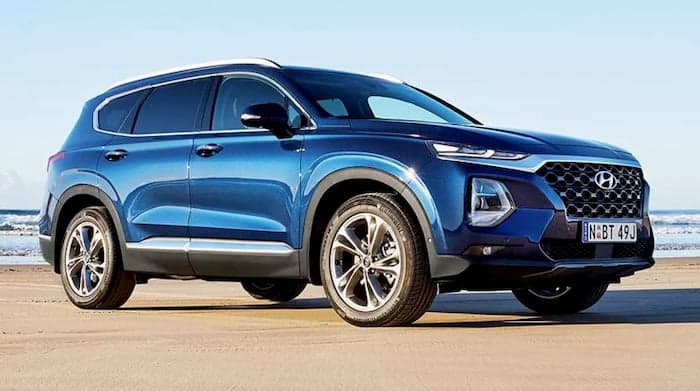 At the time of writing, Hyundai had confirmed that the Santa Fe in Australia will include a 3.5-litre petrol engine version in 2020, replacing the old 2.4-litre four-cylinder petrol.
This is the same engine as the Kia Sorento, matched to an eight-speed auto transmission. There's also a 2.2-litre turbo-diesel four-cylinder variant.
Entry pricing remains around $43,000 plus on-roads, moving up to $57,500 for the Highlander.
Rear Occupant Alert (roof sensors that detect movement in the rear seats) was once only available in the higher-end models, but every Santa Fe has it now.[viii]
Pros
Good value for money — more features are standard
Satisfying turbocharged engine
More spacious than previous generations
Smarter all-wheel drive system.
Cons
There are better SUV choices for serious off-roading
Some of its competitors offer better fuel economy.
#10. Ford Everest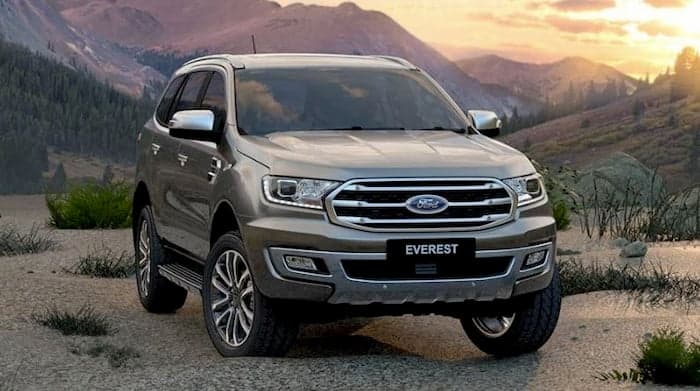 The Australian Ford Everest line-up for 2020 now includes a Sport variant, available with a 3.2-litre, five-cylinder turbo diesel or a 2-litre, four-cylinder bi-turbo diesel powertrain.
This brings the total number of Everest variants to eight (six 4x4s and two rear-wheel drives), ranging in price from $49,490 to $72,590.[ix]
This great all-rounder serves equally well as a capable off-roader for grey nomads or a workhorse for large suburban families.
It's well-constructed and full of useful safety features — just like the Ranger ute upon which it's based.[x]
Pros
Enhanced safety tech
More refined look, especially inside
Versatile and spacious — a great family vehicle
Serious off-road ability.
Cons
Prices have risen
Engine is on the noisy side
Not as sharp-looking as some of its rivals.
Large SUV sales are booming in Australia.
Finding the right one is a matter of doing your research, drilling down to your preferred make, model, size and intended use — and then going for a few test drives to see which one best suits your needs and lifestyle.
Looking for something with a couple more seats? See our list of the top 10 best 7 seat SUVs in Australia.
SUVs come in a huge range of styles and sizes these days, so we could all use a little help in making the right choice! As well as large SUVs, check out our round-ups of the best small and medium SUVs in Australia in 2020
Sources