Australia is seeing a dramatic rise in ecommerce, or online shopping. Australians spent a gigantic $21.3 billion on various online goods in 2017, an increase of 18.7% on the previous year's spend1.
But despite this massive increase in shopping online, a new survey conducted by Budget Direct Car Insurance revealed that most Australians (74%) still prefer the old fashioned method of buying their cars in person. An understandable trend considering that cars are one of the biggest dollar items a person usually buys. People want to ensure they're getting the real deal and it's undeniably reassuring to see the car in person rather than trusting to a few photos online.
Would you buy a car online rather than from a person?
National results

A survey on customer satisfaction was conducted back in 2015 and determined that less than 5% of car buyers from all over the world were happy with the current car buying process. The other 95% said they would like to see significant changes when it comes to deal structuring, financing and servicing, specifically around making these processes more convenient2.
The ease and convenience of processing sales online is just one of the reasons people could start purchasing their cars online. As indeed people in countries like the USA and China are increasingly doing. But will Australians start to follow their example?
Already there are a multitude of ways people can purchase cars online from official brand websites, individual car dealership sites and sites designed for everyday people looking to sell their cars second-hand like Carsales.
Would you buy a car online rather than from a person?
Budget Direct found that men were slightly more inclined to purchase their vehicles online, with a third of men aged 18-65 saying they'd prefer to buy online rather than from a person. Women were less convinced with only one in five ladies saying they'd ditch the face to face sales process in favour of a screen.
Interestingly when broken down into age brackets, the age group most likely to purchase a vehicle online was the 35-44 year olds. One theory for this result is that this age bracket has already had a few car purchases under their belt and are more confident with what they are after in a vehicle. Unsurprisingly people over the age of 65 were much less likely to buy a car online (18%). When considering their likely infrequent exposure to making other kinds of purchases online compared with younger generations, this reluctance is entirely reasonable.
Would you buy a car online rather than from a person?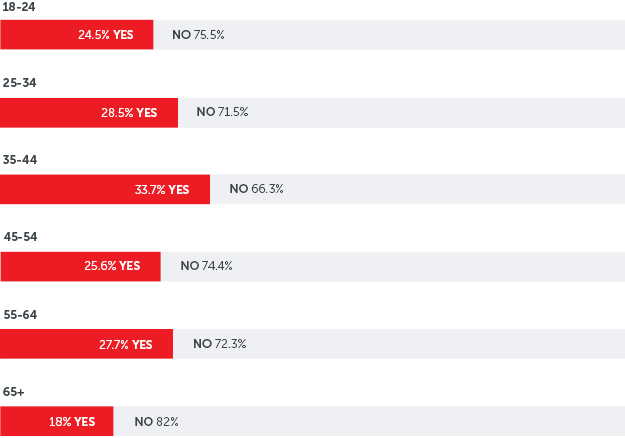 While it might have been assumed that the youngest age bracket, the 18-24 year olds would have the highest percentage of people willing to venture online to purchase their cars, only 24.5% said they would prefer online purchasing to buying a car in person. Perhaps a potential reason for this is their lack of experience in making a purchase of this size. A car is usually considered to be the first big purchase a young person will make in their life. Every other age bracket from 25-64 were more inclined to buy a car online than an average 18-24 year old, despite it being the younger generations paving the way in other avenues of online shopping. A theory that supports this interesting trend is that Australians are just sick of car salespeople.
There is an existing stereotype of the used car dealer; pushy sales tactics, flashy clothes and an almost visible desire to swindle you out of your hard earned cash. And while there very well may be some car sales people who want to help you get the best deal, ultimately the salesperson's job is to make the most amount of money possible on each vehicle.
Do you trust a used car dealer more/less versus a private seller?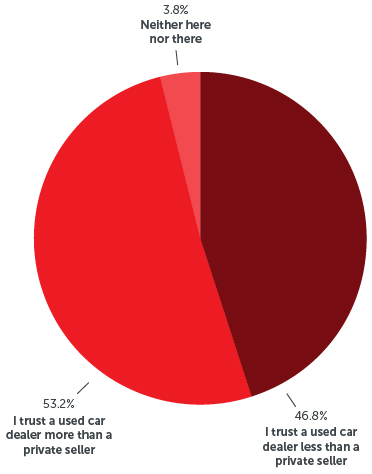 But on the other hand, private sellers have just as much motive to get rid of their vehicles and to make sure they get a good price in return. There are also a lot less formal procedures in place that could protect the buyer in the event that something goes wrong with the vehicle.
Either way it can be hard for the average Australian to know if they're getting a good deal on a used car, especially if they aren't familiar with the vehicle's various features or don't know what to look out for when it comes to defects or mechanical problems.
Do you trust a used car dealer more/less versus a private seller?
WOMEN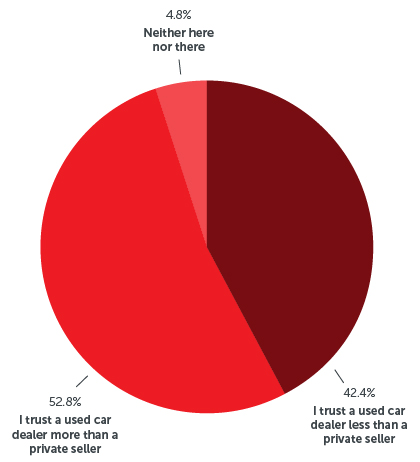 MEN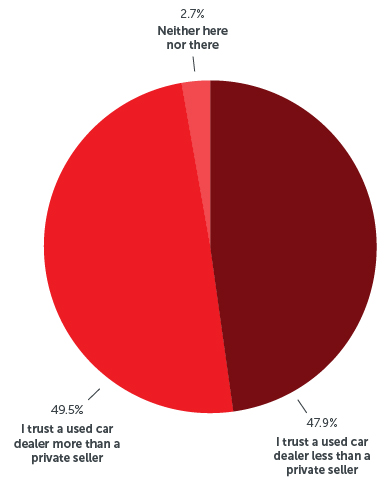 Women were slightly more suspicious of private car sellers than they were of used car dealers but the preference between the two methods was fairly close for both men and women. Nearly twice the number of women said they didn't care how they bought their cars compared to men, and that they didn't have a preference between either used car dealers or private sellers.
Do you trust a used car dealer more/less versus a private seller?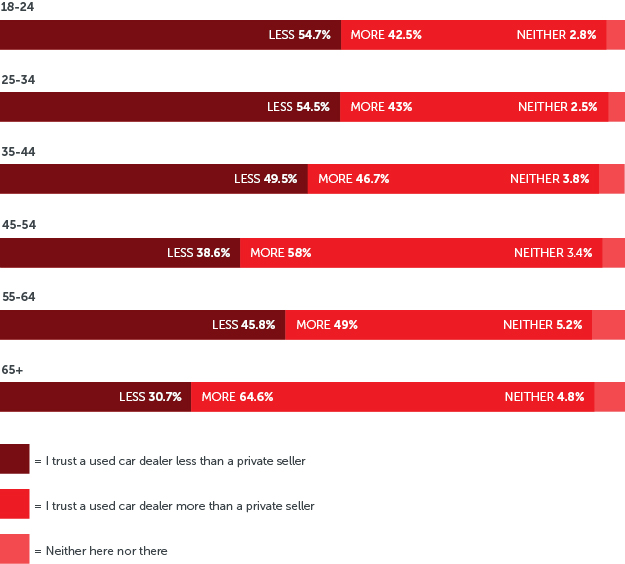 Younger people were more likely to trust private sellers than older generations. Familiarity with buying and receiving other types of quality products online could be a potential reason for this preference for private sellers, but they ultimately still wanted to conduct their final business in person.
More and more, studies3 are revealing that people are starting their car purchasing journey through online mediums, whether that is looking at what cars are available, researching particular makes and models or contacting private sellers online to organise a sale. But will we start to see a leap in the amount of cars purchased directly online in the future? Only time will tell.
Disclaimer
This survey was conducted by Pure Profile on behalf of Budget Direct in May 2018. All figures are from this research unless stated otherwise. The survey was conducted online with a total sample size of 1,000 weighted and representative of all Australian adults (aged 18+).