Traffic stress is on the rise as drivers return to the roads after lockdown. And where there's traffic stress, there's driver error.
Driver distraction, including stress, is a factor in 16% of fatal and injury-causing crashes, and researchers have linked increased driver stress with lane keep errors, traffic rule violations, and aggressive driving.
Surviving your drive home is one thing, but life is too short to spend it as a ball of quivering rage locked up in a box of speeding metal. So, Budget Direct has identified the roads, cities, and states where you're most likely to get stressed whilst driving. We used the TensiStrength tool to analyse thousands of geo-tagged tweets for signs of stress – and put our findings into a series of calming maps and charts.
Key Findings
Fremantle in Western Australia and Mackay in Queensland are the cities with the most road rage: 72.7% of related tweets from these areas exhibit symptoms of stress.
The Northern Territory is Australia's most road-stressed state, with 63.2% negative tweets.
Three Australian roads have a 100% stress rate: Reid Highway, Leach Highway, and Welshpool Road.
Fremantle and Mackay are Australia's Biggest Road Rage Cities
The Australian city with the joint highest road stress levels is Fremantle in Western Australia. Nearly three-quarters of road-themed tweets from Fremantle show stress. Sample case: "Oh yes I do remember the insanity of Gilmore Ave being a 70km/h road in a built up neighbourhood." State premier Mark McGowan has recently pledged $12 billion for road improvements across the region.
There are three Queensland cities in the top 10 most stressed. This includes joint number one Mackay on the east coast. In one recent Mackay Airport incident, an enraged driver ripped out another car's indicator stick:
"You didn't learn your lesson in 2003 when you first came before the court?" the judge in the case later told the repeat offender. "Or in 2004, 2006, 2006, 2006, 2007, 2007, 2007, 2008, 2008, 2008, 2010, 2010, 2011, 2016, 2018, 2020, 2020 or in 2021. Why should I accept you've learnt your lesson now when you have that history?"
Northern Territory Roads Twice As Stressful as Tasmania
There is a near-30% difference in rage levels between Australia's angriest state, the Northern Territory (63.2%) and least-stressed Tasmania (35.9%). "This has to be one of the worst roads in the Territory to pull 6 decks on," tweets one NT trucker from Dorat Road in the Douglas Daly region. "Skinny, heaps of hills, blind corners, floodwaters etc. It just drains you."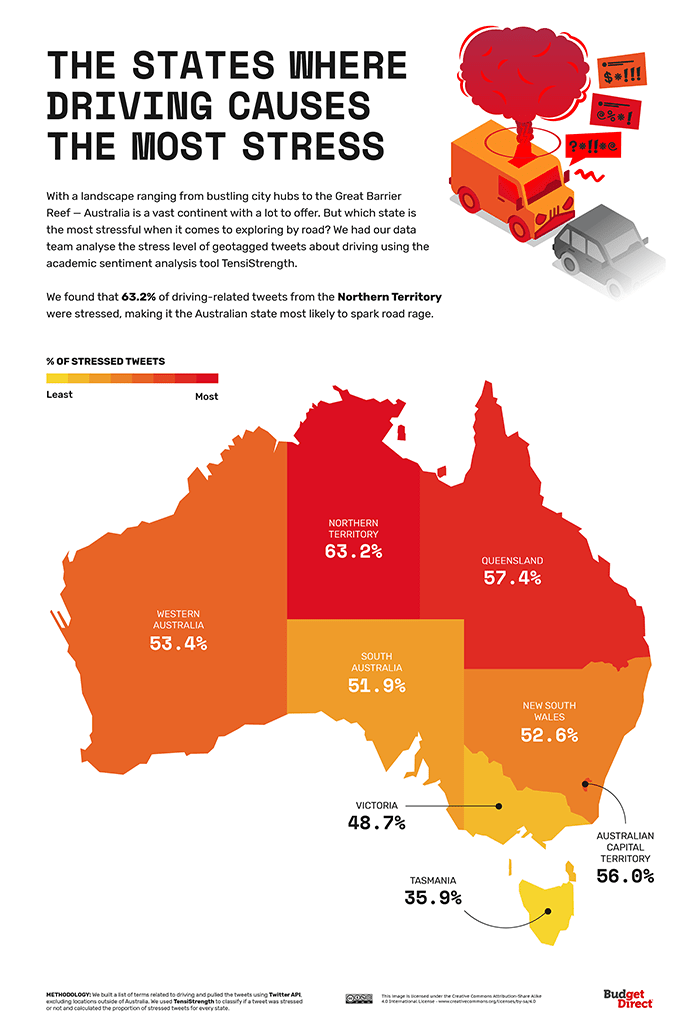 By contrast, in Tasmania, "every road, every country lane, every track in Tasmania leads to discovery and surprise," according to the tourist board, at least. Twitter concurs: "I just wanna be riding around, cruising w/ my windows and top down enjoying this weather," sighs one local. "Let the road take me wherever it wants."
Three Perth Roads Achieve 100% Stress Rate
Into the nitty-gritty, and three specific Australian roads get 100% bad press on Twitter: Perth's Reid and Leach Highways, and Welshpool Road – which intersects Leach. The Leach-Welshpool intersection is one of the most congested in Perth. Work is underway to improve the situation with a new interchange, bridge, and paths for cyclists and pedestrians.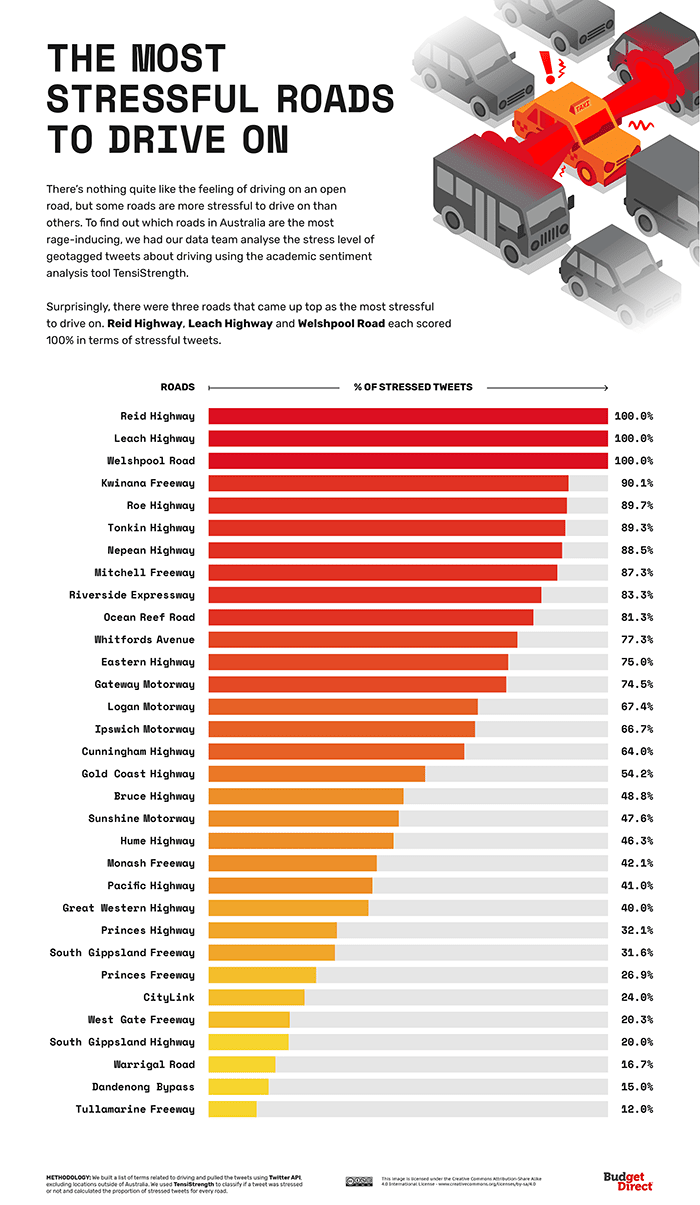 Reid Highway is a conduit for both the dangerous and the dramatic. Local Mark Pearce tweets the question: "Q. What do you do if you're driving a lorry down the Reid Highway and you lose half your load off the back?" He concludes: "A: That's right, you drive on hoping nobody in the damaged cars behind you noticed a thing."
Stress, anxiety, and road rage are each the cause and effect of dangerous motoring. To make things safer for everyone, take steps to manage your emotions when things get Mad Max-y on the Fury Road:
Plan your route with up to the minute information.
Choose calming music that you enjoy.
Carpool with friends (this also reduces traffic).
Learn to accept that delays – and idiots – are inevitable.
Report dangerous driving to transform your anger into positive action.
And, no matter how stressed you get, make sure to pull over and park before you open Twitter!
METHODOLOGY & SOURCES
We built a list of terms related to driving and pulled tweets using Twitter API. We used the location of users to identify the city, state and country and excluded areas outside of Australia. We then used TensiStrength to classify if a tweet was stressed or not.
We compiled a list of Australian roads using Wikipedia lists, recursively following the links and checking whether they were indeed roads using Wikipedia pages metadata.
We calculated the proportion of stressed tweets for every city, state, road and finally set the thresholds:
- we saved the cities with at least 8 unique users
- we saved the roads with at least 16 tweets and at least 1 stressed tweet.
The data were collected in July/August 2021.
Sources
Disclaimer: This information is general in nature only and does not constitute personal advice. While Neomam has endeavoured to ensure the information relied on is accurate and current, Budget Direct does not guarantee it and accepts no liability for this information.
Related Articles