How common is speeding? Does the average Australian think our speed limits should be increased? We've conducted our own research to find out everything there is to know about speeding in Australia.
Quick Stats
The chance of a pedestrian surviving an impact with a car moving at 50km/h is less than 10%
18-24 year-olds are twice as likely to receive a speeding fine than the broader Australian population
25% of Australians would like to see our speed limits increase.
As drivers, one of the first laws we become familiar with is the speed limit. We know that every road has a speed we can go, and you shouldn't dip over it. But as we become more experienced drivers, are we forgetting the dangers of speeding? And is it becoming more habitual?
It's worth taking a moment to take our foot off the pedal, and consider the real implications of speeding. To help you understand everything there is to know about speeding in Australia, we've put together a guide covering:
What counts as 'speeding'?
There are two ways we can think about speeding. The first is in relation to the road's speed limit, and the other concerns the conditions of the road.
Speed limit
Once your car is travelling faster than the posted speed limit of the road, you're classified as speeding. This is typically what police will use to determine the safety of your driving.
Road conditions
Speeding can also occur when you drive faster than is safe. If you are faced with wet weather, fog, changed traffic conditions, roadworks or other interferences, it's important to reduce your speed to suit the conditions.
The risks of speeding
Added danger
It's common knowledge that greater speeds carry greater dangers. This is because faster cars require greater distances to slow down, and the potential impacts themselves can be far more damaging.
Stopping distances required on wet road
Chance of survival for a pedestrian being hit by a car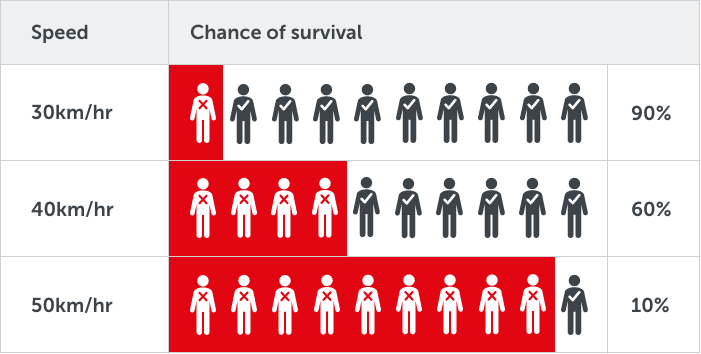 *Assuming the pedestrian is a young adult. Data courtesy of the NSW Government.
Legal punishments across Australia
Speeders in Australia risk a combination of three different punishments if caught, namely –fines, demerit points, and potential automatic licence suspensions. For a more specific view of your state's punishments, you can click a state's title to remove it from the graph.