Disclaimer: Data on this website was sourced from Canstar in September 2020 from their latest available data. Auto & General Services Pty Ltd does not guarantee the accuracy or completeness of the data and accepts no liability whatsoever arising from or connected in any way to the use or reliance upon this data.
With hundreds of makes and models to choose from, it can be hard to narrow down your choices when shopping for the best 2020 cars on offer in Australia.
Once you've decided on the type and size of vehicle you want, the next step is to find a make and model with the features, performance, comfort, practicality and value for money you're looking for.
We're aware the term 'best' can be subjective at… best, everyone has different ideas of what makes a great car, so we've used Canstar's latest customer satisfaction data to create a list of best cars in Australia.
This list of contenders for the best cars in 2020 is based on Canstar's latest customer satisfaction data for nine different vehicle categories:
Best light cars 2020
#1. Mazda 2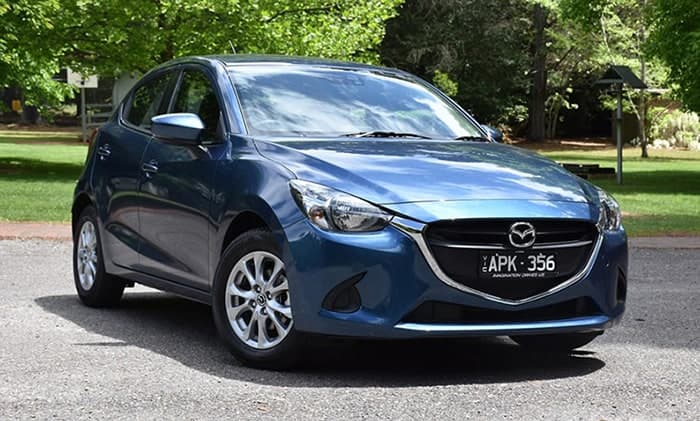 In the subcompact range, the Mazda 2 continues to shine, with impressive levels of safety, comfort and reliability.
Whether you opt for the sedan or hatchback, you'll get a great-looking, easy-to-drive, well-equipped car with a quality 1.5-litre engine that's got more than enough grunt for zipping around the city.
The Mazda 2 comes with a healthy range of standard features, including electronic stability control, rear parking sensors, autonomous emergency braking, six airbags, cruise control, hill-launch assist, push-button start and more.
Pros
Brilliant safety rating
Easy on fuel
Exceptionally responsive steering
Plentiful cargo space for a car this size
Five-year warranty with unlimited kilometres.
Cons
Some Mazda models have jumped considerably in price in 2019/2020
The tachometer is small and hard to read
Still needs some work on tyre noise.
#2. Toyota Yaris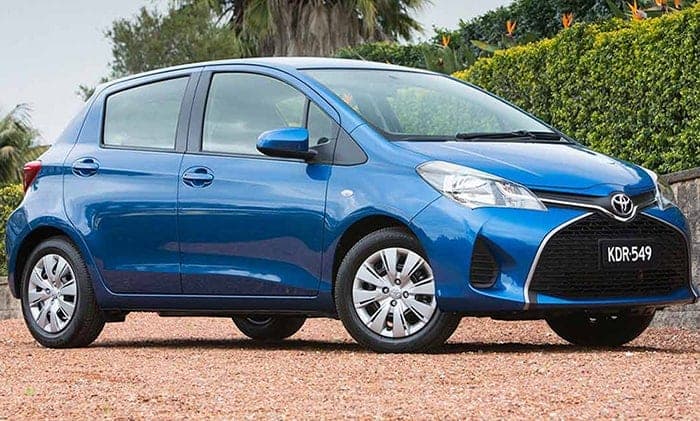 Since it first burst onto the Aussie scene, the Yaris has grown in popularity and carved itself a firm place amongst small, fuel-efficient vehicles.
It's a really practical choice if you're budget-conscious and want something that'll get you around town efficiently and squeeze easily into the smallest of city parking spaces.
The 2019 version has a decent range of safety features (including seven airbags) and is packed with innovative technology that makes it more economical to run, safer, more responsive and more enjoyable to drive than previous models.
It'll never win any 'macho car of the year' awards, but it gets the job done.
Pros
High-quality multimedia package with voice recognition, Bluetooth and a 7-inch touchscreen
Super-manoeuvrable and responsive handling
Doesn't cost much to fill up the tank
Wide range of advanced safety features
A cute, practical car that's economical to run.
Cons
Acceleration is pretty average
Not terribly roomy inside.
#3. Honda Jazz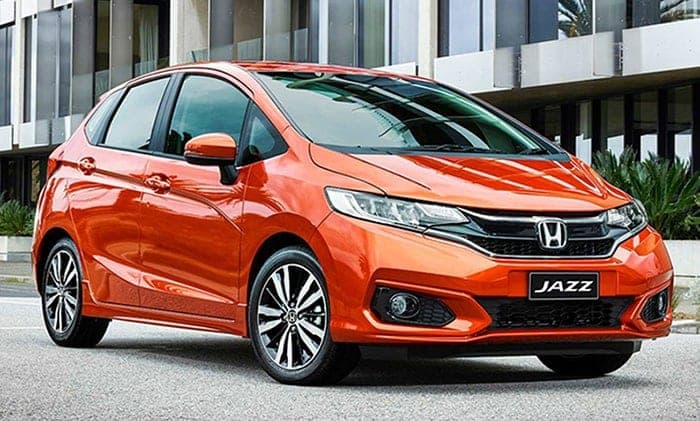 The Jazz is an attractive choice, especially if you're looking for above-average boot space in a compact, fuel-efficient vehicle.
It may look small from the outside, but the 354-litre boot and back seat room are surprisingly generous for a car in this class.
The 1.5-litre, four-cylinder engine does a nice job in varied conditions and there are a lot of little design touches that improve the ride.
The Jazz is easy on the fuel and offers the kind of responsive steering and zippy manoeuvrability that makes it an excellent option for city driving.
Pros
Interior design and overall comfort outshines many of its competitors
Despite its size, it has even more boot space than some small SUVs
Spacious — good height and legroom in the back seats
Airbags and other essential safety features are standard.
Cons
Lacks some of the newer safety features found in other light cars
No Android Auto or Apple CarPlay.
Best small cars 2020
#1. Mazda 3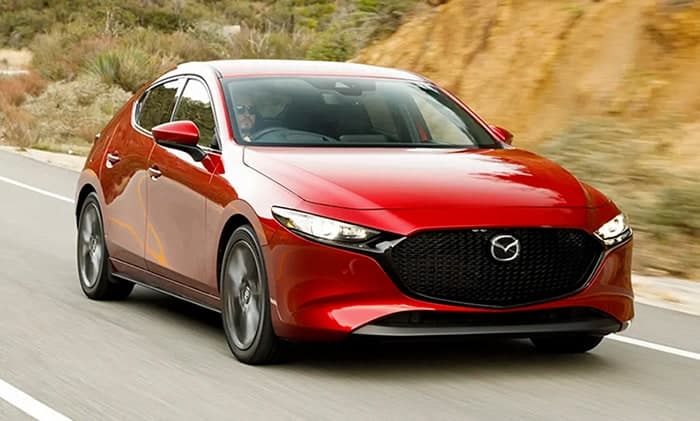 It's hard to argue with popularity. The Mazda 3 is a perennial top-seller, with nearly 25,000 sold in 2019.
Why is it so popular? Well, it rates high for safety, has a solid track record for reliability, combines technological innovation with practical comfort and handles like a dream.
Steering response is exceptional, especially when compared to many of its competitors.
The two-litre engine is technically refined and powerful enough to make you feel you can handle whatever the road conditions serve up.
Pros
A quieter ride than previous models
Standard safety features are plentiful and up-to-date
Superb steering control with Mazda's G-Vectoring Control
Top-of-the-range multimedia package.
Cons
Compared to previous models, the exterior is bigger but the interior space is not
No USB ports or air vents in the back seat.
#2. Hyundai i30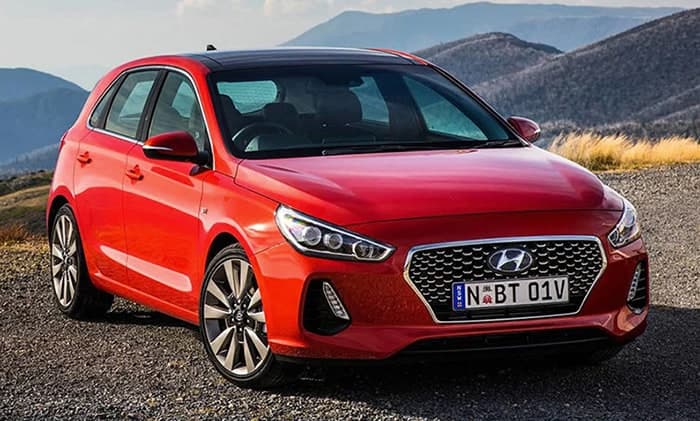 The i30 has won Australia's Best Car award six times and more than holds its own against similar-sized vehicles in Australia.
A lot of its appeal comes down to design, comfort, reliability and value for money.
It's a no-fuss, easy-to-drive choice that has more than enough tech-smart, practical features to keep all its competitors on their toes.
Standard features include an adjustable steering wheel, auto headlights, reversing camera, cruise control, tyre pressure monitor, Smartphone integration and electronic stability control.
It comes with seven airbags and offers a quiet, comfortable ride and plenty of space for passengers and cargo.
Pros
Proven reliability in Australian driving conditions
Well-considered interior design and attractive appearance
Well-considered interior design and attractive appearance
User-friendly infotainment system.
Cons
Engine is adequate rather than exceptional
No in-built satellite navigation system
The back seats need USB ports and rear air vents.
#3. Toyota Corolla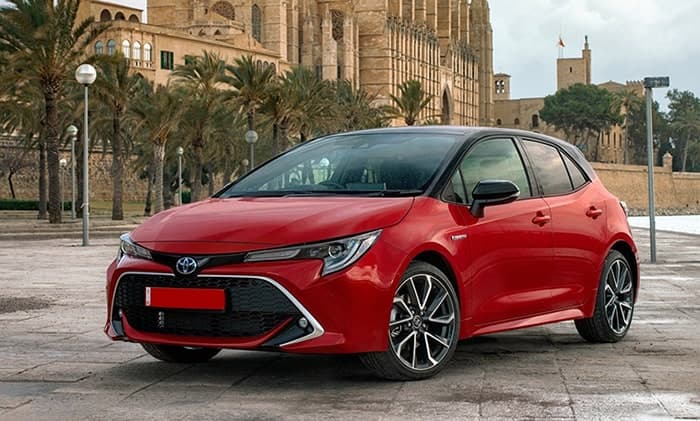 The much-loved Corolla has been around a long time, first making its appearance in Australia in 1967.
More than a million of these super-reliable vehicles have been sold since.
The Corolla has essentially been the template for small cars around the globe for half a century, and its wide appeal hasn't waned.
With a punchy two-litre engine and rock-solid powertrain, the Corolla is available in sedan and hatchback versions and is packed with all the driver-assist tech you could ask for, including active cruise control and autonomous emergency braking.
With 50 years of history behind it, you know what you're getting with a Corolla.
Pros
All-new dynamic chassis and locally tuned suspension
The world's most popular car in an improved, stylish package
Two-litre engine has plenty of grunt
Smooth handling and comfortable ride
Respectable level of safety features.
Cons
In the hatchback version, space is tight in the rear seats
Hatchback boot is pretty tiny.
Best medium cars 2020
#1. Hyundai Sonata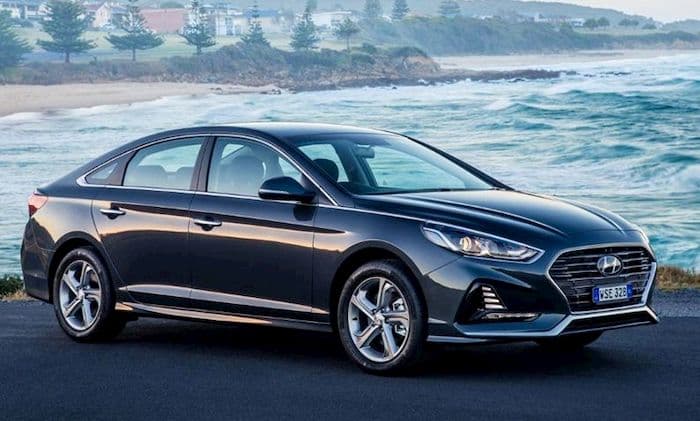 Our current Aussie obsession with utes, SUVs and small, fuel-efficient subcompacts means that mid-sized sedans sometimes get a bit lost in the mix.
The Sonata is a perfect example: Though its global sales top seven million a year, fewer than a thousand are being sold annually Down Under at present. This is a shame, because this car has plenty to offer.
Safety features are generous, including lane-keeping tech, radar cruise control, autonomous emergency braking, rear cross-traffic alert, auto high-beam, blind-spot monitoring and nine airbags.
There's also Bose sound, Bluetooth multi-pairing, full LED headlights and twin flat-panel display screens.
Pros
Impressive tech and safety package
Crisp new styling with elegant use of chrome
Interior finish oozes class
Quiet, comfortable and reliable.
Cons
Engine performance is a bit tepid
Tourer wagon and diesel version have both been discontinued in Australia.
#2. BMW 3 Series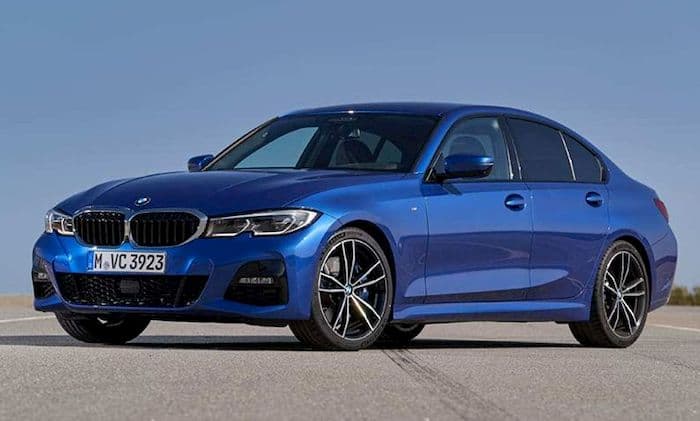 It's unfortunate the market for mid-sized prestige sedans in Australia is shrinking so fast.
These days, BMW's SUVs (the X5, X3 and X1) tend to be bigger sellers in this country than its sedans.
But if you value impeccable German engineering, crave a luxury sedan and aren't afraid to pay for it, the 3 Series is a fine choice.
You can pick between a diesel and petrol model, both with 8-speed paddle shift automatic transmission.
Standard equipment in the petrol-version 330i includes Brembo brakes, 19-inch alloys, Vernasca leather trim, active cruise-control, steering- and lane-control assist and adaptive M suspension.
Pros
All the ride comfort you've come to expect from BMW
Huge range of classy optional extras
Exceptional handling ability and mid-turn grip
An ultra-dynamic medium sedan that's the best 3 Series in generations.
Cons
No manual transmission available
Lacks support for Android Auto
No full auto emergency braking in the 320d diesel version.
#3. Toyota Camry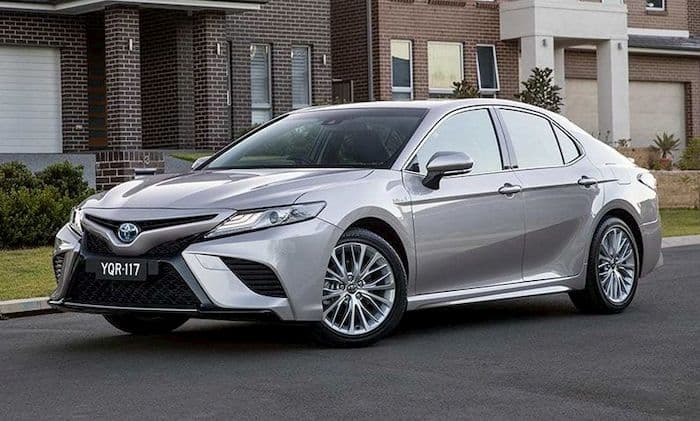 While the safety features in the Toyota Camry are exemplary, there's much more to this vehicle than its five-star ANCAP rating.
With the option for hybrid power and enough space for the whole family, the Camry fully earns its place in the best cars list for 2020.
While technically classified as a medium-sized car, its copious legroom will make you l feel you're in a much larger vehicle.
The upgrades on previous generations (such as new soft-touch surfaces for arm and elbow rests) make it a pleasure to drive.
Pros
Spacious interior and ample boot space
Lively, efficient engine
Proven dependability and high resale value
One of the safest cars you can buy.
Cons
Rather outdated infotainment technology
Doesn't offer all-wheel drive.
Best large cars 2020
#1. BMW 5 Series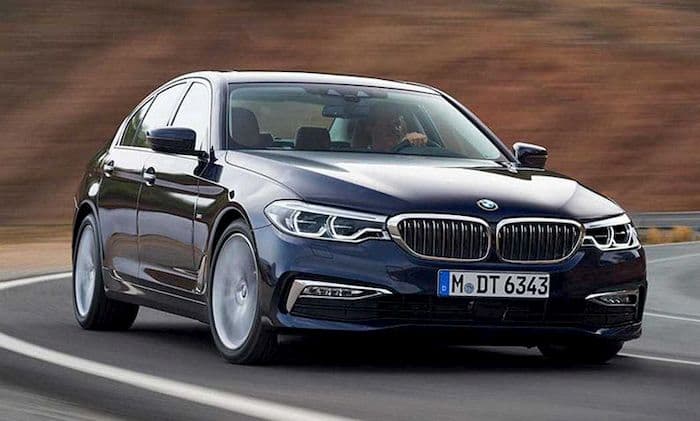 Though the BMW 5 Series faces stiff competition from competitors like the Mercedes-Benz E-Class, it still provides all the European style and superior engineering you expect from a large luxury sedan.
The mid-range 530i model boasts a two-litre, turbocharged four-cylinder engine, or you could opt for the less powerful 520i. Elsewhere in the range, diesel and plug-in hybrid options are available.
A ride in a 5 Series is an exercise in luxury, comfort and efficiency, with a hefty swag of technology at your fingertips and all the safety gear you could ask for.
If you've got a spare $111,900 (plus on-road costs) sitting around doing nothing, the 530i isn't a bad option at all.
Pros
Superb interior presentation
Smooth, comfortable ride with plenty of room
Four-cylinder engine supplies solid performance
High safety rating and user-friendly technology.
Cons
Value for money hard to quantify compared to BMW's SUV range
Showing signs of age compared to the 3 Series
The 3-year warranty is short for a prestige car.
#2. Kia Stinger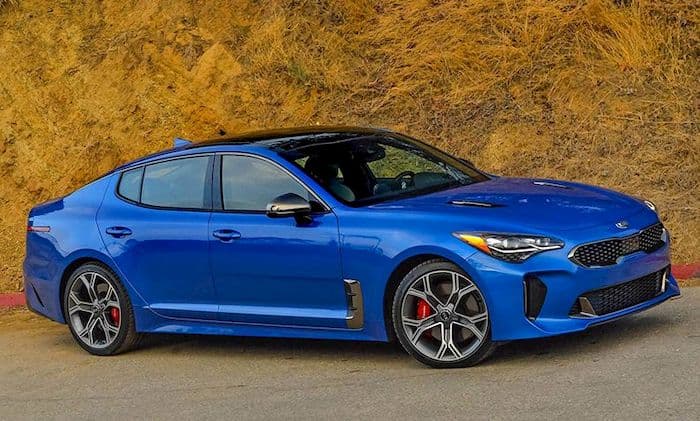 The Kia Stinger offers rear-wheel or all-wheel drive, a spacious interior, a low price point and superior performance.
The twin-turbo V6 engine delivers 272kW of power and has the ability to go from 0-100km/h in 4.9 seconds.
The 2019 Stinger is highly rated for safety, with AEB, blind-spot detection, lane-support systems and a whole swag of other tech-savvy safety gear.
The GT is the pick of the six variants, and it's a real head-turner. If you're ready to ditch your sensible SUV and have some driving fun, you could do a lot worse.
Pros
Powerful and reliable acceleration — drives like a true sports sedan
High street appeal
A good, practical choice for families — excellent value for money
Apple CarPlay, Android Auto and voice recognition.
Cons
Small boot
Rear visibility isn't great
Fuel economy is just average.
#3. Holden Commodore
If you've always wanted to own a brand-new, iconic Holden Commodore, now's your chance — but you'd better hurry.
In 2019, Holden announced that they're phasing out all Commodore and Calais variants (plus the Astra) to focus on selling utes and SUVs. They'll still sell the MY19 model until stocks run out, presumably in 2020.
The Commodore is a true classic — roomy, comfortable, well-equipped and solidly built.
Choose between the two-litre turbo petrol, diesel or V6, which is available with all-wheel drive.
All Commodores have auto emergency braking and grip the road with enthusiasm.
Pros
Good connectivity for smartphones, maps and other functions
Advanced driver assistance features and good all-round safety tech
Dual-zone air conditioning
Solid chassis and reliable engine performance.
Cons
Not built in Australia any more
Low resale value.
Best small SUVs 2020
#1. Mazda CX-3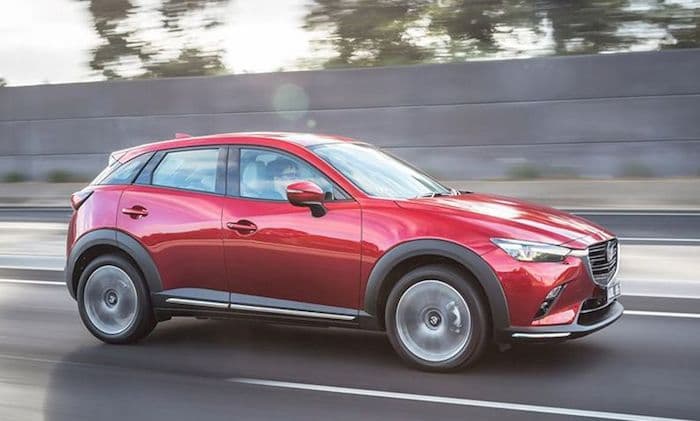 Though it's technically an SUV, the CX-3 feels more like an urban hatchback, which perhaps explains its appeal to such a diverse range of Aussie car buyers.
Mazda is good at adding little improvements to their vehicles year by year, and the CX3 is no exception.
It rates highly for dependability, engine performance, safety, suspension and steering.
The CX-3 provides a quiet ride and has more than enough grunt for urban commutes, long road trips and the occasional bumpy jaunt.
It's one of the more attractive small SUVs around and handles like a dream.
Pros
Outstanding interior build quality
Eye-level infotainment system is user-friendly but not distracting
Excellent value for money
Impressive range of standard safety features.
Cons
Less cargo than some other sedans
Engineered more for street use than off-road adventures.
#2. Toyota C-HR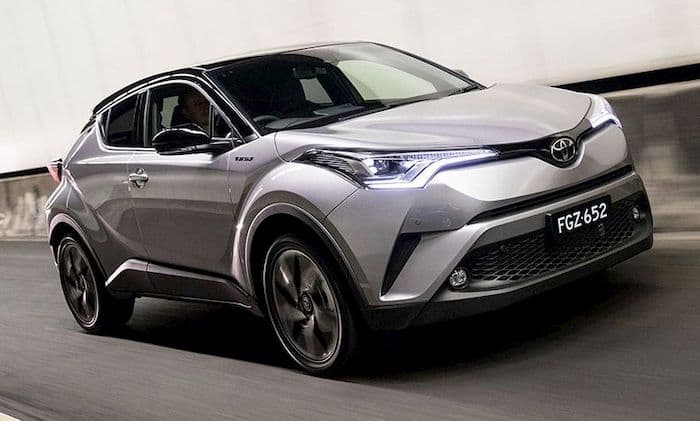 Stylish, fuel-efficient and easy on the eyes, the CH-R doesn't pull any punches in the small SUV category.
It is highly rated for comfort, safety and ease of maintenance and boasts the kind of sporty handling and driver visibility that makes driving fun.
It has plenty of interior space, a sleek look and a full range of high-tech safety features.
Standard gear includes seven airbags, forward collision monitoring, auto-on/auto-dipping headlights, reversing cameras, front and rear parking sensors, auto braking and auto cruise control.
Pros
Exceptional range of safety technology
Good fuel economy for an SUV
Great-looking exterior, with plenty of bright colours to choose from
Handles typical Australian driving conditions well.
Cons
Lacklustre acceleration
No all-wheel drive option
Cabin wind noise is noticeable.
#3. Mitsubishi ASX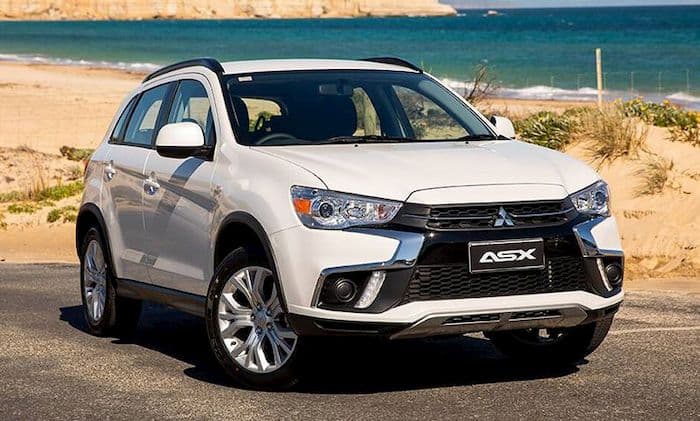 The ASX is a firm favourite with young families and car rental companies, offering smooth-as-silk handling and a bit more internal space than other SUVs in its class.
It's affordable, works well with smartphones and navigation apps and is a treat to drive — both in the city and on less forgiving country roads.
The 2020 version made an appearance in late-2019 and boasts an attractive new look, updated technology and engine improvements.
It's a popular model with very competitive safety features, including lane-keeping tech, auto high beams, rear cross-traffic alert and pedestrian recognition.
Pros
Exterior design improved for a sharper look
Low price point and easy to look after
Improved performance with the 2.4-litre engine
Easy-to-use multimedia and digital connectivity.
Cons
Fuel economy is okay but not amazing
Interior styling isn't as contemporary as some competitors
Cabin is a bit noisy.
Best medium SUVs 2020
#1. Mazda CX-5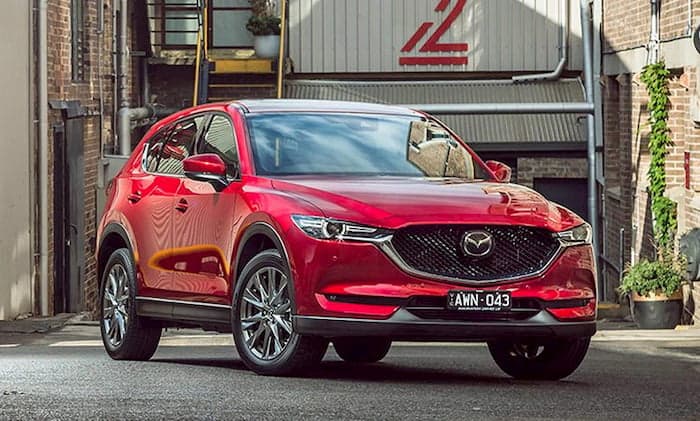 The CX-5's versatility ranks it amongst the best SUVs in Australia.
It manages to look like a 'normal car' but still has enough all-wheel-drive grip and road clearance to handle bumps, gravel roads and bush adventures.
Standard equipment includes push-button start, rain-sensing wipers, auto LED headlights with high-beam assist, six-speaker stereo and blind-spot monitoring.
It comes with a whole range of useful safety technology, including rear-view camera, lane-departure warning, adaptive cruise control, sat-nav and rear parking sensors.
Pros
Turbo-charged engine and transmission are powerful and responsive
Nice range of standard equipment
Silky-smooth handling — fantastic steering and stability
Attractive inside and out
Easy on fuel.
Cons
Rear seats could use more headroom and legroom
No manual transmission option.
#2. Toyota RAV4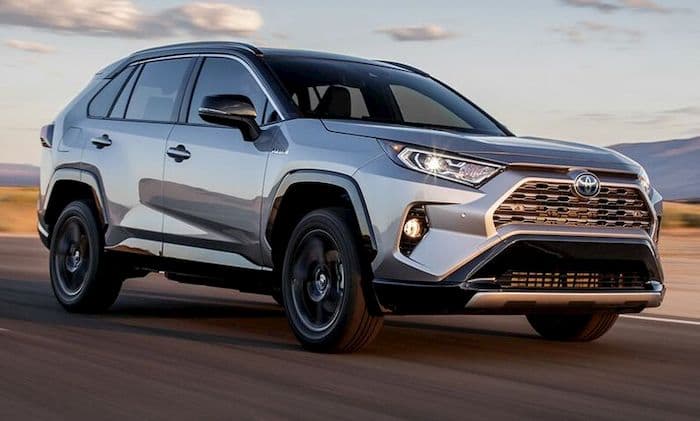 The RAV4 was one of the first medium-sized SUVs to really take off in Australia, offering a nice combination of affordability, safety and advanced technology.
There are plenty of features to help drivers with navigation, including a rear-view camera, rear cross-traffic alert, blind-spot warning and adaptive cruise control (which helps you maintain a safe gap between you and the vehicle in front).
Visibility from the driver's seat is excellent.
With six petrol-electric hybrid options thrown into the RAV4 mix, there are plenty of variants to choose from, though the diesel version is no longer available.
Families will love the spacious 580L boot.
Pros
An economical family SUV
Hybrid power options available.
Spacious cabin and boot
Hybrid power options available.
Cons
Acceleration could use more 'oomph'
No Android Auto connectivity.
#3. Mitsubishi Outlander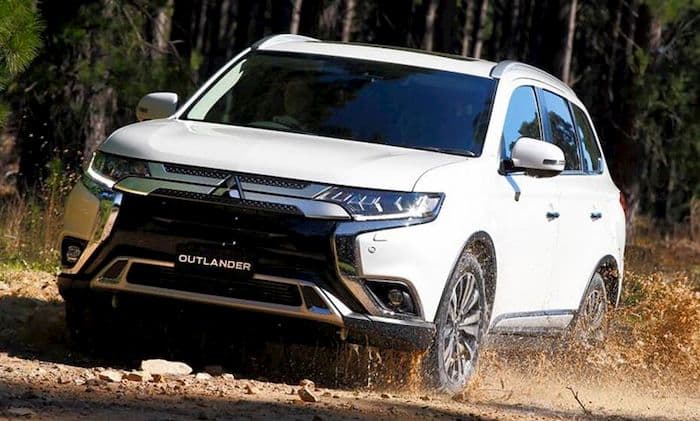 The sturdy Outlander is one of the few mid-sized SUVs to offer three rows of seats and a choice between all-wheel or front-wheel drive and diesel, hybrid or petrol.
With front and back USB ports, smartphone integration via touchscreen and a number of other high-tech advancements, it's a thoroughly modern vehicle with ample safety equipment and a reputation for dependability.
You'll revel in the comfort of the power-operated driver lumbar support and tinted windows, and navigate the roads easily with the help of hill-start assist, dusk-detecting headlights and rear parking sensors.
Pros
One of the most reliable, affordable SUVs around
Competitive fuel economy
Bountiful safety features
Third-row seat option
High-tech infotainment system.
Cons
Engine can be noisy when accelerating quickly
The third row of seats is cramped and best suited for children.
Best large SUVs 2020
#1. Mazda CX-9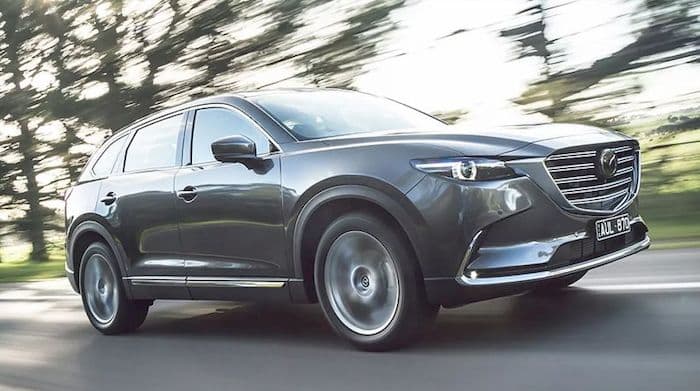 Not many large SUVs feel as sporty or comfortable to drive as the CX-9, with its powerful fuel-efficient engine and practical styling.
This 7-seater is spacious, tech-smart, crammed with driver-assist safety features and offers the option of all-wheel drive.
Its many user-friendly attributes helped it win Wheels magazine's Car of the Year award in 2017.
Best of all, the CX-9 keeps improving: For example, the ride is much quieter in the 2019 version because of upgrades to insulation.
The combination of an excellent engine, spacious size and attractive finish is hard to resist, and the infotainment system is first-rate.
Pros
Petrol engine performance is well above average
Brilliant standard of safety and driver-assist technology
Superb handling — drives more like a sporty sedan than an SUV
2019 model has newly re-tuned suspension
Responsive precision steering.
Cons
Third-row seats are only comfortable for children
Rear-view camera image isn't as sharp as it could be.
#2. Toyota Kluger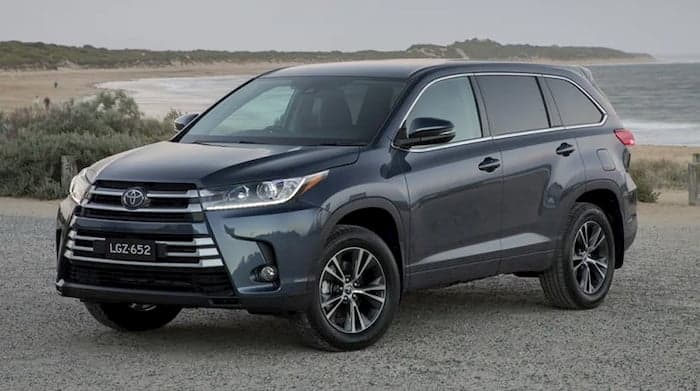 The Kluger is a serious SUV that increasing numbers of Aussie families are finding just right for their needs.
Its robust chassis, advanced safety technology, smooth handling and versatile seven-seat configuration make it the ultimate all-rounder for a wide range of Australian driving conditions.
Toyota has improved the 3.5-litre V6 engine's fuel efficiency and offers plenty of high-tech wizardry and solid safety gear to go with the Kluger's spacious interior and impressive towing ability.
Pros
Flexible, roomy, powerful and great for growing families
Superb handling for a large vehicle
Solid, well-built chassis and impressive range of standard safety features
Offers a smooth ride with both all-wheel and front-wheel drive.
Cons
Interior doesn't feel contemporary
Infotainment unit is pretty average.
#3. Kia Sorento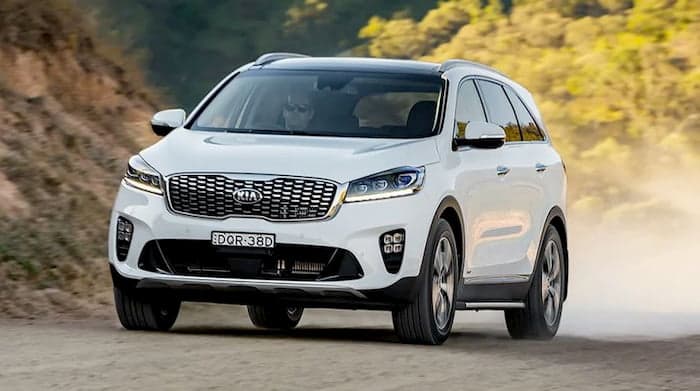 There's a lot to like about the Sorento: a seven-year warranty, a beautiful interior finish, auto braking (standard) and the comfort and versatility of an extremely well-built seven-seater SUV.
You can use it as an all-wheel drive or a front-wheel drive, and a powerful diesel version is also available.
There's an eight-inch colour infotainment touchscreen, sat-nav (that doesn't rely on your smartphone), four USB ports for charging devices, auto headlights, reversing camera, tyre pressure monitors and adaptive cruise control.
Pros
Potentially life-saving smart braking options
One of the best warranties in the industry
Good value for money for an SUV this size
Quiet cabin, comfortable seats and smooth ride.
Cons
The petrol V6 engine is on the thirsty side
Less cargo space than some other vehicles in this class.
Best dual-cab ute 2020
#1. Ford Ranger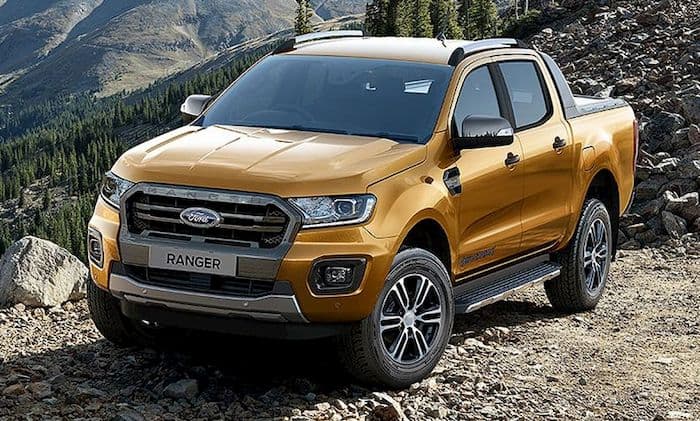 Jockeying for position with the Toyota Hilux as Australia's top-selling vehicle, the Ranger is a perfect option for families wanting space and cabin comfort or anyone requiring a tough, practical ute that can tote (or tow) a hefty load.
It boasts fair-dinkum off-road capability, powerful engine performance and a level of seating comfort that's surprising for a dual-cab utility.
The Ranger line-up was revitalized in 2019, with more high-end features now filtering down through the range.
Driver visibility is awesome, suspension is improved, seat support is excellent and the Ranger continues to prove its worth in everything from stop-start city driving to lengthy road trips and serious outback action.
Pros
Super-versatile — handles everything from snow and mud to freeway marathons
Brilliant for towing and hauling
Advanced safety tech
Good value for money
Simple-to-use interior controls.
Cons
Long wheelbase and large turning circle makes tight car parks a challenge
Manual transmission not available
No rear seat ventilation.
#2. Holden Colorado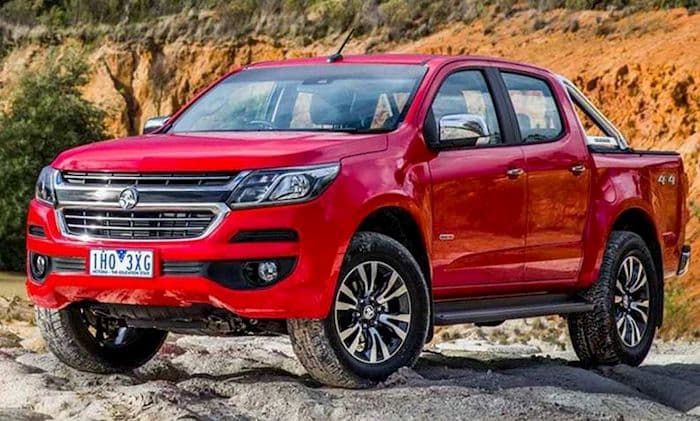 The Colorado had a major facelift in 2016 and a minor one heading into 2020. It's a quick and lively ute with a suspension well suited to Aussie conditions.
The tech bells and whistles get more impressive (and more costly) as you move up through the range, but whichever variant you choose, you'll know you're at the wheel of a serious off-roader.
The Colorado's interior is solidly put together, with ample legroom in the second-row seats, a spiffy multimedia system and an attractive finish.
Engine-wise, there's no problem with grunt and the six-speed gearbox works just fine in both low and high range.
Pros
Punchy engine
Solid ability to tow and move heavy loads
Engineering updates have made it a real competitor in its class
Excellent handling in a variety of driving environments.
Cons
No rear diff lock
Tie-down hooks are placed too high.
#3. Mazda BT-50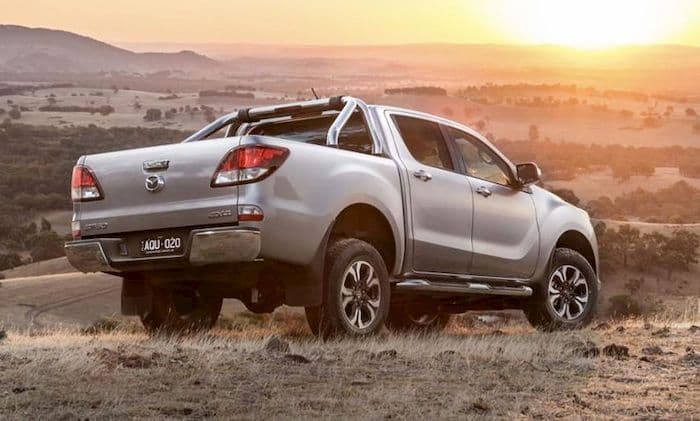 If you're looking for a family-friendly ute that's affordable across the range and takes its off-roading credentials seriously, this is the kind of tough, well-engineered, multi-purpose vehicle you should be looking at.
You get a five-star safety rating, 3.2-litre turbo-diesel engine and fuel efficiency coming in at a combined 8.9L/100km.
There's loads of room in the interior, which looks rather SUV-like.
You'll feel more like you're in a passenger car than fresh off a worksite, with a large multimedia screen occupying the central stack.
The reversing camera, power-assisted steering and quiet, comfortable cabin are tangible selling points.
Pros
Competitive drive-away pricing
Massively strong and well-engineered
On-road comfort and space is great for families
Robust, enthusiastic drivetrain.
Cons
Steering wheel isn't adjustable for reach
Drab-coloured dash.
Best large 4x4s 2020
#1. Ford Everest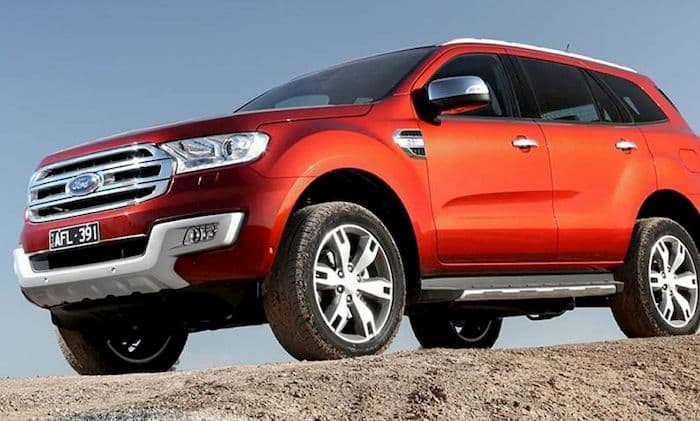 The Everest performs well on the bitumen but is also a very capable off-roader, offering the option of full-time, dual-range four-wheel drive.
Smartphone integration is first-rate, the comfort level is high, and the cabin feels roomy and well-ventilated.
The angular lines and faux-metal surfaces around the dash give it a contemporary look.
Safety equipment includes seven airbags, reversing camera and rear parking sensors, stability control and trailer-sway control.
The Everest has enough strength and grunt to tow a two-horse float or a large caravan or boat.
Pros
Plush, premium interior with modern-looking instrument console
All the seats feel comfortable
Intimidating stance commands respect
Reliable handling in both on-road and off-road conditions.
Cons
A little cumbersome to drive in urban situations due to its size and wheelbase
Gear shifts feel a bit lazy, especially in lower gear.
#2. Holden Trailblazer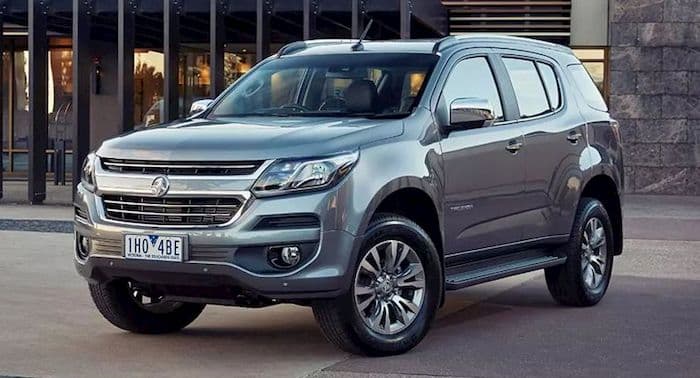 This SUV-style wagon seats seven, feels comfortable and relaxed on the highway but has the off-roading chops to take you just about anywhere in Australia.
It drives the rear wheels only on sealed roads but out in the bush, you can select four-wheel drive or low-range 4×4 for more challenging off-road conditions, like sand and mud and steep ascents and descents.
Safety features abound, including cruise control, reversing camera, rear parking sensors, hill-start control, hill-descent control, electronic traction control and seven airbags.
Pros
Tough, reliable off-roader with a powerful engine
Respectable pricing
Just as competent on or off the road
Spacious cabin with a decent range of tech
Cons
Only one USB port
Could use a bit more advanced safety tech.
#3. Mitsubishi Pajero Sport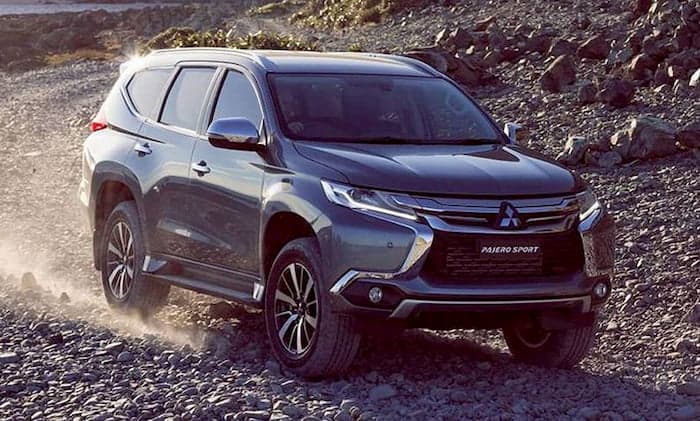 Wherever you travel in the outback, you're bound to run into more than one Pajero owner who is unconditionally loyal to their beloved off-roader.
It has all the stylish fittings, safety credentials and rugged comfort you need when you go bush, and a strong engine that won't let you down when the terrain gets dicey.
The Sport comes with seven airbags, adaptive cruise control, tilt-and-reach steering wheel adjustment, seven-inch touchscreen, AEB, push-button start, Bluetooth phone connectivity and trailer-sway control.
Pros
Auto emergency braking across the range
Spare wheel storage beneath the car saves internal space
3100kg tow rating
Selectable full-time 4WD.
Cons
Rear of the cabin could be roomier
Exterior looks a little dated.
Sources