Disclaimer: Data on this website was sourced from Canstar in September 2020 from their latest available data. Auto & General Services Pty Ltd does not guarantee the accuracy or completeness of the data and accepts no liability whatsoever arising from or connected in any way to the use or reliance upon this data.
Sometimes, there's no way around it — you simply need a bigger car.
Seven-seat SUVs are the ideal solution for growing families, enthusiastic car campers, road-trippers with lots of luggage and anyone who values the flexibility that comes with extra room.
Today's seven-seaters are packed with advanced safety features to ensure your family travels with complete peace of mind, on or off the road.
The profusion of safety gear and comfort-focused technology currently available (and which often comes as standard) is mind-boggling.
And the robust build, attractive styling and improved driver visibility found in the very best seven-seat SUVs only adds to their appeal.
Massive boot space means that all that family gear you could never fit into a smaller car now piles in without a worry — sports equipment, baby prams, large cartons, etc.
And if you're playing chauffeur to active teenagers, they'll definitely appreciate the extra room a seven-seater provides.
So let's take a look at the best seven-seat SUVs in Australia for 2020, based on Canstar's latest customer satisfaction survey:
#1. Mazda CX-9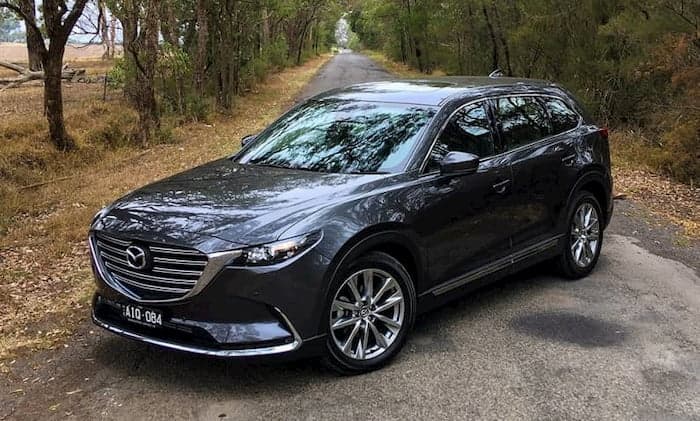 This is the petrol-powered version of Mazda's CX-8 diesel, and was named Wheels magazine's Car of the Year in 2017.
It's an exceptionally well-built, sharp-looking SUV that comes with auto emergency braking as standard.
On-demand all-wheel drive is available, and the third row of seats is big enough to accommodate two average-sized adults.
Today's CX-9 is much quieter than previous models, and its wide, welcoming cabin and seats pass the comfort test with flying colours, even on long road trips.
There's plenty of storage room and the controls and instruments are logically positioned.
The CX-9 arguably has the best handling of any large SUV for its price, with accurate steering and superb suspension.
Pros
High-quality interior materials
Super-roomy
Excellent engine
Handling sets the standard for its class
Reliable braking.
Cons
Low towing capacity for its class
Tri-zone climate control needs improving.
#2. Toyota Kluger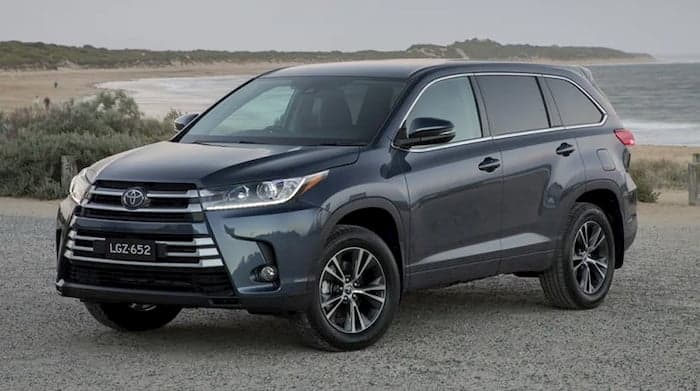 This big, tough high-rider takes its off-road credentials seriously, with all-independent suspension and an engine with plenty of grunt.
The Kluger's ample space and emphasis on safety and comfort means it's an increasingly popular choice for Aussie families, who love how it handles rough roads.
You can choose between front-wheel and four-wheel drive.
Despite its power, it's a surprisingly quiet vehicle that serves equally well as a people-mover or bush explorer.
There's a Kluger for every budget, from the front-wheel drive GX to the top-spec AWD Grande.
Whichever version you choose, you'll get a comfortable ride, ample safety features and loads of usable space.
Pros
Huge internal space with a large central console
Flexible seating
Easy to drive with simple-to-use controls
Proven reliability.
Cons
Average fuel efficiency
Bland design lacks character.
#3. Mitsubishi Pajero Sport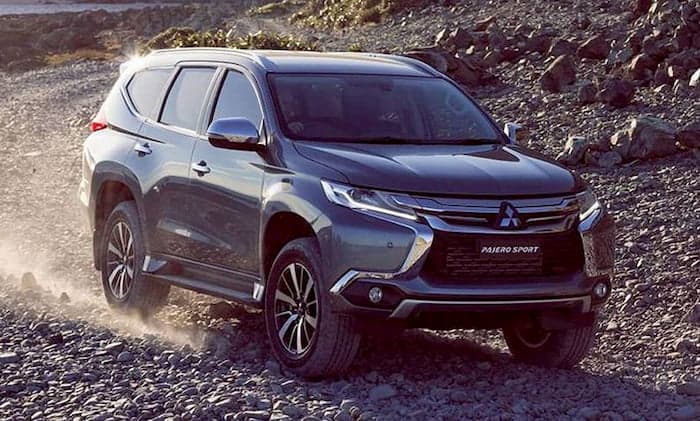 For drivers who value great all-round visibility, a healthy range of safety features, solid towing ability and a spacious boot, the Pajero Sport is well worth looking at.
It can take you all over the city or way off the beaten track in comfort. Five-seat and seven-seat versions are available.
With a Pajero, you get decent fuel economy, a lot of equipment for your money and a better level of fit and finish than most of its rivals.
With genuine four-wheel drive capability and enough space and technology to appeal to drivers of any age, the Pajero has proven itself as one of the most versatile SUVs for Australian conditions.
Pros
Exceptional value for money
Well-deserved off-road reputation
Abundant safety features and well-designed interior
Roomy inside
A good choice for towing.
Cons
No cargo cover or electric tailgate
Third-row seats consume floor space when not in use.
#4. Kia Sorento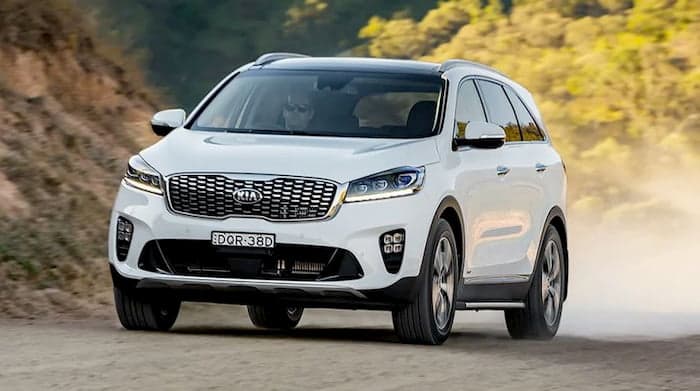 Kia's largest SUV (and its only seven-seater) comes with a choice of AWD or front-wheel configurations and petrol or diesel engines.
It's a popular family vehicle and competent off-roader that feels spacious inside and rates well for safety, with a top-notch braking system and plenty of confidence-inspiring technology to keep the driver in control.
The Sorento is one of the more affordable SUVs in its class and isn't too thirsty at the pump.
Even the base model is good value, with an impressive infotainment system and reversing camera.
The cabin is quiet and stylish, the ride is smooth, and you get a seven-year warranty.
Pros
Exceptional braking technology
Seven-year warranty leaves most rivals in the dust
One of the best crossover SUVs available in Australia that seats seven
Interior is super-spacious and fitted out nicely
Apple CarPlay and Android Auto connectivity.
Cons
Cramped third row seating
Cargo space is just okay
Average handling and cornering ability.
#5. Nissan Pathfinder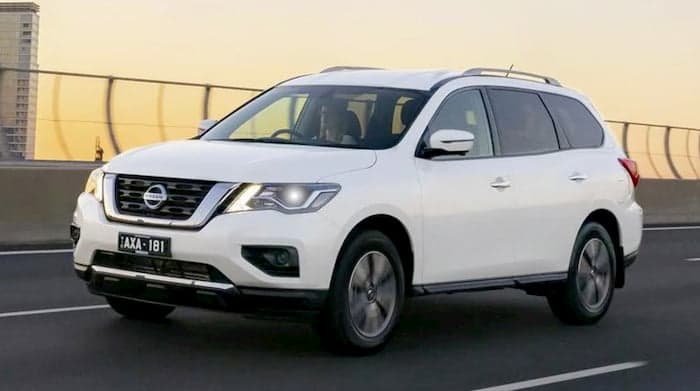 Insulated from outside noise, packed with safety gear and spacious enough to keep the most active family happy, today's Pathfinder has retained the same external look it had in 2013 — which isn't a bad thing at all.
It had a hefty safety upgrade in 2019 and is available in petrol or hybrid variants.
In the popular ST+ version, you'll get blind-spot monitoring, rear cross-traffic alert, adaptive cruise control, forward-collision warning and airbags that extend to cover the third row of seats.
The Pathfinder is child-friendly, with plenty of well-constructed mounts and tether points for children's car seats.
Pros
A sturdy, dependable off-roader
Better-than-average cargo space
Impressive safety package
Comfy, ergonomic interior with supportive seating.
Cons
Controls and buttons need streamlining and simplification
No Android Auto or Apple CarPlay.
#6. Audi Q7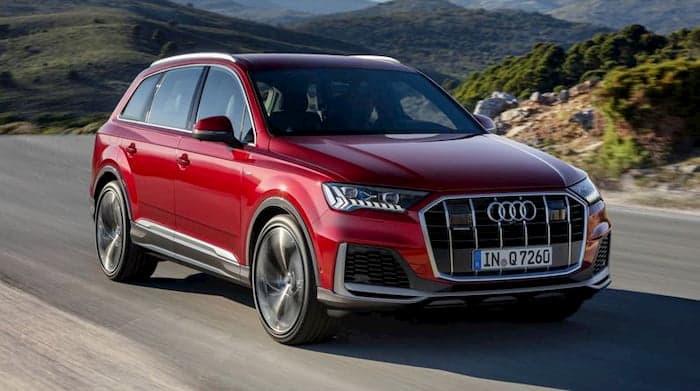 If you're on the hunt for the best seven-seat diesel SUV in Australia, the Q7 should be at the top of your wish list.
Its powerful, quiet and efficient engines provide all the grunt you need for off-road shenanigans and heavy towing.
If your use falls more into the family-toting category, it performs well there too, with a quiet, luxuriously-trimmed cabin, plenty of safety gadgetry and a high level of adjustment in both the seating and steering wheel.
The Q7 is laden to the hilt with tech and its suspension is silky-smooth.
There's dual-zone climate control, a tyre-pressure monitor, eight airbags, a reversing camera, convenience key entry, auto headlamps and a whole lot more.
Pros
Luxurious interior offers above-average comfort
Powerful diesel engines
Ample driver-assist technology
Terrific towing ability for its class.
Cons
Diesel only
A tad large for some urban parking spaces.
#7. BMW X5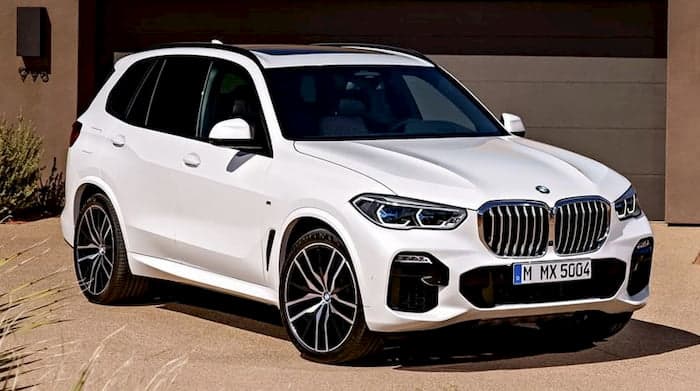 BMW has long been a global leader in luxury, sophistication and engineering; their X5 rates highly in all those categories.
The X5 has been a top seller in its class for a full decade and offers five variant choices for Aussie buyers in 2020, with the xDrive 25d, 45e and M50i taking pride of place in the current line-up.
When you drive a BMW, power, interior styling (with genuine leather), comfortable seating and the latest tech are a given.
With its natural, effortless steering, abundant and well-designed cargo space and brilliant stability at higher speeds, the X5 may cost you a bit more but it's well worth the extra cash.
Pros
Chic exterior and beautiful cabin
Impressive acceleration — a thoroughly fun car to drive
High-performance suspension
A choice of powerful engines
The X5's design prioritises safety.
Cons
Third row seating is tight
'Gesture control' is gimmicky, unnecessary and overly sensitive.
#8. Holden Acadia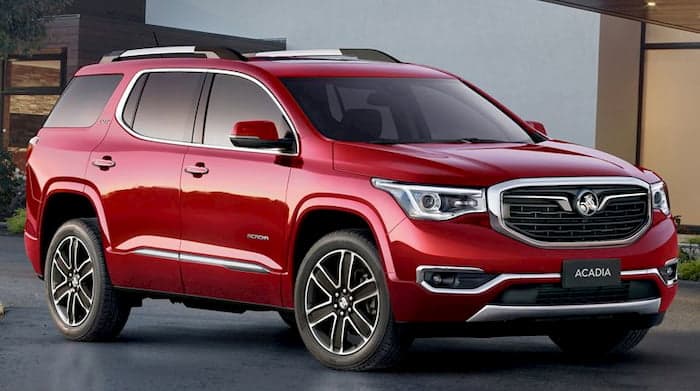 At the time of writing, the Acadia was set to be updated in 2020, but it remains to be seen whether the ones in Australia will receive the same upgrades as those in the US.
Either way, it's a good-value SUV with a lot going for it, including the option of front-wheel or all-wheel drive in every model.
The nine-speed transmission and powerful 3.6-litre petrol engine work just fine and life in the cabin is sweet, with a good-sized infotainment screen and user-friendly digital connectivity.
For such a sizeable, bold-looking SUV, fuel economy isn't bad at all and local suspension tuning by Holden engineers ensures a smooth ride under bumpy Australian conditions.
Autonomous emergency braking is standard and serves as an effective warning system for cyclists and pedestrians.
Pros
Suspension handles Aussies roads easily
Strong digital connectivity and safety tech
Third row comfortably seats two adults
The most technically advanced vehicle to wear the Holden badge.
Cons
Well-hidden, hard-to-access spare tyre
Some wheel spin and tyre chirp if accelerating too fast from a dead stop.
#9. Hyundai Santa Fe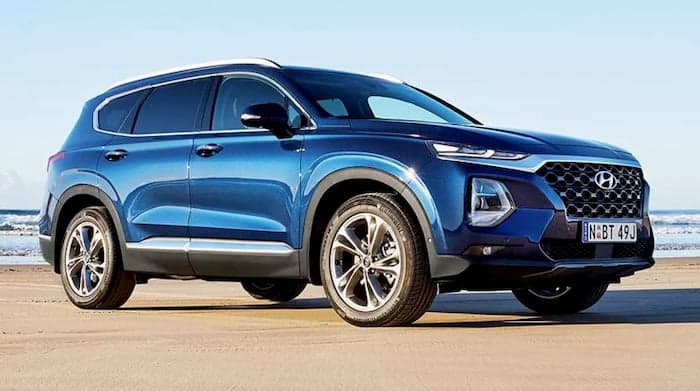 At the time of writing, Australia's 2020 Santa Fe range was to include a 3.5-litre petrol version — the old 2.4-litre, four-cylinder model is no longer available.
If diesel is your preference, there's a 2.2-litre turbo-diesel option too.
Priced between $43,000 and $57,500, the Santa Fe is a capable people mover, road tripper and occasional outback adventurer.
Though it sits higher off the road than a sedan, it's an impressively stable vehicle in the turns and the handling feels positively car-like compared to many of its SUV rivals.
Pros
A great-looking SUV with a sporty grille and projector headlights
Comes with a solid warranty
Interior is roomier than ever
Premium sound system
More standard features for your money.
Cons
Off-road ability is only so-so
Fuel economy lags behind some rivals.
#10. Ford Everest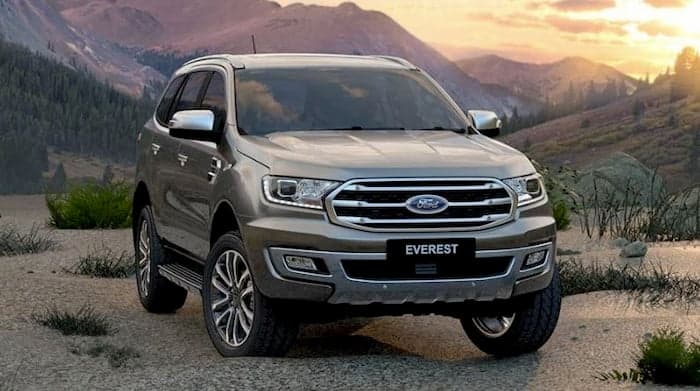 With eight variants to choose from, you won't have much trouble picking an Everest that meets your needs.
The 2020 line-up includes a Sport model which comes with your choice of four-cylinder bi-turbo diesel or five-cylinder turbo diesel.
Most of the range is AWD: there are just two rear-wheel models.
The Everest looks intimidating on the outside but it's plush and premium on the inside.
The contemporary instrument console and infotainment system work great and the Everest boasts a long list of comfort features and safety equipment that make it feel expensive, while still being good value for money.
Pros
Refined, easy-to-like interior
Comfortable seats in every row
Versatile and spacious — an excellent choice for families
Better off-road ability than many of its competitors.
Cons
Cumbersome to drive and park in the city due to its bulk
Noisy engine, especially at higher rpms.
Whether you're looking for a dependable urban family-mover, a diesel bush explorer or the best all-round seven-seat AWD SUV in Australia for 2020, this list will point you in the right direction.
SUVs come in a huge range of styles and sizes these days, so we could all use a little help in making the right choice! Check out our round-ups of the best small, medium, and large SUVs in Australia in 2020.
Sources