Sometimes, there's no way around it — you simply need a bigger car.
Large SUVs can be the ideal solution for growing families, enthusiastic car campers, road-trippers with lots of luggage and anyone who values the flexibility that comes with extra room.
So if you're looking to buy a new car or just exploring the world of seven-seat SUVs, check out our list of some of the best large SUVs on the market at the moment.
Best Seven-Seat SUVs
Here are our picks for some of the best seven-seat SUVs in Australia.
Kia Sorento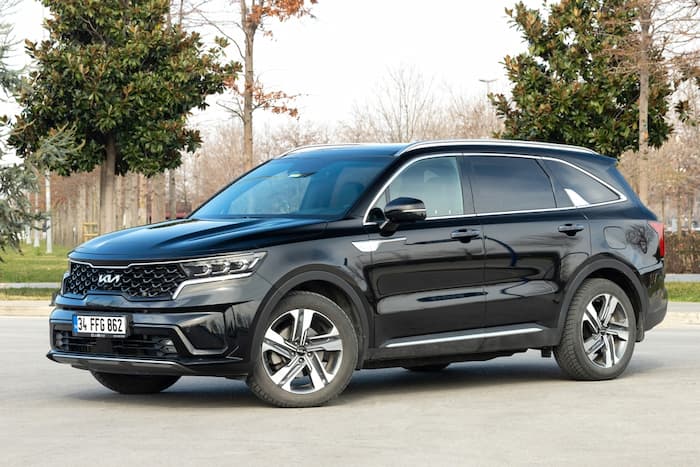 The Kia Sorento is a great large SUV for everyday families, especially for young kids with ISOFIX anchorages in the back to fit five child seats all up.
With seven seats, the Kia Sorento offers up fantastic safety equipment without impacting the SUV's chic interior or impressive handling.
Pros
Impressive drive and steering

Good value

Chic interior and great safety aspects

Offered in front-wheel or all-wheel drive
Cons
Average fuel consumption

Seats four people spaciously but can be tight in third-row seating
Read the latest Kia Sorento reviews and news from our friends at Chasing Cars.
Ford Everest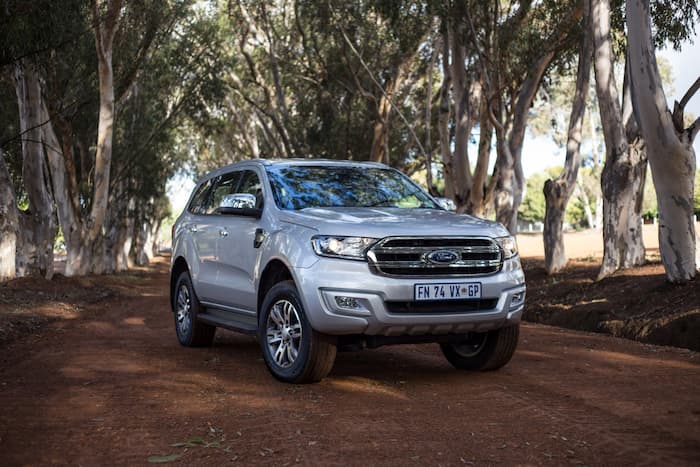 The Ford Everest is an impressive off-road SUV that can not only fit the whole family but tow the boat as well. It has plenty of advanced safety technology and even a basic games section for the kids in the infotainment system.
Although the Ford Everest has an overall comfortable fit, the third-row seats lack some room. Plus, it can struggle to save on fuel with the extra weight that a Ford Everest is known to have.
Pros
Impressive cabin tech with advanced safety technology

Standard 3500 kg towing

Good V6 engine
Cons
Back row lacks room

Average fuel economy
Read the latest Ford Everest reviews and news from our friends at Chasing Cars.
Mazda CX-9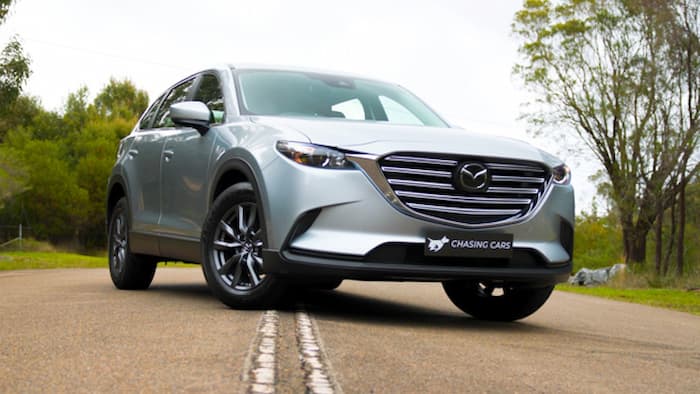 As one of Mazda's largest cars on offer, the Mazda CX-9 can be perfect for fitting in the family and more. With some fun features and an incredible boot space, you get a lot for a good price in the world of large SUVs.
You should also be able to fit three child seats across the second row and two in the third row of the Mazda CX-9. But the downside to having such a big vehicle means the Mazda CX-9 might be more difficult to park and drive through busy cities.
Pros
Affordable and comfortable seven-seater SUV

Great safety features and lots of cargo space

Large boot space
Cons
Not the most frugal engine

Tricky parking such a large SUV

Not as luxurious in the cabin as other Mazda models
Read the latest Mazda CX-9 reviews and news from our friends at Chasing Cars.
Best Seven-Seat Hybrid SUVs
Let's explore some of the best seven-seat hybrid SUVs.
Hyundai Santa Fe Hybrid
Although choosing the hybrid powertrain increases the price for the Hyundai Santa Fe slightly, you may still save in the long run thanks to the improved fuel efficiency in this large SUV hybrid option.
With a spacious cabin and smooth ride, it makes for an ideal choice for Aussie families. However, body airbags are missing in the third row which could impact your overall feeling of safety.
Pros
Plenty of room in all three rows

Safety tech is up to standard

Smooth drive with great handling
Cons
Price hike over the turbo diesel option

Missing body airbags in back row
Read the latest Hyundai Santa Fe reviews and news from our friends at Chasing Cars.
Volvo XC90 Recharge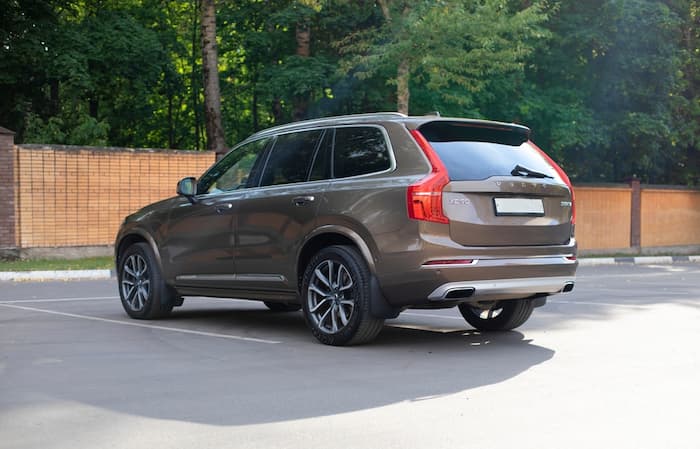 This family SUV might be on the pricier side, but if you're looking for something with a bit more style and comfort, then you've struck gold. As a luxury large SUV, there's lots packed into the higher price including advanced safety technology that's subtle and not overly controlling. 
And with the plug-in hybrid Recharge model, Volvo also claims a fairly decent fuel economy for a premium SUV.
Pros
Benefits of a hybrid vehicle to save fuel

Luxury feel on the interior and exterior

Plenty of power

Advanced safety technology
Cons
Big price tag

Can feel weighty on the corners

Costly Volvo servicing
Read the latest Volvo XC90 reviews and news from our friends at Chasing Cars.
Toyota Kluger Hybrid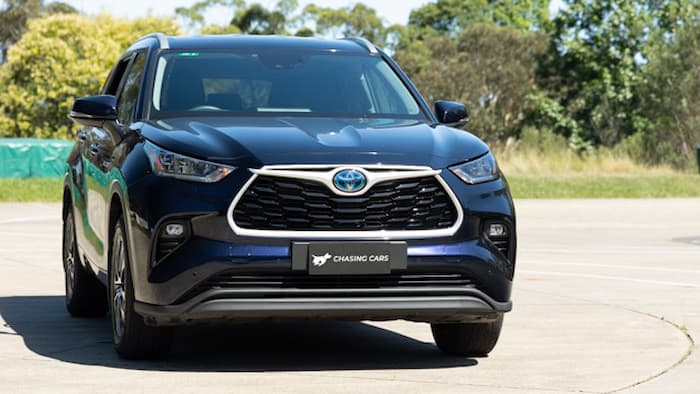 With a good engine, decent fuel economy and spacious cabin, Toyota Kluger's hybrid engine options have quickly gained popularity in the world of large SUVs.
This all-wheel drive SUV can be a great choice for travelling around with the family. Plus inside the well-made cabin, it has most of the bells and whistles you need including Android Auto and Apple Carplay. But without too much luxury, the Toyota Kluger still doesn't quite reach the heights of other high-spec models.
Pros
Impressive ride for a hybrid engine

Fantastic fuel economy

Ticks all the boxes for safety
Cons
Dull driving dynamics

Tight back row
Read the latest Toyota Kluger reviews and news from our friends at Chasing Cars.
Mitsubishi Outlander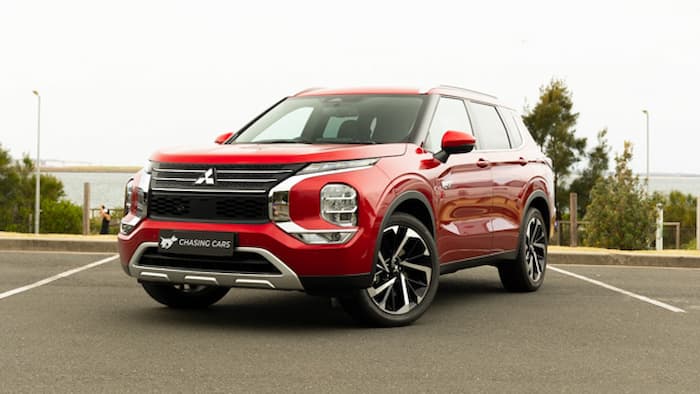 With a great electric vehicle range in the world of seven-seater SUVs, this plug-in hybrid can be hard to miss. The large SUV has a frugal engine and an incredible 10-year warranty.
And while older models might not have offered seven seats in the past, the newest Mitsubishi Outlander is now filling that gap.
Pros
Frugal hybrid engine

Great electric range

Great warranty
Cons
Low seating can impact vision

Increased weight
Read the latest Mitsubishi Outlander reviews and news from our friends at Chasing.
Best Seven-Seat Electric SUVs
Ready to go EV? Check out the seven-seat electric SUVs available in Australia.
Mercedes-Benz EQB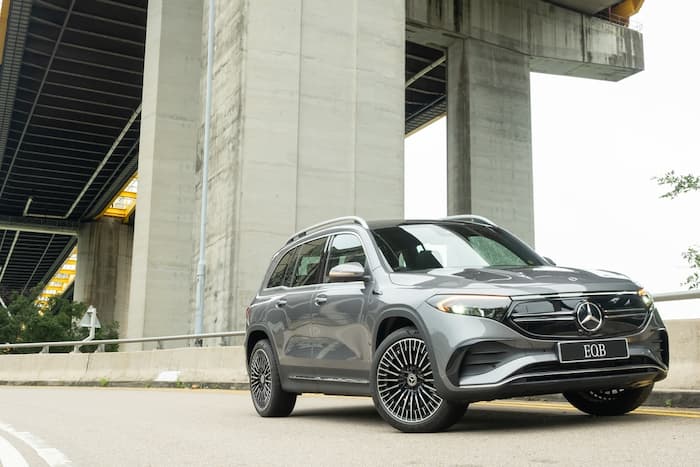 Right now, the Mercedes-Benz EQB is one of the only fully electric seven-seater SUVs available in Australia's electric car market at the moment.
While previously the Tesla Model X offered up the luxury of third-row seating, the car has now been pulled from the Australian market. [2]
But thankfully, Mercedes-Benz is offering up a car that gives a smooth, enjoyable and punchy drive all while presenting a luxurious and comfortable interior.
Pros
Only fully electric seven-seater SUV on the Australian market at the moment

Impressively smooth drive

Quality cabin
Cons
Range could be better

Limited charging

Front-wheel drive and torque can bring wheel spin

Expensive
Read the latest Mercedes-Benz EQB reviews and news from our friends at Chasing Cars.
Key Takeaways
Buy a Large SUV
Buying a large SUV can be a big financial decision as it often comes with higher prices and more expensive running costs. But for bigger families, the cost is likely to be worth it in the long run.
Having that spacious cabin can allow you to enjoy a quality drive without skimping on storage or room for the kids. Whether you only get occasional use out of your car or you're an everyday driver, having a large SUV gets around town in style.
EV Options are Limited
While we've worked to give you three drivetrain options for large SUVs in our list, it's worth noting that the fully electric range in the seven-seat SUV market in Australia is limited. [3]
With Tesla pulling the seven-seater Model X from the Australian market, it's become slim pickings for fully electric large SUVs. [2]
But there will likely be more options on the three-row SUV market to come with brands looking to lean hard into the electric-powered vehicle market in the coming years. So, keep your eyes peeled.
Get the Right Insurance
Car insurance can change depending on the size and use of your car. So if you're in the market for large vehicles, make sure you chat with your provider to get the right coverage for you.