Disclaimer: Data on this website was sourced from Canstar in September 2019 from their latest available data. Auto & General Services Pty Ltd does not guarantee the accuracy or completeness of the data and accepts no liability whatsoever arising from or connected in any way to the use or reliance upon this data.
Medium-sized SUVs are all the rage in Australia and it's easy to see why. SUV stands for sports utility vehicle, which is a fancy way of saying 'a larger car built for a range of purposes'.
More than anything else, medium-sized SUVs are versatile. You can choose between automatic, manual, diesel, petrol, hybrid and a wide range of technologies that make driving safer and more comfortable.
Compared to a hatchback, the best medium SUVs in Australia give you more room — for shopping, pets, camping gear, long-limbed teenagers or anything else you want to bring with you. Fold-down seats can add to existing cargo space.
And because they're so popular, medium SUVs have a healthy resale value.
Even if you don't plan to bounce up the side of a rugged mountain, a medium size SUV offers better off-road capability than a sedan and can handle tougher road conditions.
It's also great for towing. You get just as much comfort and high-tech safety gear as a sedan while enjoying advantages in size, driver visibility, robustness and flexibility of use.
#1. Mazda CX-5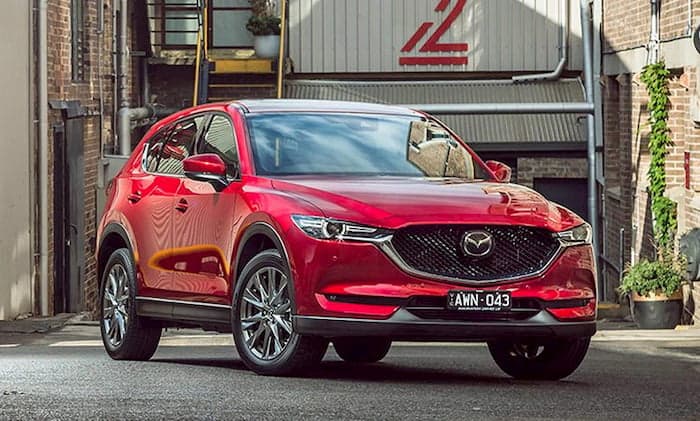 Family-friendly, technologically advanced, responsive and generously equipped with quality safety gear, the CX-5 is an attractive jack-of-all-trades that continues to compete well against its rivals.
It has all the benefits of a solidly built SUV while still managing to look like 'a normal car'.
While all the 2020 specifications for the Aussie CX-5 hadn't been finalised at the time of writing, you'll definitely get keyless entry, push-button start, four-speaker stereo, a leather-wrapped steering wheel, 17-inch alloys and LED headlights — plus all the electronic safety wizardry, comfort and performance that Mazda is famous for.[i]
Pros
Responsive handling and excellent suspension
Rated well for safety
Reliable engine and smooth transmission
Great-looking SUV with quality interior detailing.
Cons
Cargo space lags behind some rivals
Rear seat area is a bit small.
#2. Toyota RAV-4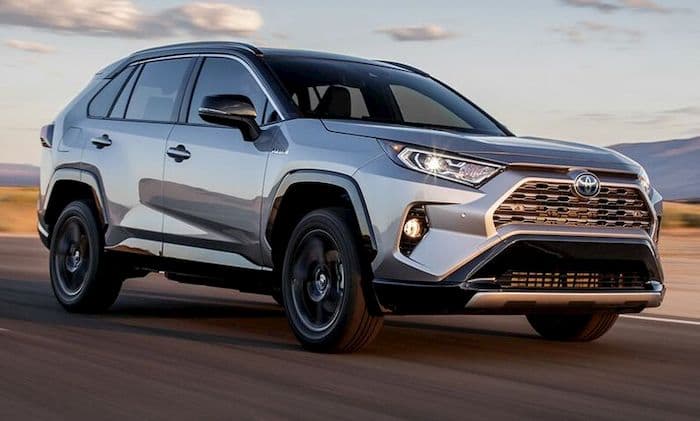 Although there's no longer a diesel version, you can now get hybrid power options in the Rav-4.
This is one of the best medium size SUVs in Australia if you're looking for affordability, flexibility and a serious approach to safety features.
Visibility for the driver is brilliant and the two-litre engine does a nice job under a wide range of driving conditions.
Apple CarPlay and Android Auto Smartphone integration are standard, along with rear-view camera, adaptive cruise control, blind-spot warning and rear cross-traffic alert. The boot is spacious, and the RAV-4 is reliable and economical to run.
Pros
Spacious interior and boot
Top-notch safety tech
Hybrid power options available
Plenty of style and personality
Cons
Slow to respond to accelerator inputs
Infotainment system could be improved.
#3. Mitsubishi Outlander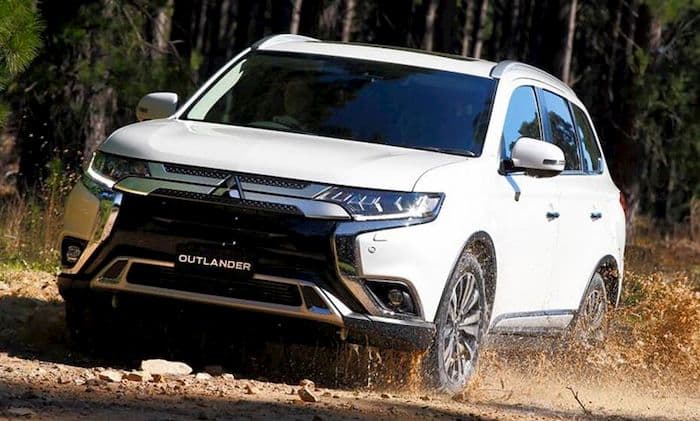 Not too many medium-sized SUVs offer the option of three seat rows, but the Outlander is an exception.
You can seat up to seven passengers or fold down the second row (60/40 split seats) to maximise cargo space.
The third row can be folded down completely or configured for a 50/50 split, making the Outlander super-flexible for growing families.
Buying an Outlander means you get lots of choices: petrol, diesel, hybrid, all-wheel drive and front-wheel drive.
Standard features include cruise control, seven airbags, ample USB ports (front and back), dusk-sensing headlights, hill-start assist and power-operated lumbar support for the driver.
Pros
Excellent fuel economy
Affordable and reliable
Good safety rating
Flexible seating arrangements
Quality smartphone integration.
Cons
Engine noise when accelerating
Third seat row is really only suitable for children.
#4. Subaru Forester
Subaru Australia is launching its first hybrid vehicles in 2020. The latest-generation Forester is one of the models to sport the new 'e-Boxer' hybrid tech, providing lower fuel consumption than petrol-driven versions.[ii]
With more than two decades of proven reliability and safety under its belt in Australia, the all-wheel drive Forester is a solid SUV choice.
It features adaptive radar cruise control, lane-keep assist, swivelling LED headlights, blind-spot detection and a host of other components.[iii]
Pros
Fuel efficiency
More spacious cabin than previous models
Improved interior styling
Comfortable seats with a wide level of adjustment.
Cons
Price rises
Engine is underwhelming
No manual or turbo versions.
#5. Kia Sportage
The 'sporty' aspects of the Sportage are quickly evident when you see its Porsche-like mounted light fittings, tailgate strip light and curvaceous edges.
This aggressive-looking vehicle is pretty flash on the inside, too, thanks to an asymmetrical dash, three-spoke steering wheel and raised centre console.
The Sportage, like many Korean SUVs, is well-constructed, with little touches and comfortable amenities such as reclining rear seats, cup-holders in each door and seat-back pockets.
The Sportage range comprises one diesel and two petrol versions, with a choice of all-wheel or front-wheel drive. Its locally tuned suspension makes it a treat to drive.[iv]
Pros
Seven-year, unlimited kms warranty
Spacious, comfy interior with high-quality materials
Nice range of safety features
Great base model.
Cons
Lower-than-average cargo space
Standard four-cylinder engine is fairly average.
#6. Honda CR-V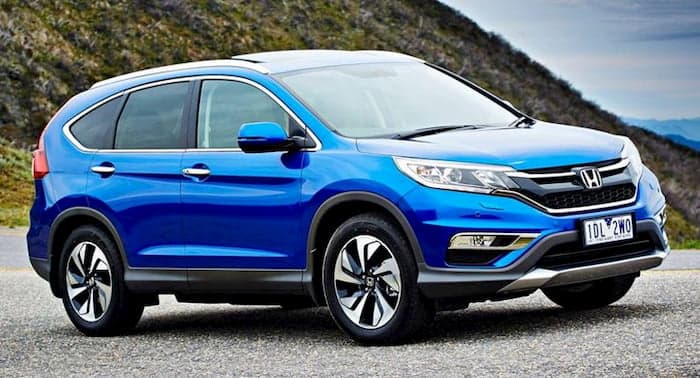 Renowned for ride comfort and roominess, the popular Honda CR-V gives you the choice of five or seven seats.
It has a strong turbocharged engine and its family-friendly cabin includes Bluetooth audio streaming, HDMI and USB inputs, and eight speakers controlled from a central touchscreen.
Its safety features improve vehicle control, fatigue awareness, crash protection and bystander welfare.
The Honda CR-V includes daytime running lights, LaneWatch, a driver-attention monitor, reversing camera, tyre-pressure monitor, six airbags and more.[v]
Pros
Steering feels precise and natural
Superb handling — handles bumps with ease
Tall, wide door openings for easy access
High-quality internal materials.
Cons
Touch-screen interface is a bit clunky and finicky
Navigation system isn't super-reliable.
#7. Nissan X-Trail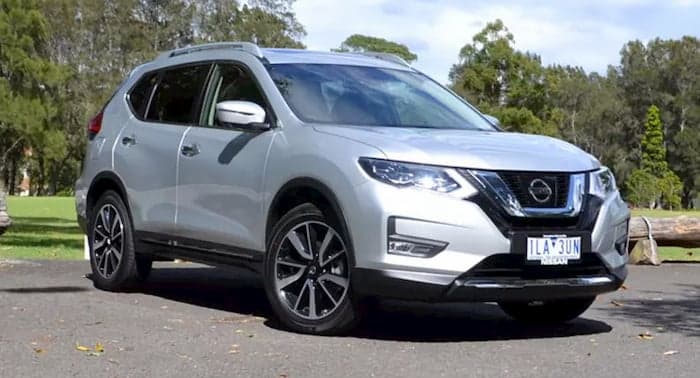 The X-Trail is a dependable, value-for-money SUV that's has been around for decades, growing a little less boxy and a little more versatile with each upgrade.
These days, you'll see it dropping the kids off at school at least as often as you'll encounter it in the outback.
It's a solid performer that offers two- or four-wheel drive, manual or automatic transmission and diesel or petrol engine.
The top-of-the-range Ti is a petrol-driven, 4WD five-seater with a great safety rating.
A panoramic sunroof comes as standard, along with sat-nav, heated and power front seats, automatic tailgate lifter, 19-inch alloy wheels and plenty of other amenities.[vi]
Pros
Sizable boot
One of the safest premium SUVs in its category
High ground clearance
Nice balance of good driving dynamics and comfortable ride quality.
Cons
In-car tech not keeping up with competitors
Limited rear headroom.
#8. Audi Q5
At the time of writing, the changes to the Audi Q5 in 2020 had not yet been announced.
Even so, they're likely to be subtle. You can expect new touch-screen functionality, a wider range of hybrid powertrains and the latest Audi semi-autonomous driver assist system.[vii]
This sharp-looking prestige SUV comes with a long list of safety features.
Its efficient all-wheel-drive chassis rides beautifully, and fuel economy is reasonable in both the diesel and petrol versions.
There's Smartphone mirroring via Android Auto and Apple CarPlay, satellite navigation with voice control, powered front seats, three-zone climate control and part-leather trim in the cabin.[viii]
Pros
Luxury interior
Punchy petrol engine
Abundant safety tech
Impressive braking system.
Cons
Firm ride
Limited cargo space.
#9. BMW X3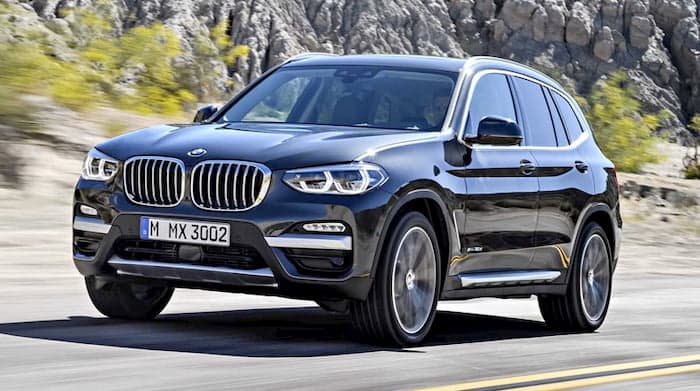 A lot of car manufacturers are adding hybrid options these days — BMW is no exception.
At the time of writing, they were set to launch the first plug-in hybrid version of their X3 in mid-2020, with an electric-only range of up to 55 kilometres.
BMW considers this version an effective compromise solution while Australia continues to install more charging infrastructure.[ix]
Whether you opt for the hybrid or not, you'll love the X3. It's a best-seller in its class, with a hard-to-beat interior, powerful engine, top-notch driver technology and arguably the best infotainment system around: iDrive.
This is a great-looking, smooth-driving vehicle with plenty of variants to choose from.
Pros
Better-than-average powertrain
Superb driver technology
Spacious and practical
Prestige fit and finish.
Cons
Ride is a bit firm
Upgrade packages are expensive.
#10. Holden Equinox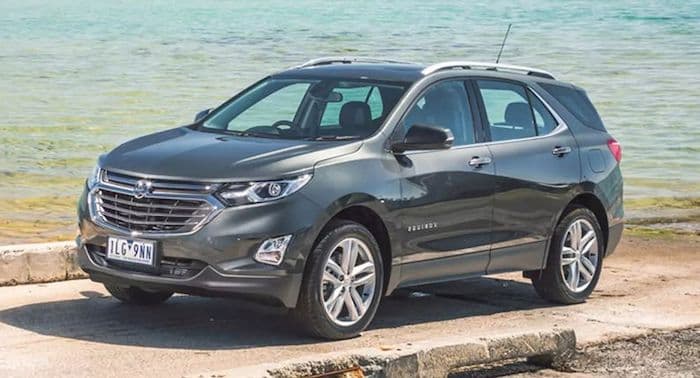 At the time of writing, Holden was looking to revise its Equinox range for 2020, paring down the offerings by axing the two base models (LS and LS+) and manual and diesel versions.
Fortunately, that still leaves four excellent models to choose from.
The LT boasts a 1.5-litre turbocharged petrol engine paired with a six-speed automatic transmission.
It's got oodles of standard features, including 17-inch alloy wheels, an eight-inch touch-screen with Smartphone mirroring, automatic headlights and a whole swag of active safety gear.[x]
Pros
Reliable performance
Plenty of space in the rear seats
Loads of active safety gear
Well-suited to Aussie road conditions.
Cons
Insipid styling
Hard cabin plastics.
The Australian SUV market is incredibly strong at the moment, with lots of promising vehicles to choose from.
Use this handy list as a starting point for finding the best medium SUV for your needs, and then go a bit deeper with more research to create your own shortlist.
Buying a medium-sized SUV guarantees plenty of flexibility, no matter where your driving adventures take you.
SUVs come in a huge range of styles and sizes these days, so we could all use a little help in making the right choice! As well as medium SUVs, check out our round-ups of the best small and large SUVs in Australia in 2020.
Sources