Disclaimer: Data on this website was sourced from Canstar in September 2019 from their latest available data. Auto & General Services Pty Ltd does not guarantee the accuracy or completeness of the data and accepts no liability whatsoever arising from or connected in any way to the use or reliance upon this data.
Looking for a small SUV in 2020? It can be tricky to know where to begin, but this list of the very best small SUVs in Australia should help.
These recommendations are based on Canstar's most recent customer satisfaction survey.
The survey ranks Australia's most popular makes and models according to point of sale service, driving experience, car servicing, value for money, reliability, after-sale service and overall satisfaction.
Small SUVs are flying off Australia's car lots in droves, thanks to their versatility, cheaper purchase prices and lower running costs.
They offer reasonable internal space, a higher driver position for enhanced visibility, and a safer, more comfortable ride in off-road or bumpy conditions.
Equally at home in the city, in the bush or out at the beach, smaller SUVs give you ample flexibility.
They're a great practical choice for a family vehicle: safe, technologically advanced, thrifty with fuel and fun to drive.
#1. Mazda CX-3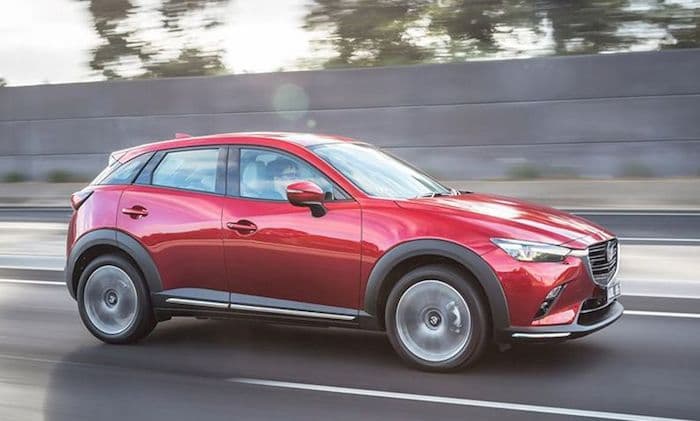 The CX-3 is an urban-focused SUV that seems to get a bit better each year.
It manages to combine the best elements of quality steering and suspension with dependable engine performance and a high degree of comfort.
It's a quiet, stylish ride that gives Aussie car buyers a nice range of engine options and variants.
This baby high-rider copes equally well with city duties and epic road trips.
It comes with a healthy range of standard features including cruise control, window tinting, reversing camera, AUX and USB inputs, AEB, six airbags and plenty more.
Pros
Ideal size for urban use
Engaging appearance
Steering and suspension have a sporty feel
Easily manoeuvres in and out of snug parking spots.
Cons
Not really designed for off-road action
Internal space falls behind some rivals.
#2. Toyota CH-R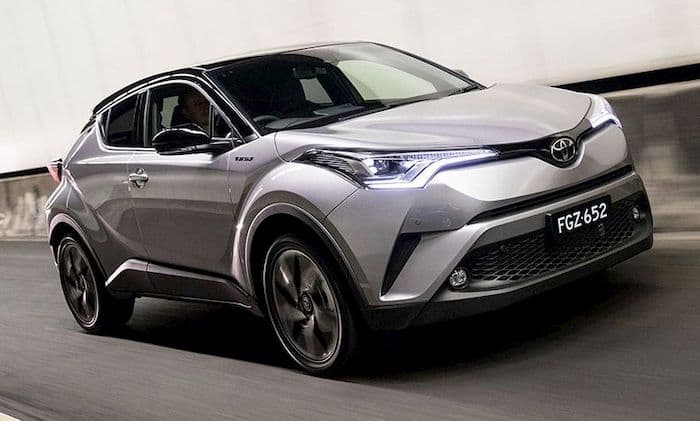 Fuel-efficient, safe and boasting a roomier interior than many of its competitors, the CH-R is attractive inside and out.
Its list of standard features is generous, and it drives like a dream, with excellent driver visibility, sporty handling and comfortable, supportive seating.
Take your pick between turbocharged petrol or hybrid powertrains and a range of bright colours.
Active safety features abound, including hill-start assist, tyre-pressure monitor, child-protector rear-door locks, pedestrian detection, lane-departure alert and more.
The 1.2-litre turbo version is rated to tow up to 600 kilograms.[i]
Pros
Impressive fuel economy
Aggressive, edgy external styling
Exceptional outward visibility
Non-intrusive driver-assist features
Reassuring safety rating.
Cons
Minimal cargo space — tall suitcases have to lie flat
Sluggish acceleration.
#3. Mitsubishi ASX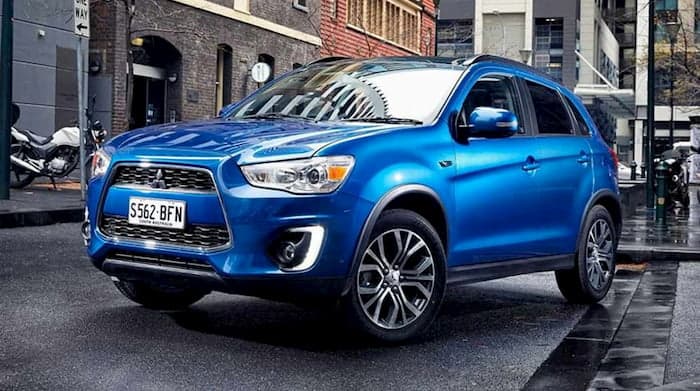 The 2020 ASX has been updated with a new look and engine as well as oodles of up-to-the-minute driver technology that keeps its rivals on their toes.
This hugely popular SUV is affordable to buy, cheap to run, ever-reliable and offers a practical amount of internal space.
This is one of the trendiest, tech-savvy, forward-thinking crossovers on the market.
Standard safety gear includes autonomous emergency braking, automatic high beams, pedestrian recognition and lane-keeping assistance.
The 393 litres of boot space expands to 1193 litres in most versions.[ii]
Pros
Low purchase price and maintenance costs
Two-litre engine performance is enhanced in the 2020 update
Improved appearance
Nice infotainment system.
Cons
At speed, steering can feel a bit leaden
Price creep.
#4. Subaru XV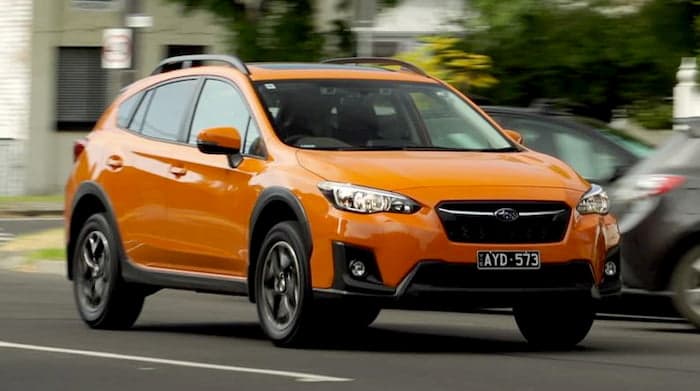 If you like Subaru's Impreza hatchback, you'll love the taller, all-wheel drive XV, which can take you even further off the beaten track.
It feels great behind the wheel, with active torque vectoring, poised steering and a jacked-up suspension that helps keep those bumpy sections under control.
The best value option is probably the 2.0i-S, which costs more but gives you heated front seats, leather seat trim, auto wipers and LED headlights, plus extra active safety features.
The X-Mode system directs drive to the wheels with the most grip, making climbing steep slopes easier. The XV can tow a braked trailer weighing up to 1400 kilos.[iii]
Pros
Decent ground clearance for better off-roading
User-friendly touch screens and controls
Good visibility in all directions
Practical for families — excellent child car seat fixtures
Classy cabin materials.
Cons
Small cargo volume
Transmission can be a tad noisy.
#5. Kia Seltos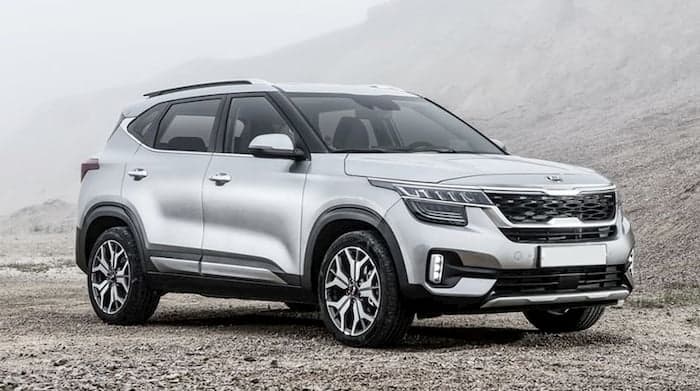 In Australia, the Seltos is offered in five variants with two engine choices.
The front-wheel-drive versions (S, Sport and Sport+) are the most popular, powered by a two-litre, four-cylinder engine matched with a CVT (continuously variable transmission).
Fuel economy comes in at a respectable 6.8–7.6L/100km combined, and the upmarket-looking interior is packed with features.
Models above the base spec get a 10.25-inch, high-resolution infotainment screen — one of the clearest and best-designed you'll see in any car.
This vehicle's power steering and suspension work well on Aussie roads and are a step above many of their rivals.
The level of safety features varies with each model but are generous overall.[iv]
Pros
Seven-year, unlimited km warranty
Spacious, practical interior
Best in its class for technology and infotainment
Superior handling
Cons
Most variants have no rear air vents
More advanced safety features are unavailable in base models.
#6. Honda HR-V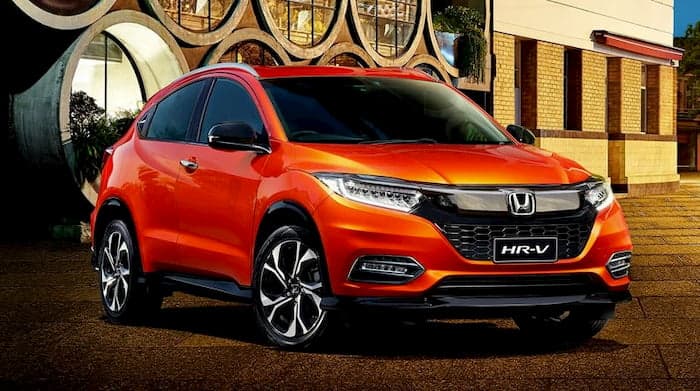 This athletic-looking, front-wheel-drive SUV comes with loads of standard features and provides a bit more cargo space than many of its competitors, thanks to its 'magic seats'.
These create a taller load area than a conventional backrest design because the seat's base also folds down flat.
The steering wheel adjusts for height and reach and incorporates buttons for operating Bluetooth, audio and cruise control.
To help you get around safely, there's low-speed autonomous braking.
The mid-spec VTi-S offers Lane Watch, a passenger-side blind-spot camera that's activated with the indicator.[v]
Pros
More practical than rival SUVs
Generous standard equipment across the range
Plenty of cabin space
Brilliant fuel economy
Superb frontal visibility.
Cons
Noisy engine
Narrow front seats
Sluggish acceleration.
#7. Nissan Qashqai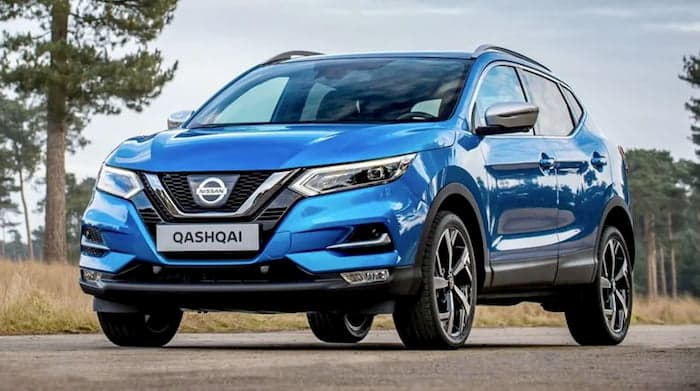 The first thing you need to know about the Qashqai is how to pronounce it (it's cash-kye).
This versatile SUV has broad front seats, an easily accessible touch-screen (five or seven inches, depending on the variant), a user-friendly ventilation system and a quiet interior.
Light, responsive steering and a strong suspension make it easy to pilot around town.
Active safety features include AEB and warnings for forward collision and lane departure.
You also get keyless entry, push-button start, hill-start assist, a reversing camera, LED daytime running lights and six airbags.
In April 2019, Nissan extended its standard warranty from three to five years; this applies to all models, including the Qashqai.[vi]
Pros
Versatile, practical family vehicle
Low running costs
Adventurous, angular appearance
Compact yet powerful engine.
Cons
Poor rear visibility
Tight legroom in the back.
#8. Audi Q2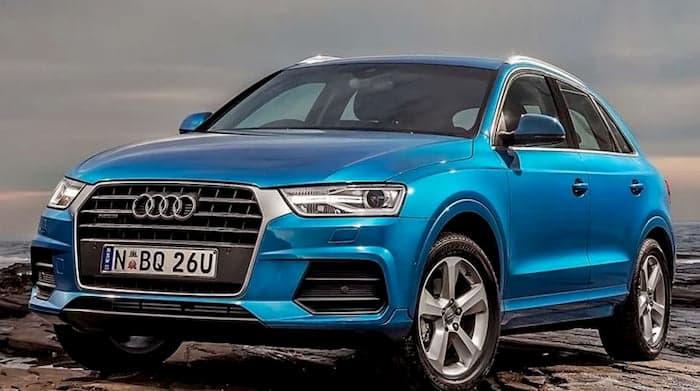 The Q2 is available in front-wheel or all-wheel drive, depending on your choice of engine.
As you'd expect from an Audi, the ride is smooth and controlled, with a quality suspension, well-appointed interior and adjustable steering wheel adding to the comfort level.
The Q2's look is youthful and luxurious, with easy-to-use controls, nice textured surfaces and a punchy eight-speaker sound system.
You'll travel safely and in style with AEB, pedestrian detection, six airbags, sat-nav, long-lasting LED headlights, dual-zone air conditioning, a reversing camera, front/rear parking sensors and windshield wipers that come on automatically when rain starts to fall.[vii]
Pros
Fresh styling and packaging
Superior interior finish
Nice range of optional extras
Minimal wind noise compared to other SUVs.
Cons
Middle rear seat is only good for children, especially in all-wheel drive models
No rear air vents.
#9. BMW X1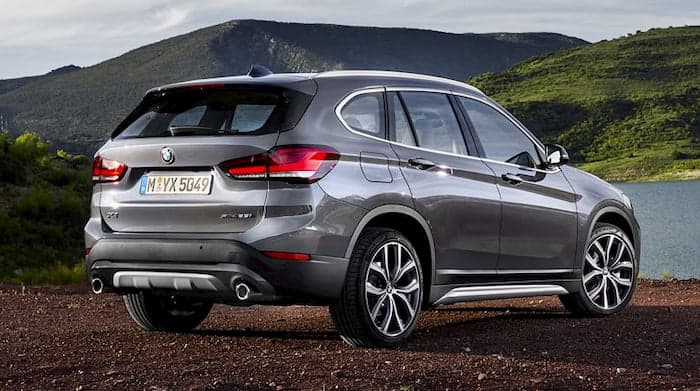 The biggest-selling premium compact SUV on the planet has brought a few changes into 2020.
BMW's entry-level sDrive 18i and 20i models have fallen in price, while the top-of-the-range xDrive 25i (the sole all-wheel drive variant) has risen by a few grand.
Also new is the front grille — a one-piece, kidney-shaped number that extends a little further down the bumper.
There have been some upgrades to interior materials and technology too.[viii]
Seats are supportive and comfy, which is appreciated on those long Aussie road trips.
The rear seats slide backward and forward to create extra room for cargo or rear passengers' legs, and the backrests have six separate angle adjustments.
Connectivity for Smartphones and other devices is excellent.[ix]
Pros
Handles well, including on dirt roads
Powerful, efficient engine
Intuitive interior design
Plenty of modern safety features
Swift acceleration.
Cons
Options are rather expensive
Road and tyre noise.
#10. Holden Trax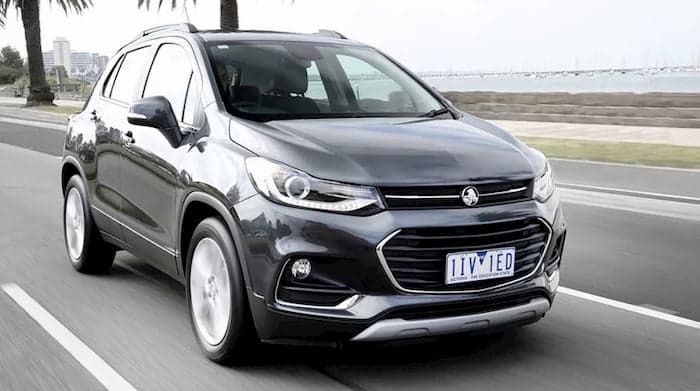 This great-looking SUV comes with a 1.4-litre turbocharged petrol engine (the 1.8-litre manual was dropped from the range in late-2019).
The next-generation models were due to appear in the second half of 2020, however the current Trax is packed with appeal and driver-friendly features.
The steering, handling and Smartphone integration is spot on and there's plenty of high-grade tech in the safety package.
You'll enjoy cruise control, hill-start assist, rear-view camera, headlights that switch on automatically, electronic stability control and six airbags.
There are also roof rails, a leather-wrapped steering wheel and heated exterior mirrors.[x]
Pros
Compact, practical size
Zippy engine performance
Tall driving position
Tech-rich and well-rated for safety
Great infotainment system.
Cons
Relatively thirsty engine
Could include more advanced safety features provided by mainstream rivals.
It's always incredibly satisfying when you're able to find just the right vehicle that ticks all your boxes for size, price, flexibility, safety, comfort and practicality.
We hope this list of the best small SUVs in Australia will give you some useful ideas about where to start your search in 2020!
SUVs come in a huge range of styles and sizes these days, so we could all use a little help in making the right choice! As well as small SUVs, check out our round-ups of the best medium, and large SUVs in Australia in 2020.
Sources