Disclaimer: Data on this website was sourced from Canstar in July 2020 from their latest available data. Auto & General Services Pty Ltd does not guarantee the accuracy or completeness of the data and accepts no liability whatsoever arising from or connected in any way to the use or reliance upon this data.
When you're in the market for a used car, sometimes an SUV can seem like overkill, while a compact car may not be big enough for your needs, especially if you have a growing family.
The solution is a mid-sized sedan, and because there are so many good ones to choose from in this country, you know you'll have no problem finding a model that fits your requirements perfectly.
If you're planning to buy a new sedan, you're normally going to have to spend more than $30,000 for the best models.
However, a quick perusal of used car dealerships and car review sites will show you that there are plenty of quality second hand cars out there to choose from.
If you've got a family, your choice of a used sedan will be determined by factors that include overall safety, fuel economy, reliability and how much internal space the car has.
Because the used car market for sedans is so competitive in Australia, there are some real bargains to be had – and it's always worth doing some aggressive negotiating when discussing price for your chosen model.
And these days, you can even reduce the risk of buying a used car. Budget Direct's free PPSR car history report can let you know if any money is still owing on the car, or if it's ever been stolen or written off.
While the term 'best' can mean different things to different car buyers, here are a few sedan models worth looking at if you're in the market for a second hand family vehicle. There are many more to choose from, of course, but these are extremely popular options, based on Canstar's customer satisfaction surveys.
BMW 3 Series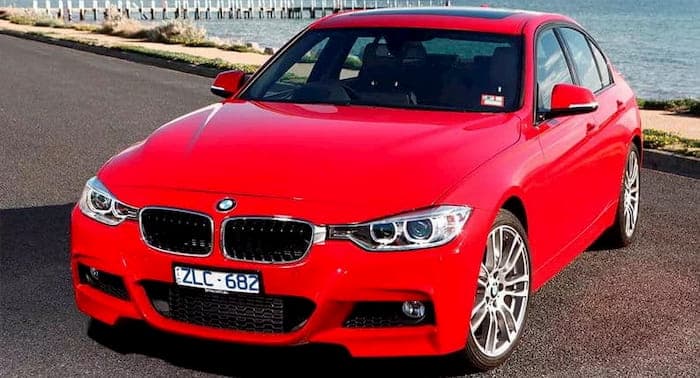 The BMW 3 Series always seems to be one step ahead of the competition, so it comes as little surprise that it tops our list of the best used family sedans in Australia.
The BMW 3 Series' infotainment system is top class, thanks to its precise presentation, speed, and overall user-friendliness.
In terms of actual driving, the BMW 3 Series' engine has everything you could want and then a little more.
Impressing at both high and low speeds, the 3 Series is extremely quick to respond, and should be commended for its refinement.
When it comes to design, the BMW 3 Series is also top class, pairing a sleek – though not showy – interior with ample storage room and comfortable leather seats.
Pros
Excellent entertainment system
Comfortable
High quality engine
Good storage space
Cons
Interior lacks the 'more flashy' design of some competitors.
Ford Mondeo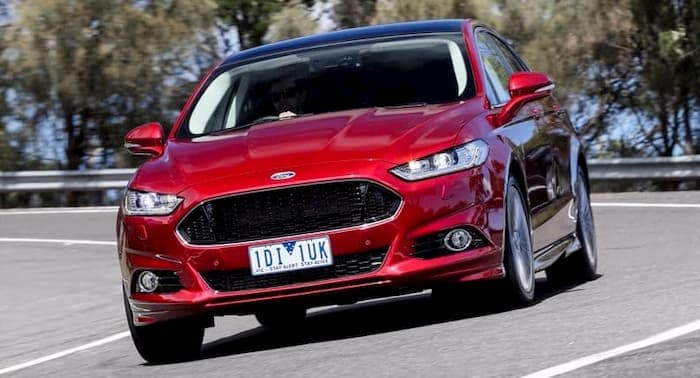 The Ford Mondeo doesn't necessarily go out of its way to impress. Then again, it doesn't need to.
Rather, its smooth, reliable performance does the talking. Whereas other cars will attempt to impress with flashy designs or high-tech gadgets, the Mondeo prefers a more understated approach.
Consequently, it ticks all the boxes and does the basics superbly well.
From a comfortable interior to decent storage space and a modern, intuitive multimedia touchscreen, the Ford Mondeo has everything you could want for a pleasant ride.
Pair this with an engine that offers solid punch, and you have the recipe for an excellent – and extremely dependable – family sedan.
Pros
Comfortable
Ample storage space
Good multimedia interface
Extremely reliable
Cons
Strange windscreen wiper design
Honda Accord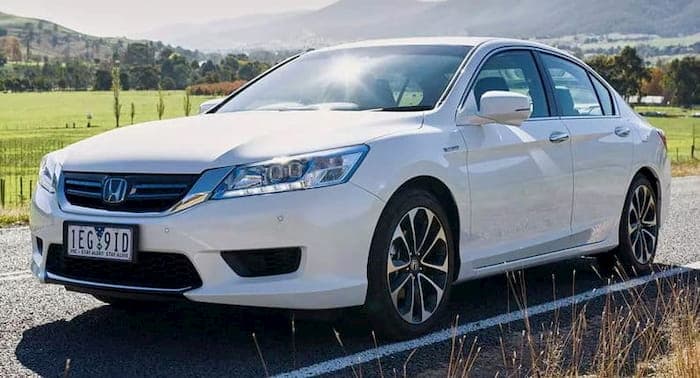 If the only Hondas you've ever driven are their compact cars (like the Civic), you're bound to get a mild shock when you climb into the spacious comfort of the Accord, which is a full-sized sedan in anybody's book.
Despite its generous size, which brings to mind Commodores and Falcons, it packs some impressive fuel-efficiency tech.
Honda is famous for the quality workmanship in its engines, and the Accord doesn't disappoint, offering smooth acceleration and strong performance.
If you're tall, wide or both and like a bit of extra room, the Accord has all the internal space you'll need.
Pros
Dependable engine
Extremely spacious interior
Clever eco-technology
Easy rear-seat access
Cons
Hyundai Sonata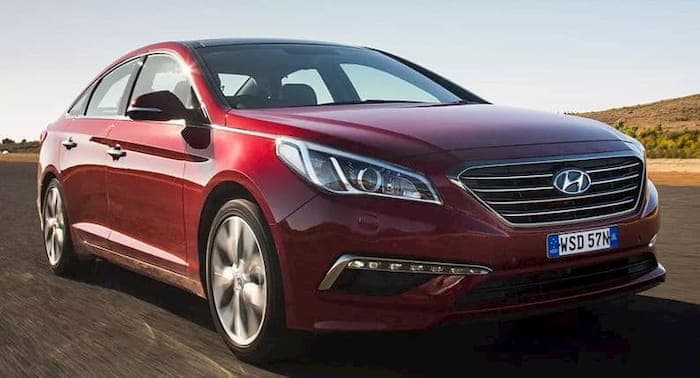 The Hyundai Sonata is many things: a large car disguised as a medium sized sedan (more on that shortly), a dependable workhorse, and even a stylish piece of eye candy.
Most of all though, the Hyundai Sonata is a lot of fun, both to drive and to own.
Its exceptional steering and suspension make it stand out from the pack and it handles like a dream.
But the Sonata is something of an enigma: from the outside, it's very much a medium sized sedan.
However, once you take your place behind the wheel, you could be forgiven for thinking this was a large sedan. Offering plenty of storage space and legroom, the Sonata is ideal for taller travellers.
Combine this with comfort and good value for money and you have a winner!
Pros
Highly responsive steering
Impressive cabin room
Comfortable drive
Stylish design
Cons
Lacks some of the tech features (collision avoidance) of competitors
Mazda 6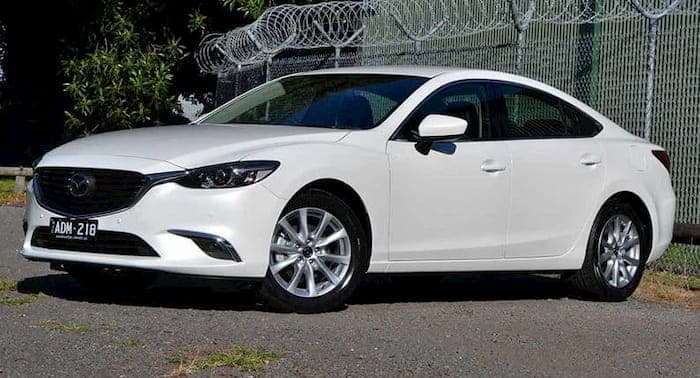 The Mazda 6, the Mazda 3 and the Mazda 2 have all proven their worth to discerning Australian car buyers over the years, with all providing a comforting level of reliability.
Though the Mazda 6 can sometimes be mistaken for the Mazda 3 from the outside, once you get a peek at the interior, the differences are plain to see: the 6 has a much larger boot and more room for the rear passengers.
This is a 5-star-rated car for safety, with electronic stability and traction control, 6 airbags, front and rear park sensors and auto wipers and headlights.
The handling is smooth and balanced and the engine is peppy enough.
Pros
Excellent fuel economy
Quality digital technology
Good handling
Cons
Bland interior design
Navigation touchscreen is a bit fiddly
Key takeaways
Because mid-sized family sedans are so ubiquitous in Australia, there is always a good selection of second-hand ones available to choose from, whenever you're looking to buy
Safety features, fuel economy, internal space, and mechanical reliability are all important factors when shopping for a family-friendly vehicle
Because there are so many mid-sized sedans on offer, there is likely to be one that matches your specific needs, so be sure to do your research and shop around