Disclaimer: This information is general in nature only. While Budget Direct has endeavoured to ensure the information we've relied on is accurate and current, we do not guarantee it. Budget Direct accepts no liability for this information.
Everyone wants to feel safe and secure in their own home, and seniors are no exception.
You can help yourself or a loved one by creating a safe living place.
Here's a look at some of the most common safety issues that affect mature-age homeowners, along with some handy tips to improve household safety.
Home security
Being burgled is a traumatic experience for anyone, but seniors are left feeling especially vulnerable after their home has been broken into.
Having appropriate home and contents insurance can alleviate some of the financial risks, but the psychological effects tend to last long after the burglary has taken place.
Fortunately, there are some basic steps that can be taken to reduce the risk of a home break-in.
Have durable locks installed on all windows and doors, along with security screens where possible.
Trim any shrubbery that's right up against your house and keep your garden maintained. A house that is unkempt can give the impression that no one is home.
Thieves can steal your purse or other items while you're still in the house, so always keep your front and back doors locked.
The fewer people you tell about your holiday plans, the safer your home will be while you're away.
To make it look like you're still at home, you can install lighting timers.
You may also want to consider installing a good alarm system, possibly even including CCTV cameras.
If you have a shed in the backyard, make sure it's locked up tight – otherwise, thieves might use your own tools to break into your house.
Always have a digital photo record of the most valuable possessions in your home. That way, if you're burgled, you'll have proof of what you owned when it comes time to make an insurance claim.
Fire safety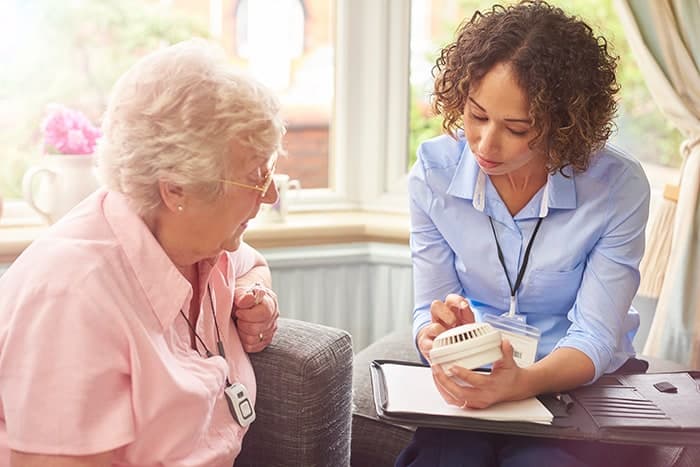 Most residential fires are caused by electrical faults, lamps, smoking-related incidents, heaters and open fires.
And the majority of home fire deaths result from smoke inhalation rather than burns or heat exposure, so fitting quality smoke alarms is essential.
Related articles:
Some house fires can smoulder for quite some time, and a large amount of toxic smoke can build up long before flames materialise.
If you do see or smell smoke, get down on the floor (where the air is cleaner) and crawl quickly to safety.
Every home should have at least one fire extinguisher and a fire blanket, easily accessible, and ready to use.
If you believe you can put out a smaller fire, do so. If the fire is out of control, evacuate your home immediately and call 000 (triple zero) to summon the Fire Service.
If your clothes catch fire, remember the Stop, Drop and Roll rule to smother the flames on your clothing.
Don't try to re-enter a home that's on fire – your life is worth much more than any valuables left inside.
Most house fires are preventable with a few simple precautions:
Don't sleep with electric blankets left on.
Don't smoke in bed.
Always use a licensed electrician to perform any electrical work around your home.
Don't leave the stove unattended, and make sure tea towels and other flammable items are kept well away from cooking surfaces.
Store any flammable liquids away from heat.
Move candles away from inflammables like curtains and cushions.
Don't sleep with a candle burning.
Don't overload your power points and clean those piles of dust out of your computer hard drive. Clean your clothes dryer's lint filter after every use, and have your chimney and flue cleaned once a year.
Unplug electrical appliances when not in use.
Many parts of Australia are especially prone to bushfires, so it pays to have a bushfire action plan in place for your home.
All state governments have websites that can provide essential information on how to prepare for bushfire season.
Being properly prepared can make the difference between a safe outcome and the loss of your home.
Related article: Bushfire survival plan
Preparing for storm season
When measured by insurance costs, severe storms are the most dangerous natural hazard in Australia and are annually responsible for more damage than earthquakes, bushfires, tropical cyclones, or floods.
Storms can be fatal, too – from lightning strikes, flying debris, falling tree limbs, exposed power lines, and boat capsizes, just to name a few of the dangers.
Related article: How to prepare for storm season
To prepare your home for storm season, start by trimming tree branches close to your house, and ensure your downpipes and gutters are free of debris.
Check your roof tiles and clear your yard of any materials that could become projectiles in a high wind.
Make sure your home insurance is adequate, up to date, and covers you for what you need.
Sturdy, metal security screens on glass doors and windows aren't just useful for burglary protection – they can also help protect your home's glass from hail damage.
If a severe storm is on the way, stay tuned to your local radio station for official warnings.
Charge your phones so you have access to emergency services and their messages.
Loose items like outdoor furniture and empty rubbish bins should be stored inside your garage or house until the storm passes.
Disconnect all electrical items, including your computer and modem. Close and secure all windows and doors, pull your curtains, and get your vehicles under shelter if you can.
When the storm arrives, stay inside away from windows, skylights and doors.
If the roof starts to go or the building begins to break up, shelter under a mattress or a strong table for protection from falling objects.
Because of the danger of lightning, don't use your landline phone during a thunderstorm.
After the storm has passed, check for damage and make whatever temporary repairs you can, but beware of flooded areas and downed powerlines.
Know who to call if you need help: you should have the numbers for your local SES, home insurer and power, gas, water and electricity suppliers at the ready.
Gas and electric safety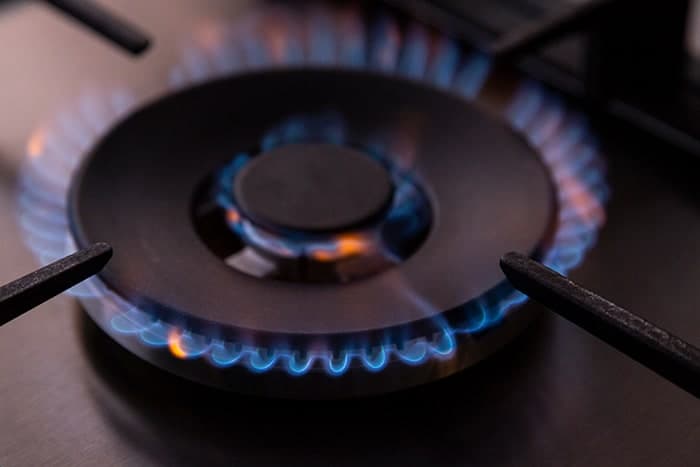 If you use gas for heating or cooking in your home, it helps to understand some basic safety rules.
Always have gas appliances installed and repaired by a licensed/registered gas fitter, and only use approved AGI (Australian Gas Industry) appliances in your home.
A normal gas flame should be blue; if it's yellow or red there's a problem, and you should have your gas appliance checked by a professional immediately.
Never use outdoor gas barbecues inside the house and clean them well after using to remove excess grease. Gas cylinders should always be kept in an upright position and stored out of the sun.
Gas poisoning can lead to dizziness, headaches, nausea and other symptoms, so pay attention to the warning signs and exit the house if you believe a gas leak is making you ill.
A gas leak from appliances can usually be smelled because of the added scent, but carbon monoxide is different: it's odourless, colourless and tasteless – and it can kill.
It occurs when there is incomplete combustion of fuels like gas, oil or wood, and it can be a problem in winter when people use ancient or faulty heaters in confined spaces with poor ventilation.
Carbon monoxide gas can even pass through walls. Smoke alarms do not detect carbon monoxide gas, so it's imperative to install both smoke alarms and carbon monoxide alarms in your home to protect against both threats.
Electricity makes all our lives easier, but it has its own share of hazards. Don't try to perform do-it-yourself electrical jobs in your home – always use a licensed electrician for any work.
Safety switches should be installed at your meter box and tested 3 or 4 times a year by pressing the 'test' button.
Don't use electrical appliances near water, and if an appliance cord is visibly frayed or worn, don't use the item until it has been repaired by an electrician.
If you've experienced a water leak anywhere in your home, have your electrical system checked to ensure water hasn't worked its way into any circuitry.
Don't overload your electrical sockets. Use a power board with a built-in surge protector. When you need to change a light bulb, always turn off the power first and let the bulb cool for a few minutes before replacing it.
Medical emergencies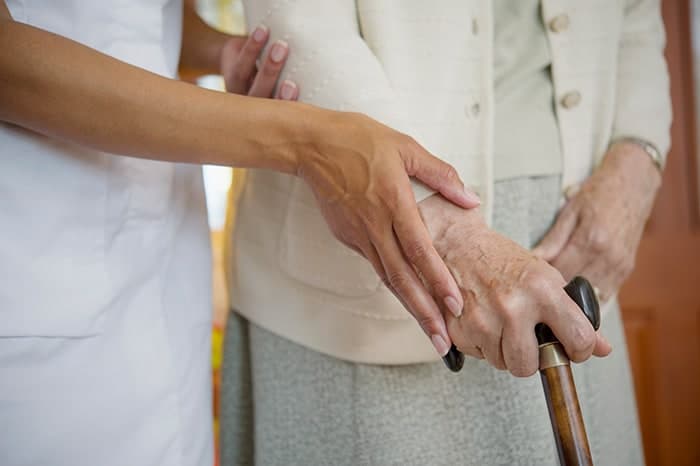 For seniors, the prevention of accidents (especially falls) can be aided by making a few alterations to the home.
Watch out for:
Slippery or worn kitchen tiles
Outdated appliances
Doorway thresholds with a lip
Steep stairways
Shower stalls (or tubs) that are unsafe to step over.
Installing handrails in useful locations around the home can make life easier for older homeowners, and non-skid strips can be added to the bathtub as well as areas with floor tiles.
For arthritic fingers, lever handles are easier to turn than round doorknobs. Many falls occur in the bathroom, so it's worth considering a change to a lipless, walk-in shower with a built-in bench seat, or a walk-in tub (so the bather can sit and swing their legs into the tub).
It is important to create a safe environment in and around your home to reduce your risk of falling.
Falls are one of the main reasons that older people are admitted to hospital or need to move to an aged-care home.
Whatever renovations you decide upon, make sure you have them performed by a licensed, professional contractor with plenty of experience in completing these types of modifications.
Unfortunately, even with caution and a safe home environment, medical emergencies can still occur. When they do, it's vital to have all your emergency phone numbers readily accessible: police, fire, family members, personal physician, poison hotline, etc. If you rely on a mobile phone, keep it charged so it's ready when you need it.
Assemble an emergency kit for home use, as well as an evacuation kit in case you have to suddenly leave your home due to a bushfire, cyclone, flood or other natural disasters.
Organisations like the Red Cross can provide helpful information about what to include in an emergency kit.
One should consider investing in an Emergency Alert device.
In case of emergency, the senior can call for help by simply pressing the alert button, without needing to reach the telephone.
For minor medical issues, ensure you have adequate first aid supplies available. With major medical situations, don't hesitate to ask for outside help immediately.
Insurance
Your home is the most valuable asset you own, so keeping it safe starts with obtaining quality home and contents insurance.
Insurance can't magically eliminate the prospect of house fires, home theft, electrical motor burnouts, storm damage or burst pipes, but it can certainly help homeowners (senior and otherwise) to deal much more effectively with the aftermath – and provide the peace of mind that comes with being financially protected against the unexpected.
If you're interested in learning more about senior safety at home, get tips from Australia's leading experts.
Sources