Disclaimer: Neither Auto & General Insurance Company Ltd nor its representatives necessarily endorse or recommend the views of the contributors. Please check the Product Disclosure Statement for any limitations in cover when altering or renovating the home.
With an increasing number of home renovation shows on our screens, it's hard to know where to turn when you're looking for some handy home reno tips.
These shows can be entertaining, but do not always show what real-world home renovation is like, especially involving the cost and the time it takes to get things done.
While there are some easy improvements you can make before selling, if you really love your house and your neighbourhood then renovating can save you the hassle of selling up and moving altogether.
It's rarely a stress-free experience, and that's why we've complied some tips for you on how to successfully renovate your home.
Local council and regulations
Before you make changes to your home, check with your local council to see if approval is necessary first. Depending on the nature and extent of the work, you may be required to lodge a Development Application (DA).
If you neglect to file the essential paperwork, you could be in breach of various laws. Even renovations that you might consider minor could in some instances require local council approval, so always seek their advice first.
If your plans contravene Building Code of Australia (BCA) guidelines, your DA will likely be unsuccessful. Remember that you may also have to consider factors relating to heritage regulations (if applicable) including; body corporate requirements, estate covenants, water-saving or energy-saving regulations, etc.
Aside from BCA regulations, there may be additional legal requirements to meet within your own state or territory. If you're using outside tradespeople and their work exceeds a monetary amount specified by your state, you may be required by law to have a contract drawn up.
Even in circumstances where a contract isn't legally necessary, you might want to have one anyway, just for peace of mind.
Home insurance and renovations
Before undertaking any home renovation work, always contact your home and contents insurer to let them know about the planned work (this is a stipulation with most insurers).
There is no 'blanket policy' with home insurers in Australia regarding what they do or don't cover during renovations. Each insurer is different, so it's your responsibility to inform them of your plans and ask the necessary questions.
Never assume your current home and contents policy covers you during renovation periods – quite often you'll find it may not. It all depends on your individual insurer; your individual policy and the type and extent of work being carried out as part of the renovation.
If you're going to be away from your home for an extended period, this can also affect your cover. It should be stressed that you should ask your insurer if you're covered under public liability and home and contents insurance while you're renovating. Make sure to contact your insurer directly and ask them those questions.
Some insurers may provide partial cover during renovations, with specific limitations, for example, they might not cover water or storm damage if a portion of the house has been left exposed to the weather during renovation work.
Other insurers may offer an additional separate cover applicable to renovation periods. You should confirm the facts with your insurer so there are no doubts in your mind about what you're covered for (or not) while renovations are happening.
Always review your home and contents insurance yearly to ensure it's up to date, especially concerning the value of your house and household items. There are plenty of home and contents insurance calculators online that can give you a pretty accurate idea of the value of your home and contents.
The other advantage of annually reviewing your cover is that it gives you an opportunity to check around and see if there's a better deal elsewhere.
It's important that you do everything you can to protect your home during renovations. Don't leave the lawn unmown for weeks (an invitation for burglars) or have builders leave expensive items in plain sight where they can be stolen.
Make sure that you don't slacken your home security procedures during renovations – even if you've moved most of your valuable items out beforehand.
And keep in mind that you should also make sure that the builders you're using are licensed and insured as well.
Safety issues
You should ensure your safety and the safety of your loved ones while renovating. If you have small children, keep them well away from work areas, cords they might trip over, electric tools and any other dangerous areas of work.
Be careful not to breath in dust or chemical vapours while renovations are going on.
Homes built before 1990 may contain asbestos in areas like roofing, wall lining or eaves, so make sure to have a specialist asbestos removal contractor on hand to deal with these situations.
If you haven't had your house checked for asbestos, get this done before starting renovations. Asbestos can be found in some unlikely places around the home: inside fibre cement sheeting (fibro), as a component of pipe insulation or even as a backing in vinyl floors.
Normally, renovations needing Development Application approval will have a hazardous material survey carried out.
Asbestos is an extremely dangerous material; inhalation of its microscopic fibres can cause asbestosis, lung cancer and mesothelioma. You must leave it to a licensed expert to remove and dispose of it according to local regulations.
Before 1965, domestic paints contained as much as 50% lead (these days it's 0.1% or less), so if your home is of this vintage, it may require specialist treatment from experts when repainting or removing.
The Australian Government has published a handy online guide: Lead Alert: A 6-step guide to painting your home that outlines the risks associated with lead paint and how to deal with them.
There may also be structural damage to your house that you're not fully aware of. Damage can occur due to a range of different causes. Some of these may include unseen water damage, termites and rising damp.
Make sure anything you stand on can support your weight and watch where you place ladders when you're working at a height. If you're walking around on your roof, know which areas are weakest and avoid putting your full weight there.
The same applies to the crawl space above your ceilings – go slow and distribute your weight carefully.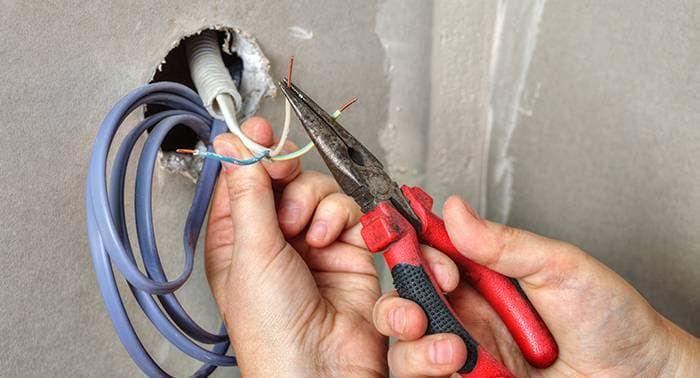 Are you taking risks? Don't dabble in DIY electrical work – always use a licensed electrician. Have an electrical safety check done on your home before commencing renovations and check safety switches regularly once work is underway.
Follow all safety procedures while you're working. Store tools away when not in use and don't leave cords where you can trip over them.
Wear whatever protective clothing or equipment is needed for the job: steel-toed boots, eye protection, dust masks, coveralls, etc.
Should you hire builders or do it yourself?
Renovating your home yourself or having a licensed contractor do the job is dependent on several factors. One of the major ones being how time-consuming home renovation can be.
If doing it yourself will mean that you'll be saving money but also devoting every waking hour to your renovation, consider whether it would worth it.
It's advised that specialist jobs should be left to experienced professionals who can get the job done faster and more efficiently.
If you do hire contractors to carry out renovation work, make sure you understand the full implications of the contract, especially if unforeseen circumstances necessitate a work stoppage or other unexpected events occur.
And if you do your own renovations or manage sub-contractors who are under your control, you are what's called an owner builder. Owner builders are subject to specific legal obligations and rights (check with your state or territory) and need to be familiar with relevant legislation.
The advantage of being an owner builder is that you may save costs and have more flexibility around scheduling of work and completion dates.
However, as an owner builder you will be taking on many of the responsibilities of a registered builder and also accepting any financial risks.
You're responsible for insurance requirements, the health and safety of workers (and making sure they're licensed), organising a professional building consultant to check the quality of work as well as overseeing any necessary inspections and permits.
Even as an owner builder, you're legally required to hire licensed tradespeople to perform certain jobs (like plumbing and electrical).
Wherever you live in Australia, you'll find government websites outlining your responsibilities as an owner builder, so have a look at these before making any renovation decisions.
Common home renovation mistakes
It's easy to get caught up in the excitement of renovations without giving too much thought to all the ways things can go wrong. Home renovations can be unpredictable at the best of times and that's why we've compiled a list of common home renovation mistakes for you to avoid.
When it comes to renovating, it's important that you don't underestimate how much it will all cost. Carefully define the exact parameters of what you want to achieve and then seek several quotes from different contractors.
Make sure you add in any associated costs including extra insurance, permits, inspection fees, levies or council application fees.
You should also factor in the cost of living somewhere else while your home is being worked on.
Careful planning and preparation are essential parts of any home renovation. Make sure to know your costs, get your quotes, understand timings and familiarise yourself with all necessary regulations.
You should also ensure that you've got a solid contract drawn up with your builders and tradespeople. Work agreements should always be in writing, checked over by your solicitor and signed by both parties.
Don't start spending money on materials, supply and labour until you're totally happy with the plans you have in place. Once building is fully underway, it can be extremely expensive to change your mind.
Before you begin renovations it's important to establish whether your home is structurally unsound. Have professional building and pest inspections conducted to determine whether this is true before renovating.
If your house has existing structural issues, renovations may cause even more damage and ultimately reduce your home's value.
A few 'minor' renovations might be all it takes for problems to develop, leading you down a slippery slope of never-ending repair costs.
It's important that you value your own money (within your budget) and ensure that you're not cutting any corners in the renovation process.
We all have different priorities when renovating our homes and if you cut corners on labour or materials, there's a good chance you'll be paying for it in the form of extra maintenance and repairs in the future.
You can always research potential contractors and check qualifications and experience levels, testimonials, industry awards, warranties and anything else that might give you a better idea of their quality of work.
Environmentally friendly renovation
Making your home energy-efficient can make it more comfortable to live in and save you money in the long-term.
The amount and quality of the insulation in your home may make a huge difference to your energy bill.
Changing your insulation, adding solar panels or even buying energy-saving appliances can also help.
If you're not sure where to begin in making your house more eco-friendly, have a look at the government website Your Energy Savings, which has some great tips and advice on the subject.
These renovations will depend on the type and location of your house and budget, but many 'greener' alternatives may be more cost-effective than you think.
It's worth looking into the possibility of installing energy-efficient lighting, solar hot water systems, efficient appliances and building materials, and more cost-effective ways to heat your home in winter.
Renovations don't have to be complicated or expensive
There are several things you can do in your renovation that are cost effective and will give your home a contemporary new look:
Clean your curtains
It sounds simple, but if you can't even remember the last time you did this, then it's time. Depending on the fabric, you can clean them yourself, or if you're not sure, take your curtains to a professional dry cleaner and let the experts do it for you.
Grab a paintbrush and roller
A fresh coat of paint, both inside and out, can add value to your home and make it look better. Don't forget doors, baseboards, ceilings and any other areas that could be brightened. Painting is one of the best ways for sellers to make their home appear more valuable to buyers — at a minimal cost.
Use a pressure washer
Rent, borrow or buy a pressure sprayer that attaches to your hose and gives the outside areas of your home a wash. Please don't be tempted to use a pressure wand to clean your roof — not only is it extremely dangerous to be standing on a wet roof, but many types of roof tiles can be damaged if the pressure is too high. If your roof's appearance is bringing down the overall look of your home, call in professional roof cleaners to get it cleaned properly.
Replace your fans
Old fans don't do your decor much good, so consider updating the worst of your fans with more modern alternatives. Fans are fairly inexpensive, and you'll need to pay a licensed electrician to install them.
Replace your handles
Brand-new stainless-steel handles on doors, kitchen cabinets and bathroom fixtures can give your home a spiffy look, and they're both inexpensive and easy to install. Make sure you call a plumber to install any new tap or shower fixtures.
Sources