Key findings
Brisbane spent over $880 million on home improvements.

Perth spends the least on home renovation, at $19 million in 2022.

A two-storey extension costs 7.2 times more than the Australian average salary ($69,888).

Design dilemmas are the most commonly discussed renovation topic among home improvers
In recent years Australia's property market has taken a hit from the rising costs of both interest rate rises and inflation. This has made many Australians reluctant to purchase property. In fact, new home sales have dropped by an eye-watering 42 per cent. With this in mind, people are likely considering ways to make the most of their current spaces, as opposed to getting onto the property ladder.
Home renovation can be a fantastic way to add value to your property and improve the overall aesthetics of your home. However, it can be more challenging than just a lick of paint and many home renovation projects are costly, especially for more significant home improvements such as extensions or an alteration.

With many falling in love with postcodes over properties, as time moves on, the conversation about home improvement starts and individuals are left looking at decisions between extending the home or moving completely.

With that in mind, we have investigated where in Australia spends the most on home renovations as well as looking at what types of home improvements are discussed most often.
The value of renovations and alterations in Australia's top 20 cities and regions
The city that spent the most in home renovations and alterations in the last year is revealed to be Brisbane, Queensland, with a spend of over $880 million on home improvements. The cost of living in Brisbane is significantly higher than in Perth (who are spending the least on home renovations at just over $19 million) so it's perhaps surprising that so many are looking to make home improvements, as opposed to moving to a more affordable area.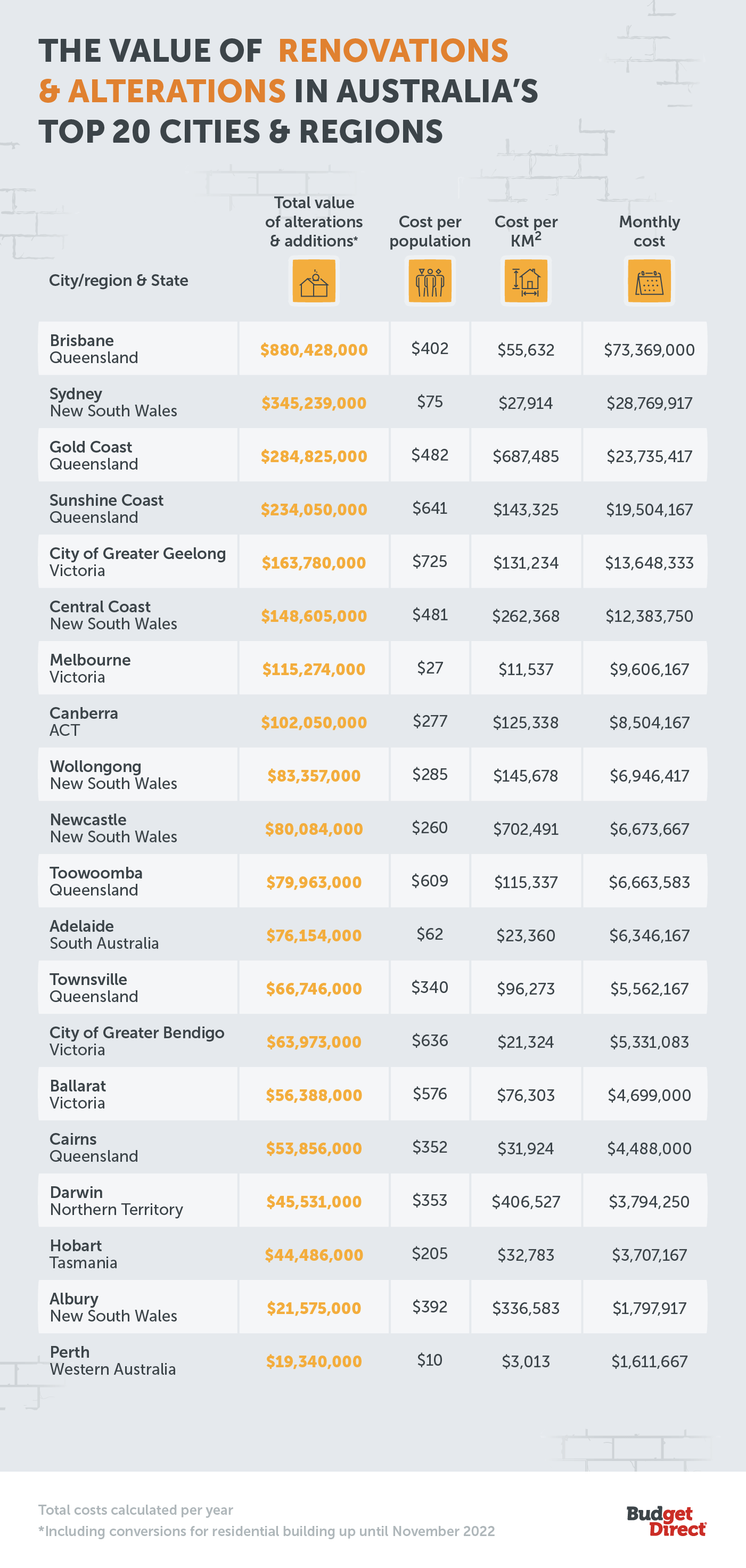 When looking at these costs in relation to population size, the story changes. The City of Greater Geelong, Victoria, comes out as the biggest spender by population size with $725 per person spent on home improvements. The Sunshine Coast has the second largest spend per person, at $641.
Biggest spenders Brisbane has a total cost of $402 per person spent on home improvements - the 8th highest of all cities.

Data has been collected at the LGA level for each city and region within each state and territory, looking at building approvals in Australia, published by the Australian Bureau of statistics.
How much does each extension/conversion cost?
When looking at the highest renovation cost, a two-storey extension will set you back the most, costing an average of $504,000.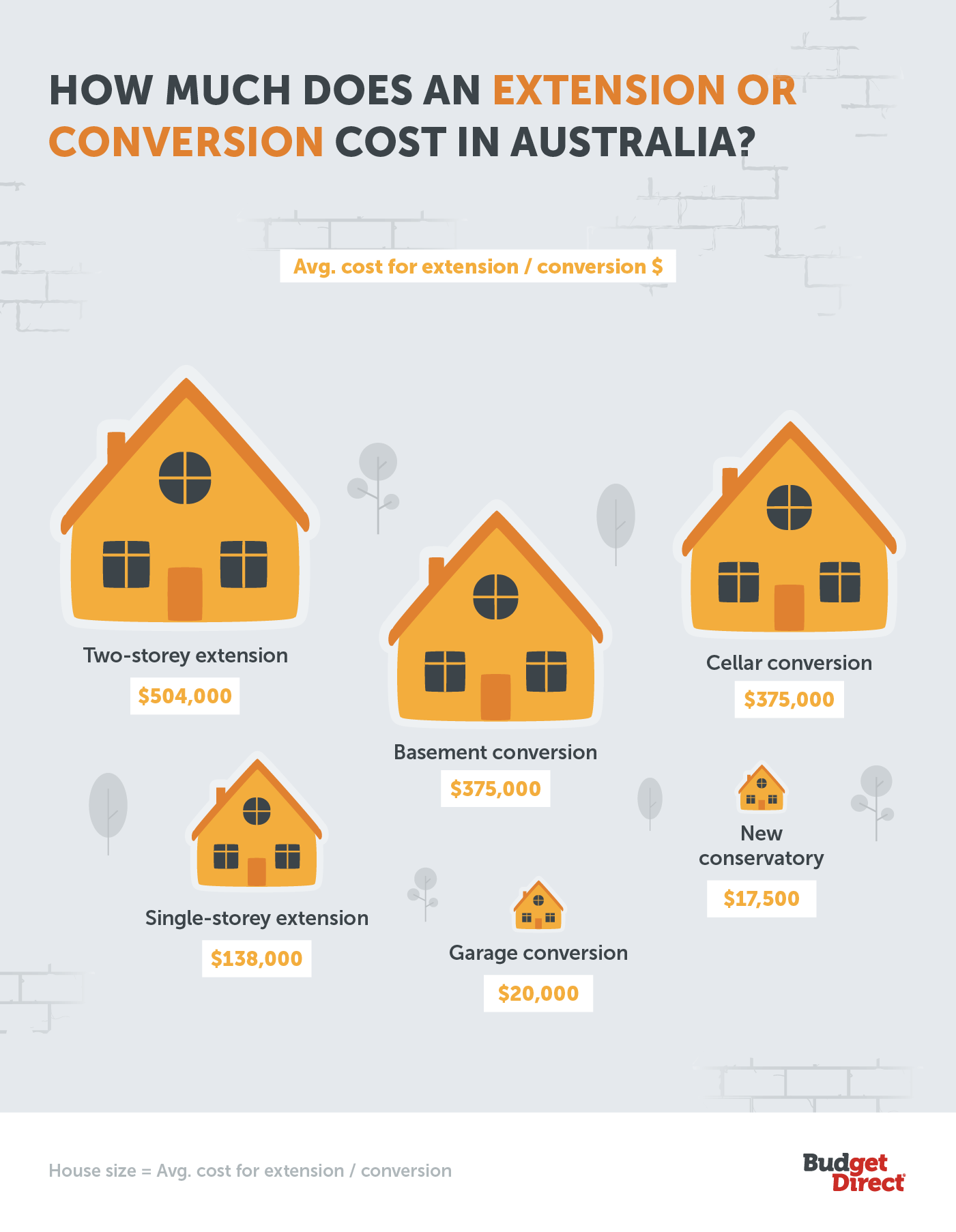 Basement conversions are the second most expensive renovation cost, at $375,000. The higher cost is due to the fact that contractors need to be extra careful not to damage the property above the basement, which.typically adds to the time it takes to complete the job. 
The cheapest home improvement was found to be a new sunroom, costing $17,500. Coming in at $486,500 cheaper than the highest renovation cost of a two-storey extension, it could be a money saving alternative if you are looking for a little extra space but don't have the funds for a full extension. 

Whilst renovation expenses may seem costly at a glance, the return on your investment is usually seen when it comes to selling your property, or at the post-remodel property valuation. However, while renovation can be profitable, it's important to do your own homework about whether this is the right investment for you and your home. 
Which renovations do Australians discuss the most
We wanted to investigate what areas of home renovation are getting the most 'buzz' online, so we scraped Houzz's Australian forum, specifically looking at the topics of home renovations and projects.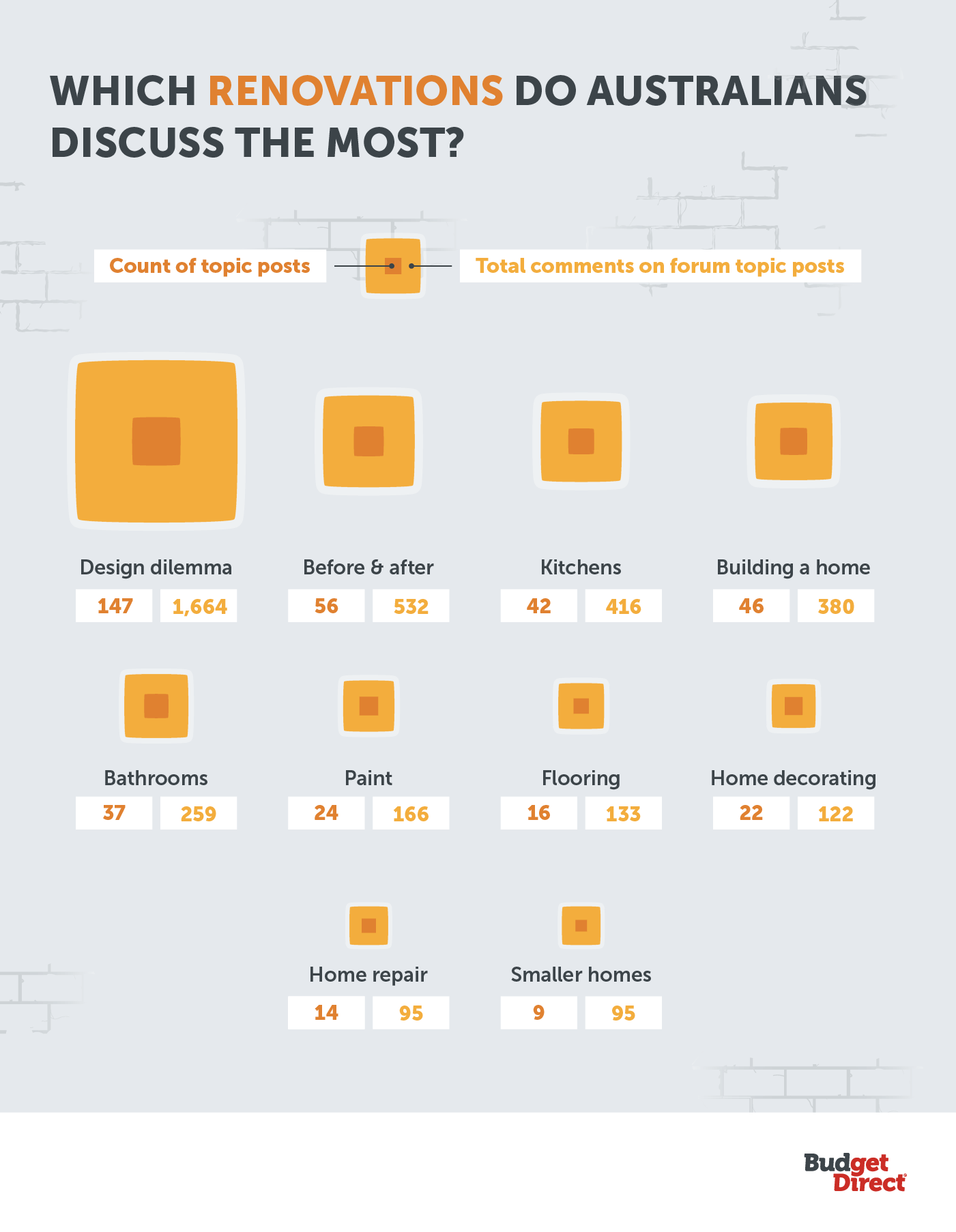 Design dilemmas come out as the most discussed topic with 1,664 comments, suggesting that many people are turning to the internet to share frustrations about their home renovation. This also offers a great opportunity for individuals to share advice and learn from those that have gone through the process. 
Before & After (532 comments) is the second most common topic within the forum, with many looking to show the progress that has been made throughout their renovation journey. This could be a great source of inspiration for those looking to make home improvements. 

Kitchens are the third most mentioned topic, and the most discussed location within a home. With a total of 416 comments, it seems they're the focus of many renovation conversations, followed by Bathrooms (259 comments) and even flooring (133 comments).  

Smaller homes are also a topic of discussion, with 95 comments, suggesting that people are looking for ways to make the most of their homes where space is limited. 

When it comes to considering home renovations, there is no one size fits all approach. It's important to do your own research and make sure that you have the funds and home building insurance to cover your home improvement plans. 

Methodology
The renovation capitals of Australia
Methodology:
LGA data has been used for city/region total value of alterations and additions, including conversions for residential buildings from each state's download data, showing a full year of value data from 2021-2022.
The cost by month has been calculated by dividing the total value by 12. The average Australian salary is 69,888 (AUS $). according to this source. To find out the average yearly AUS salary equivalent, the total value of alterations and additions for residential buildings in each city/region was divided by the average annual AUS salary. The average AUS salary was then divided by 12 ($5,824) to get the monthly salary equivalent to the total value of alterations and additions including conversions.

The size of each city has been sourced in km2 in order to find out the cost per population size for total value of alterations and additions. The cost per km2 has also been calculated using the size of each city/region in km2.

Home building insurance

Home and content insurance
How much does an extension/conversion cost?
Methodology:
For single storey and double storey average cost extension estimates, an average has been taken of the low and high end cost per m2 from Budget Direct's website. The average sized single storey extension is 80m2 according to Domain.com.au so this has been doubled to 160m2 to account for second storey to calculate the average cost of an extension.
To calculate the new sunroom, basement and cellar conversions, the low and high end costs have been averaged to calculate the average cost. The cost for a garage conversion has been included at a flat rate within the Budget direct article.

Which renovations do Australians discuss the most?
Methodology:
A test data scrape was taken from the Houzz renovation forum on 02/02/23 to find out which type of renovations and home interior topics are discussed the most. The topic tags will be totalled as well the comments to reveal which type of home projects are discussed the most. Which can reveal which is the most popular or problematic for homeowners.
You can find the data and sources here