Disclaimer: Neither Auto & General Insurance Company Ltd nor its representatives necessarily endorse or recommend the views of the contributors. Please check the Product Disclosure Statement for any limitations in cover when altering or renovating the home.
New bathrooms can come with a substantial price tag, which is why these industry professionals share their best tips on how to make a big difference, for the best value.
Bathroom renovation industry professionals
We asked them:
I want my bathroom to feel spacious but also be practical, where do I start?

Andrea Davis
Whenever I design a bathroom, I start by selecting the tiles first and then the vanity colour and bench top to co-ordinate. If you want to create a spacious feel, then I would generally choose a light to mid coloured tile and white vanity.
I also like to use the same tile on the floor and walls to make the room feel a lot bigger. My top tip would be to tile the walls all the way to the ceiling, so the walls appear higher. This is also very practical as it creates a waterproof barrier.

Ryan Sullivan
Creating a bathroom with a spacious feeling can be done through smart placement of key items, fixtures, and fittings.
For example, if you want a smaller bathroom to feel spacious, using a 1.5m long bath instead of a 1.8m bath will make a significant difference.
I always find freestanding baths feel like they take up less room than built-in baths. Glass shower walls also help with the feeling of open space and are more cost-effective than tiled walls.

Paul Coulson
The layout of the space needs to be considered carefully — thinking specifically about what needs to fit into the space e.g. bath, shower, vanity and toilet, if there is not a separate powder room.
Where possible — the visual focal point of the bathroom should be the "features" i.e. vanity, or perhaps a free-standing bath for example. The toilet should also never be the first thing visible when you walk into the bathroom.
Natural light is a huge plus in a bathroom to create the illusion of space — but if you don't have the benefit of natural light — stick with lighter colours on the walls, and a solid base colour on the floor, to ground the space.
How do I choose a colour scheme or materials that I know I'll still love in 10 years' time?

Ryan Sullivan
Most neutral tones seem to last the test of time quite well. Whites and natural-looking materials like stone tile features and timber accents will always be on-trend.
Avoid trendy colours like pale greens and pinks. Bring these trendy colours in with things like towels or small pot plants so you can change them in a year or two if your taste changes.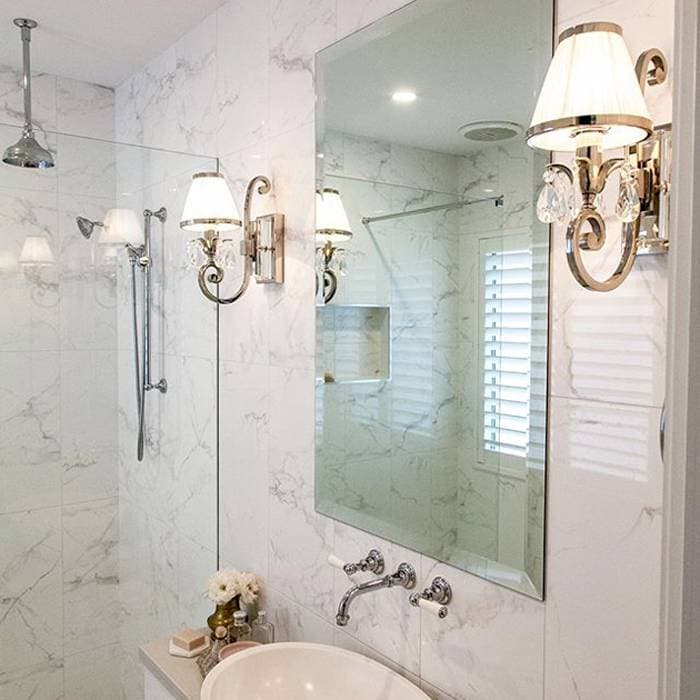 Andrea Davis
I believe good design is timeless and it's important because bathrooms are expensive to change. Therefore, I don't use trendy tile styles or colours that will date quickly, but I prefer to choose tiles that have a look of a natural stone.
Many porcelain tiles that have a marble or sandstone look that is timeless but practical too. Bathrooms are a place for relaxation, so I generally use neutral colour schemes like grey or beige because they are easy to live with and they stand the test of time.

Paul Coulson
The trick is not to be a "slave to trends" — spend money on quality fixtures and fittings and keep things simple. I work with a maximum of three colours in a bathroom i.e. wall tile, floor tile and cabinetry. The more "neutral" the colour palette, the longer it will last and remain relevant.
I really want these changes to increase the value of my home, but I want to be savvy. What can I do that will make a difference, but won't cost a fortune?

Andrea Davis
Lighting and mirrors are very important features that are overlooked in the design of a bathroom. I like to use wall lights on all my bathroom designs because they don't have to cost a lot, but they can create a wow factor and are a great extra light source.
I generally have wall lights on either side of the mirror. I select mirrors that are beveled and if we have a double vanity, I like to have two separate mirrors that are a similar size to the width of the basin, rather than one boring large mirror.

Paul Coulson
Kitchens and bathrooms are the value-add spaces in a home. They are also the costliest areas in a home to renovate/update, and the areas that you shouldn't take any shortcuts with.
Bathrooms (particularly older bathrooms 10 years +) will show signs of wear — especially fittings and fixtures, tiles, cabinetry, leaks etc. The challenge with bathrooms is that once the waterproofing has been compromised, it is not an easy fix.
Providing there are no leaks or structural issues in the bathroom — replacing the fixtures and fittings and a coat of paint are an inexpensive way to update a bathroom.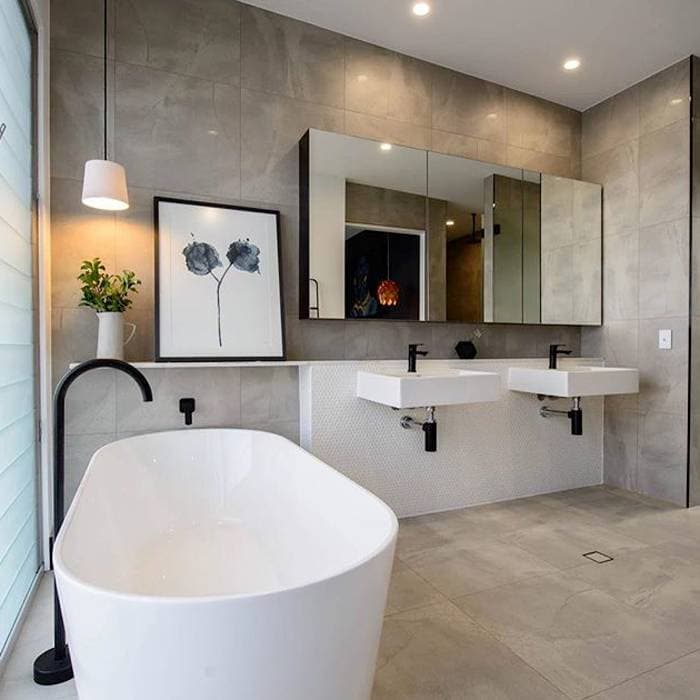 Ryan Sullivan
Smart choices are the key here. For example, taps that come out of the wall tend to look more expensive than those that stick straight out the top of the basin. Really there isn't a great deal of cost increase to do this. Just some more careful planning.
Other tips are to use floating basins, Laminex and stone top vanity. Then use a mirror shaving cabinet for storage. The cost ends up fairly neutral, but the room will have a more designer feel.