Disclaimer: Data on this website was sourced from Canstar in July 2020 from their latest available data. Auto & General Services Pty Ltd does not guarantee the accuracy or completeness of the data and accepts no liability whatsoever arising from or connected in any way to the use or reliance upon this data.
Australia is the perfect country to own a four-wheel drive.
You don't need to be a bushie to appreciate a good SUV, either – growing families in urban areas find them roomier and more versatile than a sedan, providing a level of ruggedness that allows for more adventure and family fun.
For most of us, the main obstacle to buying a new SUV is price.
If your heart is set on one of the larger models (Land Cruiser, Pajero, Patrol, etc.) with all the trimmings, your bank balance better be ready for a big dent, because they don't come cheap.
That's why more and more Aussies are opting to shop around for a good deal on city-sized second-hand SUVs.
Whether you buy privately or go to a used car dealer, it pays to negotiate. In a survey of over 700 second-hand SUV buyers, Canstar found that 86% tried to negotiate a better deal at the time of purchase, and 90% of those were successful.
Only a little over half (57%) got the full discount they were asking for, however. Over half of buyers who obtained a used SUV from a dealer did so during a sales period.
While the term 'best' can mean different things to different car buyers, based on Canstar customer satisfaction surveys here are 10 of the best buys you'll find if you're looking for a second-hand SUV in Australia:
The best second-hand medium SUVs
#1 Holden Equinox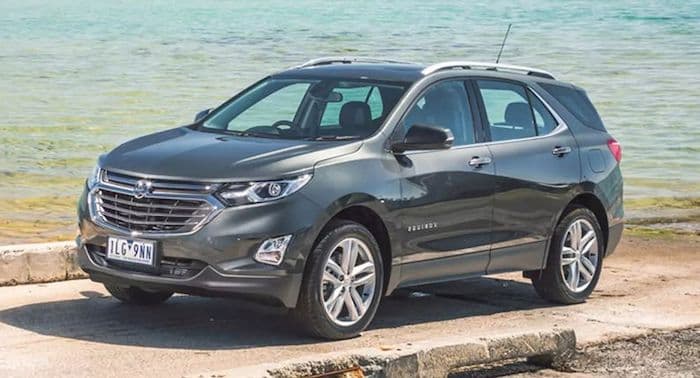 While the Holden Equinox was a comparatively late entrant into the medium-sized SUV market, it has quickly established itself as one of the very best.
Boasting a massive goodie bag of features, including a 7-inch touchscreen, active noise cancellation, 17-inch alloy wheels, a reversing camera, and automatic headlights, the Equinox is certainly top of its class when it comes to kit.
In terms of on-road performance, the Equinox fares equally well, offering a comfortable ride with a ton of storage space, highlighted by an engine that delivers a stunning 188kW of power – far more than any of its competitors.
Of course, this added power doesn't compromise the safety or practicality you would expect from a top of the line medium-sized SUV.
Pros
Powerful engine
Excellent list of features
Plenty of storage space
Ergonomic interior design
Cons
Somewhat uninspired design compared to competitors
#2 Mazda CX-5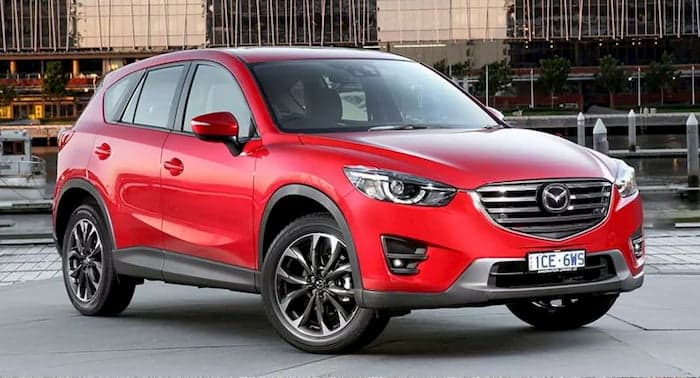 When it comes to medium-sized SUVs, the CX-5 is right up there with the very best.
It features an excellent climate control system and was the first vehicle in its class to include lane departure warning and high beam control.
Every model in the range comes with a comprehensive array of safety features, including Dynamic Stability Control, ABS Brakes, 6 airbags, Emergency Brake Assist and Electronic Brake Force Distribution.
If you like plenty of space, the CX-5 answers the call, with fold-down seats, a large boot opening, and a low lift gate.
Pros
Smooth transmission
Quiet ride
Superior craftsmanship
Proven reliability
High-quality infotainment system
Excellent range of safety features
Cons
Could do with a little more grunt
#3 Honda CR-V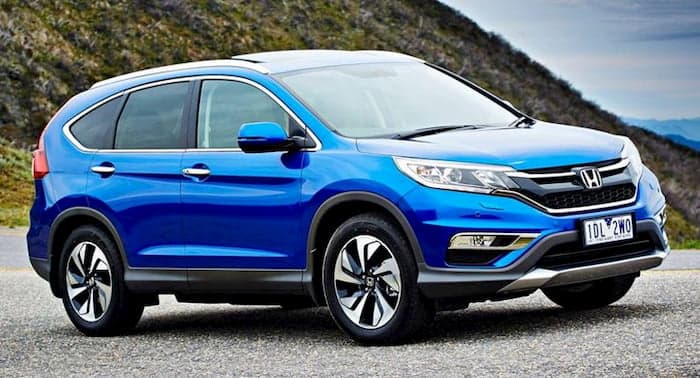 The Honda CRV sells like hotcakes in Australia – but not because it's a favourite with bushies who love to plunge through creek beds, tackle mountains or zoom along sandy beaches in it.
It sells well because city dwellers are impressed by its stylish look, versatility and the fact that it's a great family car.
It is a vehicle that has found its perfect place in the Aussie car market and occupies it competently.
Pros
Stylish inside and out
Super-roomy
Versatile family car
Solid safety features including electronic stability control
Price-competitive
Good driver visibility
Cons
Fuel economy is decent but nothing to brag about
#4 Hyundai Tucson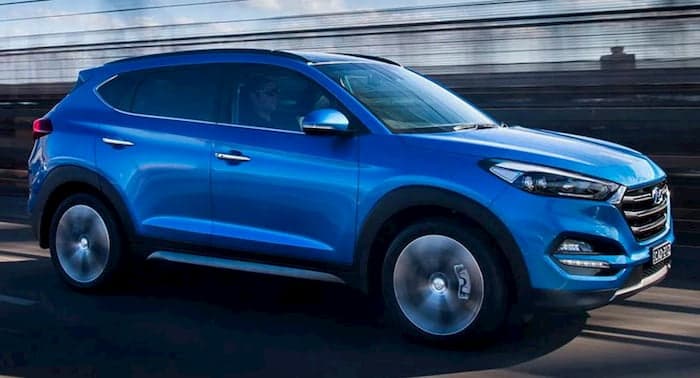 The Hyundai Tucson has everything that you would expect from a high-quality medium-sized SUV – comfort, safety, an eye-catching design, and a long list of features.
However, what really sets it apart from competitors is its on-road performance, offering a smooth, comfortable ride, highlighted by top-notch suspension, a refined engine, and reliable steering.
In terms of safety, the Tucson is also a winner, delivering six airbags (including dual front airbags), as well as front-side and full-length curtain airbags, and electronic stability control.
Partner this with an extremely spacious boot and ISOFIX anchor points, and the Hyundai Tucson is sure to appeal to parents.
Pros
Long list of safety features
Smooth driving performance
Lots of storage space, includes ISOFIX anchor points
Cons
No back-seat ventilation system
#5 Mitsubishi Outlander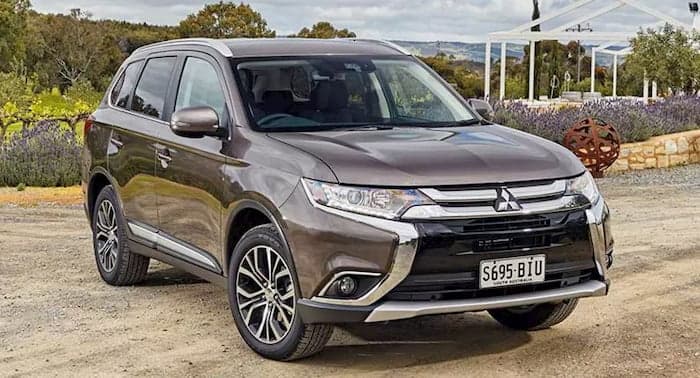 If you're lucky enough to land in an Outlander, you'll quickly see why this roomy SUV has been making waves.
The Mitsubishi Outlander is equipped with 7 seats – a rare sight among its closest competitors in the medium-sized SUV market. This makes for an extremely spacious interior, and no lack of storage room.
Also setting it apart from other medium-sized SUVs, the Outlander features a turbo-diesel engine, which makes for a refined and effortless driving experience.
Between the seven seats and the diesel engine, the Mitsubishi Outlander is in a class all of its own when it comes to medium-sized SUVs.
Pair this with a solid entertainment system, a standard list of safety features and an intuitive design, and the Mitsubishi Outlander is a real standout!
Pros
Seven seats
Diesel engine
Roomy interior
Good infotainment system
Responsive steering
Cons
Engine sometimes lacks power compared to competitors
The best second-hand large SUVs
#1 Holden Trailblazer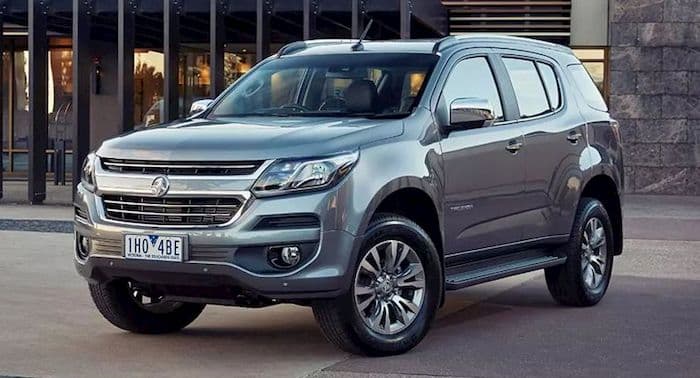 The Holden Trailblazer is aptly named, blazing its own trail as one of the best large SUVs in Australia.
The Trailblazer stands out in several areas, although it's particularly worth noting the spacious, seven seat interior.
Also, of interest is the new and improved dashboard design, proudly sporting a seven inch touchscreen with Bluetooth connectivity.
Other handy features include automatic headlights and rain sensing wipers, as well as lane departure and blind spot warnings.
The tyre pressure monitoring system is also a nice bonus, perfectly complementing a powerful engine which offers excellent on-road performance.
This power is matched by the comfort of a cosy, well-designed interior, leading to an outstanding overall package.
Pros
Spacious interior
Powerful engine
Excellent safety features
Comfortable seats, ISOFIX attachment points
Cons
Boot slightly small compared to competitors
#2 Mazda CX-9
The Mazda CX-9 is a large SUV loaded with a little luxury.
Upon entering the CX-9, you could be forgiven for mistaking it for a smaller, flashier model.
Mazda obviously don't believe in trading size for comfort, with the CX-9 featuring an elegant leather steering wheel, paired with black cloth seat covers, which round out an exceptionally well-designed interior.
Really, there are little touches of class wherever you look.
The CX-9 also knocks it out of the park when it comes to safety, including a rear-view camera, blind-spot monitoring, autonomous braking in case of emergency, ISOFIX connection points, rear sensors for parking, and six airbags.
Pros
Excellent safety features
Stylish interior design
Punchy engine
Cons
Difficult to see out of when parking
#3 Hyundai Santa Fe
The Hyundai Santa Fe has everything you would expect from a large SUV, with a few cherries on top for good measure.
Foremost among these are the Santa Fe's outstanding engine, which is truly something to savour.
Beyond that, the Santa Fe has achieved an excellent blend of responsive steering, comfortable driving, and reliable handling, making it pretty much the total package.
They say it's what's on the inside that counts, and if that's true, the Santa Fe is something special.
With a sleek layout, comfortable seating, and plenty of storage space, the Santa Fe ticks pretty much every box.
Safety won't be a concern, either, with the blind spot monitoring system and radar-guided cruise control sure to keep you right on track.
Pros
Great safety features
High-quality engine
Good infotainment system
Decent amount of storage space
Cons
Back seat can be a bit of a tight squeeze
#4 Mitsubishi Pajero Sport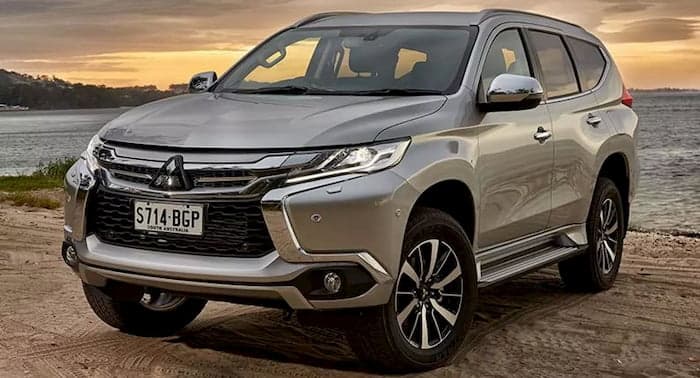 The Mitsubishi Pajero Sport is a proper 4×4 in every sense.
Whether you're looking for an excellent safety record in the form of seven airbags, ISOFIX connection points, and a five-star ANCAP safety rating or more 'unique' features, such as front and side view cameras, blind spot monitoring, and forward collision mitigation, the Mitsubishi Pajero Sport has you covered.
Just because this is a sporty 4×4, doesn't mean it's averse to a little luxury either, with the interior proving to be exceptionally stylish.
At first glance, the Pajero Sport's engine might seem a little on the smaller side, but once you get behind the wheel, you'll find it packs a mighty punch – whether you're travelling on road or off.
Pros
Excellent value for money
Modern infotainment system
Small engine packs a punch
Stylish interior
Cons
Unlike most competitors, it doesn't have seven seats
#5 Nissan Pathfinder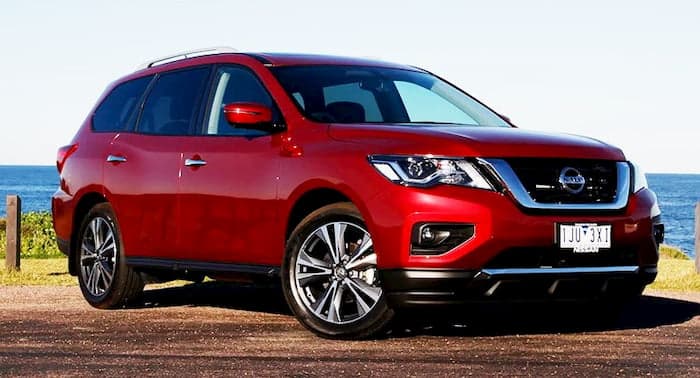 The Nissan Pathfinder certainly knows the path to success.
For most drivers, the first thing you notice when getting behind the wheel of a car is how comfortable the seat is. This happens before you even put the key in the ignition.
As such, comfort is pretty important, and the Nissan Pathfinder nails it. The soft, fabric seats are the kind that you just want to melt into and never get up from.
Elsewhere, the Pathfinder is also a treat to drive with a punchy, responsive engine that offers good fuel efficiency for a large SUV.
This is complemented nicely by a good (though admittedly old-school) infotainment system, plus great legroom and plenty of storage space. In other words, a solid, reliable, and supremely comfortable large SUV.
Pros
Extremely comfortable interior
Engaging infotainment system
Nice handling
Solid amount of storage space
Cons
Lacks Bluetooth connectivity
Key takeaways
Brand new SUVs are expensive in Australia, so it makes sense to shop around for quality second-hand options
Always negotiate on price when buying a used SUV – most times, you will be able to get a price reduction
SUVs aren't just for off-road adventurers and bushies, as they have proven to be just as popular among city dwellers and families
There are many options for both medium and large SUVs in Australia, so be sure to do your research to determine which size will best suit your needs
Sources