The kids are back at school, the traffic is at a crawl each morning, and life has returned to its mundane post-holiday routine, then the mailman arrives; and suddenly the real after Christmas blues kick in.
An exclusive survey commissioned by low cost insurance provider Budget Direct has found 21% of Australians relied heavily on their credit card during the festive season, with 5% saying they wouldn't have had food on the table or presents under the tree without it.
With petrol, health insurance, electricity all on the up, not surprisingly it is families who are facing the biggest bill shock this February. 30% of families indicated buying food or presents would have been significantly or totally affected without their credit card over the festive season.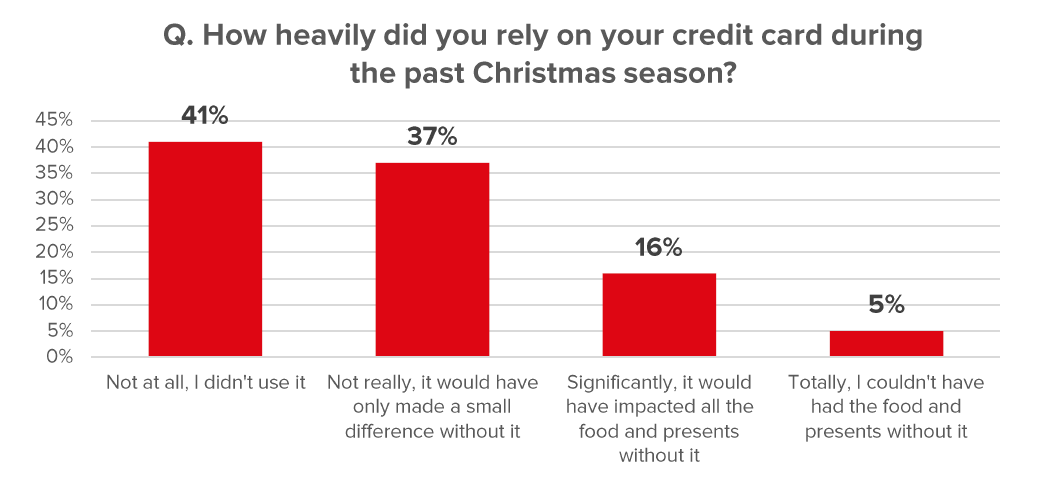 1 in 10 Australians surveyed are extremely or very worried about the credit card bills which are arriving in February.
41% of those surveyed claim they didn't use their credit card at all during the Christmas season. A surprising result given Australia's credit card debt currently sits at $34 billion or $4,400 for each card holder*.
Bill shock appears to be an issue for the younger generations, with Generation X (15%) and Generation Y (13%) the most concerned about February's bills compared to only 5% of Baby Boomers and 2% of Builders (69+).
Being a low cost insurance provider Budget Direct asked how Australians planned to save money in 2014:
65% aim to plan ahead and shop around to change how they buy
60% plan to change what they buy, by considering home brands, brand substitution, cheaper options 49% aim to watch when they buy and will wait for sales and discount vouchers
46% are looking to change where they buy, by keeping an eye out on online and for discount store savings
Source: McCrindle Research Survey conducted on behalf of Budget Direct. 1072 respondents aged 18 and over participated from all states and territories.
About Budget Direct
Budget Direct was established as an insurance provider in Australia in 2000. It is part of the international BHL group of companies headquartered in the British Isles. The group provides more than 8 million policies to insurance customers and administers $AUD 3 billion in premiums annually. Budget Direct offers Motor, Home & Contents and Travel Insurance as well as Roadside Assistance.
Budget Direct is a multi-award-winning insurer having won Money magazines Insurer of the Year 2019 for the third year in a row and Canstar's Outstanding Value Car Insurance 2019 for 13 years in a row amongst many other awards. Our policies are underwritten by Auto & General Insurance Company Limited, an Australian insurance company regulated by APRA and a member of the Insurance Council of Australia.
About Auto & General
Auto & General has specialised in the sale, management and underwriting of insurance products in Australia since 2000. Our insurance products include car, home and contents and travel. We provide insurance for a number of brands including Budget Direct, 1st for Women, Ozicare, Australia Post, Virgin Money, and ING. We have contact centres based in Queensland and claims assessing centres in Brisbane, Sydney, and Melbourne, in total employing in excess of 1500 people. Our commitment to providing exceptional service has seen the company win multiple industry awards.
Media Contact
Email: [email protected]
Want your Insurance Solved™ with Budget Direct?