Disclaimer: This information is general in nature only. While Budget Direct has endeavoured to ensure the information we've relied on is accurate and current, we do not guarantee it. Budget Direct accepts no liability for this information.
Fatigue can be defined as extreme tiredness caused by a lack of sleep, not enough rest or excessive mental or physical exertion. Despite this, most people underestimate what their body is telling them, and still get behind the wheel of a vehicle every day.
Sleep-deprived driving (commonly known as driver fatigue) is one of the main contributors to road accidents every day and approximately 30% of young drivers (16 to 24) are involved in fatigue-related crashes.
On average 31 people are killed and 462 seriously injured each year on Queensland roads as a result of crashes where fatigue played a part [1].
Did you know?
Being awake for 17 hours poses the same risk of a crash as drivers with a BAC (blood alcohol concentration) reading of 0.05 g/100ml [2]
1 in 3 people have experienced micro sleeping behind the wheel
Fatigue-related crashes are almost three times as likely to be fatal than crashes not involving fatigued - drivers who are asleep can't brake [3].
Tips to manage driver fatigue
When trying to manage fatigue while driving there is one main tip you should keep in mind; get enough sleep.
Plan to take a break every 2 hours for up to 15 minutes at a time
Don't drive for more than 10 hours a day
Avoid driving during times where you'd normally be asleep
Avoid long drives after a day's work
Prepare your drive ahead by planning when and where you're going to take breaks.
If you feel tired when driving, make sure you:
Pull over in a safe place (such as a rest area or 'driver reviver' site) and take a break or even a nap
When possible, share the driving.
What are the warning signs of driver fatigue?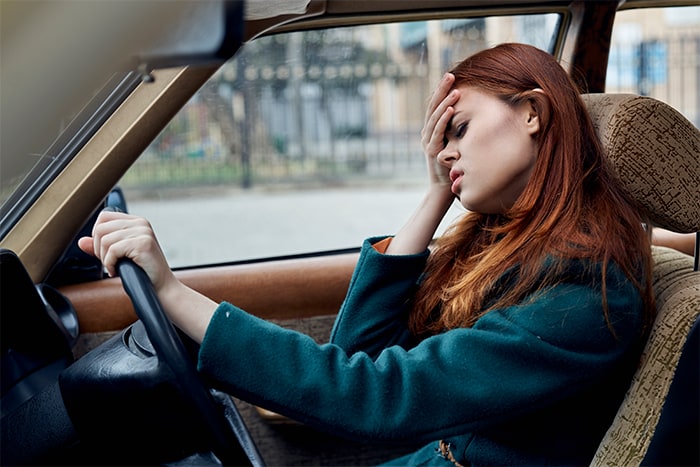 Signs of fatigue can vary depending on your body and how long you have been awake. While driver fatigue is preventable sometimes it's the oncoming signs that can be the hardest to spot.
Physical signs of fatigue:
Restlessness
Sore eyes
Heavy eyelids
Eyes closing
Frequent blinking
Trouble keeping your head up
Headaches
Yawning
Microsleeping
Mental signs of fatigue:
Difficulty maintaining concentration
A loss of focus
Slower reaction times
Wandering thoughts
Slowing unintentionally
Missing a gear
Missing a road sign or exit
Braking too late
You may also experience signs of fatigue if you are:
Under the influence of alcohol
Under the influence of drugs
Taking prescription medication
Experiencing extreme hunger
Experiencing low blood sugar levels
Sources
[1] Department of Transport and Main Roads QLD. Unpublished data extracted 27 June 2018 using road casualty statistics 2013-2017
[2] Transport for NSW, 29 April 2021, Centre for Road Safety
[3] Transport Accident Commission, Fatigue Statistics