New, advanced technologies are becoming more available in mid- and lower-range cars. Once luxury features like adaptive cruise control and massaging seats are now enjoyed by increasing numbers of Aussies.
Innovative safety features such as automatic braking and blind spot warnings are more often becoming standard. Many of these, particularly in terms of safety, have become indispensable but is there a risk of drivers being overwhelmed by the complexity of new cars?
To understand how Australians felt about the growth of in-car technology and its impact on safety and driver comfort we conducted a survey of more than 1,000 car owners across all states and territories.
Quick Stats
Three-quarters of respondents (75%) believe that car technology can be distracting.

The most distracting car technologies included touchscreens, hands-free mobile phone and speech to text systems.

Two in three (66%) Australians surveyed admit to missing certain traditional, 'old-school' car features.

The top three most missed 'old-school' technologies are CD players (24%), mechanical controls such as buttons, dials, and handles (18%), and manual transmission (17%).
In-Car Technology Perceived as a Distraction
As our cars get more high-tech, a concern highlighted by our survey is their potential distraction factor. A worrying 75% of respondents expressed their belief that in-car technology could be a distraction while driving and over 1 in 10 (16%) reported having either an accident or a close call due to these technological distractions.
The most distracting tech according to our survey respondents were:
Touchscreens - 20%

Hands-free smartphone tech and speech to text - 14%

Audio-related features - 14%

Automated driving technologies like Lane Assist - 9%

Audible warning systems - 8%
Aussies are not alone in struggling with the mountain of new functions. Ned Turic, the Chief Technology Officer of Stellantis, the company behind famous brands such as Alfa Romeo, Peugeot and Jeep, recently confessed he sometimes gets into a new car and has to ask for help to start it.[1]
If you want to read more about attitudes to driving distractions, check out our Distracted Driving Survey and Statistics survey.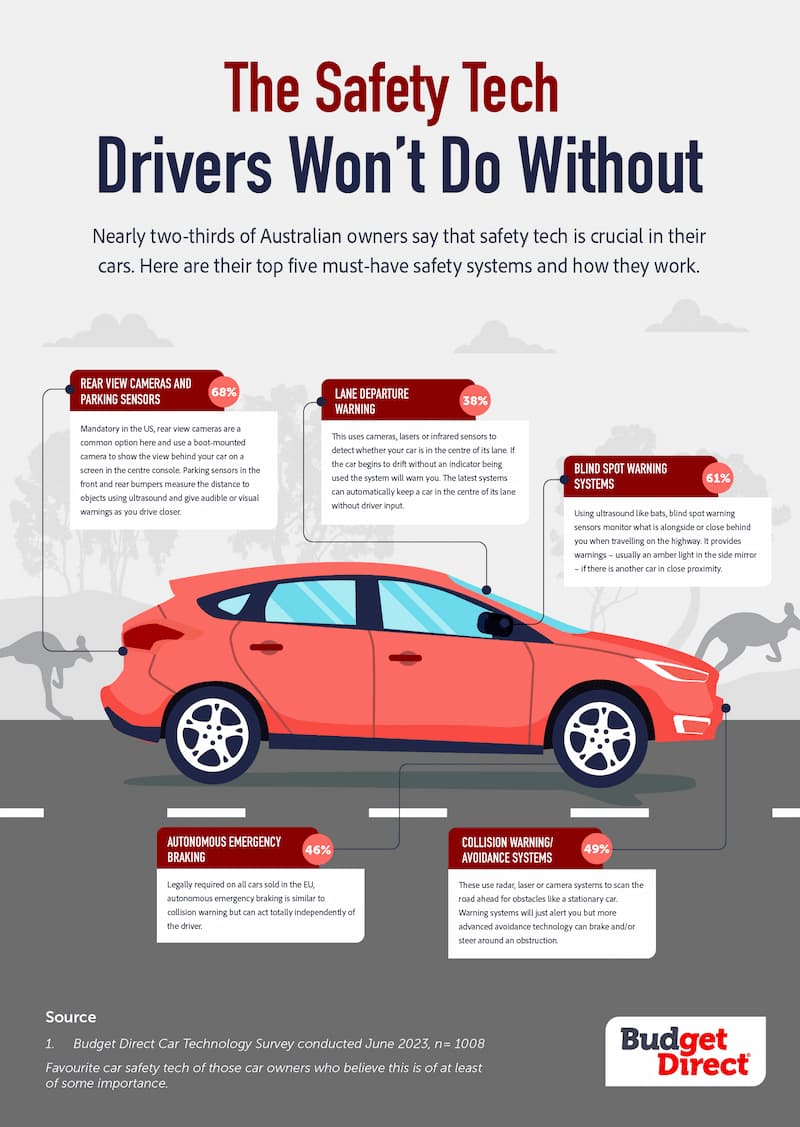 Safety First
The number of cars in Australia has nearly doubled in the last 30 years. [1] Busier roads could be one factor explaining why the latest safety and driver assistance technology are high priority.
Very nearly two-thirds (64%) of the Aussies we asked said the latest safety and driver assistance tech is very or extremely important to them.
The top five must-haves are:
Rear view cameras and/or parking sensors - 68%

Blind-spot warning systems - 61%

Collision warning/avoidance systems - 49%

Auto emergency braking - 46%

Lane departure warning/correction systems - 38%
It seems though, that Aussie drivers aren't ready for the hands-free driving revolution just yet. Two in five (41%) remain sceptical about fully trusting automatic systems like lane correction or pedestrian protection.
Nostalgia for 'Old School' Car Features
Even though two in five (40%) of the owners we spoke to said convenience and entertainment functions are nice to have, and 41% reckoned they are very or extremely important, it seems they still miss simpler times.
Two-thirds (66%) hankered after 'old school' features and simpler cabins of previous generation cars. Top on the list were:
CD players - 24%

Mechanical controls like buttons, dials and handles - 18%

Manual transmission - 17%

Mechanical key ignition - 14%

Printed road maps - 12%
While our survey identified plenty of technology drivers could no longer do without - safety tech topped the table at 33% - this suggests maybe drivers are missing some of the simple charms of the cars they grew up with.
Generational and Gender Differences
Not surprisingly we found quite some differences in attitudes between men and women and the different age groups.
Perhaps because it is more familiar to them, it was our younger car owners who placed an emphasis on safety tech. Nearly three-quarters (71%) of Gen Y or younger told us it was important compared to 63% of Gen X and 58% of Baby Boomers.
It was a similar story when it came to the convenience and entertainment side of car ownership. Exactly half of Gen Y or younger said it was important versus 40% of Gen X and just 28% of Baby Boomers. Although the Baby Boomers may be the ones paying more attention to the road – only 6% admitted to a close call due to distraction compared to one in five (21%) Gen Y or younger drivers.
When it came to gender differences more men (45%) then women (37%) rated the latest convenience and entertainment tech as must haves. Strangely, men were also more likely to miss yesterday's tech at 72% versus 62% of women.
Women car owners were also more cautious in their approach to technology both in terms of trust and as a distraction. Only a little over half (53%) of women were prepared to fully trust their safety tech compared to nearly two-thirds (65%) of men. It was a similar story with the issue of distraction; 79% of women thought it was a problem but 70% of men thought so.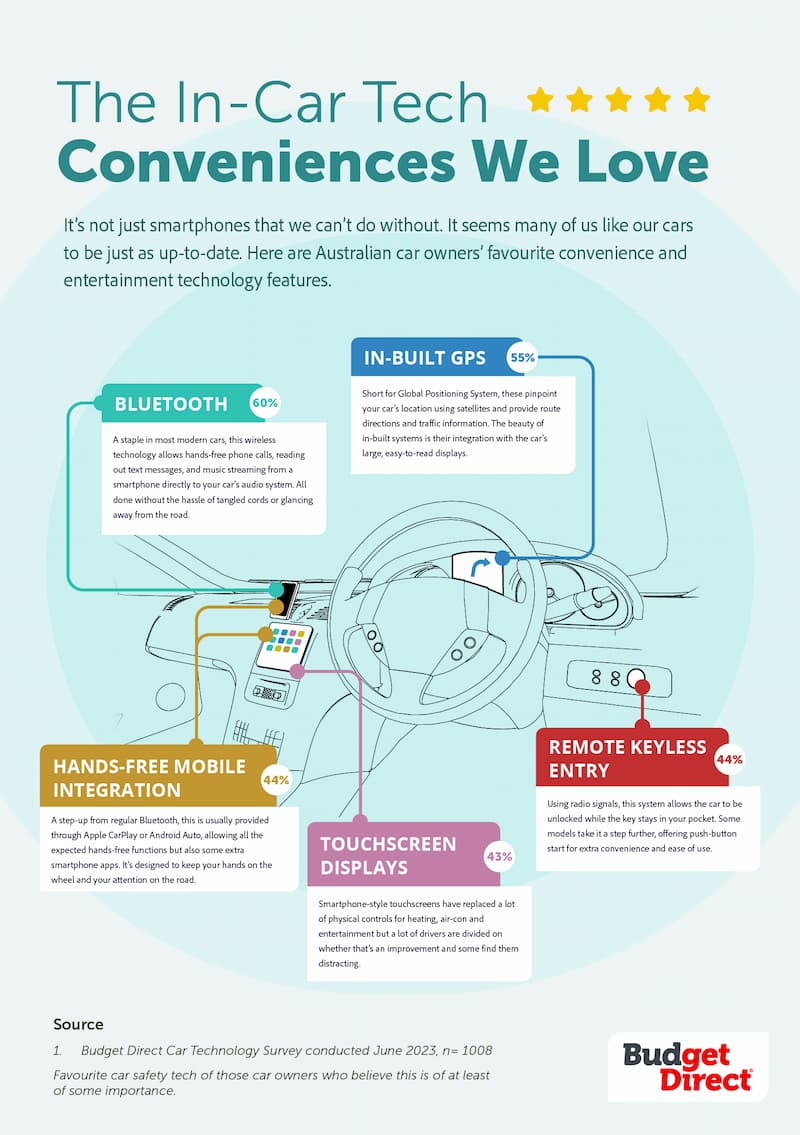 Future Tech Desires
The cautious approach to some new technology and the nostalgia for slipping a CD into the dash doesn't mean Aussies aren't looking forward to the next wave of in-car technology. We asked them what they are most looking forward to having in a future car and they told us:
Affordable electric vehicles - 47%

Faster charging /longer range electric vehicles - 35%

Solar-powered vehicles - 29%

Advanced driver assistance systems - 28%

Connectivity and Vehicle-to-Everything communication - 20%
You can find out more about Australian attitudes to electric vehicle ownership in our Electric Car Survey and Statistics.
Key Takeaways
It seems that Aussie car owners appreciate all that makes their cars safer on the school run, more comfortable for trips down the coast and more convenient on the commute to work. But they aren't looking at the new tech through rose tinted driving glasses.
The drivers we spoke to knew the importance of staying alert behind the wheel whether that's from distracting touchscreens or making sure the safety systems were working as they should.
It also seems like more than a few of them fancy listening to some old school tunes on CD while they change their own gears on a nostalgic roadtrip.
Methodology
This survey was conducted by Pure Profile on behalf of Budget Direct in June 2023. The survey was conducted online with a total sample size of 1,008, weighted and representative of all Australian car owners (aged 18+).
The data collected was quality checked and cleaned prior to analysis to exclude any incomplete or poor-quality responses. All comparisons between respondent subgroups were subject to statistical testing and only statistically significant differences with a 95% level of confidence are reported unless otherwise stated.