Disclaimer: This information is general in nature only. While Budget Direct has endeavoured to ensure the information we've relied on is accurate and current, we do not guarantee it. Budget Direct accepts no liability for this information.
Cruises really are the ideal escape for the whole family. They offer parents a chance to truly relax, without having to plan all the fiddly details of a holiday, like where to go and what to eat. For the kids, there are countless clubs, activities, entertainment and babysitting services available.
If you've got a cruise on the cards for your next trip, these are the 5 things you simply cannot miss.
Read more of Budget Direct's travel insurance articles
1. Kids clubs
Cruises are clever. They have a whole range of activities to keep the kids safe and entertained, so you can have the break you really wanted. And as much as it might sound like a dream, they usually have clubs and activities lined up for kids of all ages – right from 5 to 17.
The younger kids can enjoy everything from story time to scavenger hunts, while the older kids can learn circus tricks, and take DJ lessons. What each individual cruise offers will vary, but most are experienced enough to have genuine options for kids of all ages.
2. Onboard activities
Cruise ships are famous for the many different activities you can take part in onboard. Depending on the ship and cruise you can find anything from a rock-climbing wall and ice-skating to a water park on the deck. On most, you can even enjoy some peace and quiet with a perfectly curated cocktail in a themed bar.
The kids might be thinking they're the winners on this holiday, but with all the grown-up activities on offer, they really aren't.
3. Shopping in international waters
Most cruise ships have their version of a "shopping mall". Naturally, you'll find the tourist-bait, like branded t-shirts, water bottles, stubby coolers, etc. But if your cruise strays into international waters, you'll get to experience all the fun of duty-free shopping. This basically means that all local taxes don't apply, so you can usually snag some pretty good deals.
4. New hobbies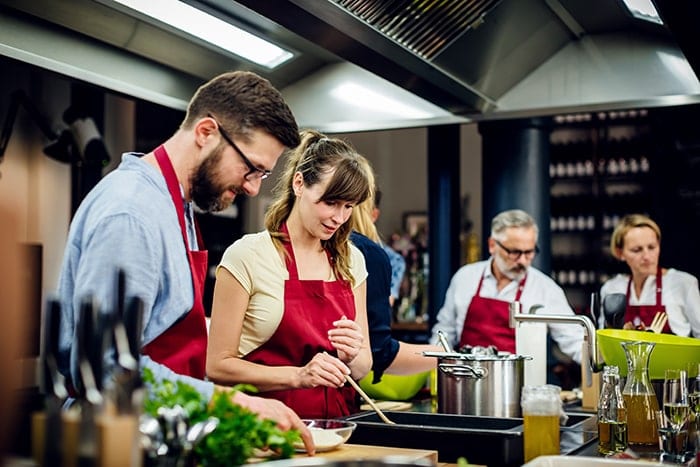 While the kids are having fun in their classes and activities, there's nothing stopping you from doing the same. A lot of cruises offer classes in cooking, art, foreign languages, wellness, wine-tasting, and plenty more.
5. The final destination
With all the amazing on-board options, you'd be forgiven for forgetting the on-shore excursions. It's worth thinking about what locations and attractions matter most to your family and picking the destination best suited to you.
If your looking to enjoy your cruise just that little bit more, why not take the stress out of unexpected delays, losses or troubles? Check out Budget Direct's Cruise Travel Insurance, so you can really kick your feet up and relax.
Read more of Budget Direct's travel insurance articles