Christmas time — tis the season to be jolly and generous. However, in some unfortunate circumstances, burglars might be helping themselves to your property.
According to reports, nationally, the run up to Christmas Day sees the largest amount of home break-ins reported[1].
So whilst you are out spreading joy this festive season, could the state or city in which you live mean that your home is more likely to experience jingle hell as opposed to jingle bells?
Budget Direct commissioned Research House Aira to analyse Australian crime reports submitted between November and December in 2020 to find out which states and cities report the highest number of home break-ins over the festive period and highlighted which regions are at the most risk.
Which states have the most festive season burglaries?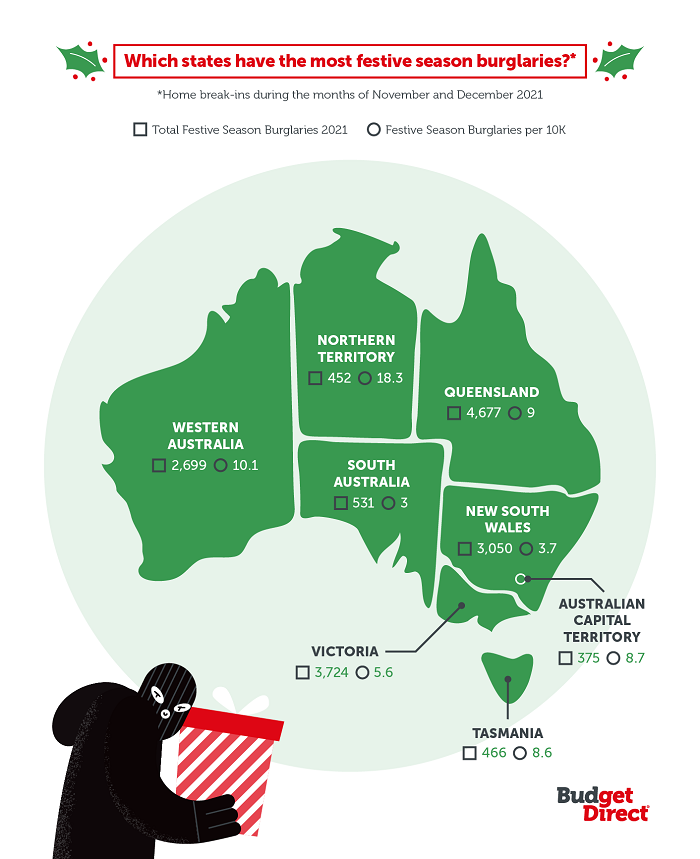 According to the data, the state of Victoria reported the highest number of home break-ins during November and December 2020, followed by Queensland with 2,399 and New South Wales with the third-highest reported break-ins at 1,890.
When looking at the total reported home break-in crimes per state, it's important to factor in that some territories and states are more densely populated than others. For example, the Northern Territory has an estimated 247,023 residents[2] compared to New South Wales, which is home to an estimated 8,176,368 people[2] across a smaller area than the Northern Territory.
South Australia had the lowest number of reported home break-ins over the festive period last year with just 50 crime reports. South Australia is home to Adelaide, which is one of Australia's top five cities, however, it has been reported as one of Australia's slowest growing cities[2] which might suggest homes here are at the least risk of home burglaries and break-ins.
Which city in Australia has the highest festive season burglaries per 10,000 people?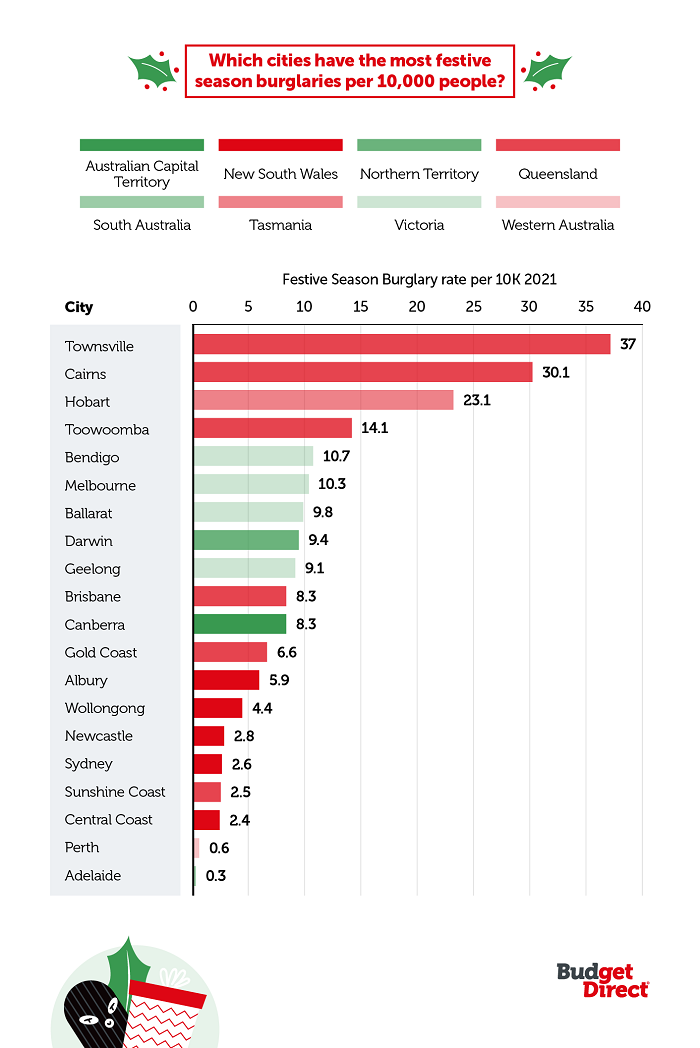 Between the months of November and December of last year, Townsville in Queensland reported the most home break-ins, with 22 burglaries per 10,000 people. This was followed by Albury, New South Wales, with a rate of 12.9 home burglaries reported per 10,000 people, and Ballarat, in the state of Victoria, with 11.5 festive home burglaries reported per 10,000 people.
At the other end of the spectrum, Adelaide, South Australia, reported the lowest number of festive home break-ins at just 0.4 per 10,000 people. However, figures show that Adelaide has a population density of 1,681 persons per square km[3]—a higher population density than Townsville (1,061 people per square kilometre[4]). This suggests that although Adelaide might be more densely populated, you are less likely to experience a home burglary over Christmas in this city.
Learn more about your suburbs risk profile from property crime, with Budget Direct's interactive Safe Suburbs Map.
Methodology
Aira analysed reported home break-in crime data from Australia's 20 biggest cities by population, across all the states, as well as Australian Capital Territory and Northern Territory. Data covers the period from Nov-Dec to 2015 through Nov-Dec 2020.
Different states record burglary/break-in/theft from different dwellings. Some states (SA, VIC, NT, ACT) record break-ins, and bundle theft from dwelling into "other theft". To make the data comparable, Aria focused on the number of house break-ins (regardless of whether or not they resulted in theft) as a consistent metric to compare cities across states with varying approaches to recording burglaries.
For cities, where monthly crime data wasn't available (i.e. cities in Victoria and Tasmania, where only annual crime figures are available), Aria estimated the number of house break-ins during the festive months (Nov & Dec) as follows. For each year, we calculated the percentage of house break-ins that happened in November and December of that same year in other Australian cities in our dataset, and then applied that % to the annual total number of house break-ins in each of Victoria's and Tasmania's cities.
For cities that form Australia's metropolitan areas or officially known as Greater Capital City Statistical Areas, i.e. Sydney, Melbourne, Brisbane, Adelaide, Perth, Hobart, and Darwin, both the population data and the crime data cover their metropolitan area, rather than just cities proper.